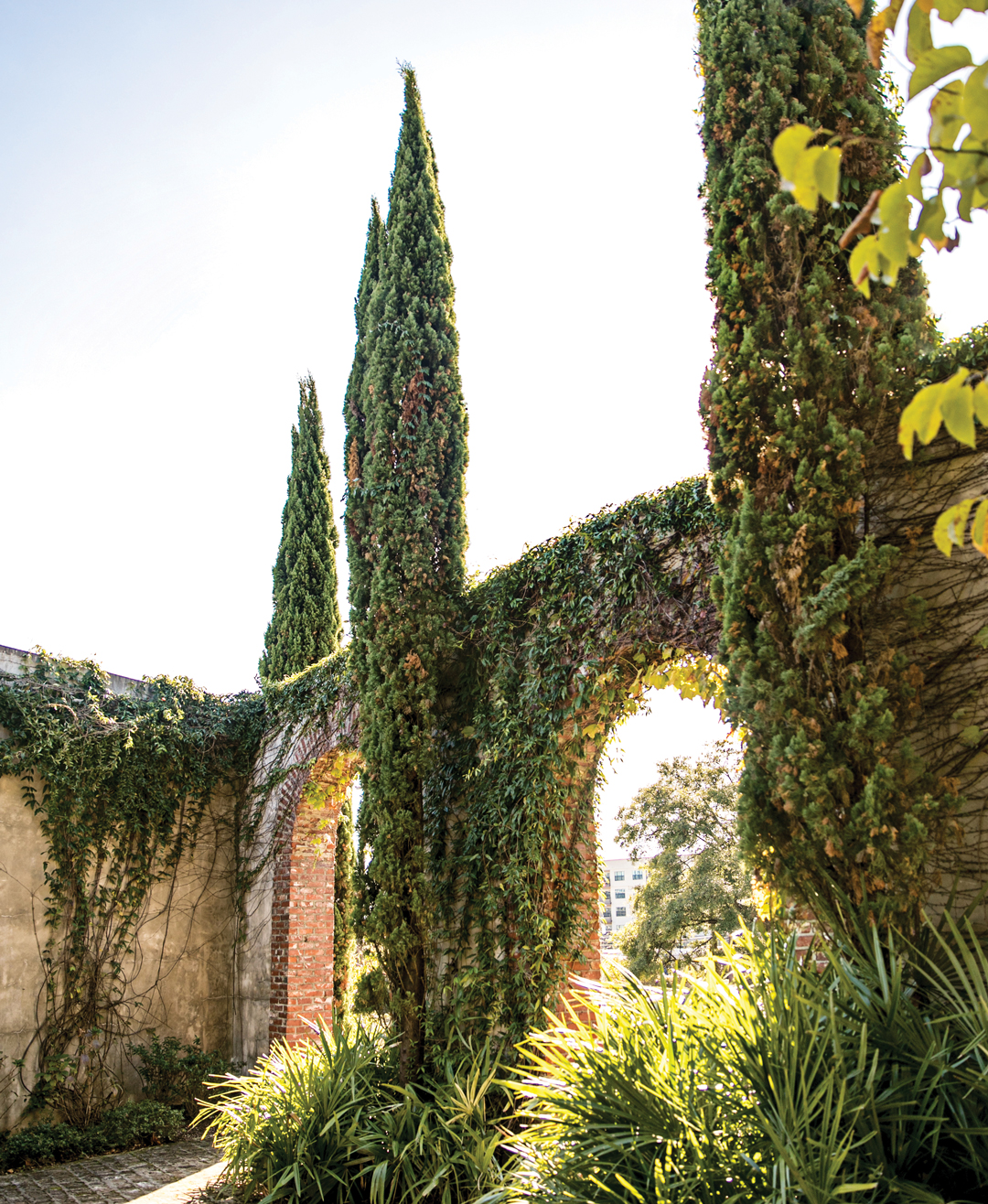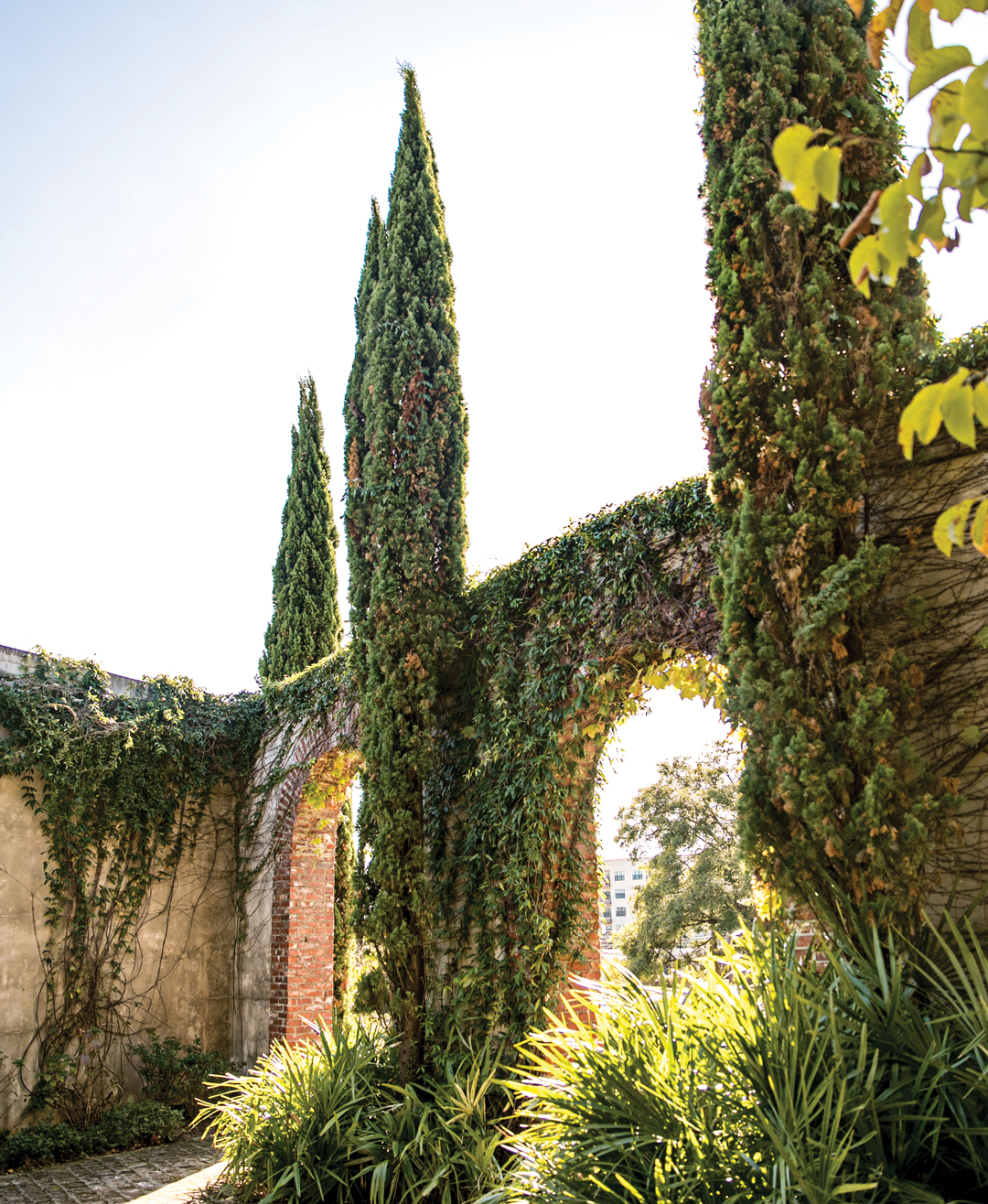 It's no secret I've always had a passion for the dolce vita. In my new book, Cocktail Italiano, The Definitive Guide to Aperitivo: Drinks, Nibbles, and Tales of the Italian Riviera, I share a bit about my love of the sweet life.
My husband, Frank, and I spent 12 summers on the Italian Riviera in the picturesque town of Alassio, with its colorful buildings and terracotta rooftops overlooking the sparkling sea. Here, we were introduced to the charming ritual of aperitivo. Every evening around 6 p.m., just before dinner, friends and family pause to relax and socialize over spritzy cocktails and small bites.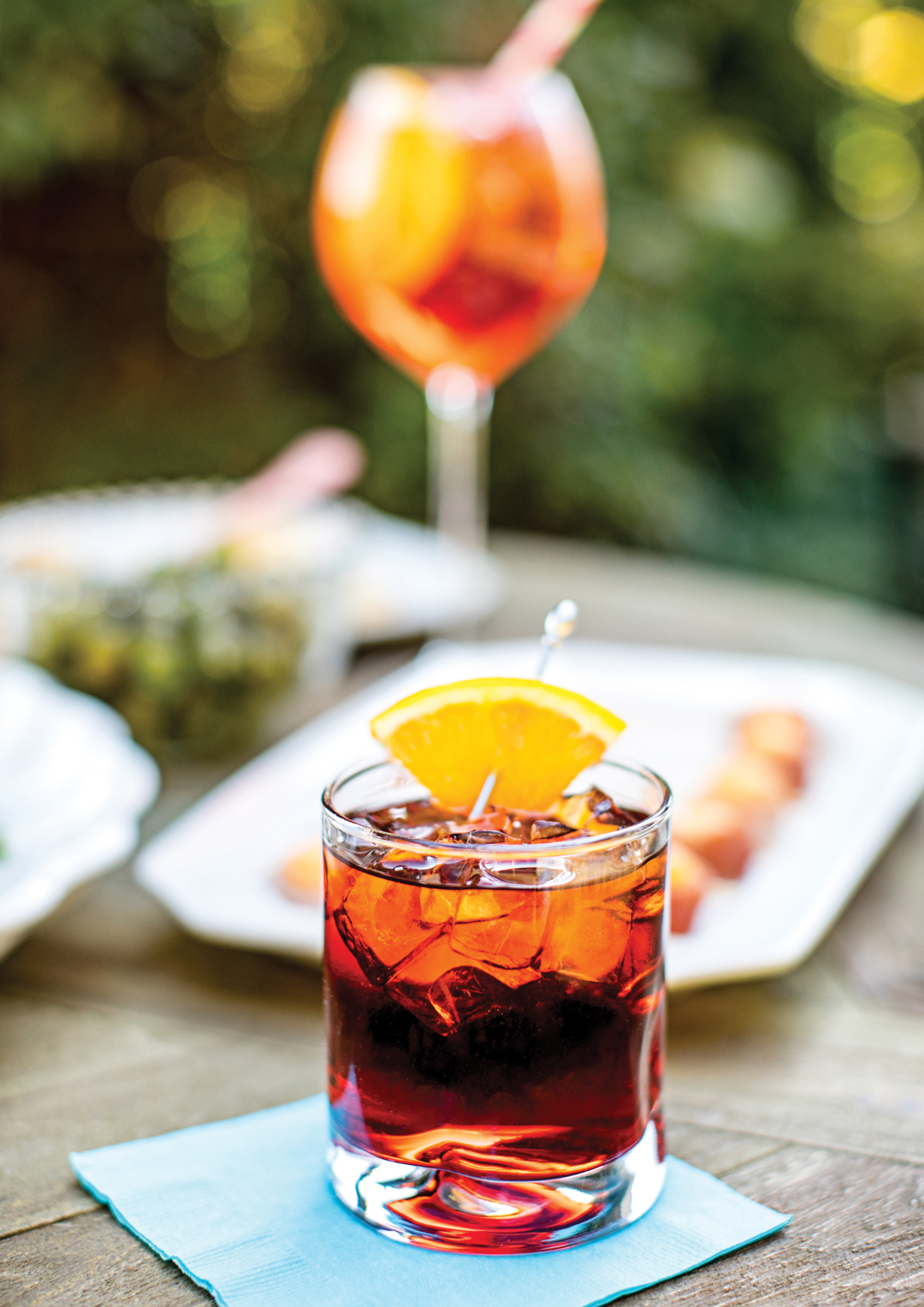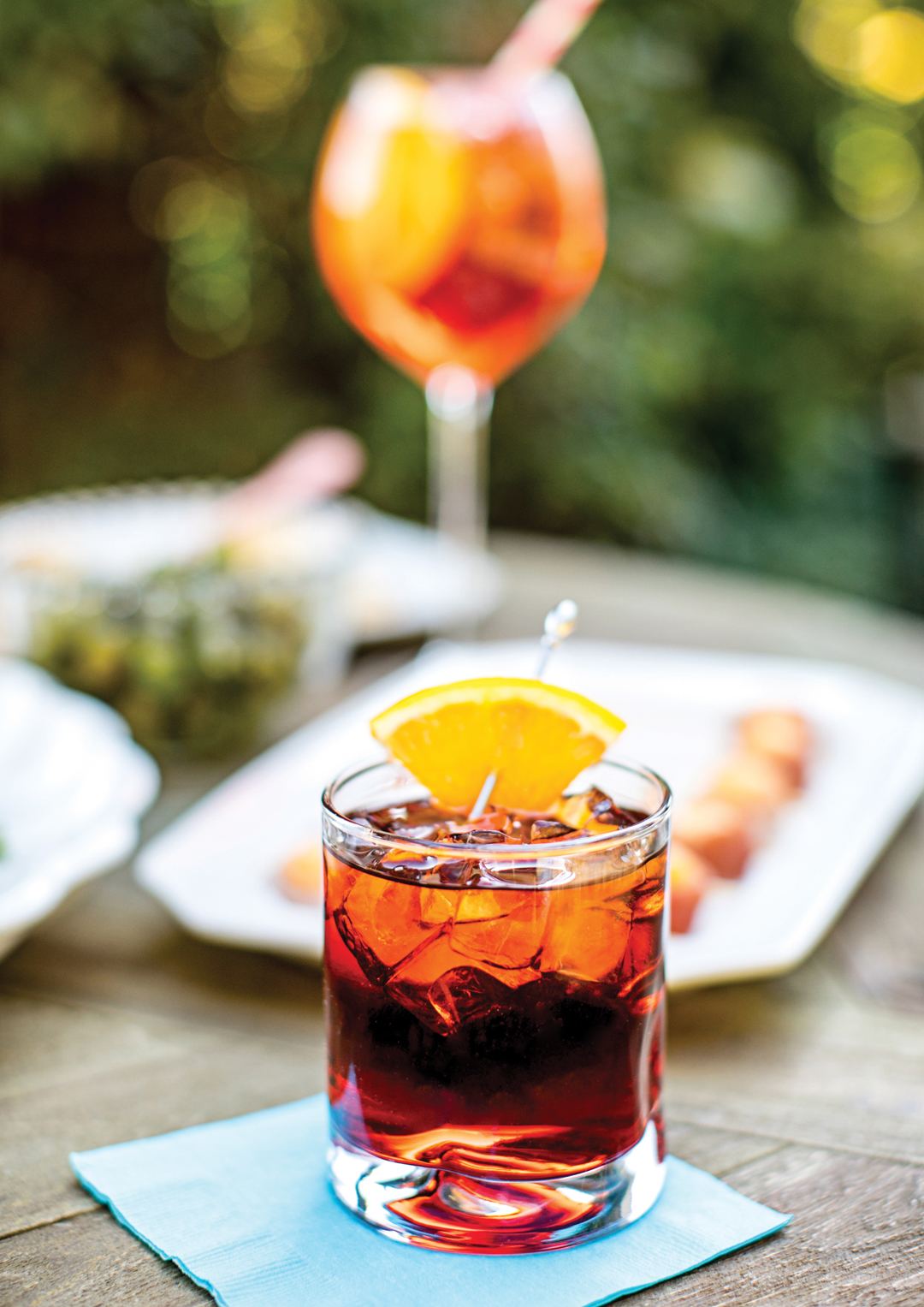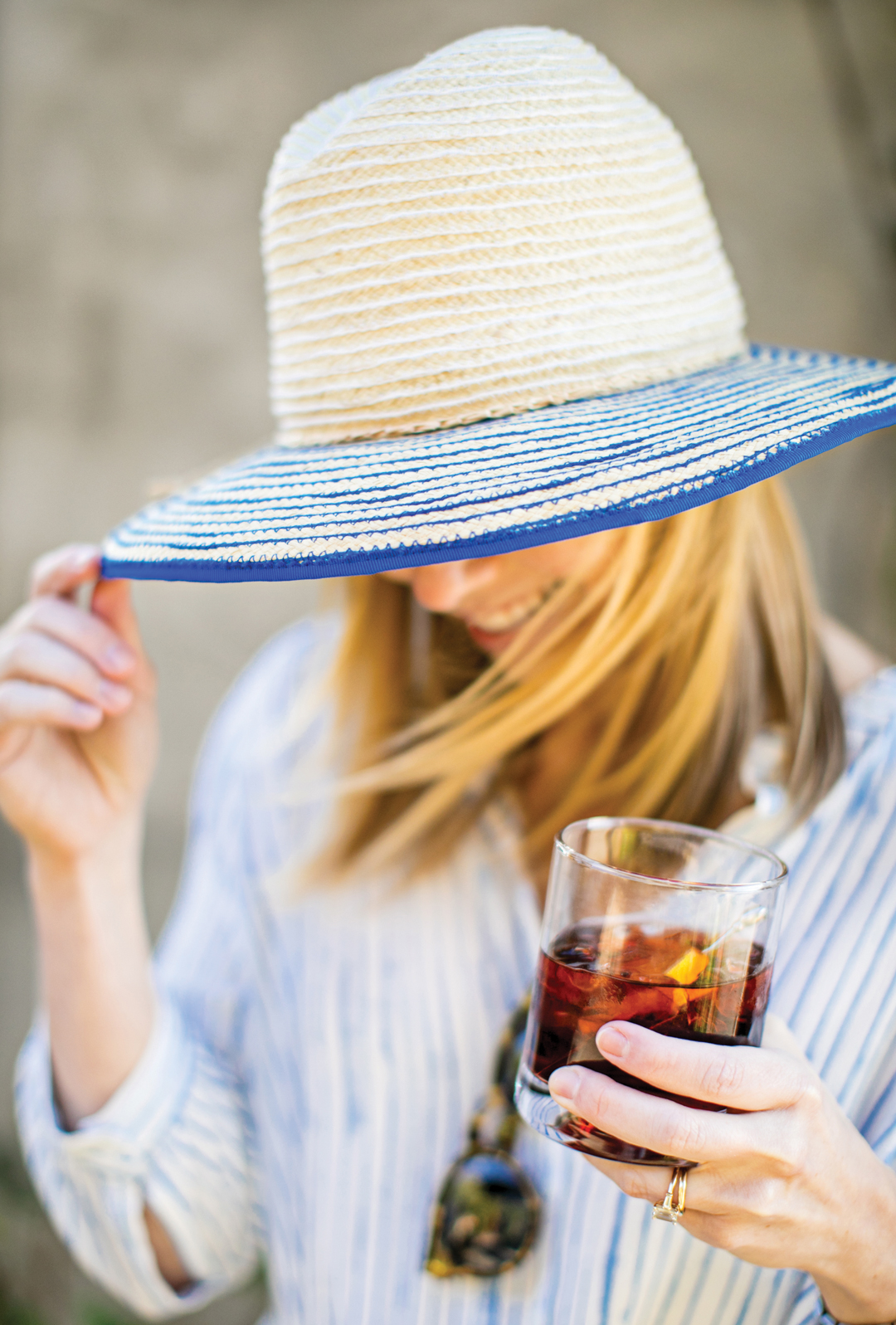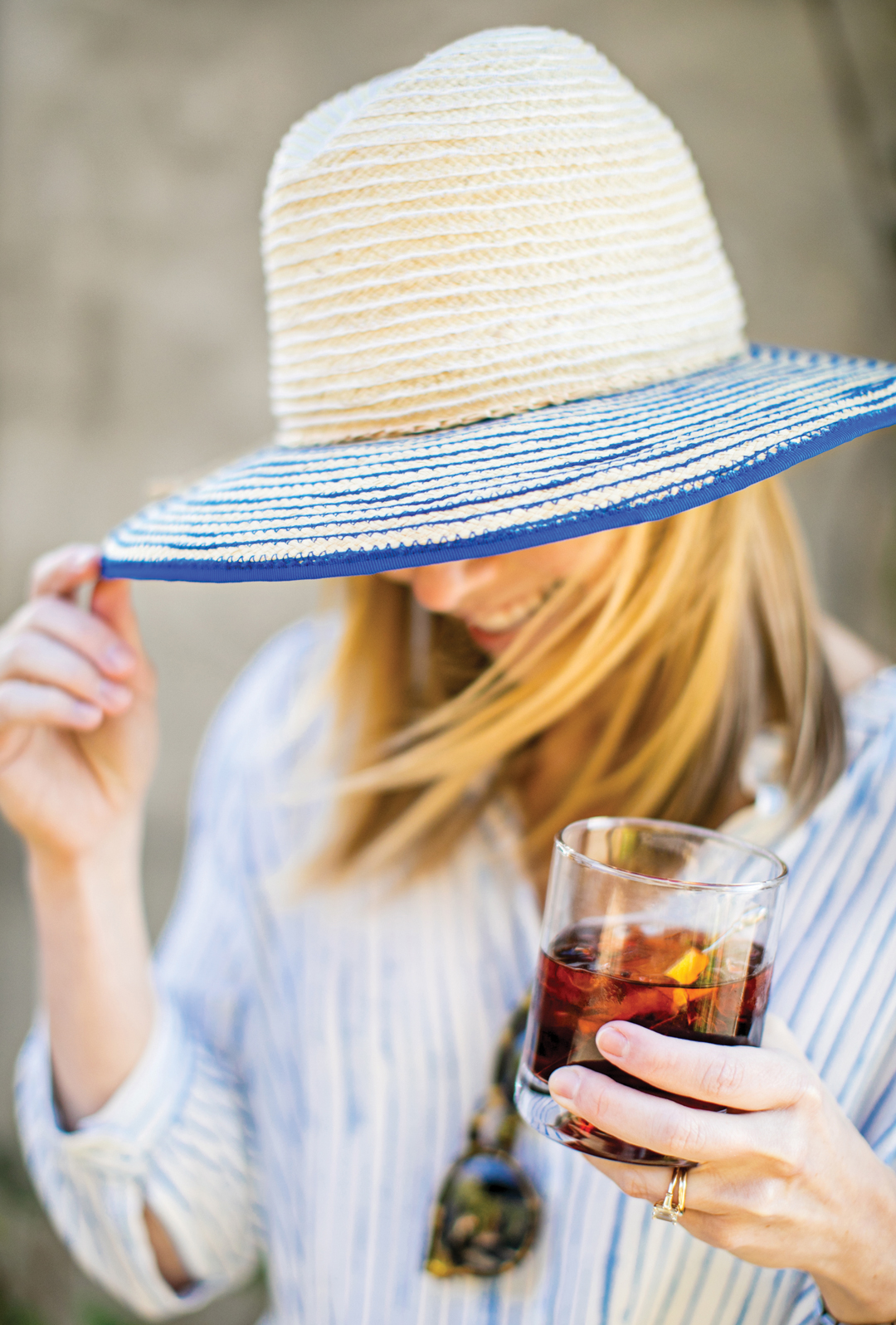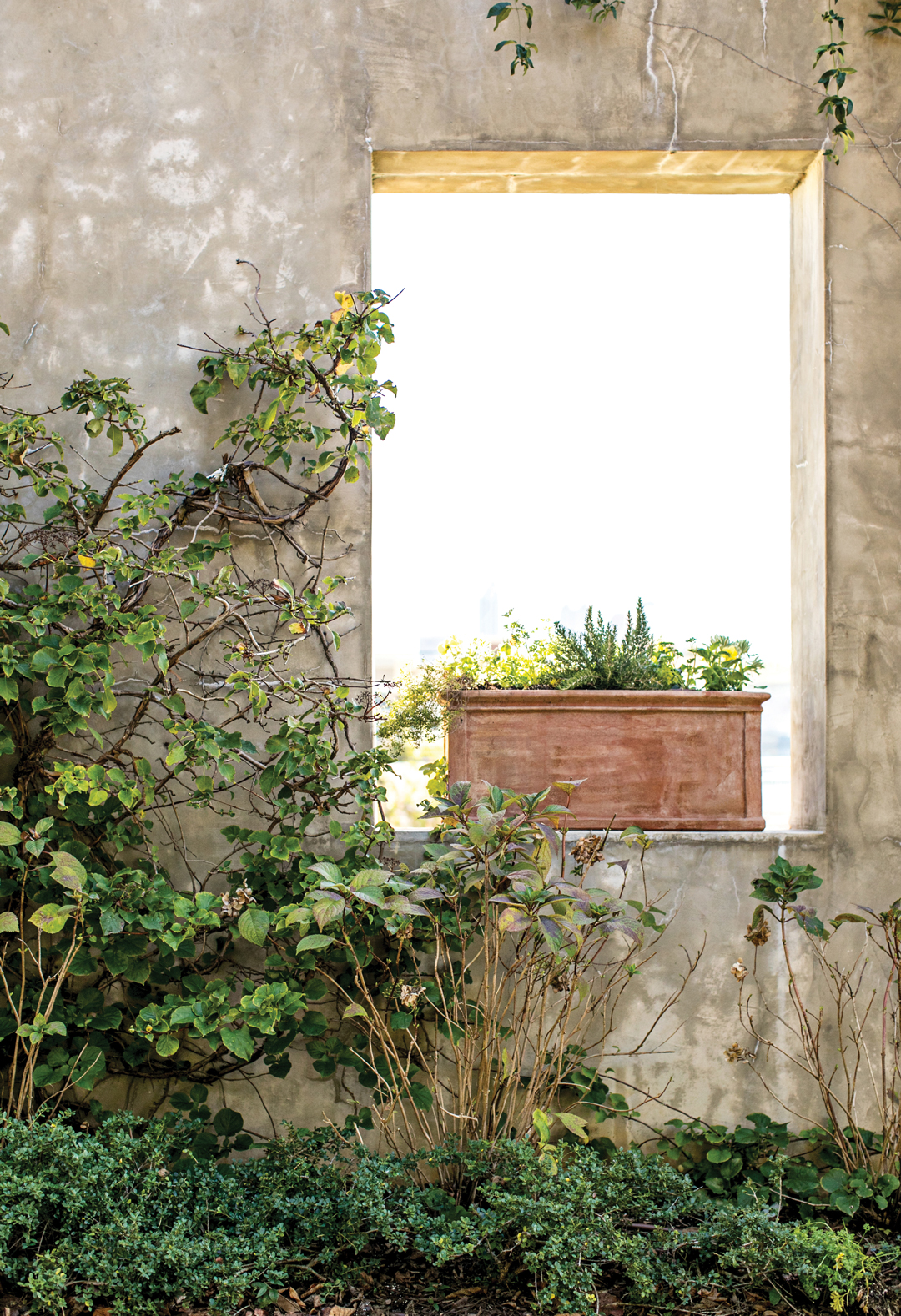 Quintessential aperitivo cocktails, like the pleasingly dry and bitter negroni and the Aperol spritz, are meant to stimulate the appetite. In fact, Italians rarely drink without eating. My book explores this easy lifestyle, covering the Italian Riviera's bars, hotels, and beach clubs along the famous coastline, and is peppered with recipes for simple but sophisticated snacks and classic Italian drinks.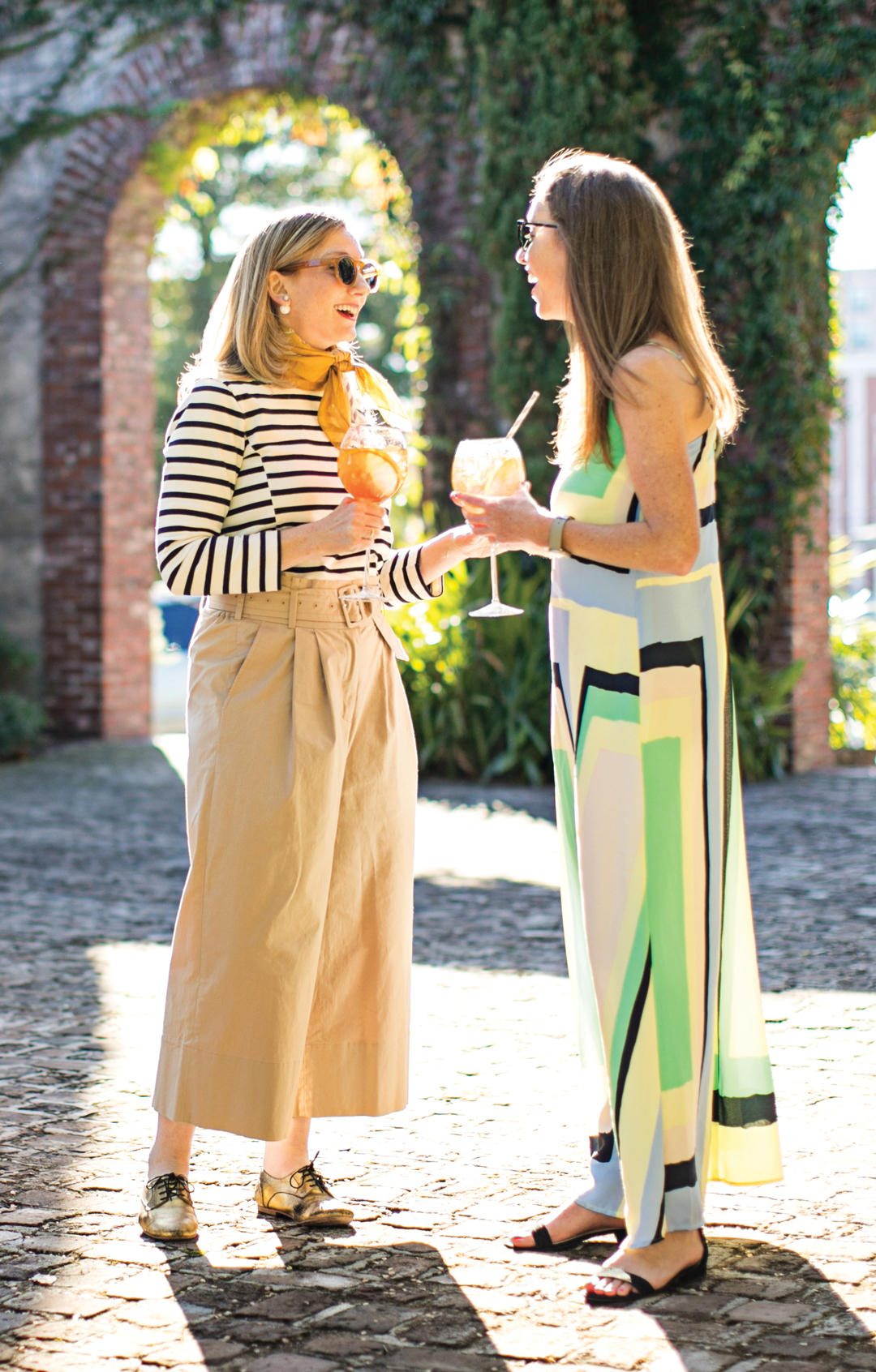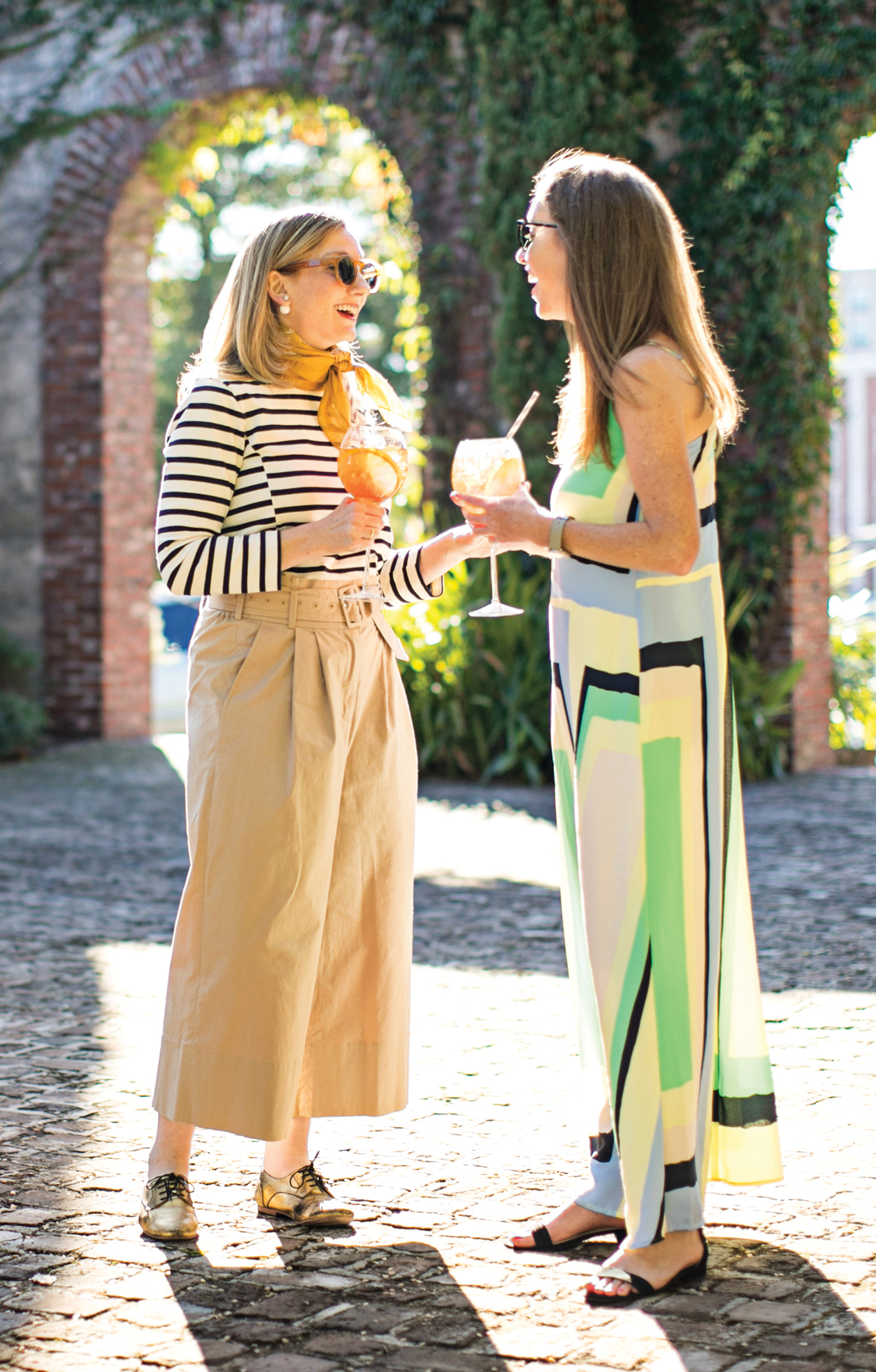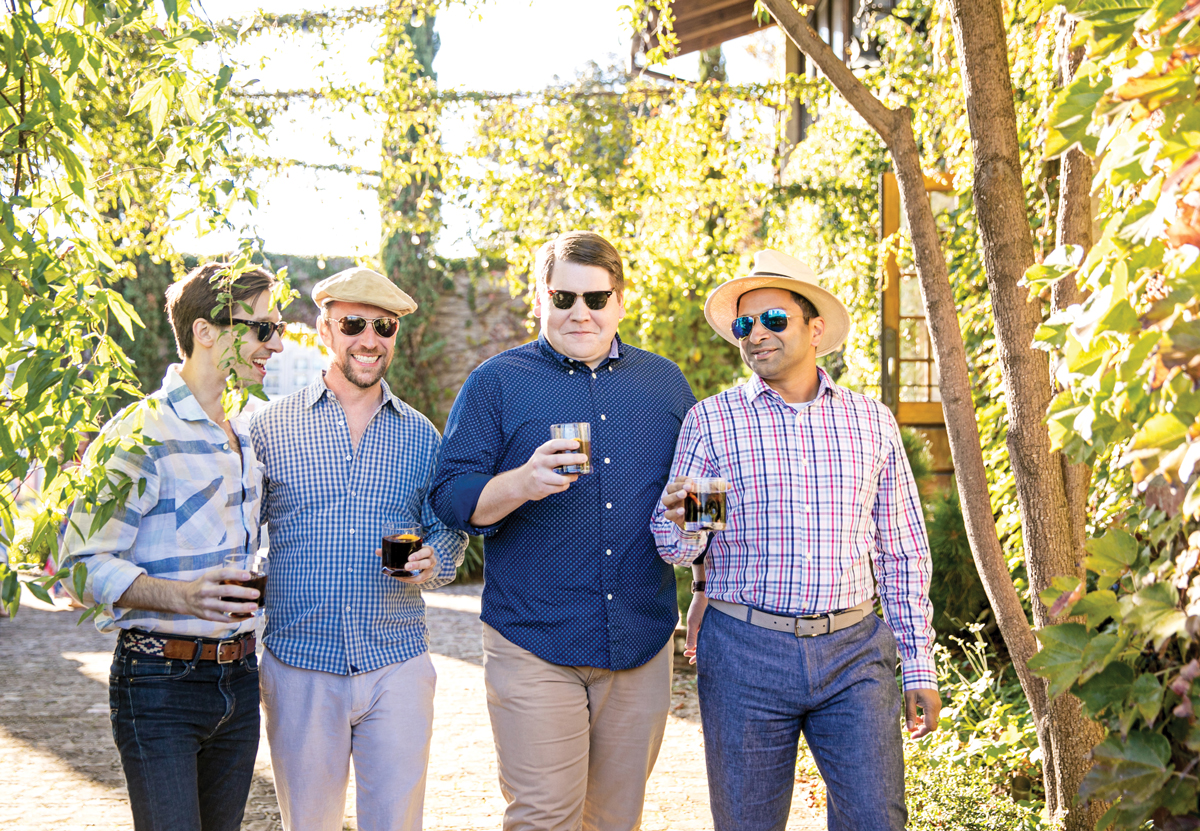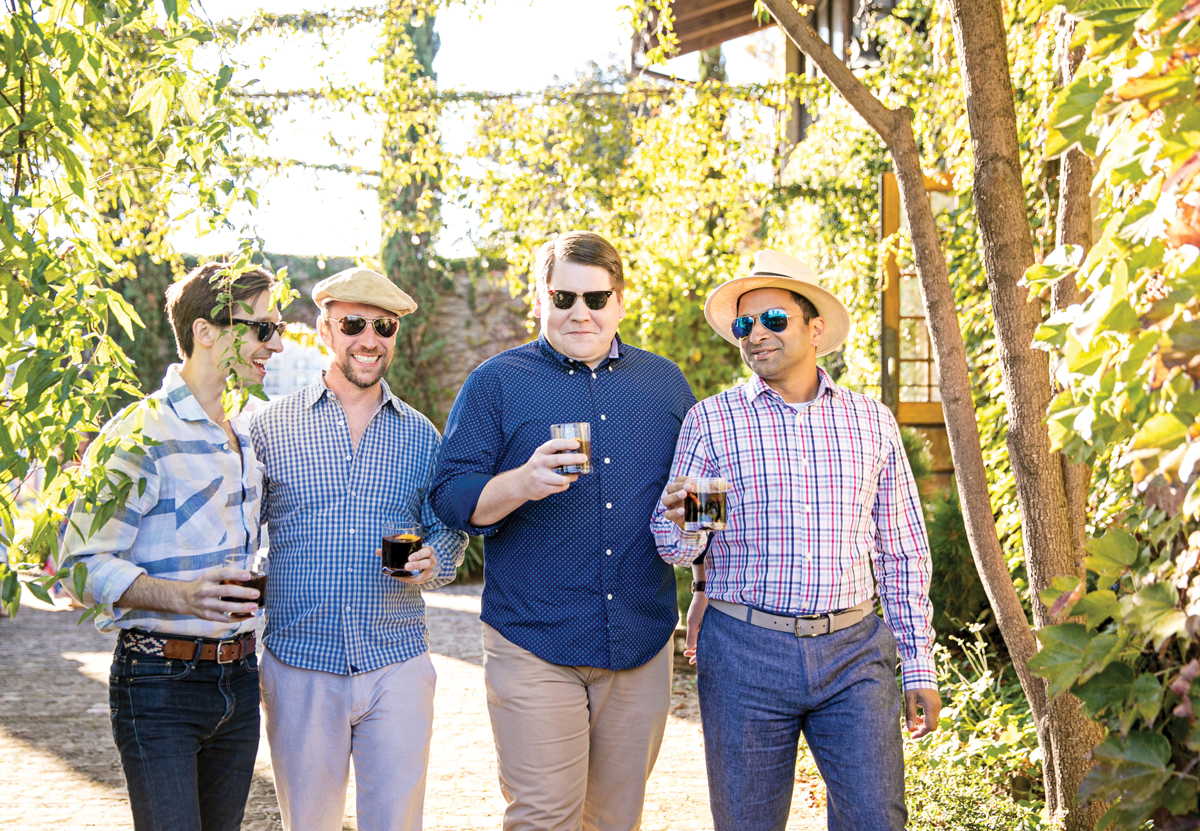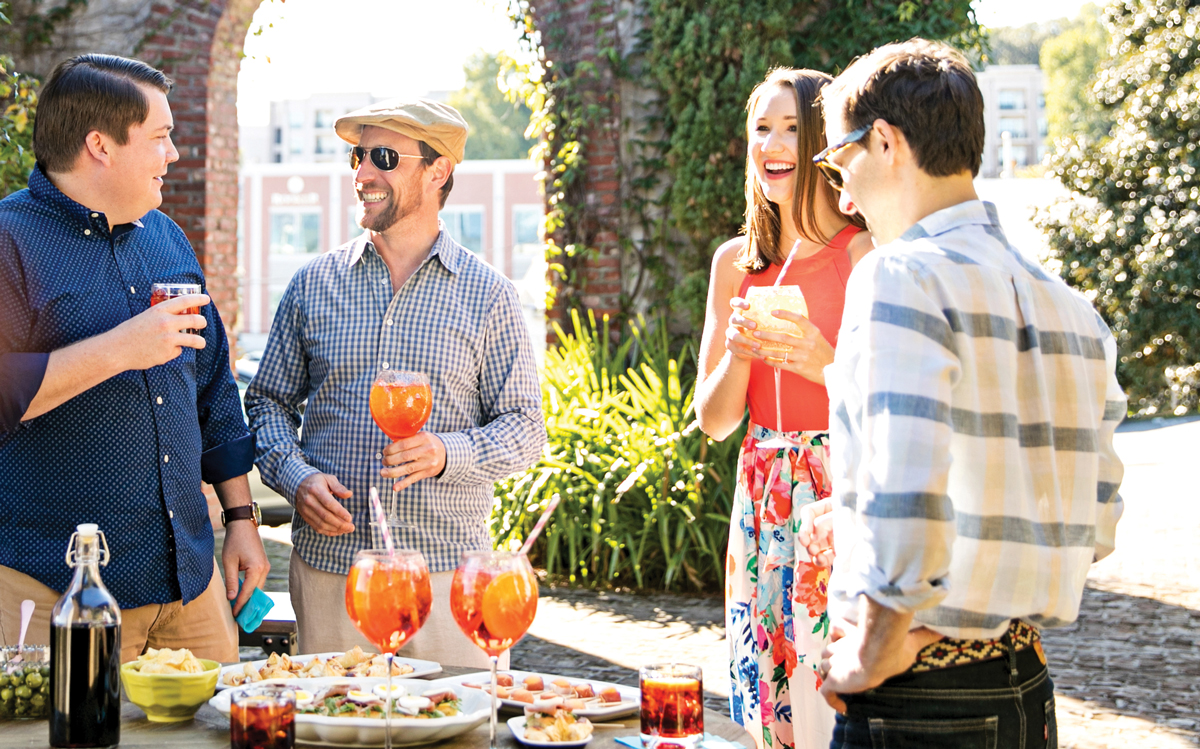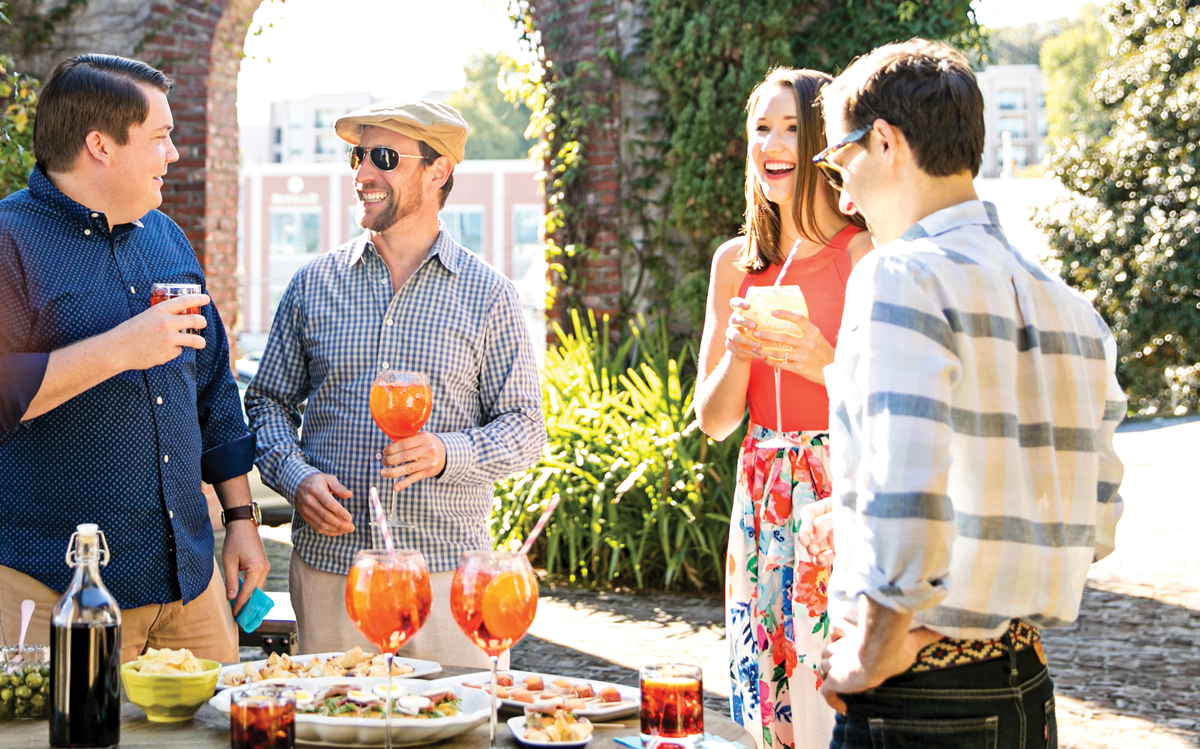 HOME's editor, Mary Logan Bikoff, asked to try some cocktail recipes with an artisan vermouth that her husband, David, and his friend Chase craft in small batches with earthy herbs and botanicals. We decided to make a party of it, and they invited friends to the beautiful courtyard at the Westside's Summerour Studio (home to architecture firm Summerour & Associates and a stunning event venue) for an al fresco gathering after work. The Italian cypress trees, romantic creeping vines, and arched entryways evoked a rustic Tuscan estate that set just the right scene.
In addition to spritzes and negronis crafted with housemade vermouth, the menu included prosciutto and melon, herby olives, salami puffs, focaccia, and potato chips, an essential Italian snack. Try them at your own aperitivo party this summer—preferably al fresco!
The menu
Cocktails
Aperol spritz
Negroni
Nibbles
Herby marinated olives
Prosciutto finger sandwiches with homemade aioli
Salami puffs
Prosciutto with melon
Potato chips
Serves 1
3 ounces prosecco
2 ounces Aperol
1 ounce soda
1 orange slice
In a glass filled with ice, pour Aperol and prosecco, and finish off with the soda. Serve in a large wine glass. Garnish with a slice of orange.
Serves 1
1 ounce dry gin
1 ounce Campari
1 ounce Italian vermouth
Shake well with cracked ice, then strain into a chilled highball glass. Garnish with
a twist of orange peel.
Serves 8
4 cups mixed olives
3 whole cloves of garlic, smashed
¼ cup of olive oil
2 teaspoons red pepper flakes
3 tablespoons chopped fresh rosemary
2 tablespoons chopped fresh marjoram
1 tablespoon fresh thyme leaves
In a saute pan, warm the olives, garlic, peppers, and oil. Toss in the herbs with the olive mixture. Serve warm.
Serves 4
3 cups double zero flour or bread flour
1 package dry yeast
1 ⅓ cup water
½ cup extra virgin olive oil, plus 1 teaspoon for the cookie sheet, 3 tablespoons for finishing before baking, and 1 tablespoon to finish after baking
2 tablespoons coarse salt, plus 1 teaspoon for finishing
Preheat oven to 450 degrees F.
In the bowl of a standing mixer fitted with a dough hook, let the yeast proof for a few minutes in ⅓ cup of warm water. Once a bubbly foam forms on the surface, it is ready. Add flour, oil, salt, and the remaining water. Combine in mixer until it forms a sticky dough. Turn the dough onto a floured surface, and knead gently for approximately one minute. On an oiled 10-by-14-inch cookie sheet with a lip, spread the dough out to fit the cookie sheet. With your index fingers poke dimples across the top of the dough. Let rest for 30 minutes, then repeat by poking dimples into the risen dough, and let rest again for 30 minutes. Drizzle with 3 tablespoons olive oil and sprinkle with 1 teaspoon coarse salt. Bake at 400 degrees for 30 minutes. Remove, and sprinkle with 1 tablespoon olive oil, letting the oil soak in as the focaccia cools. Serve warm or at room temperature. Can be stored sealed for up to 3 days.
Serving suggestion: I love to use focaccia as an appetizer with olive spread, Parmesan cheese, Parma ham, and a crisp rosé. It makes the perfect start to the evening.
5
Prosciutto finger sandwich with homemade aioli
Serves 4
Focaccia bread (see recipe above)
¼ pound prosciutto, sliced thin
4 hard boiled eggs, sliced thin
2 cups of baby arugula
1 teaspoon salt
Makes ½ cup
1 garlic clove
1 large egg yolk at room temperature
2 teaspoons fresh lemon juice
½ teaspoon Dijon mustard
¼ cup extra-virgin olive oil
3 tablespoons vegetable oil
Mash the garlic clove to a paste with a pinch of salt using a large, heavy knife, and set aside. Whisk together egg yolk, lemon juice, and mustard in a bowl. Combine oils and add, a few drops at a time, to yolk mixture, whisking constantly, until all oil is incorporated and mixture is emulsified. (If mixture separates, stop adding oil and continue whisking until mixture comes together, then resume adding oil.) Whisk in garlic paste, and season with salt and pepper. If aioli is too thick, whisk in a few drops of water. Chill, covered, until ready to use. Can be made up to 1 week in advance and stored in a sealed container in
the refrigerator.
Assembly: On top of the focaccia, spread aioli, and top with arugula, prosciutto, and sliced eggs, then sprinkle with salt. Cut the sandwiches into eight 2-inch squares, and serve immediately.
Serves 12
12 slices Genova salami slices cut in half
1 sheet puff pastry
½ cup cream cheese (Fun fact: In Italy, cream cheese is called Philadelphia.)
Preheat oven to 400 degrees F.
Thaw the puff pastry, and unroll on a board covered in parchment paper. With
a rolling pin, roll the pastry into a 12-by-12-inch square. Then, spread the cream cheese on top of the puff pastry. Cut the pastry with a sharp knife into 3-by-3-inch squares. Place a salami half on top of each pastry square, then fold corners of the square together over the salami until they meet in the center, forming a small pouch. Place on a baking sheet, and bake for 15 minutes until golden brown. Serve at room temperature.
8
Prosciutto with melon pops
Serves 6
½ ripe cantaloupe, seeded (Shopping hint: The tip of the fruit will smell like melon when it is ripe.)
½ pound thinly sliced prosciutto cut into 1-inch sections
Using a melon baller, scoop out around 25 to 30 melon balls from the cantaloupe. Wrap the melon balls with prosciutto slices like a belt, and then, secure with a skewer. Place the melon "lollipops" on a platter, and serve immediately.
This article appears in our Summer 2018 issue of Atlanta Magazine's HOME.