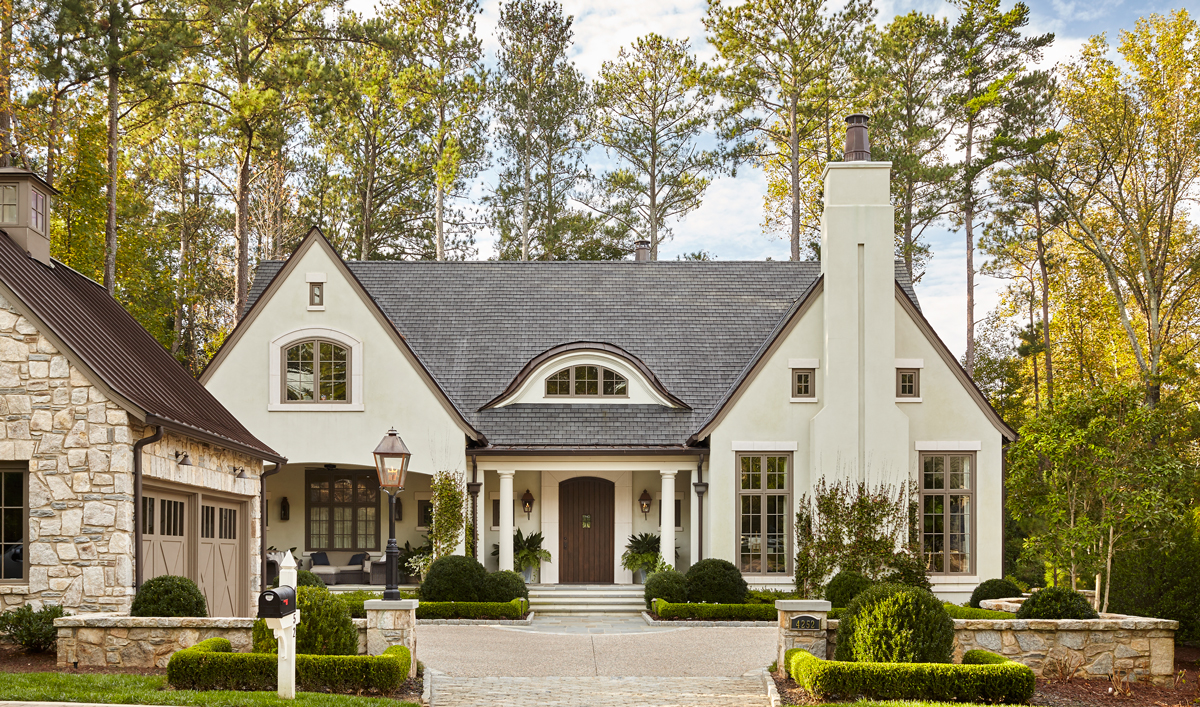 When Cathy Groome was asked to describe the style of house she wanted, "Southern-European" was the best she could come up with. But architects Craig Dixon and Todd Pritchett got it right away. "We promised her it would be her favorite house yet," says Pritchett, who had worked with the homeowner and her husband, Chip, on three previous houses.
The house is tucked into a wooded enclave of cottage-style homes in Vinings that Chip developed on a 2.5-acre piece of property, all with a European sensibility. "I had a vision of English and French cottages but also borrowed from neighborhoods like Seaside," he says. His rules for the community: Every house should have a front porch, elevations should be no higher than one-and-a-half stories, no dark red brick, and exteriors should relate to one another, with gas lanterns and front-yard designs by Lands Plus.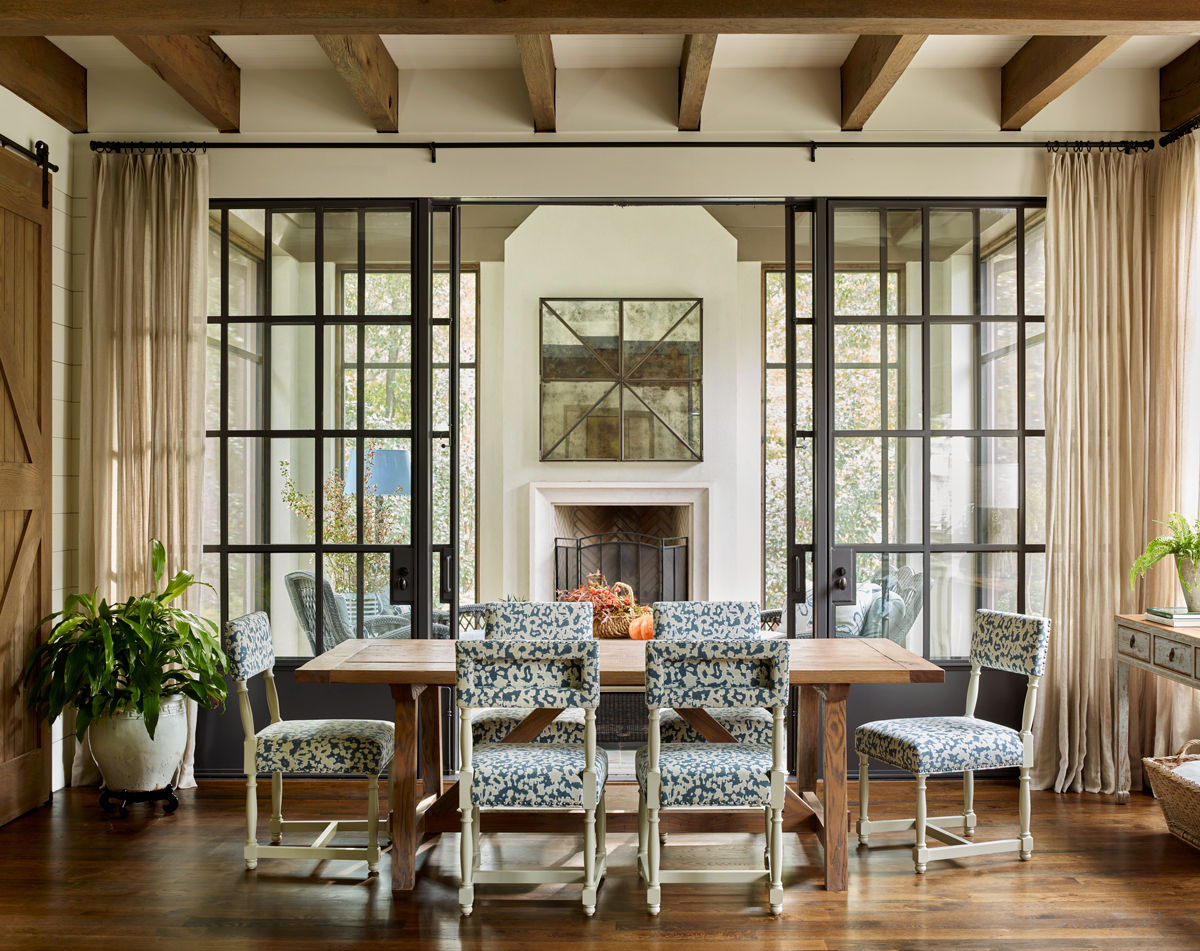 For the Groomes' custom house, Pritchett and Dixon's exterior design relies on symmetry and time-honored materials—hard stucco and stone—with a few clever touches, such as the eyebrow window above the front door and detailing on the chimney. Inside, rooms are arranged on a pleasing axis to create flow, with materials such as limestone floors and white-oak beams providing a rustic warmth.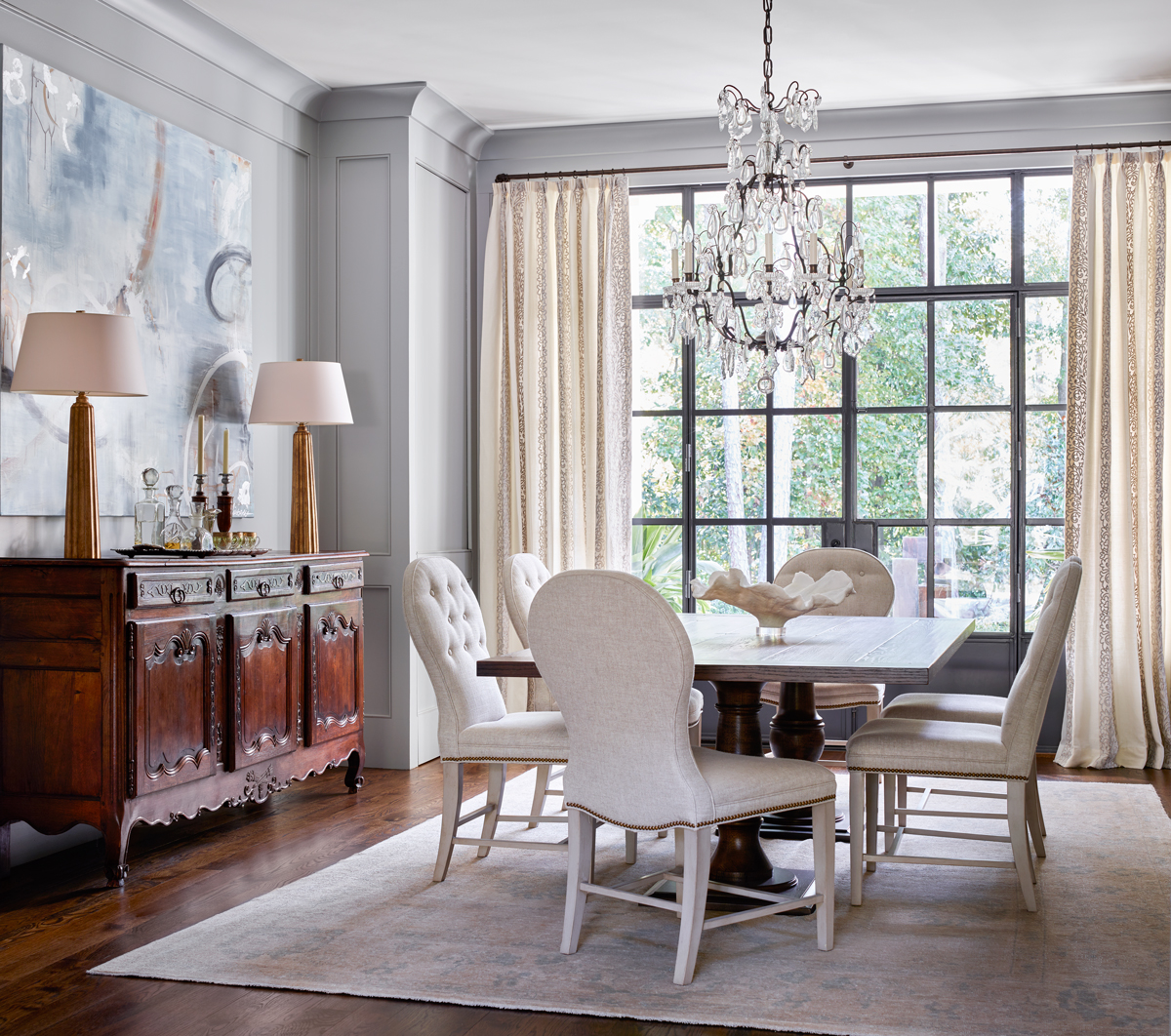 The Groomes didn't want the house to feel too big, but they still tasked the architects with some big-house attributes: high ceilings, wide doorways, plenty of entertaining space, and, most of all—natural light. To accomplish that, the architects added vaulted ceilings in the great room and screened porch, and specified iron windows and doors (which can accommodate larger spans of glass) where it made sense. The Groomes' furniture—a charming mix of French antiques and light blue fabrics curated by interior designer Susan Negri—adds to the feeling that this cottage could be in the south of France.
The architects enjoyed the collaboration with their longtime clients—even though it could be their last. "I think this might be our forever house," Cathy says.
Resources
Architect Craig Dixon and Todd Pritchett, Pritchett + Dixon, 351 Peachtree Hills Avenue, pritchettdixon.com
Interior design Susan Negri, SN Designs, 404-805-3424
Landscape design SN Designs, landplusassociates.com
Great room Chandelier: Foxglove Antiques, foxgloveantiques.com. Coffee table: Beau Studio, lovebeaustudio.com
Dining room Table: Custom made by Bo Childs, wyattchildsinc.com. Chandelier: The Big Chandelier, thebigchandelier.com. Chairs: Mrs. Howard, mrshoward.com. Painting: Kim Collinson, kimcollinson.com
Foyer Mirror: Huff Harrington, huffharrington.com. Lamp: Inner Pieces, Atlanta Antique Warehouses, atlantaantiquewarehouses.com. Chair fabric: Kravet, kravet.com
Breakfast room Dining chair fabric: Schumacher, fschumacher.com. Swivel chair: Lee Industries, leeindustries.com
Kitchen Chandeliers: Edgar-Reeves Lighting, edgar-reeves.com
This article appears in our Fall 2018 issue of Atlanta Magazine's HOME.