Music
ONE Musicfest
When: September 7-8
Where: Centennial Olympic Park
Cost: $75-$750
Details: Celebrating its 10-year anniversary, an all-star lineup including Gucci Mane, Rae Sremmurd, Pharrell, and KP The Great will perform at this two-day event. This year, the festival also collaborated with clothing brand FUBU for a limited edition collection of shirts and hats that will be for sale at the festival.
Music Midtown
When: September 14-15
Where: Piedmont Park
Cost: $165-$1,250
Details: Known for bringing a diverse group of rising and established artists to perform every year, the long-running event's 2019 lineup includes Lizzo, Travis Scott, Cardi B, Panic! at the Disco, and Billie Eilish. Atlanta's own 6lack and Lil Yatchy will also take the stage.
Imagine Music Festival 
When: September 20-22
Where: Atlanta Motor Speedway
Cost: $49-$899
Details: The EDM showcase brings some heavy-hitting artists this year, including Diplo, Above & Beyond, ZEDS DEAD, and Marshmello. If dancing isn't enough, attendees can also practice yoga, watch circus acts, attend transformative workshops, watch live art, or take a dip in this year's new splash pool.
Sweet Auburn Music Festival
When: September 28-29
Where: 320 Irwin Street
Cost: Free
Details: The multi-genre music festival is a perfect blend of food, entertainment, and community. Have a family outing or bring a friend to grab a bite at the international food court, look at some sweet rides at the car show, and dance to timeless music.
A3C
When: October 8-13
Where: Various locations
Cost: $249-$999
Details: A few changes are in store for this year's hip-hop festival and conference—including a larger focus on technology—with a number of events taking place over a span of six days. Artists including Big Daddy Kane, E40, Megan Thee Stallion, and Pink Sweat$ will perform across Atlanta at Center Stage, Masquerade, and the Tabernacle. With a West Coast Tribute in honor of the late rapper Nipsey Hustle, the concert series will also host a Hip-Hop Trailblazers and FADER FORT experience. The conference—where many music industry legends drop gems about all things hip hop and culture—will take place October 10 through October 12 at the Atlanta Convention Center at AmericasMart.
Food & Drink
Atlanta Mimosa Festival
When: September 28, 1-5 p.m., 12 p.m. for VIP
Where: Historic Fourth Ward Skate Park
Cost: $45-$79
Details: Get your fix of this favorite breakfast cocktail, along with bellinis, wines, beers, and other adult-friendly drinks. For football fans, ThumpsUp Tailgating & Mobile Entertainment will show Saturday's college games, so you won't miss a play.
Oktoberfest Atlanta
When: October 11-12
Where: Historic Fourth Ward Park
Cost: $19-$56
Details: The German-themed event will have all the brews you can dream of in one place. Grab a Bavarian pretzel or bratwurst to pair with a beer after you compete in kell roll racing, a stein hoisting contest, or the pretzel toss.
Culture
Atlanta Arab Festival 
When: September 14-15
Where: Alif Institute
Cost: $5, children are free
Details: Now in it's 14th year, this cultural celebration features food, Arabic coffee, live performances, games, a kids' talent show, and a souk market. Attendees can enter photo contest in advance explaining what Arab culture means to them—the winners will have their picture displayed at the festival.
CURLFEST
When: September 21, 12-7 p.m.
Where: Candler Park
Cost: $35-$60
Details: After its growing success in New York, the natural beauty celebration will take place in Atlanta for the first time. Target, DevaCurl, Creme of Nature, and Camille Rose are a few of the retailers and lines on the festival's sponsor list. Naturalistas can visit vendors on Beauty Row, jam out to live music, view art, and listen to guest speakers while embracing all hair types, curl patterns, and skin complexions. Social media influencers from across the nation are known to attend, you may see some of your social media inspirations or hair goals for an Instagramable moment.
JapanFest
When: September 21-22
Where: Infinite Energy Arena
Cost: $10-$18
Details: This year's JapanFest will celebrate the upcoming 2020 Olympics. The event expands across the entire arena, where you'll will find Japanese dishes, vendor markets, an Anime Village, a kid-friendly area with Japanese games, a sword and martial arts exhibit, and much more.
Atlanta Greek Festival
When: September 27-29
Where: Greek Orthodox Cathedral of Annunciation
Cost: $5, free for children 12 and under
Details: From gyros to spanakopita, you'll find plenty of Greek favorites here. The marketplace will transform into a Greek Agora where vendors sell jewelry, oil paintings, and other household items. If you need you need Greek on-the-go, the festival also hosts a drive-thru on Friday and Saturday that offers a shortened version of its full menu.
AFROPUNK
When: October 12-13
Where: 787 Windsor
Cost: $50-$90
Details: Celebrating diversity and black culture, the "Carnival of Consciousness" returns to Atlanta with new installations including YouTube series The Grapevine TV. Performances by Anderson .Paak, Earthgang, FKA twigs, and Alabama Shakes lead vocalist Brittany Howard are only a few of the 21 artists set to take the stage. The Bites & Beats Food Festival—an event within an event—will have dishes from around the world for patrons to eat while enjoying the ongoing sets.
Film
Atlanta Horror Film Festival
When: September 12-14
Where: Synchronicity Theatre
Cost: $12-$50
Details: Expect everything from comedy to gore at this spooky film fest, which features independent features and shorts, some of which you can only catch at the three-day event. Sure to make your skin crawl or have you peeking through one eye, films produced in 10 different countries will entertain movie-goers with plots focused on the dangers of technology, paranormal activity, and more.
Art
Yellow Daisy Festival
When: September 5-8
Where: Stone Mountain Park
Cost: $5-$10 before 10 a.m., Free after 10 a.m.
Details: The award-winning arts and crafts show will display works from more than 400 artistsans along with this year's featured artist and SCAD Atlanta professor Thomas Burns. Don't miss the Flower Show on Friday and Saturday, which celebrates all things horticulture.
Buckhead Fine Arts Festival
When: September 21-22
Where: Buckhead Village
Cost: Free
Details: For its second year in the upscale residential district, the two-day, rain-or-shine event will showcase works from about 100 artisans including glass blowers and sculptors. With live music and food available, there's plenty to indulge—and four-legged furry friends are welcome, too.
Fall Festival on Ponce
When: October 12-13
Where: Olmsted Linear Park
Cost: Free
Details: For the two time annual event—each in the fall and spring—festival-goers can enjoy local art and craftsmanship, food, beverages, live music, and a children's area while taking in the views of a historic picture-worthy park.
Community
Sandy Springs Festival
When: September 28-29
Where: Heritage Green
Cost: Free; some events require an additional fee
Details: At the annual 33rd festival you can expect to find over 50 art vendors, bounce houses, face painting, a Chalk Walk, pet parade, and food and drinks—of course. After the Lightning 5K/10K on Saturday morning, festival-goers can visit Heritage Sandy Springs Museum in the Historic District to learn about the community and view a new art exhibit about the women of Sandy Springs. For the cherry on top, the new Sandy Springs Wine Festival will have over 75 wines and craft beers from 12 p.m. to 5 p.m. on Saturday along with live music and games to enjoy, also.
Fall Fest in Candler Park
When: October 5-6
Where: Candler Park
Cost: Free; some events require an additional fee
Details: Prepare for crowds, as the 200+ booth artists' market, kids' zone, Sunday morning yoga, and Tour of Homes draws more than 18,000 people to the neighborhood. The festival's 5K, which kicks off at 10 a.m. Saturday, also has an updated route this year.
Atlanta Pride Festival
When: October 11-13
Where: Piedmont Park
Cost: Free; some events require an additional fee
Details: New this year, the largest pride festival in the Southeast will have its first Bi and Pan March celebrating the bisexual and pansexual communities along with adding a second tea dance. Also on the lineup: a kick-off party at the Georgia Aquarium, Trans March and Rally, Dyke March, Pride Car and Motorcycle Show, and the Pride Parade, the largest in the city and one of the oldest pride parades.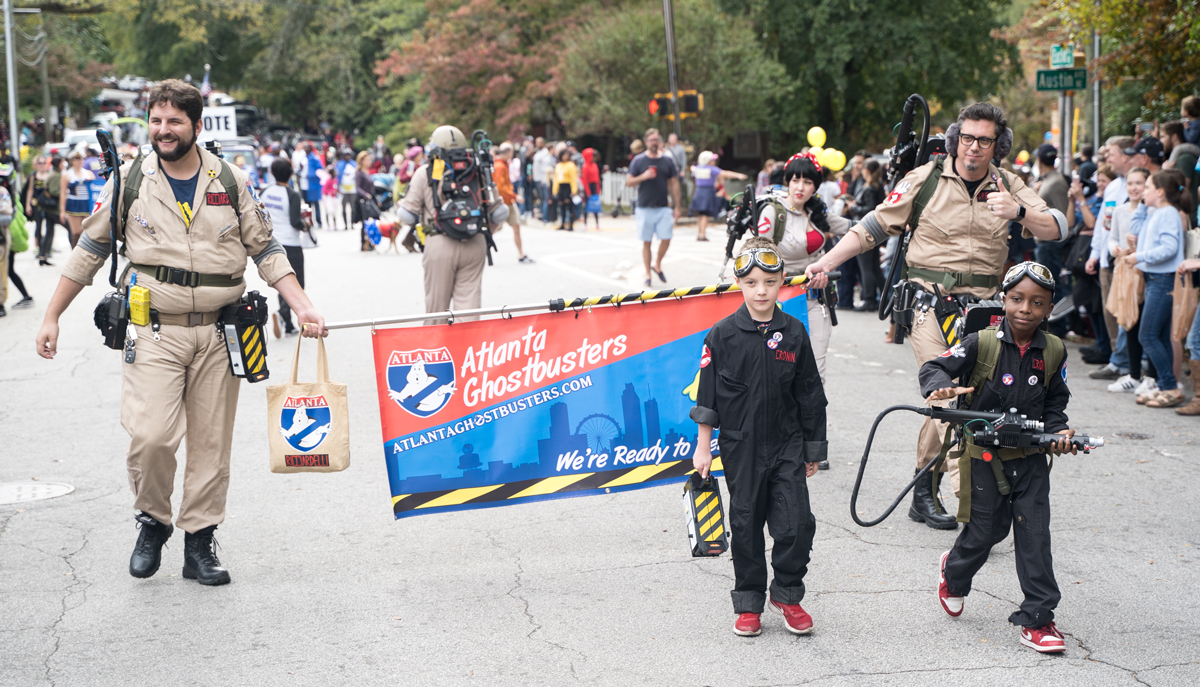 Specialty
Pretty Girls Sweat Festival
When: September 14, 12-5 p.m.
Where: Georgia Freight Depot
Cost: $50-$100, $25 for students
Details: Supported by celebrities including Laila Ali, Karen Civil, and "the world's fastest woman" Carmelita Jeter, the women-dominated fitness expo takes strides to make exercising a fun, enjoyable experience while creating a sisterhood and fighting childhood obesity. While "sweat sisters" take a break from yoga, strength training, or dance workouts, they can enjoy free beverages at sip stations, grab a bite of vegan soul food, and buy merch from vendors.
Little Five Points Halloween Festival
When: October 19, 12-10 p.m.
Where: Little Five Points
Cost: Free
Details: Since the 1970s, Little Five Points is the place to be for the spookiest costumes and movie favorites from the Sanderson sisters from Hocus Pocus to Glinda the Good Witch of the South. Don't miss the parade from 4 p.m. to 6 p.m. with live music and food to enjoy in Atlanta's oldest art and music district.
And one more bonus festival to know about

Atlanta magazine's Whiskey Festival
When: October 17, 7-10 p.m.
Where: Flourish Atlanta
Cost: $75-$100
Details: We've outgrown our old space at the Estate in Buckhead, but we're moving just across the street to Flourish. With more than 50 whiskey, bourbon, and rums ready to sample, attendees can enjoy live music, food pairings, and cigar rolling.