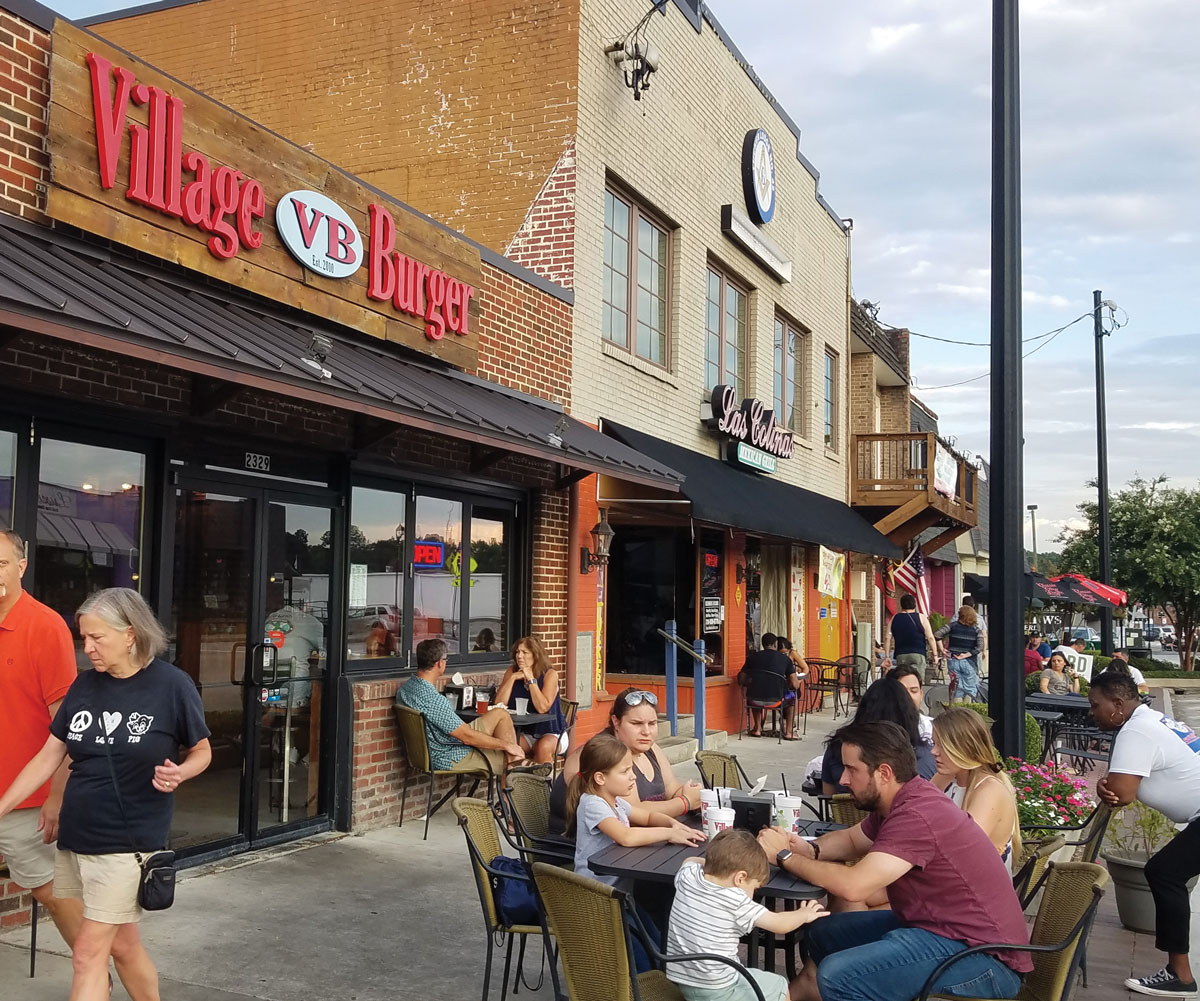 Situated just outside I-285 at roughly 2 p.m. on the clockface of Atlanta's Perimeter, Tucker has a long history. The area was first occupied by the Muscogee Creek nation, who were forced to cede it to the United States in 1821. The governor of Georgia soon deeded it to Greenville Henderson, a veteran of the "Indian Wars." A railroad was built there in 1892, and the Seaboard Air Line railway renamed the town for its officer Captain Tucker in 1907. By the start of this century, big-box retailers and regional shopping centers had siphoned away core businesses—until the Main Street Tucker Alliance began reviving the town's commercial center. A streetscape overhaul begun in 2010 reduced the main drag from four lanes to two, installed vintage-style lampposts and brick pavers, and set the stage for an economic development surge that's gained steam following Tucker's (controversial, among some neighbors) incorporation as a city in 2016.
"As Main Street became more walkable, and as people's preferences have changed to local independent businesses, it's just brought in more and more people of all ages," says Chip Cofer, president of Cofer Brothers, a hardware store, building materials dealer, and Main Street staple since 1919 that is by far Tucker's oldest business. He is also a member of the Tucker-Northlake Community Improvement District who feels a business-first mentality is paying dividends. "It's not as active as Decatur, but there's been a whole rebirth of energy here that's just very positive," says Cofer. "We're not done yet."
What's to love?
Tangible growth
Tucker's status as a sleepy OTP town, isolated from gangbusters growth in places like Duluth and Marietta, is no more. It's counted a 70 percent uptick in the number of retail businesses since 2018—and celebrated 72 ribbon-cuttings in the six years since it was incorporated. The population, meanwhile, has grown nearly 13 percent to almost 38,000 since 2010. As of September, another 283 single-family homes and townhouses were either under construction or approved—with some new developments including workforce housing. According to Redfin, the average home price here is $385k, $127k less than in Dunwoody, another growing city in DeKalb.
Main Street eats
Contemporary American restaurant and bar the Local No. 7 was in the vanguard of Tucker's buzzy downtown dining scene, which was kicked up a notch by the original location of Ford's BBQ two years ago. Guy Fieri–approved Matthews Cafeteria, meanwhile, has been serving comfort-food staples here since 1955.
Movie mecca
Tucker has logged more than 60 filming productions since becoming a city in 2016. (Cofer's lumberyard business, he says, has benefited greatly.) Well-known titles have included Ozark, Sweet Magnolias, The Outlaws, and I, Tonya.
Green expectations
The first phase of a planned 32-mile network of paved bike trails and neighborhood greenways is taking shape—repurposing downtown's historic alleyways. It will serve as connective tissue between businesses and a two-acre Town Green the city is planning now.
Gatherings galore
Of more than 20 annual events that range from Christmas festivals to monthly Main Street car shows, none is more well-known than Tucker Day, held for six decades (2020 notwithstanding) on the second Saturday in May. Main Street shuts down for a parade and an array of live music, craft vendors, and no shortage of local food (plus Chick-Fil-A).
This article appears in our December 2022 issue.