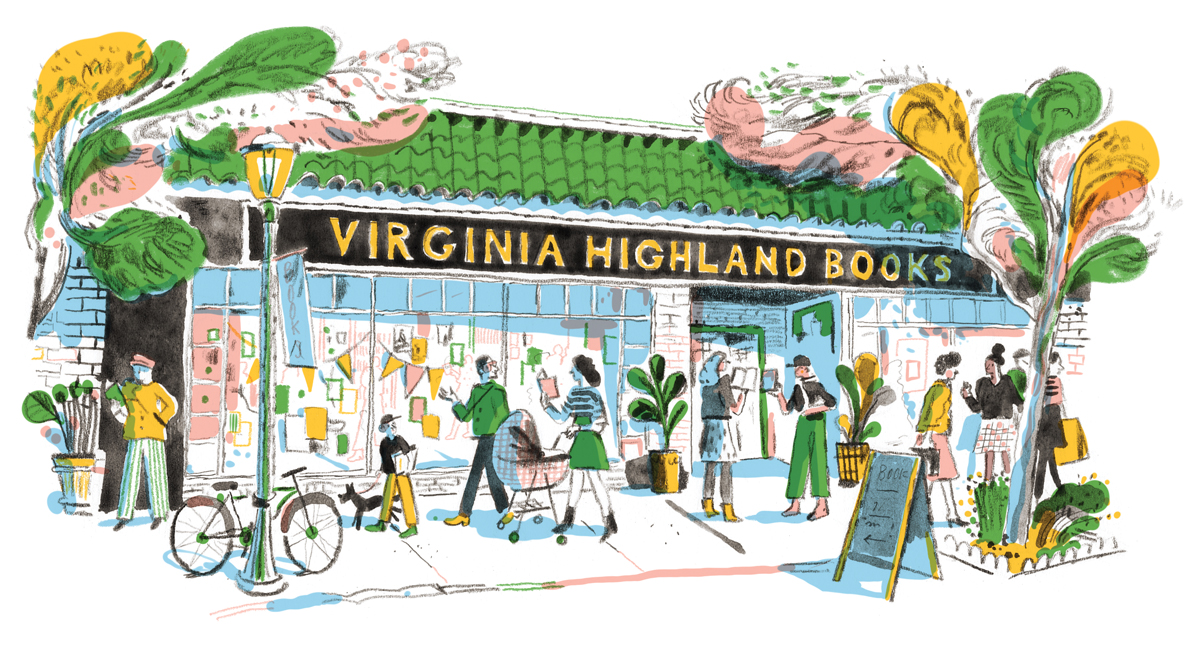 Independent bookstores
44th & 3rd
451 Lee Street Southwest, West End
This family-owned source presents "the richness, diversity, and genius of Black expression."
A Capella Books
208 Haralson Avenue Northeast, Inman Park
Atlanta's only intown, full-service bookstore partners with many book events and authors.
Atlanta Vintage Books
3660 Clairmont Road, Chamblee
This institution stocks more than 80,000 used, new, collectible, and vintage books.
The Book Bird
32 North Avondale Road, Avondale Estates
This pop-up at the Banjo Lounge coffee shop invites lingering.
Book Exchange
2932 Canton Road, Marietta

Book Miser
3822 Roswell Road, Marietta

Book Nook
1547 Roswell Road, Marietta

Half Price Books
1205 Johnson Ferry Road, Marietta
East Cobb is home to at least four thriving used bookstores.
Book Worm
4451 Marietta Street, Powder Springs
A local favorite named Best of Georgia by the Georgia Business Journal.
Bookish
1188 Glenwood Avenue Southeast, East Atlanta
New and used books, with a focus on diverse fiction and social justice–oriented nonfiction.
Brave + Kind Bookshop
722 West College Avenue, Oakhurst
An intentionally curated selection of inclusive, diverse books for children and young adults.
Charis Books & More
184 South Candler Street, Decatur
In partnership with Agnes Scott College, this shop fosters sustainable feminist communities, social justice, and diverse and marginalized voices.
Eagle Eye
2076 North Decatur Road, Decatur
Located near Emory, this independent bookshop celebrates its 20th anniversary this year.
For Keeps Books
171 Auburn Avenue, Downtown
A cross between a store and a reading room, with rare and classic Black publications.
FoxTale Book Shoppe
105 East Main Street, Woodstock
A community favorite known for supporting authors, book clubs, writing classes, children's programs, and special events.
Johns Creek Books & Gifts
6000 Medlock Bridge Parkway, Johns Creek
A wide variety of titles for children and adults.
Listening Tree
2308 Candler Road, Decatur
This parent-owned children's bookstore focuses on Black voices. They offer a book club and an entrepreneurs club for kids.
Lit Diaries
2057 Main Street Northwest, Riverside
A new book lounge and event space
Little Shop of Stories
133A East Court Square, Decatur
A longtime favorite children's bookstore on the Square.
Lucian Books & Wine
3005 Peachtree Road, Buckhead
Artful books in an equally artful restaurant.
Medu Bookstore
Greenbriar Mall, 2841 Greenbriar Parkway Southwest
One of Atlanta's largest Black-owned bookstores.
Poe & Company Bookstore
1890 Heritage Walk, Milton
A family-oriented bookstore and coffee shop in downtown Crabapple.
The Reading Attic
21 West Park Square, Marietta
A new, mother and daughter–owned shop specializing in children's books and Georgia authors.
Posman Books
This small New York–based, family-owned chain has two metro locations, Ponce City Market and Avalon.
Read Shop
4300 Paces Ferry Road, Vinings
Created by the owners of the Merchant gift shop in Krog Street Market, this tightly curated bookshop also has a coffee bar.
Tall Tales Book Shop
2105 Lavista Road, Toco Hills
A longtime resource known for customer service.
Vibrary
970 Main Street, Stone Mountain
A wine and book bar
Virginia Highland Books
1034 North Highland Avenue, Virginia-Highland
Located in a historic two-story brick building, this cozy neighborhood store is designed for lingering.
Essential books that explain today's Atlanta
1. The Souls of Black Folk
by W.E.B. Du Bois (1903)
2. The Evidence of Things Not Seen
by James Baldwin (1985)
3. Peachtree Road
by Anne Rivers Siddons (1991)
4. Driving Miss Daisy
by Alfred Uhry (1993)
5. Where Peachtree Meets Sweet Auburn: The Saga of Two Families and the Making of Atlanta
by Gary M. Pomerantz (1996)
6. The Temple Bombing
by Melissa Fay Greene (1996)
7. Those Bones Are Not My Child
by Toni Cade Bambara (1999)
8. A Man in Full
by Tom Wolfe (2001)
9. Leaving Atlanta
by Tayari Jones (2002)
10. And the Dead Shall Rise
by Steve Oney (2003)
11. White Flight: Atlanta and the Making of Modern Conservatism
by Kevin M. Kruse (2005)
12. Rage in the Gate City: The Story of the 1906 Atlanta Race Riot
by Rebecca Burns (2009)
13. The Legend of the Black Mecca: Politics and Class in the Making of Modern Atlanta
by Maurice J. Hobson (2017)
14. Flight Path: A Search for Roots beneath the World's Busiest Airport
by Hannah Palmer (2017)
15. Things I Should Have Told My Daughter: Lies, Lessons & Love Affairs
by Pearl Cleage (2018)
16. A Culinary History of Atlanta
by Akila Sankar McConnell (2019)
17. Chronicling Stankonia: The Rise of the Hip-Hop South
by Regina Bradley (2021)
18. A Night at the Sweet Gum Head: Drag, Drugs, Disco, and Atlanta's Gay Revolution
by Martin Padgett (2021)
19. Peach State: Poems
by Adrienne Su (2021)
20. Gold Diggers: A Novel
by Sanjena Sathian (2022)
21. Red Hot City: Housing, Race, and Exclusion in Twenty-First Century Atlanta
by Dan Immergluck (2022)
22. Keeping the Chattahoochee: Reviving and Defending a Great Southern River
by Sally Bethea (2023)
Book events
Missing the Decatur Book Festival? Atlanta offers many other chances to meet your favorite authors. Here are a few:
For more than 20 years, the Book Festival of the Marcus Jewish Community Center of Atlanta has brought Oscar and Pulitzer Prize winners, plus other best-selling authors to Atlanta. This year's edition will be held October 28 through November 18.
Agnes Scott College's 52nd Annual Writers' Festival, coming this spring, is the oldest continuous literary event in Georgia.
In addition to book events at local bookstores, schools, and libraries, the Jimmy Carter Presidential Library and Museum, the Georgia Center for the Book, and the Atlanta History Center host regular author talks that are open to the public.
Atlanta is home to both the National Book Club Conference and Indie Love, which showcase Black authors during the summer.
And if you don't mind driving, visit the Savannah Book Festival (February), the Dahlonega Literary Festival (spring), and events hosted by the Georgia Writers Museum in Eatonton.
This article appears in our September 2023 issue.