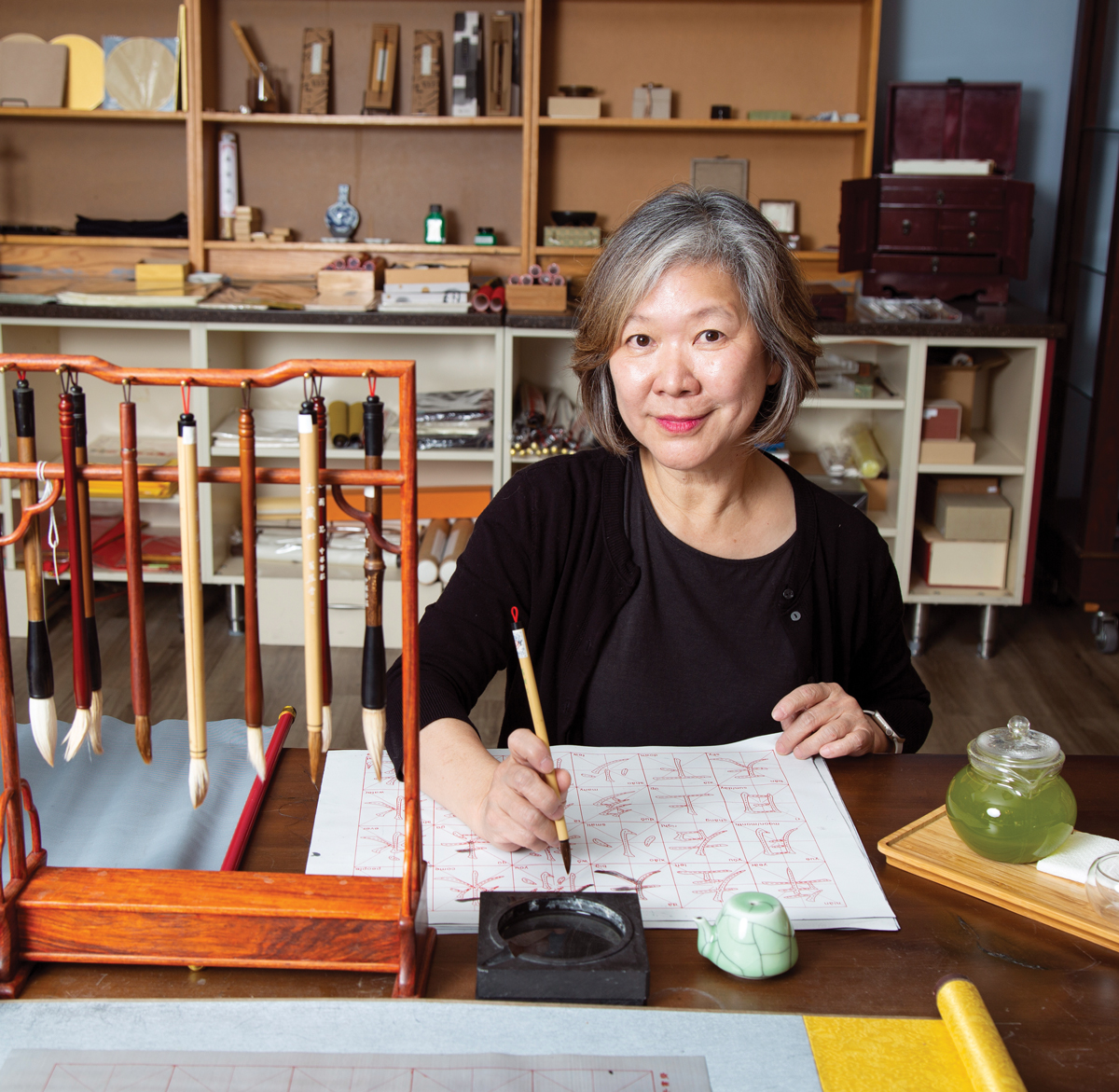 As a cat lady, tea enthusiast, vegan, and student of the Japanese language, I'm lucky that Atlanta has a place where I can indulge all of those facets of myself at the same time. Maomi Bookstore in Chamblee's Chinatown mall is a rare gem for people like me—and also for people who are very different from me—and that is why I love it.
About seven years ago, Yvonne Hou learned the previous bookstore in the same spot was about to close. Rather than let that happen, she decided to take it over and make it her own. But what to call her new business? She posed this question to one of her (many) cats, who replied, "Mi-o!" And so it was settled. Hou named the shop Maomi, the Mandarin equivalent of kitty. With an origin story like that, of course this place would draw me in.
Hou also loves Japanese stationery. I could easily fill a whole shopping basket with the kawaii cat-themed desk supplies she stocks—folios, stamps, paperclips, greeting cards, stickers, and pens, all adorned with perky ears and dainty paws. But I have to leave room in my basket for some of Maomi's other specialty wares, like natural food products from Taiwan. Most of them are vegan, and I rarely see them at the bigger supermarkets just minutes away on Buford Highway.
Even better, there's a whole section dedicated to East Asian tea and teaware. Hoping for a recommendation, I ask Hou which tea is her favorite. "It depends," she says. "If I want dessert, I will drink black tea. If I just finished dinner, I want wulong tea. In the morning, I probably want green tea." Although her answer doesn't get me any closer to making a selection, it's nice to discover commonality with another tea person whose preferences are similar to mine.
That kind of personal, intercultural connection is what Maomi Bookstore is really about. Hou remembers when she came to Georgia from Taiwan 37 years ago and had to learn a whole new culture. To help others experiencing the same thing today, she stocks books in Mandarin that have been translated from English and other languages, plus bilingual cookbooks and children's books. Mandarin speakers can pick up Michelle Obama's memoir, Kobe Bryant's biography, or a novel by a local Atlanta author, as just a few examples—all in their preferred language.
Conversely, to share Taiwanese culture with others, Maomi hosts tea and calligraphy workshops throughout the year. The workshops are free because, as Hou says, "it's like community service."
Every customer has a story, and many have come from far away—other states, countries, and continents, whether as tourists or transplants. They ask Hou what spots she recommends around town. She might send them to Stone Mountain or Ponce City Market, or a particular neighborhood she thinks they'll enjoy for a stroll. Someone probably wouldn't feel comfortable asking for local tips like that at a big-box store or a chain restaurant, but a quiet local bookstore seems to be just the place for it.
"I feel like, Wow, I'm the information center," Hou tells me, with a laugh. I wonder if her laughter is rooted in disbelief, satisfaction, or both. She catches her breath, and her next words make it clear: "I feel like I'm doing something for Atlanta. It feels good."
This article appears in our September 2023 issue.