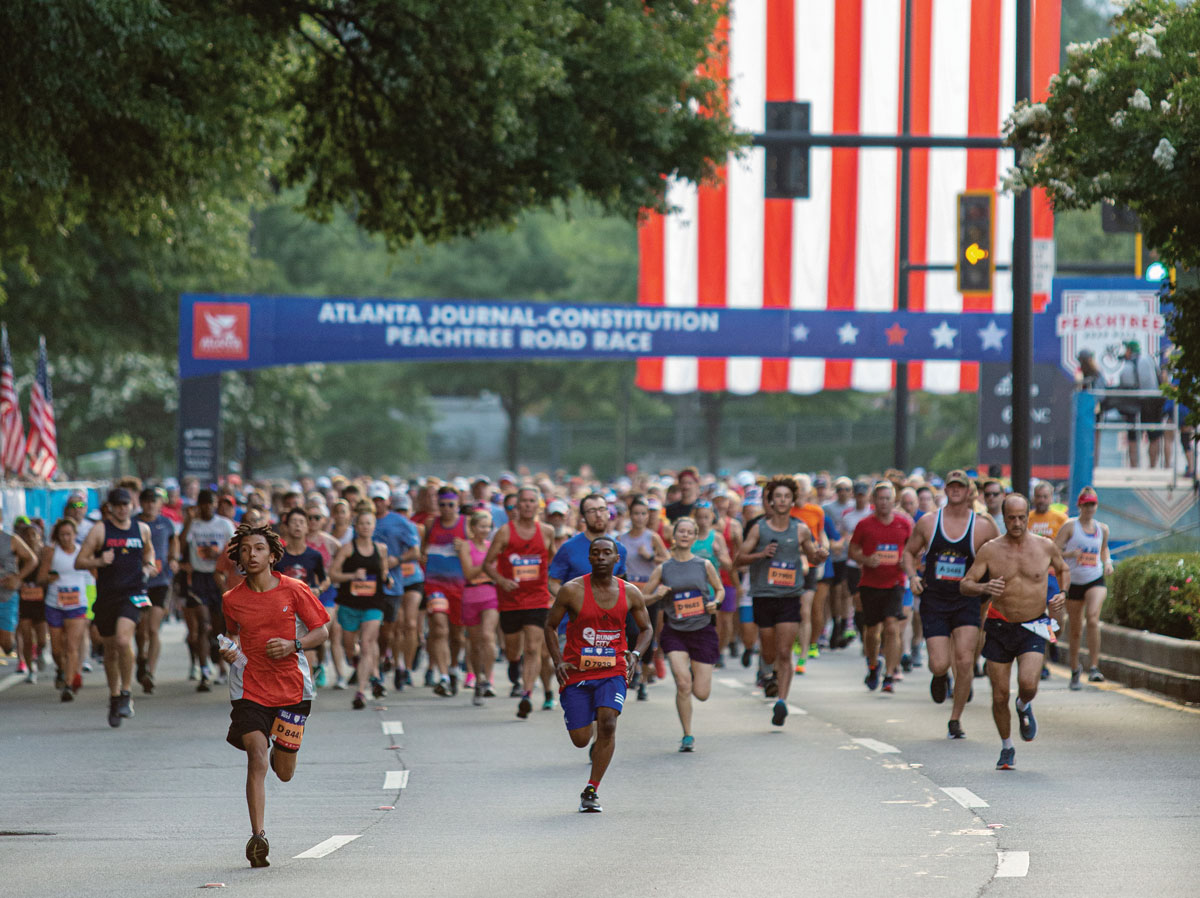 The Fourth of July is my favorite holiday. Not because I'm particularly fond of barbecues, fireworks, or overt displays of patriotism, but because of another Atlanta Independence Day tradition: the Peachtree Road Race. Following humble beginnings in 1970, the race has swelled to become the world's largest 10K, with 60,000 athletes plying the 6.2-mile route from the start line at Lenox Square to the finishing mat on 10th Street outside Piedmont Park. But race day is special for another reason, too: It marks a singular car-free experience in an otherwise car-clogged city.
I started running more than 20 years ago to calm my mind and connect with my body. Most days, though, heading out from my Westside home, it's hard to do either of those things. The first two miles are always the most precarious. Do I take the wide road with no sidewalk, but heavy industrial traffic? Or do I zigzag on the narrow street with three dead-end sidewalks? Both dump out onto a busy two-lane road, where I bolt between speeding cars—there's no crosswalk. Once I reach my first continuous stretch of sidewalk, I dodge abandoned scooters and distracted drivers pulling in and out of shiny mixed-use developments and low-slung industrial buildings before arriving at my destination: a nearly two-mile paved pedestrian pathway. After several minutes of inhaling car exhaust with my head on a swivel, I can finally relax into my run.
Given these harried neighborhood jogs, I happily set my alarm for the Peachtree Road Race. The day begins with participants packed into MARTA trains in the pitch-black morning, then pouring out into a vehicle-free starting area that spans several city blocks. Olympians, firefighters in full gear, people decked out in head-to-toe costumes—all stand shoulder-to-shoulder as fighter jets roar overhead to kick off the event. Thousands of spectators line the streets, offering high fives or water or cold towels. Bands play the usual motivational anthems—"Born to Run," "Let's Get It Started." And regardless of their finishing time, everyone gets the same coveted T-shirt at the end.
While initiatives like the Atlanta BeltLine have added miles of trails to the city over the past several years, none come close to simulating this kind of contiguous, protected car-free experience. Plus, in between those dedicated stretches, pedestrians still face a range of obstacles, from the mundane (tourists taking selfies) to the downright dangerous (cracked sidewalks, unyielding drivers, multilane highways with no place to cross). Even long corridors of paved path aren't a panacea: Last year, I sprained my knee when a dog jumped in front of me on the Northwest BeltLine Connector. And don't get me started on the chaos that is the BeltLine's Eastside Trail.
But the city does have some more pedestrian-friendly corridors. One of my favorites? The 1.5-mile PATH Parkway, connecting Georgia Tech's campus with Centennial Olympic Park. It's a quiet stretch with a wide walkway, dedicated cycling lane, lush tree canopy, and traffic-calming measures like turning restrictions and ADA-accessible crosswalks. In other parts of the city, scramble intersections, like the one at 10th Street and Piedmont, also prioritize people over cars. Other in-progress walk- and bike-centric initiatives include a $30 million project that will bring buffered cycling and pedestrian lanes to downtown, and the final link of the BeltLine's Westside Trail—which, when combined with existing stretches, will add up to 6.5 miles of contiguous pathway from Pittsburgh Yards to Huff Road. That'll be the longest trail inside city limits, and about the same distance as the Peachtree Road Race.
But until that happens—and even beyond—I'll continue to pay my entry fee, lace up my sneakers, and soak in every car-free step of my annual summer run down Atlanta's most famous street.
This article appears in our July 2023 issue.