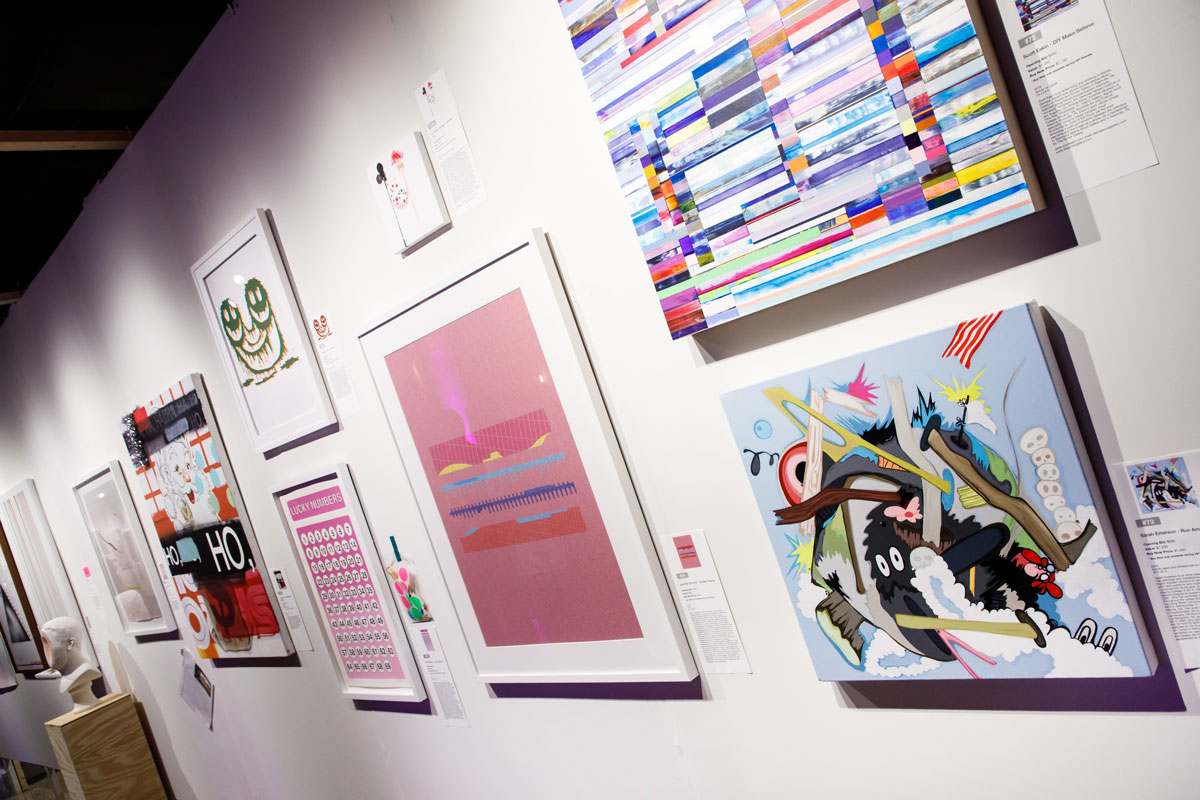 People are often surprised to learn that Art Papers—a highly regarded publication in the contemporary art world—is based in Atlanta. For the small editorial team behind the quarterly magazine, that reaction is the source of both pride and frustration. "It reveals a bias in the art world," said Sarah Higgins, Art Papers' editor and artistic director. "We're not the only art magazine that is based not in New York. We're just the one that's managed to survive."
Art Papers has done much more than survive since its launch in 1977 as the internal newsletter of the Atlanta Art Workers Coalition. It issues nuanced critiques of new work, highlights emerging artists, and continues the conversation about the role of artists in a changing world.
On February 11, Art Papers will host its 24th annual art auction, a fundraiser for the magazine where attendees can bid on works by artists from the Southeast and across the world. The event will be held at Factory Atlanta in Chamblee and features over 200 pieces for auction, priced for a wide range of budgets, as well as an "Emerging Collectors Section" with works under $200 available for outright purchase. A Collectors Preview on February 9 includes a "speed dating" event with artists: "We leaned into the Valentine's Day theme a bit," explained Higgins.
Ahead of the auction, Atlanta caught up with the Art Papers team to talk about the magazine's long legacy in Atlanta, putting the South on the art world map, and how to preserve and grow the city's creative communities.
An art mag that punches above its weight
Atlanta has long been an incubator for world-class artists. The prestigious Atlanta College of Art, founded in 1905, was the oldest art college in the Southeast before becoming the Atlanta campus of the Savannah College of Art and Design in 2006. ACA produced generations of internationally celebrated artists, including Radcliffe Bailey, Fahamu Pecou and Kara Walker.
With a premier art school, plentiful low-cost housing and studio space, and university campuses brimming with young talent, 20th-century Atlanta drew creatives from a wide range of disciplines. In 1976, Atlanta artists formed the Atlanta Art Workers Coalition to, in their words, "promote, protect, and aid the visual artists of Atlanta through programs focused on the need of individual artists and art groups." Similar coalitions formed simultaneously in New York, Buenos Aires, and Ottawa as artists began organizing themselves as a social and political force.
The Coalition launched a newsletter, the Atlanta Art Workers Coalition Newspaper, which eventually became Art Papers. At first, the publication was intended to connect Atlanta artists to the international art scene: "It was a way for artists living and working in Atlanta to feel they were a part of the larger world," Higgins said. But as Art Papers developed its own sensibility as a venue for art criticism, it caught the attention of that same international art scene, which welcomed it into the fold. "In a way," Higgins explained, "(Art Papers) became this sort of covert way for people in the larger art world to experience (their world) without realizing they were experiencing it from the perspective of artists living in one of these non-art world-centered cities."
Even as the publication has earned pride of place in the art world, that outsider perspective is still central to Art Papers' spirit, said Executive Director Saskia Benjamin. "We're just enough of the art world to be valued by the art world and seen by the art world," she said. "But we're also just enough outside the art world that we can be critical of it in a way that allows us to have conversations other publications won't." Art Papers contributors—many of whom are working artists themselves—have wide latitude to explore bold ideas, from contemplating on Monira Al Qadiri's oil industry-inspired installations to discussing the meaning behind mounting an exhibition on Russian and American foreign policy paranoia at a gallery in Dublin.
An advisor once described Art Papers as "a publication about ideas," Benjamin recalled. "I think that captures our spirit—it's less about commodity and more about contemporary art being a language through which we can speak."
Growing a resilient art scene in Atlanta
While Art Papers has helped put Atlanta on the map as an art-world city, more work is needed to make sure the city can sustain artists throughout their careers. "We as a city are really good at creating opportunities for young artists," Higgins said. "Where we fall off is mid-level institutions: we don't have a lot of presenting organizations and institutions that fill out that middle ground."
Without enough gallery space, contemporary art museums, residencies, and other institutions that nurture and support burgeoning careers, Higgins noted, "Artists run out of road."
Both Higgins and Benjamin would like to see Atlanta become a place where promising young creatives see enough success locally that they decide to stay, rather than decamp for larger art markets in New York and Los Angeles. That will require investment from within Atlanta, as well as the larger art market making inroads from without. That's already happening, noted Benjamin: "UTA gallery (from Los Angeles) has moved in—they're sort of the first to…realize that the talent here is worth scooping up and investing in before they leave."
Building a robust art scene isn't just about market opportunities for artists: it's also about making cities affordable—and appealing—for young creatives. Gentrification not only pushes out long-term residents, it makes it nearly impossible for up-and-coming artists to find affordable rent and studio space. Affordability and investment in urban infrastructure are critical to nurturing a creative community. The skyrocketing cost of living in New York, Chicago, and LA have created opportunities for smaller cities like Atlanta to become the country's new art hubs, but only if we take advantage of the moment. "The talent is here, the desire is here, all the pieces are here, but you have to invest," said Benjamin. With more engagement from city leadership and private philanthropy, "Atlanta can absolutely become the sort of global art city that it wants to be."
An art party for everyone
The Atlanta art scene has plenty of room to grow, but Art Papers isn't going anywhere. "I've always loved Atlanta," said Higgins, who attended Atlanta College of Art and worked in New York before returning to the city she loves best. "I think it has interesting problems, and the people here are really engaged with solving those problems."
The auction, which celebrates its 24th anniversary this year, has always been about opening the art world doors wide for the entire Atlanta community. It's the publication's largest fundraiser of the year, but it's also an opportunity to celebrate the artists Art Papers covers and bring attention to their work. Artists can donate up to 100 percent of their works's sale price to Art Papers, but they can also take a commission; the event gives between $30 and $40,000 back to artists each year. And with works ranging from under $200 in the Emerging Collectors series to $400-$6,000 in the auction, the event encourages more Atlantans to become collectors, which is vital to supporting a local creative economy. "Part of what we're here for is to get people interested in art, living with art, and developing relationship with artists," said Benjamin.
Above all, the annual auction is known for being a really great time. "Atlanta loves an art party!" Higgins laughed. The international art set may be surprised to learn that a major industry publication is coming out of a smaller city, but when it comes to throwing down on the weekend, no one is surprised that's happening in Atlanta.
Art Papers' 24th Annual Art Auction is on Saturday, February 11 at Factory Atlanta. A Collectors Preview will be held on Thursday, February 9. The auction is open virtually to remote bidders. Tickets and more information available here.