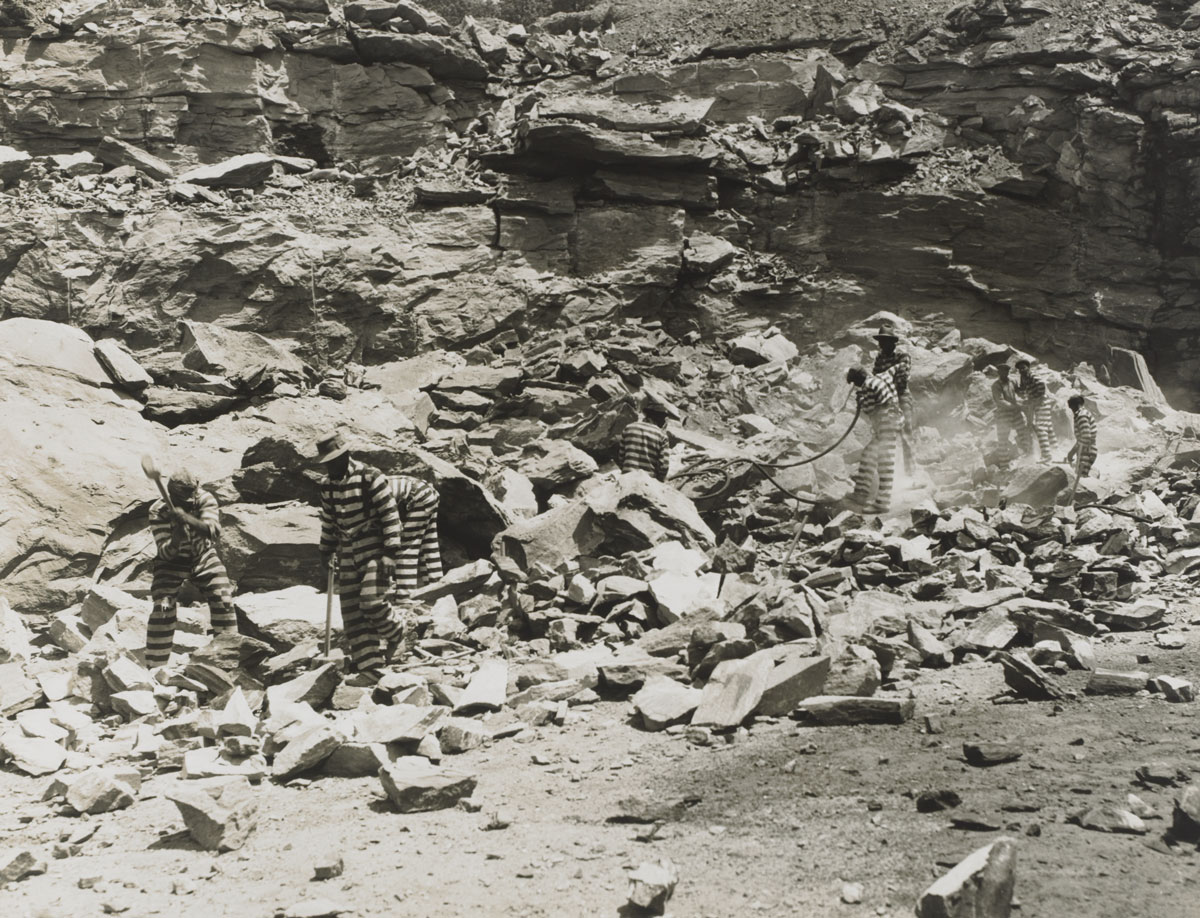 Mr. Tyree may have been a guard at the chain gang camp at Bellwood quarry. Or he may have been a composite character, an idea of a guard, a fearful specter of white supremacy. "Tyree" meant "tyrant." He is remembered in a song recorded in 1934 at Bellwood:
Mr. Tyree, please let my pardon go
If you let me out of Bellwood, I won't
return no more
Located on the site of present-day Westside Park—the city's premier new greenspace, a rambling campus surrounding a shimmering reservoir—Bellwood was one of a number of chain gang camps in Atlanta and across the state that lasted into the second half of the 20th century. Their creation coincided with the early decades of Black freedom, against the backdrop of a rebuilding South: "Atlanta has just been destroyed in the Civil War. There's this emergence of African American communities migrating from all across the state to Atlanta," says Darrin Sims, the director of the National Center for Civil and Human Rights' Truth and Transformation Initiative, which is exploring this chapter of the city's history. "There's also this need for cheap labor."
For the white leaders of Georgia, the camps—and a system of convict leasing whereby mostly Black prisoners were leased to private businesses, including the infamous Chattahoochee Brick Company—were ways that nominally free Black citizens could still be held in bondage, while providing labor to rebuild the city. "People are being rounded up. There's really no other way to put it," Sims says. "They're being targeted systemically. People would leave home and not come back." In addition to being its own work camp, Bellwood was a "dispersement site" for Fulton County, which operated it; from this central location, prisoners could be sent to rock quarries around the area.
"Bellwood was the headquarters for the Fulton County chain gang system. That's why the Fulton County jail is out there today," says Douglas Blackmon, who's leading the research component for the initiative; now a professor at Georgia State University, Blackmon won the Pulitzer Prize in 2009 for his book Slavery by Another Name, which explored the rise of convict leasing in the post–Civil War South. The chain gang system, Blackmon says, was "the ultimate fulfillment of the old stereotype, of prisoners in stripes being sent to break rocks in the quarry. It's the oldest cliche there is about jails."
The systematic violence of the convict lease system was so extreme that it was abandoned in the wake of scandal, including public hearings, in the first decade of the 20th century. But the chain gangs continued for decades longer, with prisoners sent out from the quarries to labor on the roads. "There was a big movement, the Good Roads Movement, that said: These prisoners, instead of them being in that terrible brick factory, or doing this other work for somebody who's making a profit off of it—these folks ought to be working on the roads. Let's put all the prisoners on the road in chain gangs," Blackmon says. "It was viewed as a big improvement. But then, of course, the chain gang becomes the most infamous cruelty that people are generally aware of in the 20th century in terms of treatment of prisoners." (Chain gangs entered the popular imagination through films like 1932's I Am a Fugitive from a Chain Gang and, later, 1967's Cool Hand Luke.)
"We know that the conditions were absolutely horrendous at this site," Sims says about Bellwood. "Just making gravel 10, 12 hours a day—really backbreaking work like that." On the historical podcast Archive Atlanta, Victoria Lemos has shared details of several incidents she learned about in her research, such as the case of Charley Stevens—a 28-year-old Black man sentenced on a charge of "gaming" and offered the choice of a $45 fine or eight months' hard labor. He died of heatstroke in the Bellwood quarry in 1913. Also that year, Lemos found, a former convict named Henry Shivers filed a lawsuit against the camp's "whipping boss," claiming that he'd been beaten with a club for 20 minutes in front of an entire mess hall full of incarcerated people, over the alleged infraction of smoking a cigarette after dinner.
Sung by an incarcerated man named Jesse Wadley, "I Promised Mr. Tyree" was recorded by the folklorist John Lomax in 1934 during travels throughout the South; partnering with the Library of Congress, Lomax captured tens of thousands of folk songs over the course of his career. A few days after his visit to Bellwood, Lomax traveled to a penitentiary in Milledgeville, where he continued to hear complaints about Georgia's capital city, as in a song called "We Don't Get No Justice in Atlanta."
With the Truth and Transformation Initiative, Sims, the Center for Civil and Human Rights, and partner organizations including Chattahoochee Brick Company Descendants coalition are gathering information about this history, sources for which are relatively sparse: lawsuits from families seeking relatives who have disappeared, wanted posters for escapees, records from cemeteries and medical institutions. Blackmon is working with students from local universities to try to identify the names of people who worked on the chain gang, as well as find any living descendants. The goal is to create a memorial at Westside Park to the victims and survivors of convict leasing and the chain gang camps. (Following the disappearance of the chain gang system, private mining operations at Bellwood continued throughout the 20th century; in 2006, Vulcan Materials sold the site to the City of Atlanta.)
"We've got to tell the truth, and that's how we get to the transformation," Sims says. "Acknowledging the history allows us to work together to transform what we want for the future. To have something on the west side of Atlanta that pays homage to the bodies that rebuilt Atlanta and were lost and abused and terrorized allows us to discuss: How do we make things different?"
This article appears in our April 2023 issue.