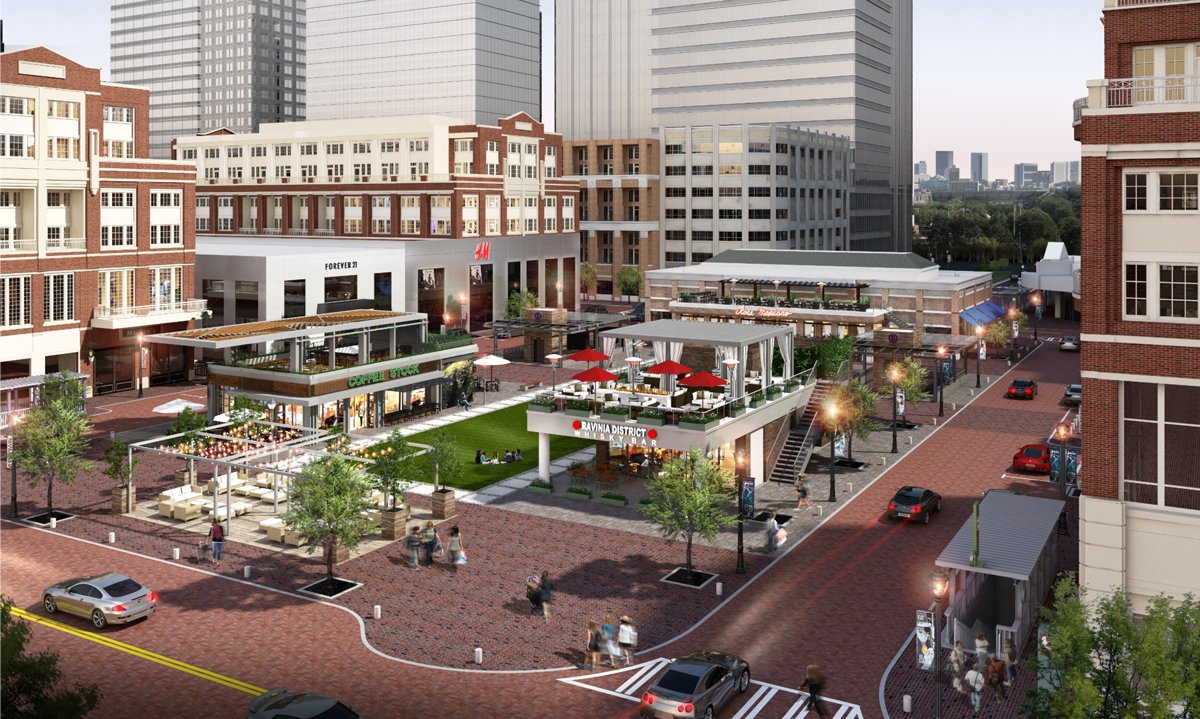 One recent afternoon at Atlantic Station, near the backside of Publix, beyond a dumpster and through a couple of less-than-charming corridors, Nick Garzia was making a bold (and oft-repeated) proclamation about the 138-acre, mixed-use mega-destination: "This project is going to change more in the next 24 months than it has in the past decade."
Garzia is director of leasing for Houston-based real estate group Hines, which bought Atlantic Station for $200 million from the property's second owner and flipper, North American Properties, in 2015. (The project had risen from the brownfields of a polluted former steel mill to widespread acclaim upon its 2005 debut, but the Great Recession and a reputation for petty crime took a toll.)
Speaking in Hines' offices, which Gariza calls the least attractive location in Atlantic Station (taking the worst spaces for yourself is Commercial Real Estate Strategy 101), his claim sounded less like hyperbole once he laid out the details. Beginning in February, a wave of large projects will aim, collectively, to make Atlantic Station feel like less like an island and more a neighborhood of eclectic architecture woven into Midtown. It's ambitious, but Hines is confident they have the momentum—and money—to start pulling it off.
"As you see the density, generally speaking, on the Westside continue to grow, [Atlantic Station] will really become a hub," he said. "I think it'll feel much less like a preplanned, corporate-y project and more and more like a diverse district."
With its own zip code and 2.5 million square feet of offices, homes, restaurants, and behemoth retail anchors such as IKEA and Dillard's, Atlantic Station might seem massive now, but it's less than half built, with several huge holes remaining. Projects scheduled to break ground in 2018 are planned to add thousands of workers, hundreds of new residences and hotel rooms, and fundamental changes to how certain facets feel (although the ubiquitous, piped-in music will remain).
Garzia walked us through several key projects that are fully financed and ready to move forward this year.
Throwback offices
ETA: late 2020
At what could be described as Atlantic Station's front door, a $189-million office project called Atlantic Yards is scheduled to launch later this year along 17th Street, filling a deep gap visible from afar. With an aesthetic that echoes adaptive-reuse successes such as Ponce City Market (and the former Atlantic Steel industrial buildings on site), the two-building complex will incorporate green roofs alongside brick and exposed steel, with a 20,000-square-foot slot for a restaurant or retailer at street level. "It's going to feel much different than those glass and marble office towers you see on the other side of the street," said Garzia. "It will be intentionally built to look like it's been there for a while."
T3 Foundry Park
ETA: mid-2019
Scheduled to break ground in February, this $81-million stack of "creative offices" by Hines—built of sustainable timber beams to lend that vintage, cool vibe millennial workers covet—will consume a parking lot between the Millennium Gate and Target. The company built similar T3 (the name refers to buzzwords "timber," "transit," and "tech") concepts in Minneapolis and Chicago, geared toward younger, tech-savvy employees who prefer to commute by foot or bike. Expect bike-storage facilities, rooftop terraces, and a fitness center. Between the two office ventures, Hines predicts about 2,000 more workers will join Atlantic Station's current daily pool of 4,000.
Apartment influx
ETA: tentatively summer 2020
Along with Atlantic Yards, the most visible sign that Atlantic Station is beefing up—especially for the half-million Connector drivers who pass it each weekday—will be a contemporary-style stack of 364 apartments by national developer AMLI. Aiming to break ground in June or July, the project will rise where the BB&T Atlanta Open tennis tournament has been played for several years (Hines is in talks to host the tourney elsewhere on site, possibly beginning this year). It'll include about 25,000 square feet of shops at street level (on the side opposite the Connector) and plug a highly visible gap. Expect monthly rents of about $2.20 to $2.50 per square foot at what Garzia describes as a "whole new front porch" for the mini-city.
Central Park overhaul
ETA: early 2019
Home to concerts, a summer movie series, and holiday hoopla, Atlantic Station's central greenspace will undergo significant changes meant to make visitors feel less boxed-in. Most significantly, the three-story former home of Strip—a steak and seafood restaurant that shuttered in 2015—will be demolished, beginning in February. The existing green lawn will be raised to street level, and two smaller "jewel box" eateries will be built to flank the lawn. (Developers are still deciding whether the recently closed Rosa Mexicano building will be repurposed or razed). The remake of Central Park, said Garzia, is meant to "make it feel less bulky, less massive, [and] bring the scale to a much more human level."
Movie theater enhancements
ETA: mid-summer 2018
The ever popular Regal Atlantic Station will also get an upgrade. An interior remodel beginning this spring at the theater, which already counts an IMAX theater among its 18 screens, will result in a total of six deluxe VIP auditoriums (think: full-service lounge and big recliners). And one of them will be Georgia's first immersive 4DX experience, a technology "that's very Disney-esque," says Garzia. "If you're sitting there watching a movie and the car crashes, your seat will shake. Or you're walking through a garden, they will pump in the smells you would smell; if you're in a slasher moving in London, the fog will roll into the auditorium as well. It's highly, highly experiential." Atlantic Station will be just the seventh Regal theater to offer 4DX (the others are in Los Angeles, Orlando, New York City, Seattle, and Washington DC). Expect adult ticket prices north of $20.
H&M expansion
ETA: holidays 2018
Another all-star tenant—Swedish clothing company H&M, whose Atlantic Station outpost is the highest performing in the Southeast—is expanding from 26,000 to nearly 40,000 square feet and adding a more modernized exterior. "It's going to have a flagship look just like what you'd find on Michigan Avenue in Chicago or Fifth Avenue in New York," said Garzia.
Embassy Suites hotel
ETA: 2020
On land that shares a property line to the west of the Atlantic condos (Atlantic Station's tallest building), Horizon Hospitality plans to break ground this year on a 157-room Embassy Suites hotel with some retail space at ground level, Garzia said. The site, for now, is a grassy lot at the corner of 17th and State streets.
Retail activity of note
On a smaller scale, a few notable changes are forthcoming on Atlantic Station's dining and retail fronts—with other deals in the works that have yet to be inked.
In the former Copeland's Cheesecake Bistro space that fronts the expanding park, Japanese barbecue concept Gyu-Kaku should open by April. And in the nearby slot most recently occupied by Tim Drum Asian Kitchen, local fast-casual Indian chain NaanStop should be doing business by early May, Garzia said.
Meanwhile, Bath and Body Works is undergoing a remodel, and Victoria's Secret's longstanding Atlantic Station store is expanding and adding their Pink product line, which is aimed at younger women and teens. Atlantic Station's Twelve hotel is also undergoing an $8-million renovation.
Future plays
In October, Hines purchased two more significant pieces: a 3.5-acre slot along 17th Street next to the Atlantic tower, and a seven-acre triangular lot where Cirque du Soleil sets up about every 14 months. That acreage will eventually be part of the mixed-use masterplan, but the near-term tactic is to not develop it for three or four years "and see what the market brings us," said Garzia. "We've already got so much going on right now."