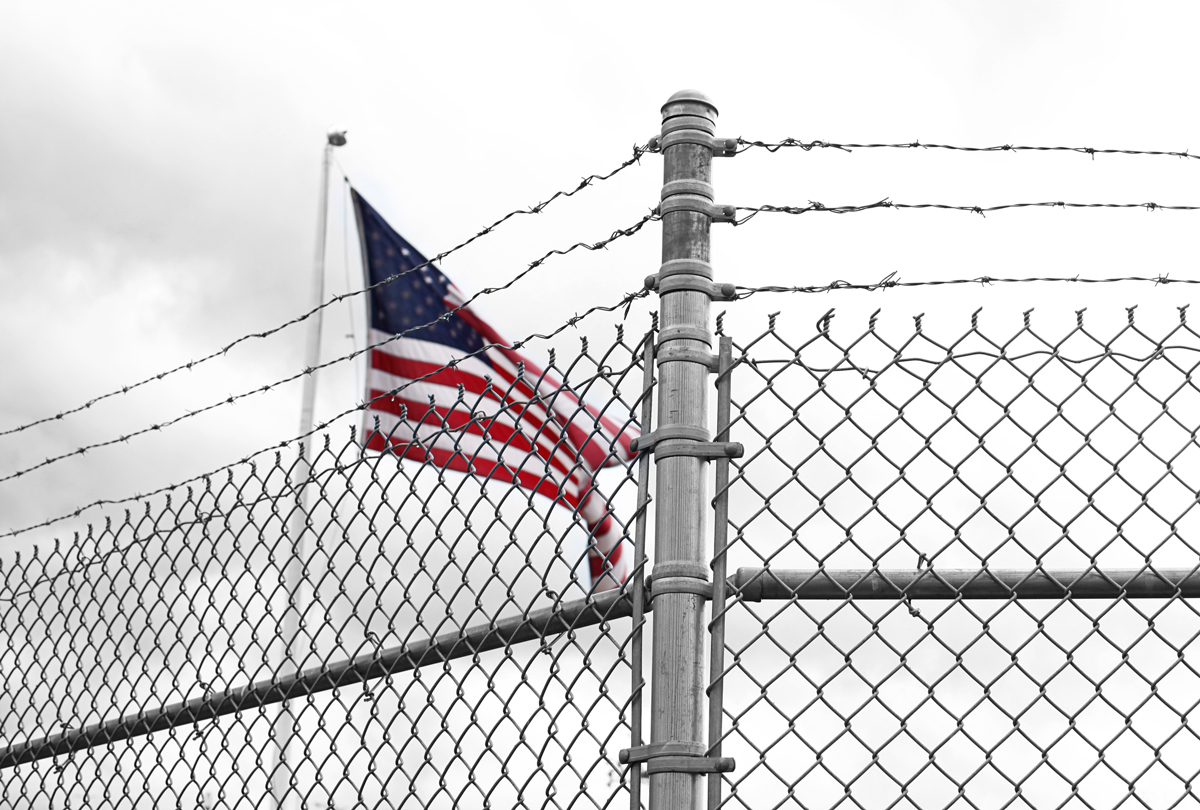 Two years ago this week, on May 15, 2017, 27-year-old Jeancarlo Jimenez Joseph hanged himself while in custody at the Stewart Detention Center in Lumpkin, Georgia, after 19 days in solitary confinement.
The world paid little attention.
This past February, the Irwin County Detention Center in Ocilla, Georgia, made headlines when British-born rapper 21 Savage was detained there after being arrested by Immigration and Customs Enforcement for a visa overstay. There was a celebrity-backed campaign for the rapper's release, and 21 Savage, whose real name is She'yaa Bin Abraham-Joseph, was released on bond 10 days later. 21 Savage stated he would "not forget this ordeal or any of the other fathers, sons, family members, and faceless people he was locked up with or that remain unjustly incarcerated across the country."
21 Savage has since returned to making music, but the U.S. government still has not been held accountable for the abhorrent conditions in immigration detention centers. Could an inquiry by the United Nations change that, before yet another person dies in custody?
Last May, on the first anniversary of Jimenez Joseph's death, a 20-page report on conditions at Irwin revealed how officers at Irwin placed immigrants in solitary confinement for as long as six months; subjected them to forced labor without just compensation; and discriminated on the basis of gender, religion, and national origin. The report, co-authored by Project South and the University of Pennsylvania Law School Transnational Legal Clinic, also highlighted how the U.S. detains immigrants—often for years—without access to lawyers or the opportunity to plead their case before a judge.
The report documents blatant human rights violations at Irwin and at Stewart. Both are privately owned facilities that contract with the U.S. government to detain immigrants. The report asserted that the U.S. is failing to uphold its obligations under the International Covenant on Civil and Political Rights, the Convention Against Torture and Other Cruel, Inhuman or Degrading Treatment or Punishment, and the International Convention on the Elimination of All Forms of Racial Discrimination.
Last October, in response to our report, which was signed by more than 70 national and Georgia organizations, the United Nations demanded a response from the U.S. government as well as from the prison corporations which run Irwin and Stewart, LaSalle Southwest Corporation and CoreCivic Inc., respectively. No response came.
The United Nations cited from our report the lack of government oversight of the prison corporations running these facilities and highlighted concerns over documented conditions of detention. Detained immigrants are given inadequate quantities of poor quality food at irregular times, as well as non-potable water. Religious dietary mandates are largely disrespected.
Medical units in both Irwin and Stewart provide inadequate health care, and average wait times for detained immigrants at Irwin to see medical staff is between two days and two weeks. At Project South, we heard from detainees who were placed in solitary confinement after requesting additional medical care. We heard from pregnant women at Irwin who said they were not given access to prenatal care. Guards reportedly take advantage of many detained immigrants' lack of English-language capabilities, failing to respond to requests and failing to inform detained people about their legal rights.
In addition to Jimenez Joseph, there have been two other deaths in the last two years at Stewart: 40-year-old Efrain de la Rosa from suicide after being placed in solitary for several days, and 33-year-old Yulio Castro-Garrido from pneumonia.
Access to legal counsel is highly restricted, both due to the rural location of the detention centers as well as the strict and arbitrary visitation procedures, such as phones that often malfunction, high costs for phone usage, and long wait times for visitors.
The UN communication also points to concerns over the criminalization of migration, stating that, "[a]ny form of administration detention or custody in the context of migration must be used as an exceptional measure of last resort, for the shortest period of time and only if justified by a legitimate purpose" and " while the outsourcing of detention centers by nature is highly problematic, to do so through companies such as CoreCivic Inc. and LaSalle Southwest Corrections raises additional concerns, as private prison contractors, which reap sizeable annual profits from detaining migrants, often compromise the protection of human rights of detainees, lack adequate monitoring and accountability mechanisms." In 2018, ICE paid $800 million in U.S. taxpayer money to private prisons to detain immigrants. CoreCivic receives around $62 for each filled bed at Stewart, every day. Yet individuals detained at Stewart are paid as little as a dollar a day for their labor, often forced through threats and coercion, placing those who refuse to participate in solitary confinement.
When 21 Savage was released on bond in February, the law-student-authors of this article were volunteering at Stewart. We met with individuals who had been detained for months, one placed in solitary confinement for reporting assaults within the detention center and requesting to speak to a mental health professional. Others reported delays in receiving their medicine due to the language barrier and lack of interpreters on staff.  Many of the detained individuals sought help with the English-language forms they were given in court and instructed to complete even though they did not speak English. The facility was enforcing a quarantine after detained immigrants contracted mumps, and visitation wait times for volunteers, lawyers, and family members were reaching four hours. In the immigration court connected to Stewart, the few bonds being granted ranged from $10,000 to $20,000, due in full at the time of release.
The UN Human Rights Committee has recently shared a list of issues to be reviewed as part of the U.S. obligation to periodically report its compliance with ICCPR. Under the section, "Treatment of foreign nationals, including refugees and asylum seekers," the United States is asked to "provide information on the conditions of immigrant detention facilities, both public and privately held, including access to health care." It is vital to the well-being and the rights of all individuals currently detained at immigration centers across the United States that the U.S. government be held accountable for these abhorrent conditions. These international inquiries may be the necessary step to make long-overdue changes, and to bring the focus back to the "faceless people" with whom 21 Savage was detained.
Alicia Harte and Olivia Daniels are law students at the University of Pennsylvania Law School Transnational Legal Clinic. Azadeh Shahshahani is Legal and Advocacy Director at Project South and a past president of the National Lawyers Guild; she tweets @ashahshahani.