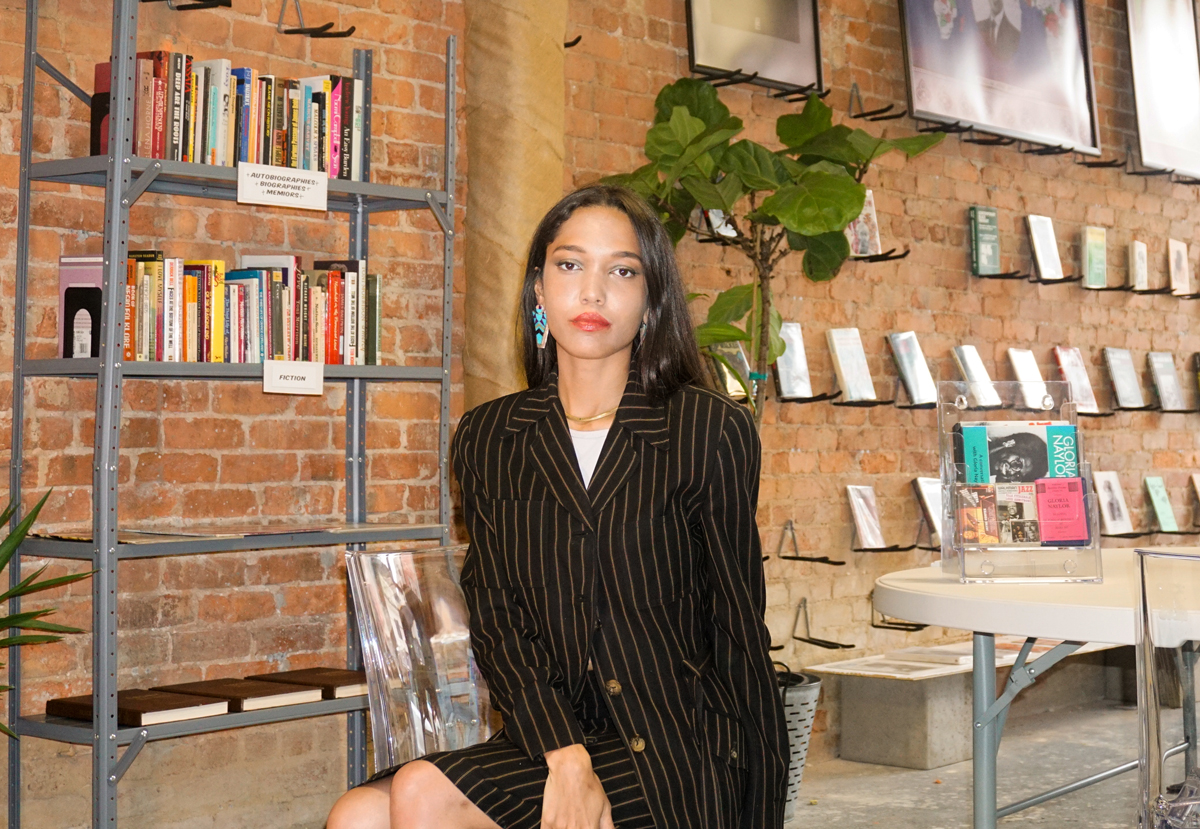 There is, perhaps, no street in Atlanta more fitting than Auburn Avenue to house For Keeps bookstore.
Located in the historically black Sweet Auburn District, Rosa Duffy, 28, has opened a place she hopes will invite everyone, but especially black people, to come in and stay awhile. Inside the space, located at 171 Auburn Avenue, Duffy adjusts the books on display, wearing a caramel turtleneck, wide-legged blue jeans, and patent leather boots. A Kanga cloth from Tanzania that reads "Hongera Barack Obama," (Swahili for "congratulations") with a monochrome photo of the former president, hangs on display on one wall. Duffy's own prints, sourced from old magazines and newspapers, including the Atlanta Daily World, are on display on the opposite wall.
For Keeps Bookstore is more than a place for visitors to purchase rare and classic black books. Duffy designed it to also be a reading room where people can stop in and interact with history that is often overlooked or placed in the bottom of the dollar bins at other bookstores.
Although the space has only been open for about a week, Rosa Duffy's desire to open a bookstore was sparked over a decade ago by her introduction to Soulbook, a black periodical published in the 1960s and '70s. She first encountered copies in her father's personal literature collection and, around the age of 18, she began using scans of them for her art. (Duffy, who recently worked for Atlanta artist Radcliffe Bailey, mostly works with sculpture and paper.)
"I was stealing all [of my dad's] stuff, and then I was trying to buy new copies of those books so that I could put his books back," she says.
Duffy's appreciation for black literature stems from her parents, who are Spelman College and Morehouse College alumni, as does her desire to preserve black history. Her family has deep Atlanta connections; her father, Eugene Duffy, has worked with former Atlanta mayors Maynard Jackson, Andrew Young, and Kasim Reed.
It wasn't much of a surprise, then, when Reed strolled into For Keeps last Saturday, the shop's opening day, and purchased a book by poet and political activist Amiri Baraka. Rosa Duffy says Reed was among about 200 people who visited the bookstore in its first weekend. When Duffy's older sister, lawyer and journalist Josie Duffy Rice, tweeted about the store's arrival the night before the grand opening, it received a ton of attention, including a retweet from filmmaker Ava DuVernay.
Hello Atlanta. Something beautiful to enjoy and support. xo https://t.co/q5E0KEAEgS

— Ava DuVernay (@ava) November 10, 2018
Duffy says she's aware of the fact that her family and her own resources have allowed her to be able to open For Keeps. "I have the ability and the resources to build this space, and I know that a lot of people would've done it if they'd had the resources and the ability," she says. "I wanted to put that to good use and spread it around."
For Keeps offers a mix of books both for sale and some that are for reading in-shop only. Not all of the books are "rare," but Duffy says some of the works that aren't for sale are first editions or books that only went to print once. Duffy says she slowly amassed the collection by visiting bookstores such as Strand Book Store and Alabaster Bookshop in New York, as well as seeking out small collectors and publishers online. She says she'd often find works, such as poet Pat Parker's Jonestown and Other Madness, in the dollar bin at bookstores. She admits some of her collection was expensive to amass but much of it, she says, she got for cheap.
"Because people aren't totally informed on the black experience or black [literature], and they don't hire black folks to go through it, they were selling their stuff for crazy [low] prices," she says.
"I didn't go to school for library science. I'm not an archivist. But it's my passion," Duffy adds. Eventually her personal collection grew so large that she wanted to share it with others. "That's sort of how I landed on a reading room/bookstore, so that everybody could have access to something that we really don't have access to on a regular basis."
Duffy says she's hoping For Keeps will help dispel the myth that black people aren't interested in learning about their history.
"The reality is, [some of] this stuff is in other spaces," she says. "Some of the books that I have out here right now are in an exhibit at Emory [University], but it's not inviting. It's an atmosphere where you feel like you have to be a certain type of person to go in there and look at stuff."
She says she's hoping that For Keeps, and the fact that people don't have to purchase anything to engage with the literature inside, will help create an atmosphere where black literature feels accessible to anyone who is interested. She eventually wants to create additional reading space in a back room, and she says there will eventually be coffee available, too. Events will also be held in the space. The first event will feature Duffy's grandmother, Dr. Josie Johnson, who will be promoting an upcoming book on her experience lobbying for fair housing in Minnesota.
Duffy says she knows some people might think it's a serious risk to open an independent bookstore in 2018. She wants For Keeps to be around for a long time, but she's okay if it's just a temporary neighborhood gem, too.
"I'm a realist," she says. "I'm okay with it being temporary. If 200 people saw this, it would be good enough for me."
For Keeps is open Thursdays through Sundays from 10 a.m.-5 p.m at 171 Auburn Avenue. This weekend, on November 17, they are open 9 a.m.-2 p.m. and closed Sunday the 18th. Follow their Instagram for updates.