Jeff Francoeur's right leg is a hyperactive piston pumping up and down, like he's excited or nervous or impatient. Maybe all of that. He sits at the mic in the Fox Sports South broadcast booth at SunTrust Park, thumbing through a media guide at his left, looking down at the field below, checking the monitor in front of him, turning off his mic to ask a producer for a close-up of Atlanta Braves pitcher Kyle Wright's grip on the ball, sneaking a glance over his right shoulder at the big TV on the wall to check on the Auburn-Virginia score in the NCAA Basketball Tournament semifinals.
On the field, a grounder off the bat of Miami Marlins batter Curtis Granderson deflects off of Wright's leg. Shortstop Dansby Swanson grabs the ball and throws to first in time to catch the speedy Granderson, ending the top of the third. Francoeur tells his TV audience, "Kyle's like a hockey goalie out there—kick, save, and a beauty." Commercial break.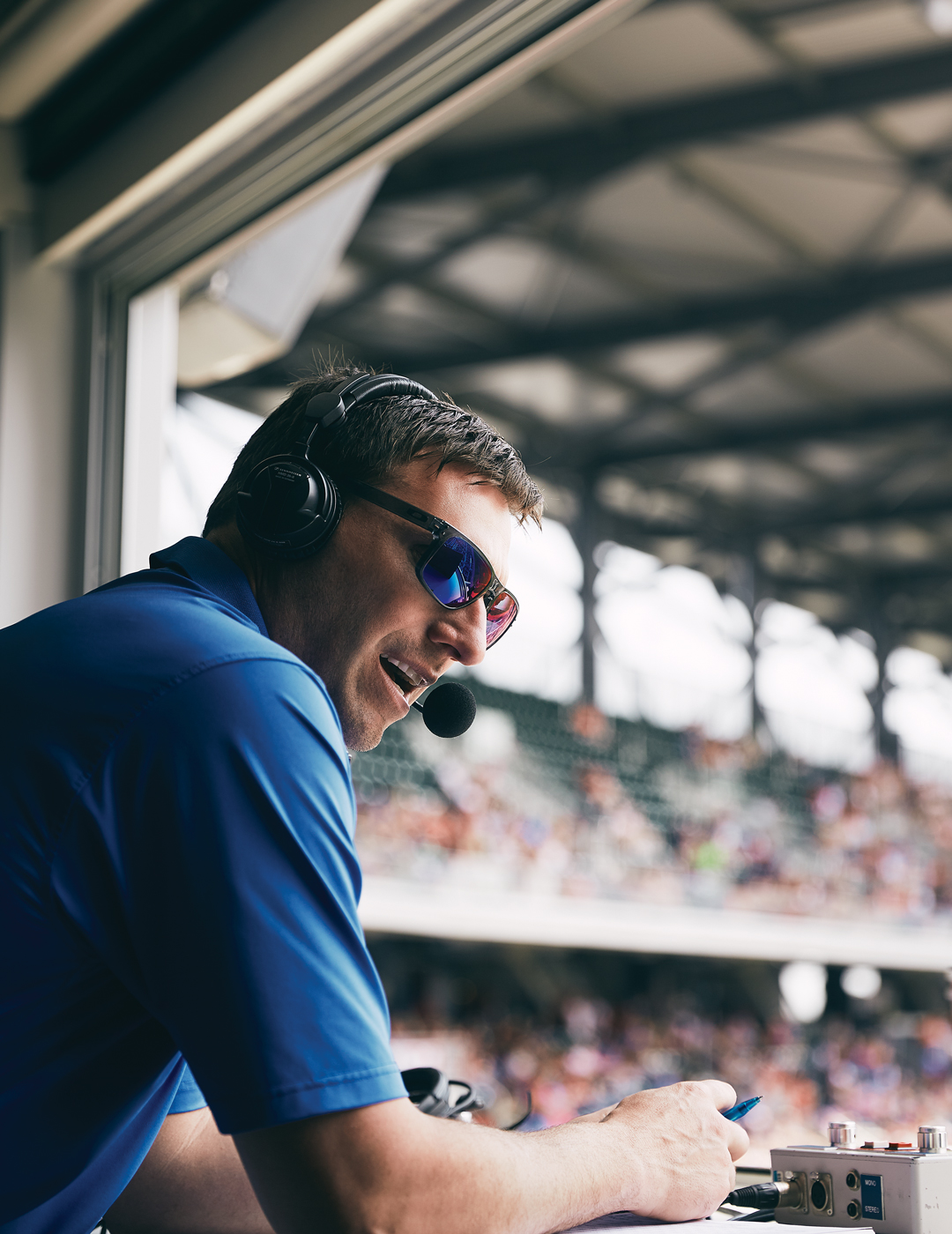 Here is a man in his element, whose comfort zone is the familiar atmosphere of a ballpark, its sights and sounds and smells. But the broadcast booth took some getting used to. Francoeur says his first game as a TV baseball analyst in June 2017 was more intimidating than his debut as a big league ballplayer. Don't forget, the homegrown phenom from Lilburn hit a three-run homer in his first game as an Atlanta Brave back in July 2005. For the next few months, he played like he invented the game, hitting at a furious pace and throwing out stunned baserunners from right field. That August, he was tabbed "the Natural" on the cover of Sports Illustrated. He was all of 21.
"Absolutely, I was way more scared my first game in the booth—no training, no nothing. I was just thrown in there," says Francoeur, who had a memorable rookie season, four-and-a-half solid years with the Braves, and a Gold Glove award for his defense. He was traded to the New York Mets in 2009, midseason, beginning a Major League sojourn that saw him playing for eight different clubs in a 12-year career.
Fans and teammates loved his affability and hustle, his infectious smile, his defense, his power at the plate. But he was an impatient hitter, which meant too many strikeouts, not enough walks, and a low on-base percentage. He did play in a World Series in 2010 for the Texas Rangers, who lost to the Giants. "The ultimate highlight of my career," he says. "Everybody that has been a big part of my life came to see me live out my dream."
A return to the minor leagues in 2014 made him wonder about his future and the family life he wanted so badly. "A lot of my friends thought I'd be a pretty good broadcaster. My personality fits, and I'm definitely not afraid to talk," says Francoeur, who has three young children with his wife, Catie, whom he's known since the third grade. He now has the time to coach his five-year-old daughter Emma Cate's softball team.
"Smoltzie told me, 'Don't ever forget how hard the game is.'"
Francoeur spent the past two seasons working a limited number of games. This season marks his first as the Braves' lead analyst, offering commentary alongside veteran play-by-play announcer Chip Caray. Francoeur has gained confidence in his second career, crediting the support of his colleagues in the booth as well as some advice from Hall of Fame pitcher and former Brave John Smoltz, now an analyst for MLB Network.
"Smoltzie told me, 'Don't ever forget how hard the game is,'" Francoeur says. "When you get up here and watch the screen, you see a 90-mile-an-hour fastball down the middle and a guy swinging through it and you say, 'How the hell did you miss that?' But then you think, let's go look at video of me and see how often I missed that pitch when I was playing."
"The game's different from up here," he adds. "You go down there, sit in that dugout, and watch the pace of play, and you appreciate how difficult it is. That's one thing I'll never forget."
And that's one reason why Francoeur feels right for this gig. At 35 and only three years gone from playing, he's fresh from the action, knows many of the guys still playing, knows their tendencies, and brings an expert's insights and TV good looks to the job.
"So far, like he did as a player, he's stepped up and knocked it out of the park."
"The analyst is truly the star," Caray says. "I've been around the game my whole life. I've never faced a 96-mile-an-hour fastball. A good analyst like Jeff has the ability to explain those kinds of things in an authentic way. He has a passion for the game, and that comes across. And he's not afraid to go to the microphone. When that light comes on and that camera's staring at you, you have to perform, and so far, like he did as a player, he's stepped up and knocked it out of the park."
He also knocked Joe Simpson out of his seat. The longtime Braves TV analyst, a former outfielder and first baseman for the Dodgers, Mariners, and Royals in a Major League career that lasted from 1975 to 1983, moved to the radio broadcast and will work a limited number of games for Fox Sports South and Fox Sports Southeast this year. Francoeur, who said the veteran broadcaster has been gracious and supportive in the wake of the lineup change, misses the camaraderie of the clubhouse but has no interest in going back to the field, as a player or coach or manager.
"Maybe when my kids are older, but quite honestly, I'm loving being a hands-on dad," he says. "Last Sunday in Philadelphia, ESPN televised the game, which means we were off. So, I flew home to Atlanta Sunday morning, played in the backyard with my kids, cooked some steaks, had a bottle of wine with my wife, read to the kids. I love it, man. And you know when the team got back from Philly? Four in the morning. I definitely don't miss that. So, yeah, life is good."
This article appears in our June 2019 issue.