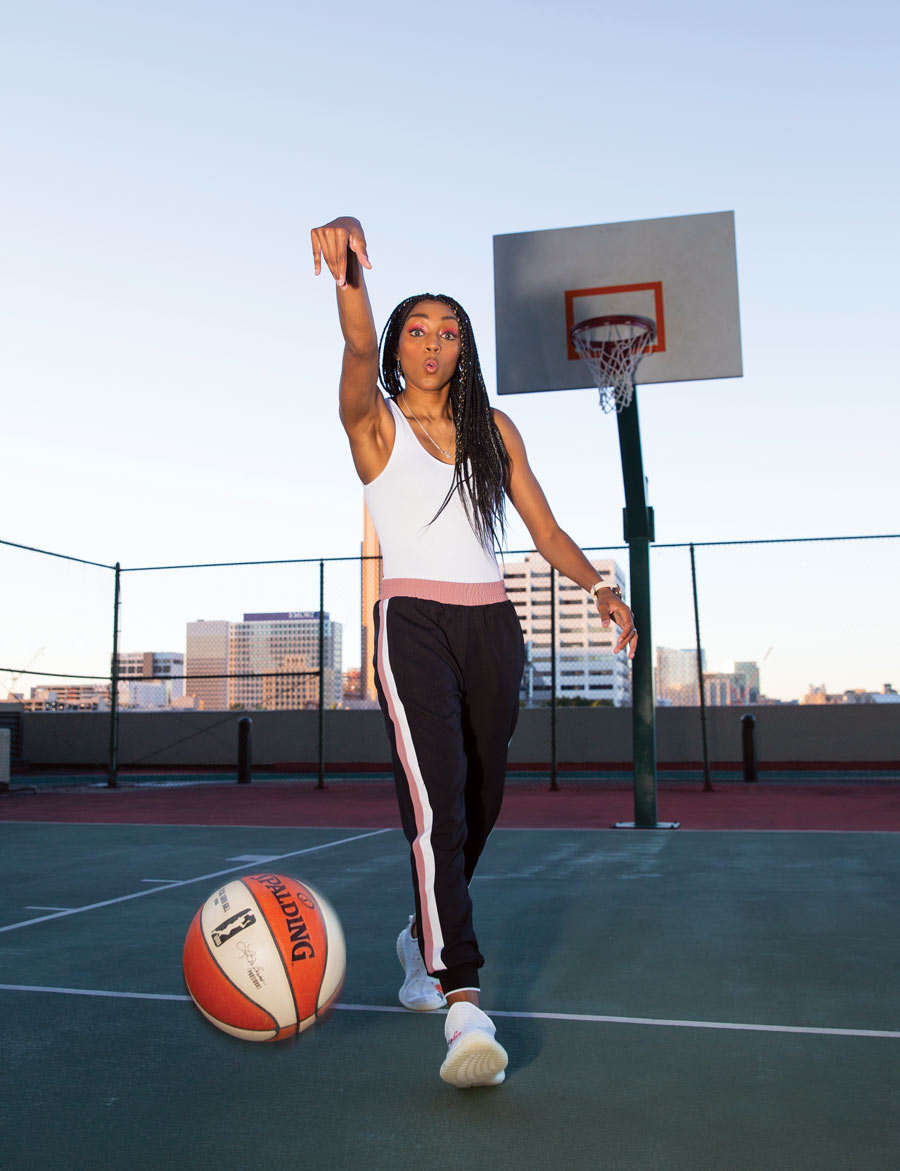 WandaVision is a slow burn. Unlike other series in the Marvel canon, this Elizabeth Olsen vehicle only works its way to a thundering crescendo over the final few episodes. Renee Montgomery's 13-year-old son, Angel, prefers action and wasn't overly impressed with the pacing. Montgomery, on the other hand, loved it.
"WandaVision had me," says Montgomery, who proudly proclaims that her family's superpower is ordering takeout and binge-watching TV all day. "I'm a person who likes to be surprised. I like the plot twists."
Montgomery's own origin story almost feels like something from a comic book: A young woman from West Virginia takes her otherworldly basketball skills to the University of Connecticut. There, she puts up ridiculous numbers (1,990 career points) and, in 2009, leads the Huskies to a 39-0 season and the NCAA title. She's then drafted by the WNBA's Minnesota Lynx, wins the Sixth Woman of the Year award in '12 with the Connecticut Sun, and twice becomes a WNBA champ during her second stint with the Lynx in '15 and '17.
Montgomery moved on to the Atlanta Dream the following season. She started all 68 games over the next two years, leading the team in assists in '18. The scenes were seemingly writing themselves.
But, as with any good script, obstacles were right around the bend. The pandemic forced the WNBA to reconfigure its 2020 season inside a bubble at the IMG Academy in Bradenton, Florida. And, after the murders of Ahmaud Arbery, Breonna Taylor, and George Floyd, Montgomery feared staying inside the "Wubble" would keep her too silent. On June 18, she announced she was sitting out the season. "My heart was in the community, not in playing basketball, and if my heart is not 100 percent in, then I'm out," she says.
She'd seen the backlash when Kyrie Irving threatened an NBA strike over social justice and feared how the public would react, but felt the moment was bigger than basketball and worth the risk and financial sacrifice.
So, there she was, screaming "Say her name" along with her WNBA sisters. She was on CNN. She participated in voting initiatives.
Last July, then Dream co-owner Kelly Loeffler wrote the WNBA commissioner opposing the league's support of Black Lives Matter. Loeffler stated there is "no place for racism in our country" but claimed BLM "has advocated for the defunding of police, called for the removal of Jesus from churches and the disruption of the nuclear family structure, harbored anti-Semitic views, and promoted violence and destruction across the country."
The WNBA players union responded with a tweet: "E-N-O-U-G-H! O-U-T!" And Montgomery posted a letter to the senator on Medium, writing: "Your comments hurt deeply because it was a veiled 'All Lives Matter' response. It's not that you're tone deaf to the cry for justice, but you seemingly oppose it."
While all this was going on, Montgomery's fiancee, Sirena Grace, couldn't help but think that her partner could be doing even more for the cause. "I wanted the world to see what I saw, which is a great leader and a great speaker," says Grace, a musician who doubles as Montgomery's publicist. "She has a way of speaking to people that gets through."
As whispers of Loeffler's departure from the league grew louder, so too did Grace's nudging. "I said [to Renee], Just hear me out. What if, in a crazy world, you bought the Dream? She was like, Oh my God. That's crazy. I was like, I don't know. Reach out to a couple of your NBA friends or something. I think it could be possible. She listened to me. If there's one thing Renee does, she takes an idea and she brings it to life."
Less than seven months after that conversation, Loeffler sold her stake in the Dream. Montgomery joined forces with Larry Gottesdiener, chairman of the real-estate firm Northland, and Suzanne Abair, Northland president and COO, to become Atlanta's new owners. The move makes Montgomery the team vice president and the first former WNBA player to own part of a franchise.
This is the WNBA's 25th season, making 2021 a pivotal moment. Amazon recently bought exclusive, multiyear streaming rights to 16 regular season matchups and the new Commissioner's Cup game, which awards $500,000 to a midseason champion. Last month, Sports Illustrated recognized the league anniversary with a cover story.
On the other hand, there are still massive pay discrepancies between players and their NBA counterparts—the highest-paid WNBA pro will make $221,450 this season, roughly $6.3 million less than the Atlanta Hawks' Trae Young.
"I'd like to see more improvement from corporate sponsorship—not just buying into the WNBA but women's sports in general," says Montgomery, who also serves as a basketball analyst for Bally Sports Southeast and ESPN. "Companies pump a lot of money into sports, but [why] not women's sports?"
Yes, there's plenty of work still to be done. But much has already been accomplished. In addition to leading the Dream, Montgomery is a new co-owner of a team in Duluth's startup Fan-Controlled Football league, where spectators call the plays for indoor matchups. She also started the Renee Montgomery Foundation, which supports underserved Atlanta communities, so far backing events like a school supply drive and a Juneteenth celebration.
Interim Dream head coach Mike Petersen appreciates Montgomery's new leadership role. "Her energy for this organization is great. She's so focused on her players, the organization, telling their stories, promoting our organization, and trying to build the best organization from top to bottom in the league."
This article appears in our July 2021 issue.