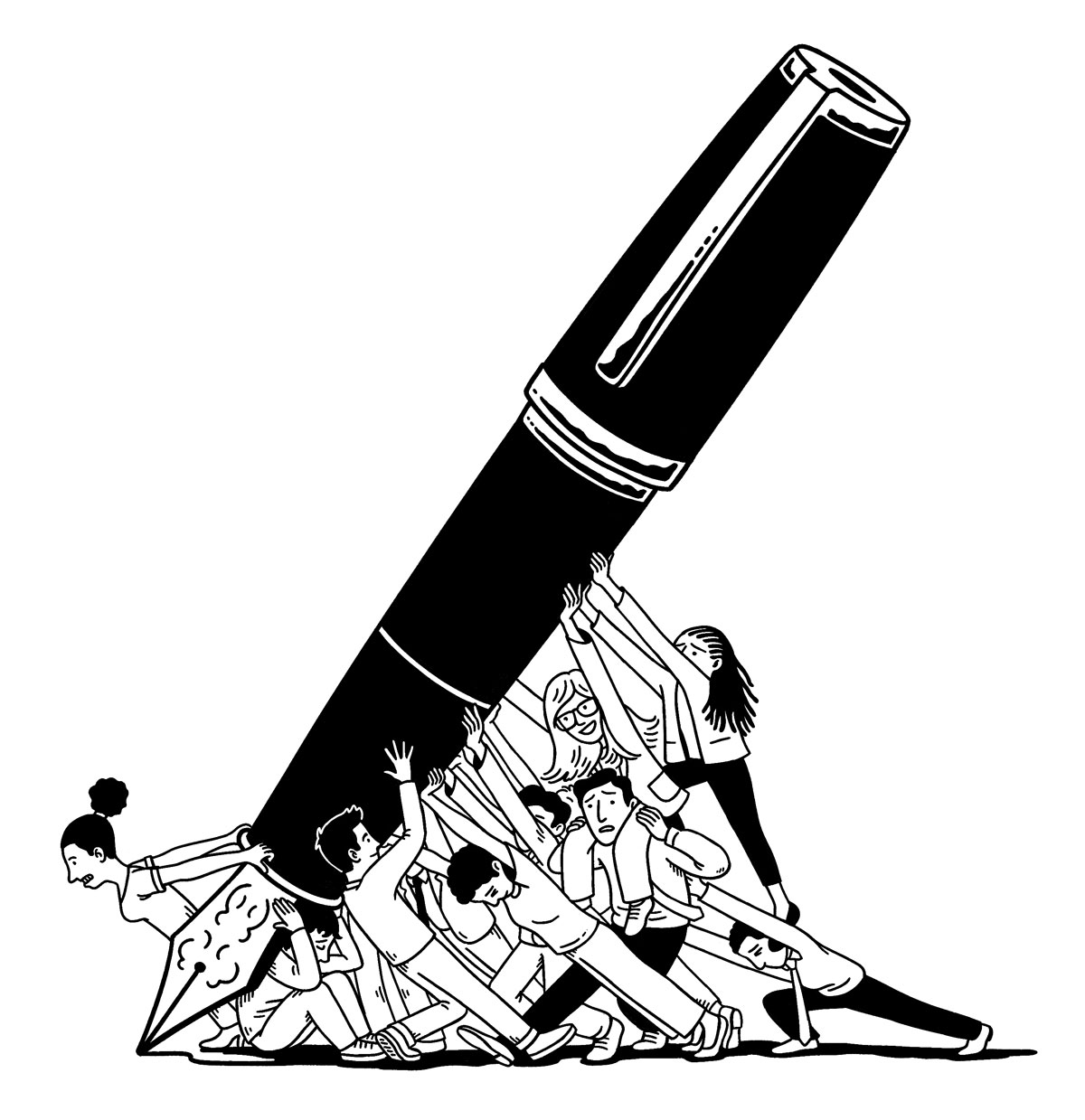 Dan Whisenhunt started Decaturish "purely out of spite"—he'd been applying unsuccessfully for jobs at a certain major local news outlet when a friend who worked there told him that, without a "degree from a known journalism school like Columbia," his chances were slim. He told the friend he could compete with their best reporters, to no avail. "I set out to prove them wrong," he said.
Whisenhunt landed in journalism by chance, after failing out of his original major: musical theater. But once he started freelancing for the student paper in Tuscaloosa, Alabama (where he earned a degree in broadcasting from the University of Alabama), "it clicked." He'd struggled with addiction and mental health issues, and feelings of low self-worth, but journalism gave him confidence. He worked at newspapers in Alabama, then at the Chattanooga Times Free Press. Later, a job called his wife to Atlanta, where Whisenhunt started working at Reporter Newspapers. Decaturish started as a side project that Whisenhunt worked on at nights. Finally, in 2013, he decided to "roll the dice," quit his job, and devote himself to it full-time. In its first year, Decaturish made $30,000 in ad sales and had zero subscribers. His wife's salary kept them afloat.
Today, observing its 10-year anniversary, Decaturish has 2,500 paid subscribers and three full-time employees, including Whisenhunt's wife. The website averages 200,000 page views a month and brought in about $250,000 last year. Too, it prefigured a small boom of journalism outfits in Atlanta: In just the past five years, Atlanta Civic Circle, Capital B, Canopy Atlanta, the Atlanta Community Press Collective, and local bureaus of Axios and the national investigative news site ProPublica have all set up shop here. Whereas Whisenhunt is focused on repairing the old-school, community-newspaper model, others are generating new revenue streams; some sell merch, and some, registered as nonprofits, sustain themselves through grant funding. But it's not just revenue models they're challenging—they're changing the way local outlets approach journalism itself.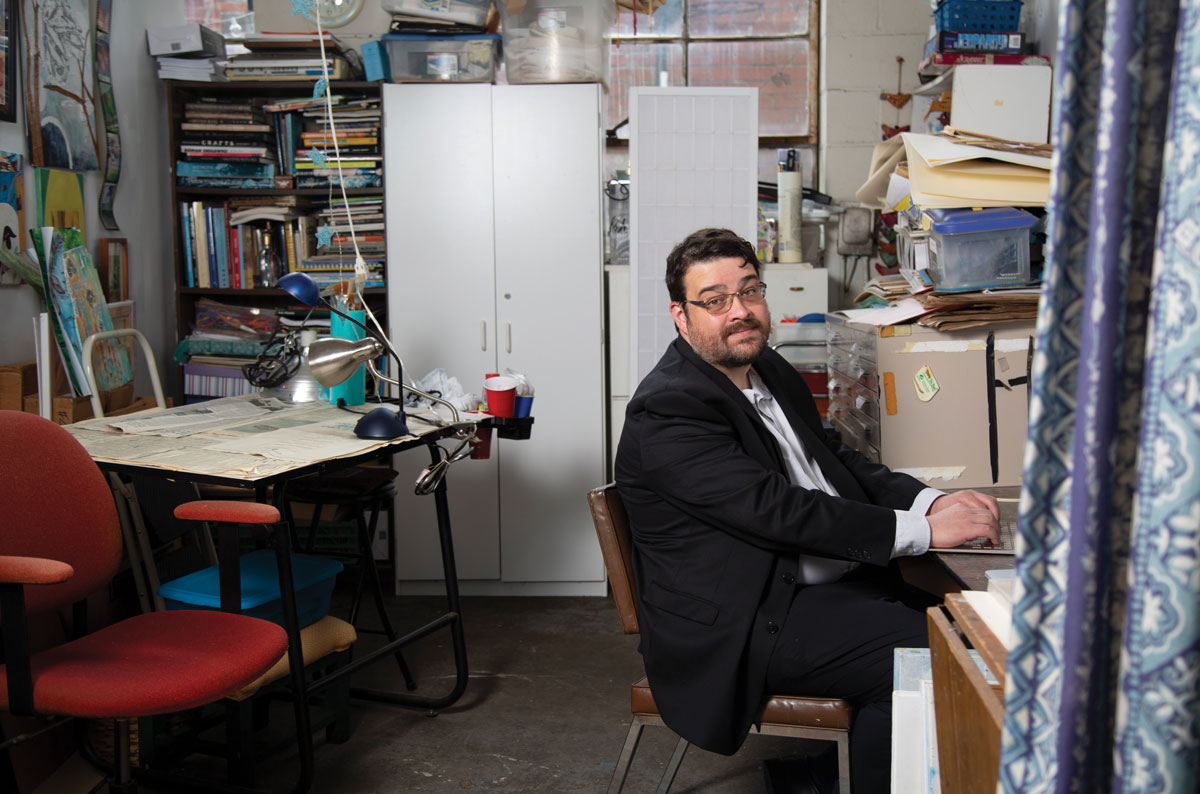 According to a 2022 report from Northwestern University's Local News Initiative, more than a quarter of the country's newspapers have closed in the last two decades—over the last few years, it's averaged about two each week. The news void resulting from newspaper closures can have harmful knock-on effects: The lack of a community watchdog can open the door to more corruption in government and business, lower levels of voter participation, even (because of less financial scrutiny) higher taxes. Residents in news deserts are forced to rely more heavily on social media, which can spread inaccurate information and contribute to political polarization. Rural areas and lower-income communities lacking the density or funds to sustain a local outlet often find themselves overlooked or misrepresented by national publications.
In 2019, local journalist Max Blau started the Pittsburgh Journalism Project. Inspired by City Bureau, a media nonprofit that trains Chicago residents to be journalists, Blau met with people who lived in Atlanta's Pittsburgh neighborhood to brainstorm coverage, and then coached three longtime residents through the reporting and writing process to eventually produce a front-page story for the Atlanta Journal-Constitution. The next year, with five others, Blau cofounded Canopy Atlanta. "I consider the Pittsburgh pilot to be a small but important project that planted the seeds of a beautiful, bigger experiment in our ecosystem," Blau said. Canopy Atlanta is participatory and collaborative with the residents it covers, inviting them to join the reporting and editing process via its paid fellowship program. And it's continuing to grow: Last fall, Canopy Atlanta launched an outpost of City Bureau's Documenters program, which trains and pays residents to report on meetings that might otherwise go uncovered.
It's an approach deeply rooted in community, which is what drew Sophia Qureshi to the organization. When Qureshi, who grew up in the Atlanta area, moved back during the pandemic after more than a decade away, she noticed the region's demographics had changed substantially. "There was so much happening with immigrant communities and organizing and the election," she said, but there was no one media outlet dedicated to covering those diverse stories. In 2021 she started a newsletter focused on immigrant and refugee communities called 285 South. Earlier this year, she joined Canopy Atlanta as a writer in residence. "We need each other. I think there's not enough of us and we should work together and help each other grow," Qureshi said. "It's hard to get local news. Once it's there, it's so valuable." For a time, Qureshi and her husband lived in New York, where they would often discuss moving to Atlanta—to Decatur, in particular: "We would follow what was happening in Decatur through Decaturish."
Whisenhunt has suffered "bumps and bruises along the way," he said. "I have 10 years worth of mistakes to lean on at this point." But Decaturish's dozen or so editorial principles are a polestar, among them: Assume good intent, focus more on being right than being first, throw punches. Whisenhunt said that, in previous jobs, he had encountered resistance to tackling hard-hitting stories, a problem he no longer has at Decaturish. "Occasionally we're going to do a story that makes you mad. I'll write a story that makes me mad," he said, later adding: "I am not concerned with pissing off people generally, if I feel the story is important, and that includes advertisers."
George Chidi is an independent journalist who writes for Decaturish and in 2021 started his own newsletter, the Atlanta Objective, for reasons similar to Whisenhunt's. "The media entities that are big names with money and influence, they lack flexibility and nimbleness," Chidi said. "They are tied to relationships, to advertisers, that govern the way they cover news. It makes it impossible for them to take risks. They are not laboratories for innovation." In the Atlanta Objective, Chidi plumbs the depths of a story to offer analysis and personal insight, often delving into his own reporting process. (Chidi, Qureshi, and various others mentioned in this piece and accompanying chart have contributed to Atlanta magazine. Blau was formerly on staff.)
Whisenhunt doesn't have much competition in covering DeKalb County, which he considers unfortunate; in particular, he thinks the county school district is "criminally underreported." Documenters will begin covering board of education meetings for Decaturish in March. Chidi noted that Decaturish has outlasted the tenure of many elected officials in DeKalb County, so part of its role is to provide institutional memory. "Clarkston is a town with 15,000 people in it, and their local issues are getting coverage and they're getting recorded. Five, 10 years from now, when something crazy happens, there's a body of work to reference that provides context," Chidi said. "That context allows for better questions to be asked when answers to those questions are going to be useful for somebody."
In the last decade, Whisenhunt has seen other outlets fade or shutter—Creative Loafing, Decatur Metro, Brookhaven Post, and even his own Decaturish offshoots, Atlanta Loop and Tucker Observer. "It's a perilous course," said Charles Davis, dean of the University of Georgia's Grady College of Journalism and Mass Communication. "Some large percentage of all these things end up going away after a couple of years to be replaced by others."
Are so many start-ups a sign of a healthy ecosystem, or of an industry still trying to find its footing? Davis said it could be both: Often, outlets are started by reporters who walked out of their newsrooms, by choice or otherwise. Robin Kemp founded the nonprofit Clayton Crescent, for example, after the county paper where she'd worked laid off most of its reporting staff.
Outlets are searching for sustainable funding in memberships—which can come with tiered costs and perks (swag, invitations to events)—and, more recently, merchandise. Davis authors a journalism textbook that includes a chapter on new revenue models, he said: "Every couple years, when I have to revise the textbook, I literally have to start over." Nonprofit news is a dominant model now, both for start-ups and for established organizations hitting rocky financial waters. Today, according to the Northwestern University report, four out of 10 local news websites are nonprofit and supported by grants, sponsorships, and donations. Even Grady College is running a nonprofit newsroom: Two years ago, it formed a 501(c)(3) and took over the Oglethorpe Echo, a weekly newspaper near Athens. "It was a 148-year-old weekly that was going to go dark, and we couldn't let that happen," Davis said. "Now our students can take a community journalism class that consists of working a beat at the Echo." (Students also run an independent, nonprofit newspaper in Athens: the Red & Black.)
More than a fifth of the U.S. population lives in news deserts or in communities at risk of becoming news deserts. But Davis refuses to be fatalistic: "There are lots of little green shoots, springing up here and there. I tend to dwell on them because they make me more optimistic."
Who's who in Atlanta indie news
Atlanta's media ecosystem has never been more crowded, with independent start-ups, nonprofit ventures, even individual Substack newsletters joining the ranks of legacy print journalism institutions like the AJC, the Atlanta Voice, and (ahem) yours truly. Here are some of the fresher, more compelling faces on the scene—all of which have launched in the 21st century, and many within just the last few years. —Sam Worley
Arts, Atlanta-focused
Arts ATL
Your comprehensive source for news, previews, interviews, and thoughtful criticism pertaining to Atlanta's arts scene, from film to dance to the visual arts.
Arts, regional focus
Burnaway
Based in Atlanta, this smart digital mag publishes insightful features, interviews, profiles, and criticism related to the many vibrant arts scenes throughout the South.
Civic nuts-and-bolts
Atlanta Civic Circle
Headed by Saba Long, this newcomer aims to produce "solutions-oriented reporting" and encourage citizens to engage with their governments. Its first two "focus areas" have been democracy and housing affordability.
Radical politics
Atlanta Community Press Collective
Formed in opposition to the controversial "Cop City" training center proposal, this anonymous, "horizontally organized" collective has worked tirelessly to file open-records requests and explore the fraught history of the South River Forest.
Crime, poverty, policy
The Atlanta Objective
Longtime journalist George Chidi is one of Atlanta's essential voices; in a world of cynical and alarmist crime reporting, his newsletters read like dispatches from a smarter, kinder, more nuanced planet. And they're often pretty funny.
Community-generated journalism
Canopy Atlanta
The reporting is incredible, but it's the model that matters: CA partners with local neighborhoods on everything from formulating stories to training journalists, resulting in work that truly reflects the communities it's about.
Black voices
Capital B
Just over a year old, the Atlanta bureau is the first in a growing network of Capital B outlets around the country—next stop: Gary, Indiana—foregrounding Black voices and tackling education, health, criminal justice, and more.
Clayton County
Clayton Crescent
Laid off from her newspaper job in 2020, veteran reporter Robin Kemp just kept on going—just this time at a publication she founded, a vital source of news in an undercovered area of the metro.
Coastal issues
The Current
Okay, so it's not Atlanta—but this nonprofit newsroom covers the waterfront from Savannah on down, and is essential reading for anyone who wants to know what's happening on the coast.
Decatur(ish)
Decaturish
Celebrating 10 years in 2023, Dan Whisenhunt's popular news site produces on-the-ground stories from not just Decatur but also surrounding DeKalb communities.
AAPI voices
Georgia Asian Times
The diversity of Georgia's AAPI communities is reflected in the coverage of the state's largest digital platform for Asian news—from local and state politics to arts, culture, and dining.
State politics
Georgia Recorder
Headed by John McCosh, the small team at this nonprofit news org covers the doings at the Gold Dome—and across the state—with depth and rigor.
LGBTQ+ news
Georgia Voice
Cofounded by Chris Cash, also founder of the former Southern Voice, this print and digital news outlet aspires to be the local "outlet of record" for its community.
Big ideas
How I'd Fix Atlanta
Curated by journalist Austin L. Ray and featuring lots of familiar names—Jewel Wicker, Gray Chapman, Thomas Wheatley—this newsletter proposes outside-the-box solutions to Atlanta's problems, from rewilding all these $@#*ing golf courses to creating a "Mega-Atlanta" by redrawing the city's boundaries.
News analysis
I Am King Williams
The occasional news roundups sent out by journalist, documentarian, and podcaster King Williams contain a stupendous amount of thoughtful analysis on Georgia politics, local development, urban planning—and much, much more.
Investigative
ProPublica South
The regional bureau of the national investigative powerhouse, overseen by former Atlanta deputy editor Mara Shalhoup, this seven-person reporting team has dug into voter disenfranchisement, industrial pollution, and personal impacts of bogus claims about critical race theory.
Civic journalism
SaportaReport
Founded in 2009 by longtime AJC-er Maria Saporta, this website keeps a close eye on Atlanta politics, governance, development, and more.
Immigrant issues
285 South
This weekly newsletter by Sophia Qureshi—launched independently, now part of the Canopy Atlanta umbrella—is an indispensable guide to the metro's immigrant and refugee communities, combining serious journalism with stories of joy and resilience. Plus, recommendations for cool events.
Queer art and culture
Wussy
Wussy has the range: a lush biannual print magazine devoted to LGBTQ+ art and pop culture, events like film screenings and drag brunches, and quite possibly Atlanta's funniest Instagram account (@wussymag).
This article appears in our April 2023 issue.