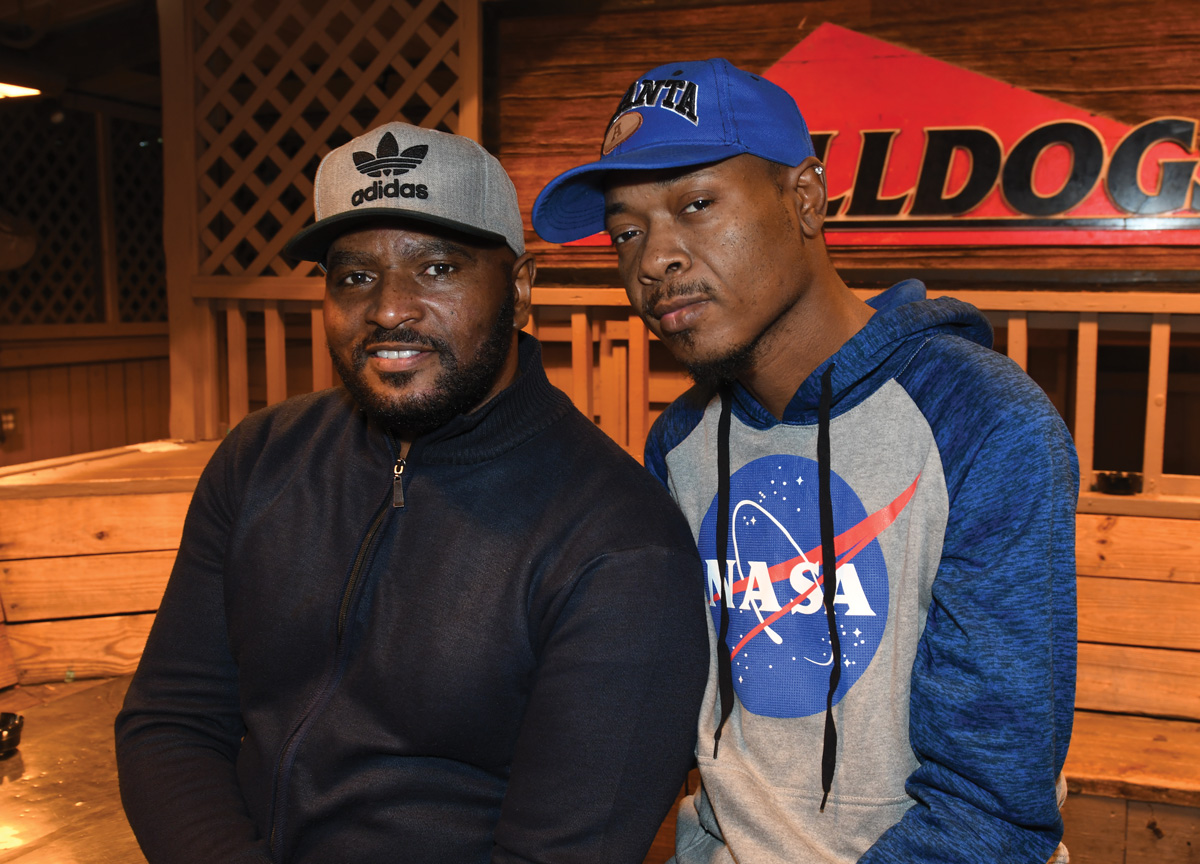 Just one story tall and tucked between 7th and 8th streets on Peachtree, a tiny gay bar has built a reputation that towers over many of the skyscrapers that surround it.
"It's not just a landmark in Atlanta; it's a landmark globally," says Brent Cochran, operations manager at Bulldogs, which has been located in the heart of Midtown for 42 years. "I've had people who would come here from Paris tell me they knew this was where you had to go."
Magellan Thompson was 22 years old when he arrived in Atlanta from Chicago during Black Pride weekend in 2012 and found himself at Bulldogs on his first day in town.
"We went over to Bulldogs after an event because I guess it was tradition," says Thompson, owner of the clothing line 79th & Magallenes. Although Bulldogs is known for a mature crowd, it became Thompson's favorite bar, and he considers it a guidepost for Black gay Atlanta, linking generations throughout decades of dynamic change—although it served a predominantly white clientele until the late 1980s.
"I think we would kind of be lost when it comes to nightlife without Bulldogs," Thompson says of the bar that has been the only constant in a Black gay party scene which often feels transitional, with promoters renting venues across the city rather than hosting at a consistent location.
Atlanta would lose something if Bulldogs ever closed as well. The line of folks who begin gathering along Peachtree Street around 11 p.m. on weekends offers a broader representation of Black gay men than media depicts. From young men dressed for the runway and others buff enough to be a UGA running back to older professionals who look like they just left the boardroom, the regulars at Bulldogs provide a snapshot of why Atlanta is considered a Black gay Mecca.
Within a few years of Cochran starting to work as a doorman at Bulldogs in 1998, high-rise buildings were replacing gay bars and no-tell motels in Midtown, and the studio apartments and triplexes that attracted young queer people for decades were being phased out for single-family housing and condos. Bulldogs has outlasted other legendary gay clubs like Backstreet and the Armory, and it has stood its ground amid persistent threats from new neighbors and developers.
"It's never-ending," Cochran says of the pressures the bar faces in an evolving Midtown. Having withstood gentrification, the emergence of online dating, and even the AIDS epidemic, Bulldogs now tries to survive another crisis, the COVID-19 pandemic.
"Prior to the current conditions we're all going through, I would have said there was no chance of us going anywhere at any time," Cochran says. "I'm hopeful things will recover and we'll weather the storm, but I can't predict the future."
Rumors of closure have become as much a part of Bulldogs's lore as its heavyweight drinks, which Thompson attributes to how frequently venues come and go in Atlanta's LGBTQ+ nightlife. Confident of the bar's staying power, he says, "Pretty much everything closes, but Bulldogs doesn't."
This article appears in our October 2020 issue.