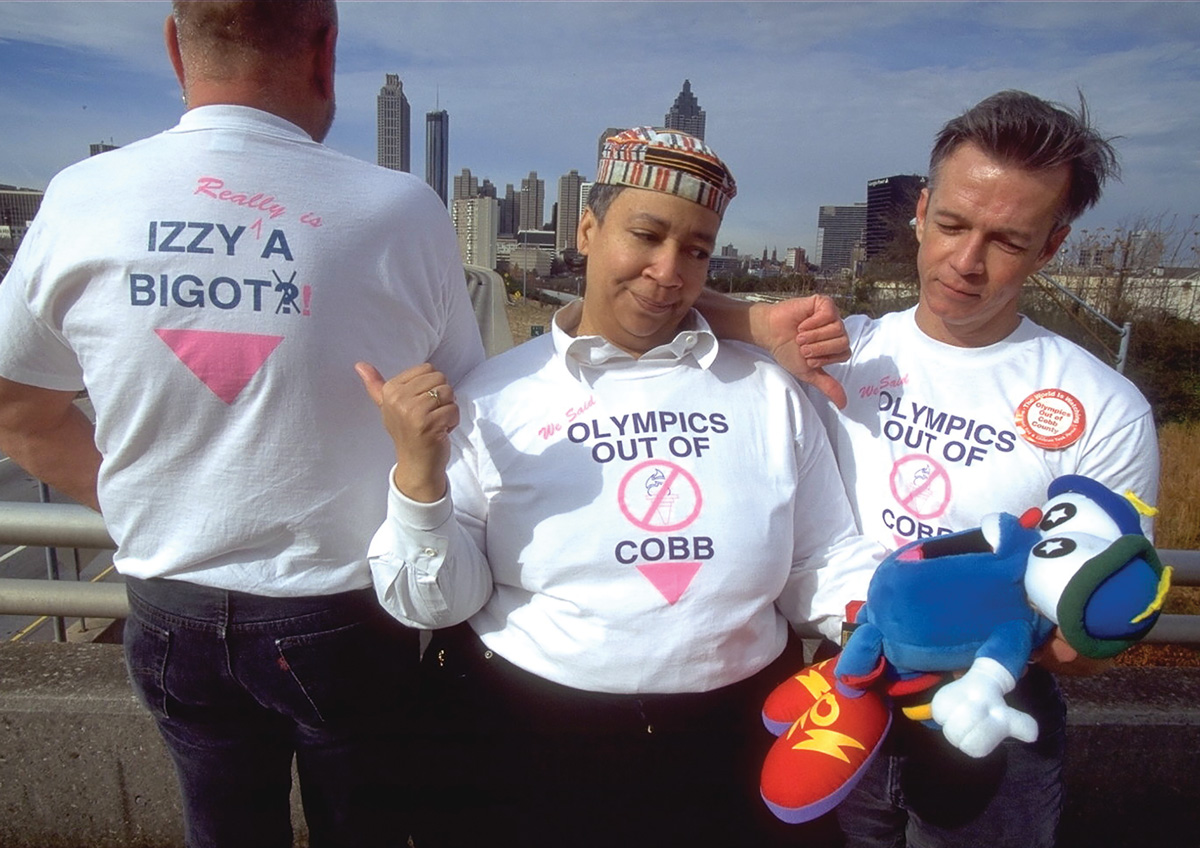 By Pat Hussain, as told to Richard L. Eldredge
Pat Hussain, who cofounded the Atlanta chapter of GLAAD and Southerners on New Ground, launched Olympics Out of Cobb with Jon-Ivan Weaver in 1994. The protest group was formed in response to a 1993 Cobb County resolution stating "lifestyles advocated by the gay community are incompatible with the standards to which this community subscribes." OOOC pushed for the Atlanta Committee for the Olympic Games to move volleyball events out of the suburban county. On July 29, 1994, after months of high-profile protests, ACOG moved the venue to Athens. In 1996, Hussain and Weaver published a behind-the-scenes joint memoir of the historic protest, Olympics Out of Cobb: Spiked! For her contributions to the city, Hussain is a 2020 recipient of the Atlanta Mayor's Office Phoenix Award.
I was not initially aware of the anti-gay resolution in Cobb County because I had spent nine months living in Washington, D.C. working on the executive committee for the 1993 March on Washington [for Lesbian, Gay, and Bi Equal Rights]. I had promised my wife when I got home that I was hanging up my cape for a while. It was time to say, I'm here, I'm queer, and I'm gonna sit down for a minute.
Then, one night, I was walking to my car in the parking lot of the Charis bookstore in Little Five Points, and this white guy came walking up to me and asked, Are you Pat Hussain? I've been told I need to talk to you. That's how I met Jon-Ivan Weaver. He and his partner had worked on the video that helped to secure the games for Atlanta. They were excited, but then they saw ACOG had placed a venue in Cobb County.
He was clearly impassioned, so I asked him, Jon-Ivan, what do you want to do? He said, I don't know, but I'm pissed! As someone who, for many decades now, has been known as a pissed-off Black dyke from Georgia, that resonated with me. I said, That's a good start.
I was told by many friends not to get involved in this because there was no way we could possibly win. This was a global entity. It would be like kicking a giant in the toe. That response mystified me. I said, I didn't know we chose our battles according to the ones we knew we could win.
So, I talked to my wife about it, and Cherry said, You really want to do this, don't you? I told her, Yes, because these people are wrong and we need to fight this. Everyone should feel welcomed at the Olympic games.
Then, Jon-Ivan and I had to have a long talk. I had this fear that here was this white man from Tennessee who had never done any activism, with zero street cred. My fear was, in the middle of battle, he would abandon me. We swore to each other that even if it was just us getting our broken, bloody asses arrested time and time again, we would do it together.
We started out by talking to folks at ACOG and saying, This resolution is incompatible with the values Atlanta and the Olympic Games put forward. All we want you to do is get out. They basically told us to go to hell.
Instead, we got busy.
We had to get their attention. We got wind about the unveiling of the Olympic cauldron at ACOG headquarters, and we knew we wanted to crash that party. We got a protest banner made, rolled it up, and handed it off to Olympics Out of Cobb members Don George and Ed Scruggs, two old white guys who were able to walk right in without attracting any attention. It was a Trojan horse we didn't even have to paint.
They waited until all the speeches had been given about how beautiful the cauldron was. Then, they jumped up on the stage in front of all these people and the assembled press and unfurled this banner that said, "Olympics Out of Cobb." Security didn't know what the fuck was happening. It was glorious.
I was told by many friends not to get involved in this because there was no way we could possibly win . . . I said, I didn't know we chose our battles according to the ones we knew we could win.
Then, there was Izzy, this big blue sperm ACOG had dreamed up as the Olympic mascot. OOOC folks made an Izzy costume we used for picketing outside ACOG headquarters, carrying signs that read: "Izzy Gay?" "Izzy Straight?" "Izzy Safe in Cobb County?" ACOG was furious. It got us to the bargaining table. But we weren't going to talk on their turf.
I called in a favor. I called Lynn Cothren, a gay man who had worked as Mrs. [Coretta Scott] King's personal assistant since he was 19. ACOG couldn't figure how we got the King Center meeting space. We met with number four in the ACOG hierarchy, who turned out to be Shirley Franklin [ACOG's senior policy advisor and future Atlanta mayor]. She listened and said, You have every right to protest, but we're not pulling out.
Moving the venue remained off the table. We kept protesting. We got into [International Olympic Committee Chair] Juan Antonio Samaranch's hotel when he was in town. We scheduled a picket outside the Capital City Club where he was meeting with ACOG.
Then, the IOC surveyed the volleyball athletes, and something like over half of them were gay. My question to Shirley then was, How can you not move the venue when you know these dykes, their girlfriends, their trainers, and their coaches are going into Cobb County to play ball, along with the dykes who want to come watch them?
Someone from inside the ACOG palace—one of us—had given Jon-Ivan a list of all the direct phone extensions. What most people didn't know was there were people in high and low places, either queer people themselves or allies who knew this was wrong, who were giving us information.
We planned a candlelight vigil for the weekend when we knew the Olympic International Committee was coming into the city. At the vigil, someone hit a member of the Atlanta Gay Men's Chorus with their car. I was scared, I was mad, and I was off the rails. It was late and I was pacing the floor over this. I picked up the phone and dialed [ACOG CEO] Billy Payne's extension. And he picked up.
I told him someone had been hit. He said, Well, nobody should be hurt. I said, Somebody could have died tonight the same way someone could die in Cobb County. [Soon,] it was over.
They issued the press release on a Friday. We had an impromptu celebration that night at Ansley Square. We were jubilant. We were euphoric. We were stunned.
Ultimately, it was about principle. It wasn't just for us, it was for the next generation. It was for the kids who today are coming out in middle school because they know we're here, because they know they're not alone.
This article appears in our October 2020 issue.