The impressive opening drone shot in Monument: The Untold Story of Stone Mountain gives viewers a nostril-near close up of the carving of Confederate heroes Robert E. Lee, Stonewall Jackson and Jefferson Davis. The sun-dappled sight is both awe-inspiring and awful. The new 32-minute original documentary, produced by the Atlanta History Center under its new Atlanta History Center Originals banner, premiered Wednesday night at AHC and illustrates the history of the world's largest confederate monument by tracking the timeline of its birth.
The thought-provoking film features interviews with Donna Barron, the daughter of Stone Mountain's chief carver Roy Faulkner, who worked on it daily from 1964 to its completion in 1972 (or as Barron recounts in the film, "eight years, five months, and 18 days."). Former Georgia Governor Roy Barnes, whose successful fight to remove the Confederate emblem on the state flag likely cost him a second term, discusses how one of his great-grandfathers fought for the Confederacy while the other served as a Union soldier. Cynthia Spence, the co-chair of Sociology and Anthropology at Spelman College, vividly recalls conversations from her childhood and her Vidalia-native father's steadfast refusal to picnic at the park. Social justice activist Genesis Reddicks recounts how her activism as a Decatur High School student—helping to get the Confederate obelisk on the Decatur Square removed in 2020 —has influenced her future.
Atlantans can watch Monument for free on the Atlanta History Center's YouTube channel. In advance of the film's debut, Monument executive producer, vice-president of digital storytelling at AHC, and former Kennesaw State University professor Kristian Weatherspoon and Atlanta History Center president and CEO Sheffield Hale spoke to Atlanta magazine about the documentary.
What made it important that Monument be the first film released under the new Atlanta History Center Originals banner?

Hale: This is something we've been working on with our Monuments Initiative since 2016. We published a white paper on Stone Mountain in 2017. We wanted to get the timeline in front of people. Since we had a deep knowledge and background on it, it seemed like a natural topic for us. If you think about the three great icons of Civil War and civil rights history in the state, you've got the Cyclorama, which we took on and recontextualized, the Margaret Mitchell House, and Gone With the Wind—we're redoing that exhibit as we speak—and then you've got Stone Mountain. That's where all of these topics of the Lost Cause myth, reconstruction, and civil rights meet. It was a natural for us.
Kristian, as AHC's vice-president of digital storytelling, what appealed to you about telling this story?

Weatherspoon: For me, this was an opportunity to wrap some narrative discussion and exploration around this history. When you hear from the people in the film, you hear how this has shaped how they see the city and the state. As a filmmaker, that was important for me to bring out. I think about Donna's story and her connection to the carving through her father and also Cynthia's connection and her dad's aversion to going to Stone Mountain. All of those things get beyond the historical context and really help us understand why these things matter. We worked really hard to bring diversity of perspective to the film. One goal for me for this film was, when you watch it, there might be a perspective that resonates with you, but hopefully, there's also one that you hadn't thought about before.
One surprise for me as a viewer was hearing Donna Barron, the daughter of Roy Faulkner, the main carver of Stone Mountain, say, "I want people to value the carving because I want them to value my dad's life." Were there surprises for you as well as you filmed the interviews?

Weatherspoon: To your point, Donna Barron is a really fascinating person. If anyone has a right to have a personal connection to the carving, it's her. From the moment we met, she let us know that this was really about sharing her father's legacy. She made it clear to us from the outset it really wasn't about the controversy surrounding Stone Mountain that she was concerned about. It truly was about her father's work. In the film, we also got to explore Genesis Reddicks's work involving these monuments and how that experience has shaped her life and what she wants to do.
Sheffield, another key voice in this film is former Georgia governor Roy Barnes who was at the center of the state flag controversy in 2001. Some might argue that changing the flag and getting rid of the Confederate emblem cost him a second term. What resonates with you about his perspective in the film?
Hale: Twenty years later, we're beginning to get some historical perspective on that. The other thing to realize is it's only been 50 years—1972—since the carving was completed. It's something I think that's almost painful for him to reflect on because he lost [re-election], but at the same time, he's very proud of his role in getting that legislation passed.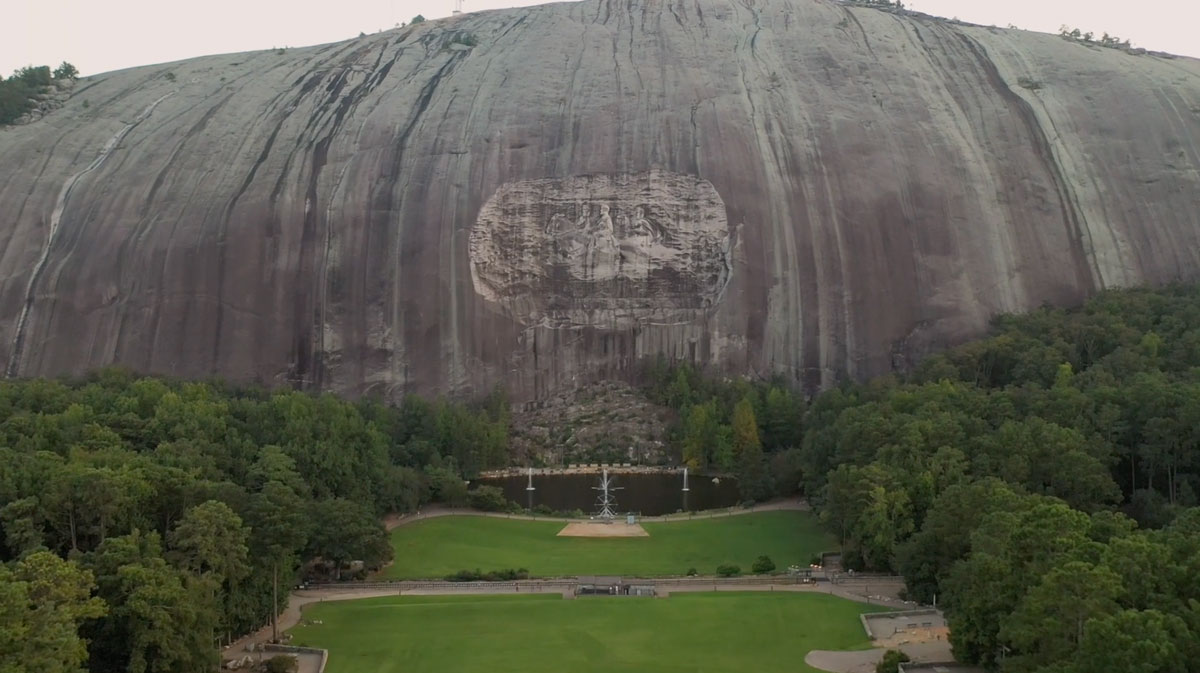 Kristian, this film powerfully illustrates the two flash points in our history in which there was motivation to get this carving done—in the 1920s during the rebirth of the Ku Klux Klan and then later, in the wake of the Brown vs. Board of Education SCOTUS decision integrating public schools. For those who casually jog past the carving or have a picnic below it, do you think it will surprise people that this work was intentionally done during these stark periods of white supremacy?
Weatherspoon: The short answer is absolutely. Honestly, it's one of the reasons we felt this story needed to be told. The fact that it was just finished in 1972 alone will be surprising to a lot of people. We hope that these points of surprise in the film will begin to shape and inform a conversation. The goal of this film is to help provide context to that conversation.
One section of the film that's particularly awful to look at is the full-color KKK footage from 1973, where a Klan member sets fire to a Black man in effigy while saying "burn" and a racial slur. It's a powerful and also a heinous piece of footage. Were there conversations around including that in the film?
Weatherspoon: We had very long conversations around that. We spent two years on research and development of this film. A year of that was spent determining which footage we wanted to use. For me, as a filmmaker, it was important that we presented a full history and the recognition that this history is ugly. It's not pretty, but it's part of it. It helped us in presenting a really full story about Stone Mountain.
Hale: I would add that including that full-color footage from 1973 shows that it's not ancient history. There's no better way than to . . .
Weatherspoon: Show it.
Kristian, as both a filmmaker and an educator, when this film goes up on the AHC YouTube channel, what are your hopes about Monument's life span?
Weatherspoon: As a storyteller, this is one of the largest and most important projects I've ever worked on. For me, the goal is for this piece of media to live on [and become] something that people can watch and truly engage with. I'm from Mississippi, and I've grown up in the shadows of a lot of these monuments and these symbols. I'm familiar with so much of this. In this film, you hear from people like me who are uniquely Southern. I think it's something that's been missing in the telling of this history.
Sheffield, in Monument, the closing shot is of you reading the official code of Georgia—written in 2001 as part of the state flag compromise—to protect the Stone Mountain carving. It's a gut punch to realize this carving is codified into state law. Presumably, state lawmakers would need to pass legislation in order to change that image on the side of Stone Mountain, correct?
Hale: Correct. And I'm a lawyer, so I made damn sure those sections were in there. For me, that's the source material. You go to the code, you go to the law. Any conversation around what's going to happen to that carving needs to begin with the law that makes the entire park a Confederate memorial and that specific language that was added just 22 years ago. By focusing on the code, it's something that people can discuss with their legislators. We're setting the table for that. What the citizens of Georgia—and their duly elected representatives—do with that information is something we can't control. For us, it was about getting that information out there to people.