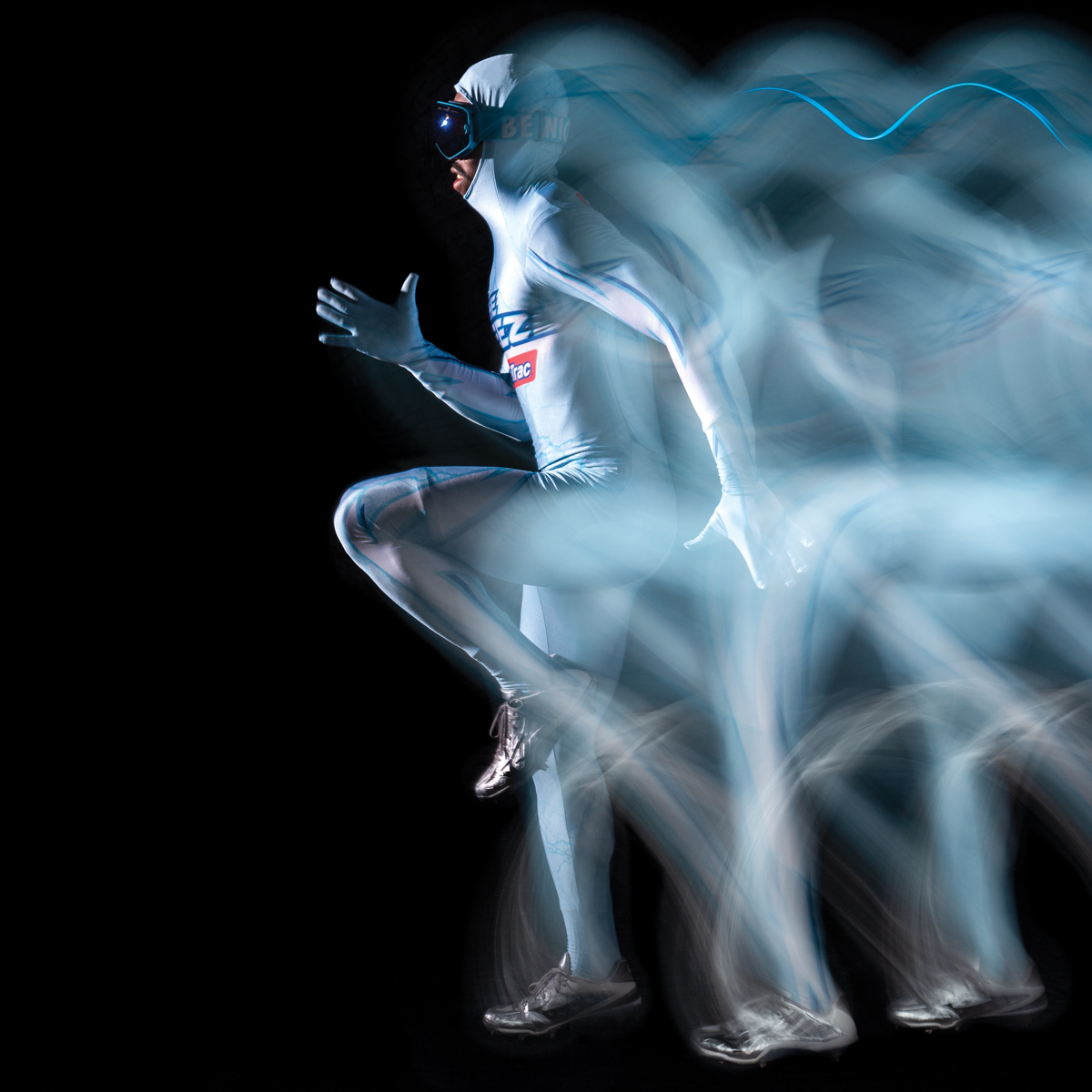 Along with the Home Depot Tool Race, one of the Atlanta Braves' long-standing traditions is the Stolen Base Challenge: In it, a fan runs from the left field wall to second, picks up the base, and tries to return within 20 seconds. In 2017, the team discovered that grounds crew staffer Nigel Talton could complete the task with 5.6 seconds to spare. When they moved to SunTrust Park the next season, they recruited the former track star to race fans—who enjoy a head start—in a sky blue bodysuit. "RaceTrac's Beat The Freeze" has ended in Talton's defeat only a few times (one contestant made social media history when he face-planted). We talked to the 28-year-old speed demon and fan favorite.
Born to run
A track runner and football player at Peach County High School in Fort Valley, Talton attended Iowa Wesleyan University and Shorter University in Rome before transferring to Kennesaw State University, where he graduated in 2017 with a degree in sports management. He wants to use his career in track and as the Freeze to inspire kids. "I want to be a reason why kids don't give up," says Talton, who plans to attend grad school and become an athletic director.
Almost Famous
The Braves' breakout 2018 season may be known as much for Freeze races as it was for making the playoffs after a four-year, postseason drought. Talton is surprised by his alter ego's popularity. "It feels good, but I don't consider myself famous," he says. "People love the Freeze, and I feel like I give some of the players a burst of energy during the games."
Olympic Dreams
When not leaving Braves fans in the dust, Talton works at Amazon's warehouse in Smyrna and trains to compete in the 2020 Tokyo Summer Olympic Games. He's even worked out with the U.S. Bobsled and Skeleton Team coaches in Lake Placid. "I just want to make one Olympic team. I don't care if it's a relay team," says Talton. "I don't want to feel like I've failed to reach my dreams."
Being The Freeze
Talton gets a familiar feeling before he races on the field. "I'm still nervous, like it's a track meet," he says. "It's because I never know what to expect." The Freeze suit—it's not a costume, he says—is a combination of nylon and spandex and Talton washes it at home during the season. The suit can be a burden and not just on laundry day: Once zipped inside, there are no more bathroom breaks.
Giving Back
Talton volunteers his time at road races and sporting events like the SEC Championship Football Game. He's also a mentor to his 15-year-old sister, Alisa Horton, a competitive gymnast who has worked with former coaches of Olympians. "She always tells me she wants to be like me, but I tell her to keep doing her thing," says Talton. "I just want to continue being a great example to her."
This article appears in our April 2019 issue.