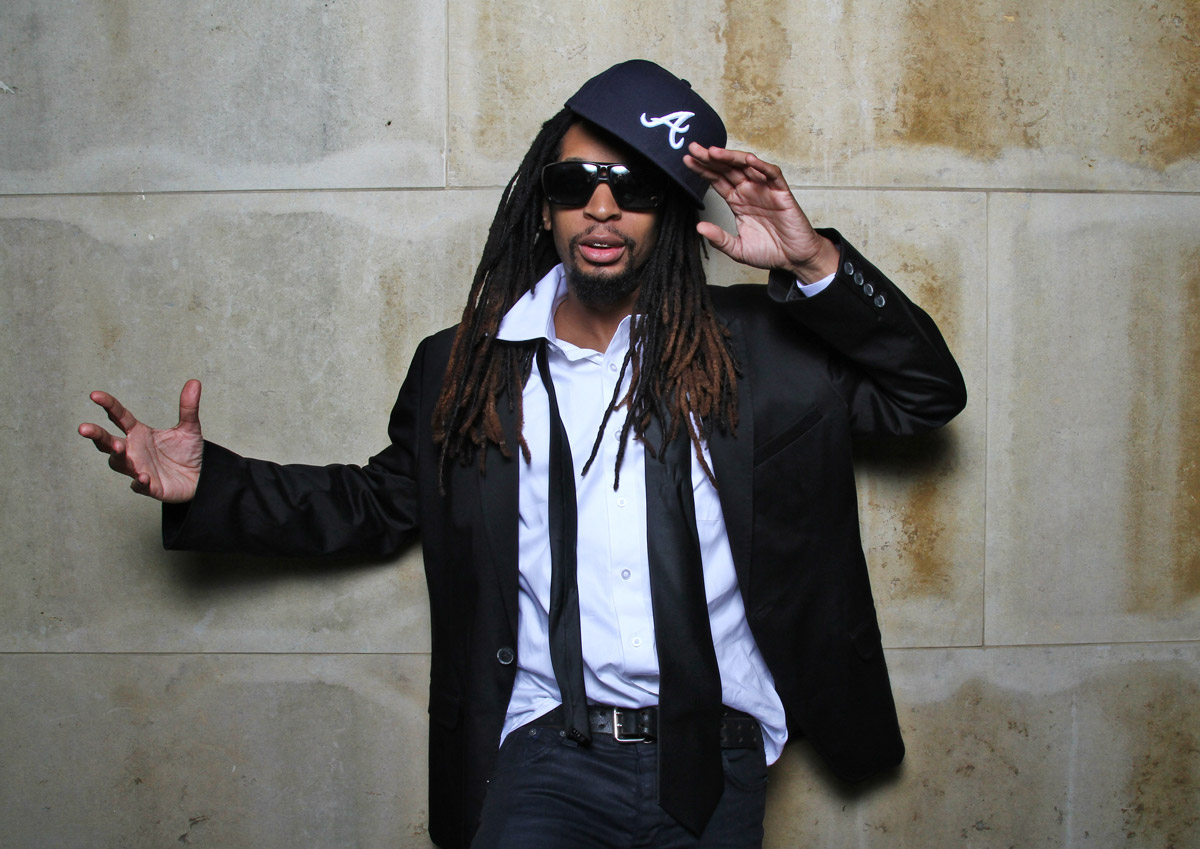 Grammy-winning hype man and hitmaker Lil Jon normally books around 200 gigs per year, with March being his busiest month. But when the coronavirus pandemic locked down the country this spring, artists canceled tours and venues closed, which left many performers, their staff, and production crews out of work indefinitely.
Lil Jon still wanted to keep the party going, so he came up with an idea. Every Saturday night at 10 p.m., the "King of Crunk" meshes together his Club 559 past with his Vegas residencies: delivering a high-octane, three-hour set simulcast across multiple social platforms.
Sequencing new and classic Southern bangers, Bay Area slappers, and occasionally reggaeton and dancehall in front of his well-stocked home bar, the 49-year-old proactively sips tequila from his jewel-encrusted chalice (or sometimes a red Solo cup); vamps using his signature catchphrases; and converges his rotating set list with music video clips, his own pixelated avatars, zany montages of shots being poured and consumed, vintage Atlanta B-roll, and even classic infomercials. The interactive comment section is often buzzing even before the sets start.
We chatted with the underground king-turned-global phenomenon behind "Bia Bia," "Get Low," "Snap Yo Fingers," and "Turn Down For What," on what it takes to put those Saturday shows together, what he's been up to during the pandemic, and the exciting new music he's producing with his son, a recent NYU grad. Much milder in conversation than his extroverted stage persona, we also revisit his humble beginnings playing the chitlin circuit and the work he put in to help put Atlanta on a worldwide stage.
What goes into you putting together those live DJ sets every Saturday night?
It's a lot of preparation. We started out with GIFs and other people's videos. Now, we're introducing a lot of green screen content. I take a day or two to figure out what I'm going to play that week, two or three days to get the videos right, and make sure all of the mixes remind people that I really DJ. I try to just go above and beyond. My video guy and I think about stuff every week, and it's great because it's fun. That's why we made the visuals even crazier. Some of the visuals are what you might see in the club or on a giant wall in Vegas. No matter where you are or who you're quarantined [with], you can just turn the TV on and have a party at your house. I feel like I'm in the club. When we go live and have the loading screen up, people are already in the chat commenting well before the show starts. It makes me feel good that all of the hard work is appreciated.
How did it all start?
I came home March 11 after doing one week of spring break gigs; my last show was in the Bahamas. I was supposed to go to Mexico [to do a ton of dates], but I remember hearing about the coronavirus two weeks before we shut down. So I immediately told my team to boost their immune systems up. I just sat back and watched DJ D-Nice and all of the DJs doing [virtual] live sets for about a month, then I got an idea to do my thing. When I would be in other people's threads, they would ask when would I go live. It wasn't time for me yet. Everybody was playing oldies, slow jams, or New York hip-hop. Southern hip-hop is running music, but nobody was consistently playing that from a Southern perspective, so that's what I wanted to do.
What made you decide to apply for a Paycheck Protection Plan (PPP) loan to produce those sets?
I was able to keep everybody employed: mainly my publicist and assistants. I had to pick up a new employee to do all of this stuff and pay for that every week. I had to purchase new equipment: computers, cameras, and there's so much that goes into doing the streaming. I never thought I would ever be streaming because I was on tour, so I was never home long enough to worry about that. But we have nothing but time on our hands, so I just dived right in to learn the technology. It's great to not be on tour, but be on tour because I'm still in front of thousands of people every week.
Given the sociopolitical climate we're in, how do you mentally prepare to perform week-after-week?
When the George Floyd [was killed], I wasn't sure if I would be able to play music that week. I changed my mind because [there] might've been someone that needed that outlet. We all needed that positivity and a way to let those emotions and energy out. I usually express my feelings to everybody that tunes in, and so many people message me, thanking me in the comments for helping them get through it. The love gives me the strength to know that no matter what, I still gotta do the show. Vegas is my number one place to be on the road, but everything is totally shut down.
One good thing I can say is I wanted to eventually not be on the road as much to focus more on production. It's giving me that opportunity to not completely shut down. The pandemic has pushed a lot of us into doing stuff that we needed to do or wanted to do that we might not have done. I've been cooking nice and healthy meals for the family; me and my son work out together a couple of days a week; I've upped my water intake; and took a much-needed detox. No matter what negatives happen to you in life, there's always something positive that you can pull from that to keep moving forward.
What do you cook?
I cook everything. I've been experimenting with a lot of vegan dishes: replacing olive oil with coconut oil, using more almond flour, and vegan cheeses. I cut dairy a while ago. I cook Moroccan to Mexican to Jamaican. I got my tagine pots, so I make lamb stews sometimes and all kinds of stuff.
You did a Verzuz (the hit virtual music battle series produced by Timbaland and Swizz Beatz) against T-Pain this past spring. How important is that platform to the culture?
Me and T-Pain know each other very well, worked with each other numerous times, and check each other's shows out in other cities. We're Southern guys, so we have a sense of humor. That was just us being us, and everyone in the audience was hanging out with us. That response was crazy; I'm still getting tagged by people saying ours was their favorite one. My homeboy, DJ Mars, says, "Black music saved the internet." Through the pandemic, Verzuz provided a place for Black music to shine and give us some entertainment to get our minds off all of the madness in the world. You could see Michelle Obama, Jamie Foxx, and whoever in the comments, so it makes people feel like they're in VIP with everybody else. It's so personable. The artists play, talk to each other, and hear each other's stories. It's not their teams: just them. The way it's growing is still great. It was just a great idea to do something like that. Swizz and Tim always say they wanna give people their flowers while they're still here, and that's super important.
What's going on with your series coming to Twitch?
It's called Dr. Lil Jon. People can come in, ask me questions about different stuff, and I'm gonna give them my perspective. I've been tweaking the idea for awhile, so it's a couple of weeks out, probably around October, before we do the first one. That's gonna be fun because of the hilarious conversations we have in the chats during the live sets. When it's finally produced, it's gonna be even crazier, so we'll see what happens.
How was it producing the new Ying Yang Twins single, "Twerkin' in the Mirror," with your son, DJ Young Slade?
It's life coming full circle. Even before he was born, he had a connection to music. Me and my wife would be in the studio, and every time I would press play on the drum machine, he would kick. When he was a baby, I had a Roland TR-808 drum machine in the house, and he would crawl to the pads. He started DJ-ing around 11, making his own mashups and bootlegs at 14, and he's been producing for a while and dropped his first single during the pandemic. When he's home, he's my engineer: recording me and doing whatever I need.
I sent the idea for the song to Ying Yang; me and my son looked at each other when they sent it back because the vocals didn't really match. At the same time, it went over another beat we did, and they sounded amazing on that. We've made three songs so far, but we're taking it as it comes. "Twerkin' in the Mirror" has already gotten a great response. It'll be up on all of the streaming platforms in the next couple of weeks. Initially, I just wanted to push it out to the DJs. We serviced "Turn Down For What" to DJs, and they were the ones that broke the song, then we were able to go to a major label with it. With this, we're doing the same thing. It's great sharing knowledge with him because I have all of this experience from producing so many artists for so many years, It's great to now pass that down to him. It's really cool to hear his take on something. I take what he asks me to do and go a step further, which makes music even doper. You can't collaborate with everybody because the vibe doesn't always work. We vibe really well together, so we don't always have to tell each other certain things.
Do you have an update on the two schools in Ghana that you assisted with funding?
I'm pretty sure everything is good. Pencils of Promise is the charity that puts everything together, deals directly with the government over there, and creates the curriculum. That was quite an experience to donate money and get people to match my donations to build two schools. To go over there, see the process, the community building, talk to the kids, and see how appreciative they are. What was there before were schools that were four poles with a covering where it's super hot. In one area where a school was being built, the kids were being taught under a mango tree. Kids need a proper environment to learn in. I'm glad to be a part of creating something that could impact the lives of hundreds and thousands of kids.
How did becoming one of Jermaine Dupri's very first A&R executives at So So Def set the tone for your career?
The So So Def Bass All-Stars compilations were my first major endeavors in the music industry period. It was a fun time doing those records because Jermaine let me do me. I picked the records, paired the producers with the artists, and I made everything happen. I learned a lot about putting records together because I literally had to do everything. That was Freaknik time, so we were promoting and breaking records all the time. That knowledge allowed me to start my own label, BME Recordings; get a deal with Warner Records; and sign Trillville, Lil' Scrappy, and E-40.
How does it feel seeing Southern hip-hop and Atlanta go from being underground and marginalized in the mainstream to becoming the center of entertainment and pop culture?
I'm extremely happy and proud seeing the home team kill it. I remember going to Outkast's album release party in New York and the crowd booed them. It was tough. The artists now don't realize how hard it was for Atlanta artists to break through New York. They don't understand that you had to go through New York to become big in the music business. They didn't respect us as artists early on. It's different now because all of the New York rappers sound like Atlanta rappers. [chuckles] It's amazing, but I think back on how hard it was to get ourselves established.
How do you respond to people referring to you as a legend or an icon?
I think about the early days going to smaller towns like Raleigh, Birmingham, and Spartanburg, South Carolina, where the people were right there with me. There were no giant venues with big stages, but it was a lot of energy from the people who supported you from the very beginning and helped you get to where you at. I've done some really big stuff, but I look at James Brown and Ray Charles and how they did it until they couldn't do it anymore. I feel the same way. God gave me this talent, and I gotta do it 'til I can't do it no more. There's so much more for me to do.