Power in Protest
June 9, 2020
Since the afternoon of Friday, May 29, protesters marching against police brutality and racism have filled the streets of downtown Atlanta, sparked by the recent deaths of George Floyd in Minneapolis, Ahmaud Arbery in Brunswick, and Breonna Taylor in Louisville. We spoke with six Black photographers in the Atlanta community who have been covering the protests and asked them which moments stood out. Here is what they saw.
(TOP PHOTO) UMCOLISI TERRELL
5/29/20 5:03 p.m. "This is a flag that I grew up with in the household. To me, it's a symbol a symbol of our struggle, a symbol of our pride, and a symbol of our willingness to continue to fight. I didn't share this photo on my social media until I found out the four officers involved [in the killing of George Floyd in Minneapolis] were arrested and charged. To symbolize that this is only the beginning—that the fight must continue."
5/31/20 4:15 p.m. "It was very eerie, because we are not in that kind of war. It was very unsettling to see, and when I look at [this photo of the National Guard blending in with the foliage at Centennial Olympic Park] now, I'm still like, wow, that is how far they went."
"I stayed throughout the night [on May 29] and when we were tear-gassed, we fled through [Centennial] Park. The next night, the park was closed."
6/1/20 6:05 p.m. "As we got down to the intersection of Marietta and Ted Turner, we all noticed this line of Humvees. I felt like they were placed to make people feel uncomfortable. It was an exertion of force and power."
6/1/20 6:02 p.m. "The music of Public Enemy has been a staple down here on the ground. This is one of my favorite signs I've seen—real hip-hop still has its place in the freedom fight."
5/31/20 7:01 p.m. "They are kneeling in front of the National Guard. They are kneeling in front of police officers in riot gear, and this is the strongest weapon we have. This has sparked a revolution worldwide."
5/29/20 5:08 p.m. "It was good to see [Nathan Knight, president of the DeKalb SCLC]; he was fired up the whole time. It was good for the younger generation to see him out there too, fighting a fight that he has obviously already fought."
5/29/20 7:03 p.m. "This was one of the many photos of the burning car. I didn't want to post it, but I was also frustrated because I was directly tear-gassed the night before and I felt like I was targeted. I'm a photographer; I was not a threat. The canisters actually hit me at my feet. I was angry, so I posted this photo, too, because this is kinda how I felt."
LYNSEY WEATHERSPOON
5/29/20, 6:13 p.m. "Seeing her in the middle of the street like this— it's the power, it's the strength, it's the resilience, it's the hope that we get this right this time. And I really hope we do."
5/29/20, 4:21 p.m. "People were obviously really upset about all of this—tensions were already on high."
"It feels different from any other protest I have ever seen."
5/29/20, 4:55 p.m. "What spoke to me is the fact that, in Atlanta, I've seen a couple of these people in that mural in real life. It is very Atlanta to see the diversity of the crowd walking toward the capital."
5/29/20, 4:19 p.m. "The person on the bullhorn is Nathan Knight, president of the DeKalb SCLC. It was amazing to have an elder in the space while we were marching back from the capital. That haze you see—there were people throwing fireworks before the police came and broke us all up."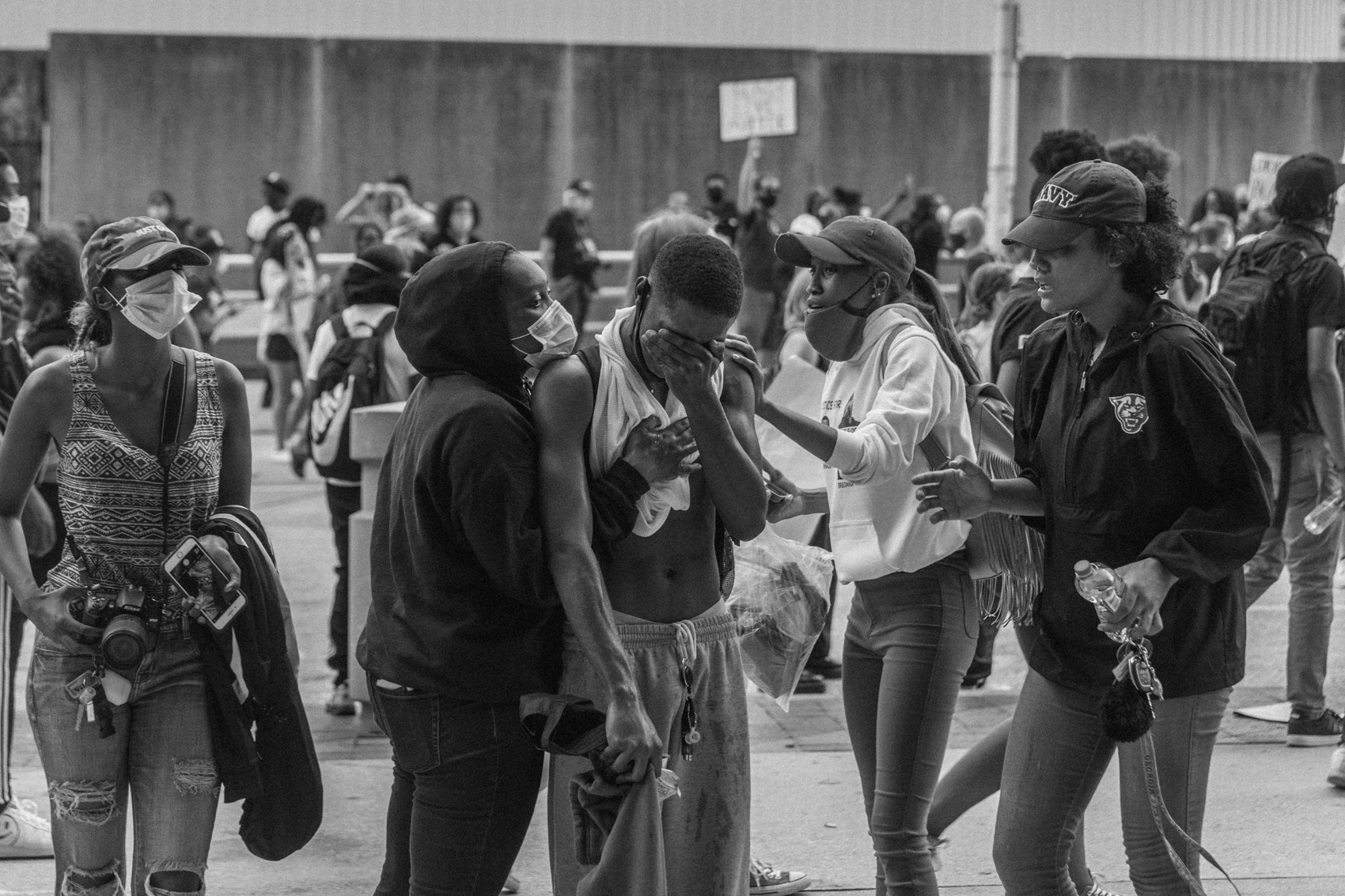 5/29/20, 6:11 p.m. "Police started spraying pepper spray, and this young man was caught in the middle of that, so someone was pouring water down his face. But in the midst of that, he started crying too. It was one of those moments where you can't help but to feel the emotions that were stirring at that time. It is hard—we have such resilience, but we are simply tired."
CHRISTIAN CODY
5/29/20, 4:23 p.m. "Being Black myself, I wanted to capture the energy exchanges in these power dynamics—seeing the opposition between both parties and how they mixed together in this one instance."
5/29/20, 4:50 p.m. "I couldn't tell if she was tired or if she was crying. I turned back around and I just felt like this was an image. It felt like she was tired or just very much overwhelmed with what she had felt that day."
TIFFANY POWELL
5/31/20, 8:30 p.m. "The reason why I was compelled to continue to go out and take pictures is that people were missing the images where people were stopping other people from destroying things. There were always these moments and pockets of people trying to step up and put the focus back on what they were really there for."
5/31/20, 9:01 p.m. "Every night they threw tear gas. It felt unnecessary; it wasn't necessary. The military presence heightened all of the tension. Things were proceeding just fine, it wasn't violent, people had moved back. The people remaining were kneeling down with their hands up."
JAQUAN CUMMINGS / QUAN ATL
5/29/20, 7:22 p.m. "It was a crazy moment. I was looking all around me and didn't know what was going on, then a Black male and white male joined hands and held a flag in the air. It was a powerful moment"
5/29/20, 9:34 p.m. "I felt like I was in the middle of a war. People were throwing things at the police and the police were spraying tear gas. The laser was pointed from my foot to my head."
JONATHAN WALKER
6/1/20, 7:05 p.m. "Everybody was up in the tunnel. [This man] saw the action. The next thing, he starts speaking about what he was reading. And then he threw his fist into the air for a while. And he was just shouting, pretty much shouting positivity."
6/1/20, 8:50 p.m. "This was where the line was drawn between the protestors and the police. I think they did use tear gas that day."
"The thing that stood out to me the most is that there has been a lot of dialogue between law enforcement, [the National Guard], and civilians. For the most part, everybody would tell that their experiences. So the police were just basically telling [protestors], Yeah, it's jacked up. No, we don't agree with this. We don't agree with what happened. But there was a lot of dialogue. And that's one thing you really aren't seeing. The bottom line: everyone's trying to think, How do we fix this?"
KING TREVON
5/29/20, 8:57 p.m. "In front of Centennial Park, a cop car was ablaze. Apparently after the protest march for George Floyd, angry looters stole an Atlanta police car and set it on fire. The area had just been tear-gassed, so I took this picture while my eyes were burning. I thought the police car was going to explode at any moment."