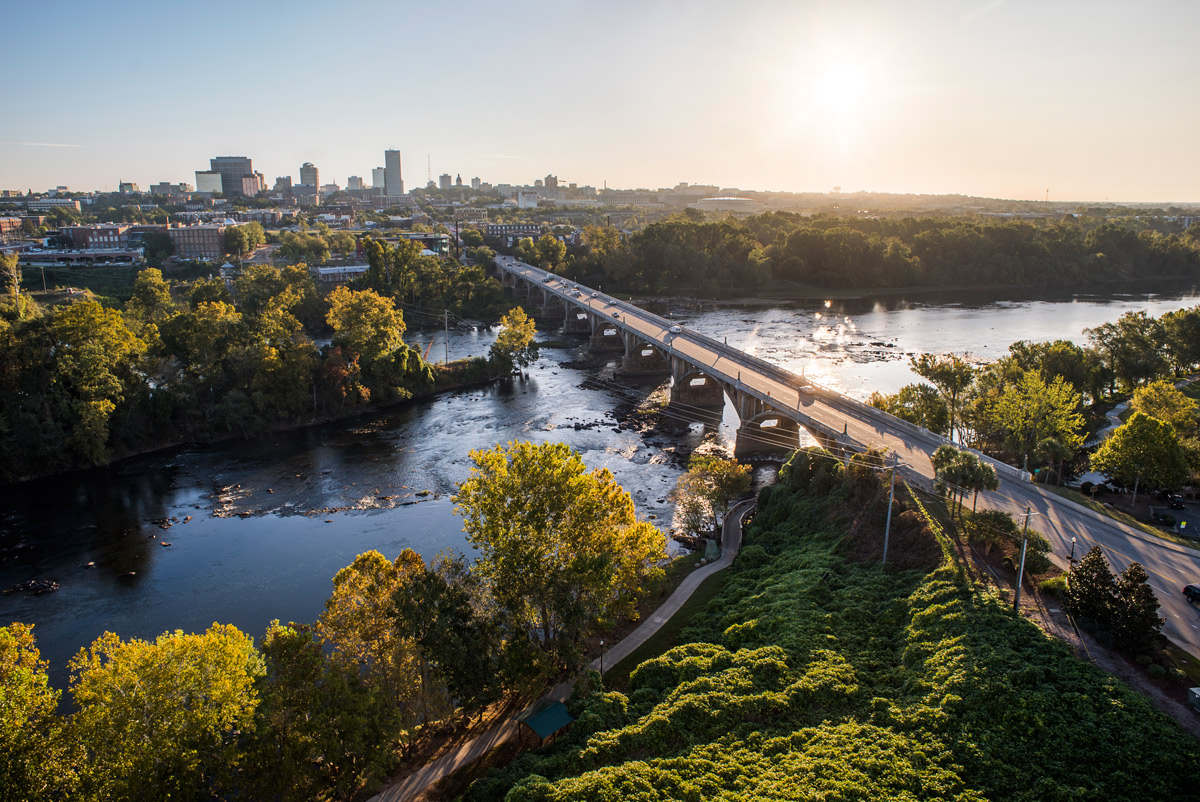 It's South Carolina's most populous city and the home of its largest university, but as a tourist town, Columbia doesn't register. Foodies head to Charleston. Families flock to Myrtle Beach. Greenville, poster child for downtown revitalization, gets the nice press. Meanwhile, Columbia only grabbed the spotlight in 2015 when the state legislature removed the Confederate flag from its longtime perch on state house grounds.
For many Columbians, that divisive banner was a point of civic shame, and its banishment only fueled the creative, communal energy that was already propelling the town. Like Louisville or Asheville or other mid-sized cities, Cola (as it's nicknamed) has experienced a renaissance over the last couple of decades. On its Main Street you'll find the Nickelodeon, South Carolina's only nonprofit, art house film theater, which in 2012 resurrected the historic Fox Theatre building downtown. There's the Soda City Market, which started with a handful of vendors in 2005 and blossomed into a weekly three-block street party. Everywhere you go, you get the sense the city is enjoying itself.
It turns out Columbia is a wonderful place to visit. Its downtown is compact and walkable. The Saluda and Broad rivers converge in the city to form the wild Congaree, which spills into one of the country's oldest forests (and its newest national park) just outside town. Now, while Cola's charms are still relatively undiscovered, may be the best time to go.
NIGHT 1
5 p.m.
Home Chic Home

Local couple Marcus Munse and Rita Patel opened Columbia's first boutique hotel in 2018, and it's a stunner. Occupying a trio of historic downtown buildings, Hotel Trundle is a little bit mod, a little bit art deco, and altogether playful. Take, for instance, the wallpaper print of hand-shadow puppets near the elevator, or the gilt ice bucket in your suite accented by a retro telephone in robin's egg blue. Many rooms bear hallmarks of their early 1900s origins: exposed brick (some with residual graffiti), an old elevator shaft converted to a reading nook. Local makers find expression everywhere, from the hand-crafted beds to the Carolina Kernels gourmet popcorn at turndown. Even the "Do Not Disturb" signs—featuring a T. rex, fitting for this whimsical setting—are the work of a Columbia artist. Toast your arrival with a complimentary wine or beer (local, naturally) on tap at the front desk.
6 p.m.
An Inspired Sip
Just steps from your hotel, Lula Drake Wine Parlour opened in 2016 in another historic building. As the story goes, sommelier Tim Gardner was stuck for a name for his wine bar when, during renovations, his team discovered a trunk belonging to a previous occupant. The enigmatic Lula Drake owned a hat shop in the 1920s and left behind personal effects, including a gold-embossed calling card that lives on in the bar's logo.
One thing that never wanted for inspiration: the comprehensive but tightly curated wine list promoting small-batch, sustainable vintners. How about a white Nero d'Avola or a Macedonian grape you've never heard of? There's also sherry on tap and an extensive beer selection at this warmly lit, brick-walled spot.
7 p.m.
The Anchor
With all the new businesses emerging, you'll be surprised to learn that your dinner destination, Motor Supply Co. Bistro, opened way back in 1989. The restaurant was an early force in the renewal of the Vista, Columbia's mixed-use warehouse district, and bears the original neon marquee of its predecessor, an engine supply shop (note to shuttering businesses: stow signage for posterity). Chef Wesley Fulmer crafts his daily changing menu using local ingredients and global influences (recent example: crispy Peking duck sourced from nearby Bowers Farm), and the creative "farm-to-shaker" cocktails are reason enough to visit. 
9 p.m.
Hoppy Hideout
Stroll two blocks east up Gervais Street to the Columbia State House, its blue granite aglow at night. Across the street you'll spy a wrought iron railing bearing a sign for the Whig. Head down these stairs, and you'll find yourself in the self-proclaimed "greatest dive bar in North America." That superlative may be up for debate, but the Whig—a dimly lit cavern lined with taxidermy and Millennials quaffing craft beer—certainly has a place in Columbia history. It was here that patrons plotted the protests that helped fell the state house Confederate flag in 2015. Order a Westbrook Brewing gose and savor the feeling of insurgency.
DAY 1
9 a.m.
To Market, To Market
Every Saturday from 9 to 1, rain or shine, white tents pop up like daisies along a three-block stretch of downtown's Main Street. If it's grown or made nearby, it's sold at Soda City Market: fresh produce and artisan cheeses, paella and arepas, jewelry and soaps. Grab a coffee and a Belgian waffle—or a kombucha and gluten-free Brazilian cheese bread—as you tent-hop from Taylor Street to the state house.
If you're not visiting on a Saturday, head down this strip anyway to the Blue Flour Bakery and start your day with quiche or avocado toast and perhaps a bakery sweet (the lemon-honey-ginger cookies are heavenly).
10 a.m.
Variations on a Theme
Strolling Main Street, you can't miss the sleek silver lettering of the new entrance to the Columbia Museum of Art. The museum is capping off a $5 million renovation that overhauled the erstwhile Macy's department store and re-conceptualized the visitor experience. Downstairs hosts temporary exhibitions (Jackson Pollock's immense Mural is on display through May 19), while the permanent collection lives upstairs, no slouch with pieces by Warhol, Monet, and Botticelli. Its greatest asset is the novel thematic layout that groups art by topic instead of time period. A room on "Gods, Heroes, and Legends," for example, pairs a Charles Willson Peale portrait of George Washington with John Wilson's modern depiction of Martin Luther King Jr.
11:30 a.m.


Speedy

Civics Lesson
From atop a small hill, the South Carolina State House presides over Main Street. Stroll the grounds dotted with monuments and magnificent trees, looking out for bronze stars on the west and southwest walls marking damage from General William T. Sherman's cannon fire. Inside, grab a brochure for a quick, self-guided tour of this temple of marble and granite. Peek into the legislative chambers lined with portraits of civic leaders, among them late state senator Clementa Pinckney, slain pastor of Charleston's Mother Emanuel AME Church.
12 p.m.
College Try
A block from the state house is the entrance to old-campus USC, known as the Horseshoe for the curve of its buildings around an oak-shaded quadrangle. Meander through campus southeasterly to Greene Street, passing a stretch of grand, if weathered, houses bearing the occasional sorority flag in the window. You'll soon find yourself in Five Points, USC's colorful strip. Stop for pour-over coffee at Drip, handmade gelato at neighboring Scoopy Doo, or souvenir rhubarb-raspberry jam from the Gourmet Shop, a city-block-spanning boutique and cafe stuffed with cookware, wine, and specialty pantry items.

1 p.m.
Corner Deli
Double back to the southeastern edge of campus to an inviting brick building with a striped awning. Di Prato's Delicatessen departs from its menu of Italian and Jewish deli staples to offer a killer pimento cheese appetizer, often called the best in town. Indeed it's the perfect blend of sharpness and creaminess, but what cements its status as a legend are the attending "pita chips," which more closely resemble savory funnel cake (but no one's splitting hairs). The smoky pastrami is aptly named "Psst-Try-Me"; it's sound advice. 
2 p.m.
Time Travel
Head to Blanding Street, the heart of Columbia's historic house and garden district. The nonprofit Historic Columbia maintains four properties here, including the Woodrow Wilson Family Home, an 1871 Italian-style villa where the teenaged future president lived during the height of Reconstruction. Oldest and loveliest is the Hampton-Preston Mansion, repainted and refreshed in 2018 in honor of its bicentennial. Its four-acre gardens are laced with walking paths around grand live oaks and a romantic fountain and gazebo. Stop by the gift shop at the neighboring Robert Mills House to book a tour.
NIGHT 2
5:30 p.m.
Beer Thirty
After a stop at the hotel to freshen up, drive (or summon a rideshare) to the Rosewood neighborhood, taking the scenic route through historic Shandon to admire charming bungalows and mature trees. You might pause on Devine Street, Columbia's boutique row, to grab a souvenir six-pack at Craft and Draft or browse the feminine frocks of local designer Annabelle LaRoque at her namesake boutique.
Your ultimate destination is the Jim Hamilton–L.B. Owens municipal airport, specifically the 1920s hangar now home to Hunter-Gatherer Brewery. It's the second location for the city's first microbrewery, and the light-filled structure—now housing steel fermentation tanks instead of airplanes—is an ideal spot to enjoy the signature ESB (Extra Special Bitter). Climb the stairs to the rooftop observation deck and spy the harvest of City Roots across the way; yes, it's the same urban farm you've seen on menus around the city.
7 p.m.
Local Flavor
Every Southern city needs a standard-bearing New Southern restaurant to showcase the bounty of local farmers. In Columbia, that's Terra. Chef Mike Davis opened his slow-food haven in 2006, the first serious farm-to-table spot in town. Situated on a hill across the river from downtown, the restaurant offers striking views of the city skyline. Davis's sophisticated-yet-accessible approach shows up in signature dishes such as the Quack Madame, a riff on croque madame, featuring duck confit, caramelized onions, and a Manchester Farms quail egg over house-made brioche; or the Lamb Mac, smoked lamb shoulder with poblano peppers, fontina, and Split Creek Farms goat cheese. Bookend your meal with house-made charcuterie and an inspired seasonal dessert.
9 p.m.
Sips and Strikes
Head back in the direction of the hotel—but not to bed. Order a Cottontown Tropicarolina IPA and a pair of bowling shoes at The Grand, a restaurant and boutique bowling alley housed in a former vaudeville theater of the same name. (Wouldn't you know, they found the old sign.) While you wait for your lane (reserved online in advance, ideally), play bocce on the patio, or test your pouring finesse on the self-serve beer taps in the basement.
DAY 2
8 a.m.
Walk in the Woods
The early bird gets the rejuvenating hike. Snag a complimentary pastry from local bakeshop Ally & Eloise in the hotel lobby or a house-made croissant from SmallSugar, a cafe in the Vista. Then hit the road, traveling about twenty miles southeast to Congaree National Park. America's youngest national park, dubbed "Redwoods of the East," boasts six national champion trees (the tallest known examples of their species), plus the largest tract of old-growth bottomland hardwood forest in the Southeast. The Congaree and Wateree rivers have long flooded the land some ten times a year, fueling these giants with nutrient-rich sediment while deterring loggers. (The remote forest has also proved an ideal refuge for runaway slaves and moonshiners in years past.)
The most popular trail is a 2.4-mile boardwalk loop that keeps your feet dry, except on the soggiest days. (Do bring bug spray.) Besides towering loblolly pines and moss-covered cypress knees, you'll spot plenty of snakes and turtles, maybe even a gator or two.
11 a.m.
Requisite

Big Brunch
Head back to your hotel with enough time to shower, check out, and make an 11 a.m. date at West Columbia's Cafe Strudel. Bottomless coffee and flowing breakfast booze draw a crowd to this artsy eatery (you can't make reservations, but call twenty minutes ahead to get on the wait list). Bypass the popular "hangover hashbrowns" and order the pillowy cinnamon pancakes. Tip: If the hike left you famished, ask for a bowl of grits as a starter. Eating the creamy concoction—stone-ground from a Columbia mill—piping hot is an almost religious experience.
12:30 p.m.
Animal

Encounters
You don't need a kid in your crew to justify a trip to one of the Southeast's best zoos; you'll feel like one as you proffer a handful of kale to the darting tongue of a giraffe. The Riverbanks Zoo counts lions, tigers, koalas, sea lions, and gorillas (including a gorilla baby) among its diverse residents. Immersive experiences such as giraffe feedings (hurry, they end at 1:30) and the barrier-free Kangaroo Walkabout are highlights. Even the non-immersive habitats feel up-close; you might exchange eye contact with an elephant as she munches vegetation near your path. Save time for a tram ride to the adjacent botanical garden, famed for its heirloom roses.
This article appears in the Spring/Summer 2019 issue of Southbound.