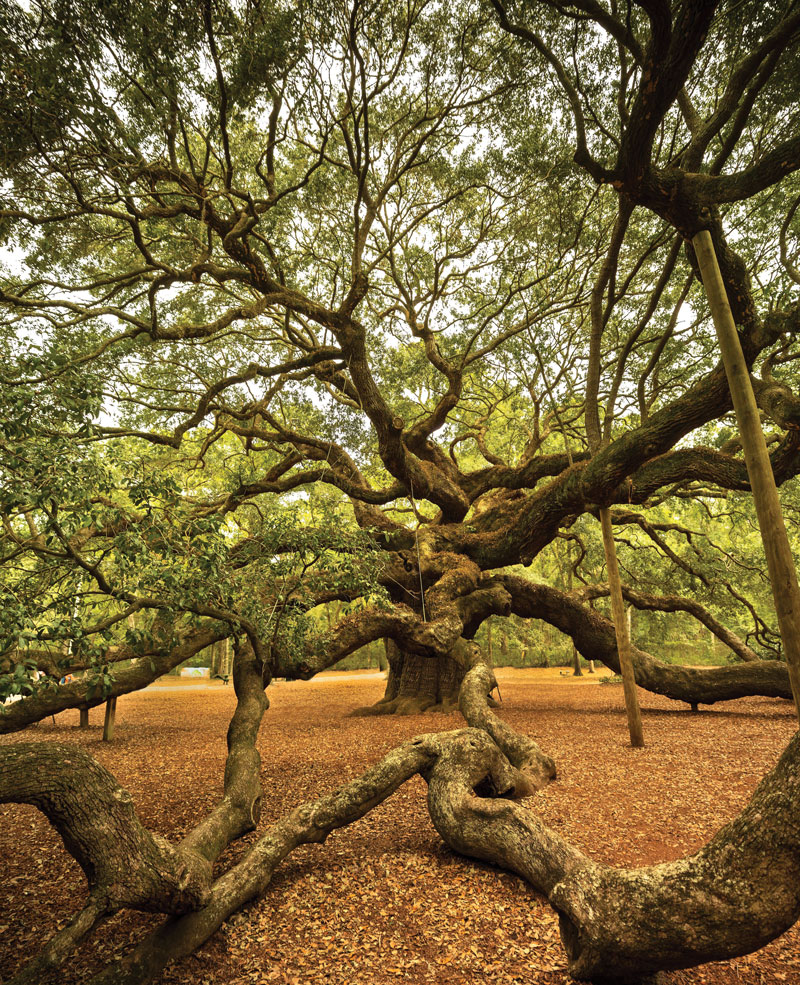 The Southern live oak, Quercus virginiana, can be found from Texas to Virginia and all the way down to Florida. For centuries, its winding branches and enormous canopies have supplied shade on scorching summer days, lined the approaches to historic homes, and lent coastal cities such as Charleston and Savannah undeniable romantic charm.
On average, Southern live oaks reach a height of 50 feet, with a crown spread of 80 feet. The limbs of especially large live oaks can span half a football field.
The branches of Southern live oaks are often draped with Spanish moss, which is neither Spanish nor moss (it's actually a close relative of the pineapple).
New Orleans City Park is home to the world's largest collection of mature live oaks. Among some 800 specimens is the Dueling Oak, which marks the spot where gentlemen defended their honor in the 19th century.
The USS Constitution, the world's oldest ship still afloat, was partially constructed from the wood of Southern live oaks grown on St. Simons Island, Georgia. The sturdy material helped the ship survive repeated cannon fire during the War of 1812, earning it the legendary nickname "Old Ironsides."
Boone Hall Plantation in Mount Pleasant, South Carolina, is home to the Avenue of the Oaks. As you enter the plantation, pass between nearly 90 live oaks planted in parallel lines in 1743. While there, learn important historical context from presentations on slave history, Gullah culture, and more. The 300-plus-year-old Angel Oak on nearby Johns Island is also worth a visit.
Located in Mandeville, Louisiana, and thought to be between 500 and 1,200 years old, the Seven Sisters is the country's largest certified Southern live oak and "president" of the Live Oak Society. (To gain entry into the Society, live oaks must have a circumference of at least eight feet; the Seven Sisters measures more than 38 feet around.)
This article appears in the Fall/Winter 2021 issue of Southbound.