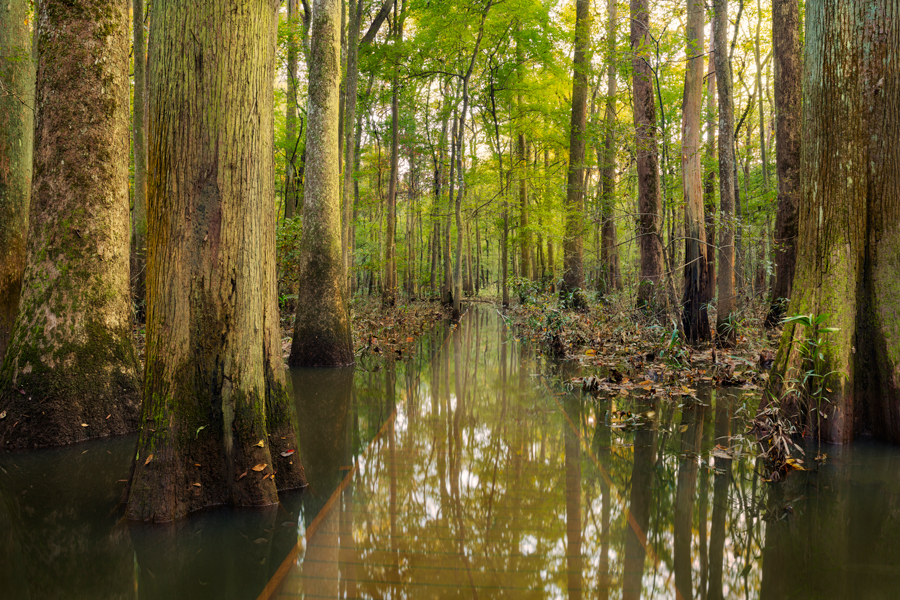 Established in 2003, Congaree is one of the country's newest national parks, yet it boasts the southeastern United States' largest expanse of old-growth bottomland hardwood forest. The park is located about twenty miles from Columbia, South Carolina, along the Congaree and Wateree rivers, which feed the park's floodplains with nutrients and sediments. Over the centuries, this process has helped create Congaree's towering tree canopy and biologically diverse ecosystem.
A protected wilderness area, the 26,545-acre park is home to many animals, including deer, bobcats, and feral pigs. Congaree's rivers, creeks, and lakes are also thriving habitats for alligators, snakes, turtles, and a variety of fish. Visitors can take an up-close look at this rich habitat via twenty-five miles of hiking trails, as well as a number of canoe trails.
Congaree typically floods at least ten times a year (including this past October, when South Carolina was hit with record-breaking rainfall), so visitors should check the forecast and monitor park alerts. The area's inaccessibility has long been part of its allure: Moonshiners once maintained stills in its nearly impenetrable backcountry, and escaped slaves often sought refuge here.
The landscape proved particularly challenging for loggers, who largely suspended operations in the early part of the twentieth century. However, a 1969 spike in timber prices caused some to reconsider that decision. Thanks to a grassroots campaign led by the Sierra Club, Congress established the Congaree Swamp National Monument in 1976, and on November 10, 2003, it was designated America's fifty-seventh national park.
Field Notes
Visitors
87,500 in 2015; April is the most crowded month, January the least.
Camping
There are designated campsites at Longleaf Campground ($10 a night) and Bluff Campground ($5 a night). Longleaf is near the park entrance and easily accessible; Bluff is more remote, with no vehicle access. Sites at each campground have fire rings and picnic tables.
Must-See
Congaree is home to one of the world's tallest temperate deciduous forests, with a canopy reaching higher than 100 feet (taller than the Amazon rain forest) and six national championship trees, including a 167-foot loblolly pine. Walk the 4.4-mile Weston Lake Loop Trail for up-close encounters with the giants.
Must-Do
By far the best way to experience Congaree is paddling the park's rivers and creeks. Canoe trips include short excursions along Cedar Creek and multi-day journeys that follow the creek to the Congaree River. The longer trails push into the park's dense western territory, which was never touched by loggers.
Insider Tip
Be particularly careful when navigating around fallen trees. They're often home to spiders, snakes, wasps, and poison ivy.