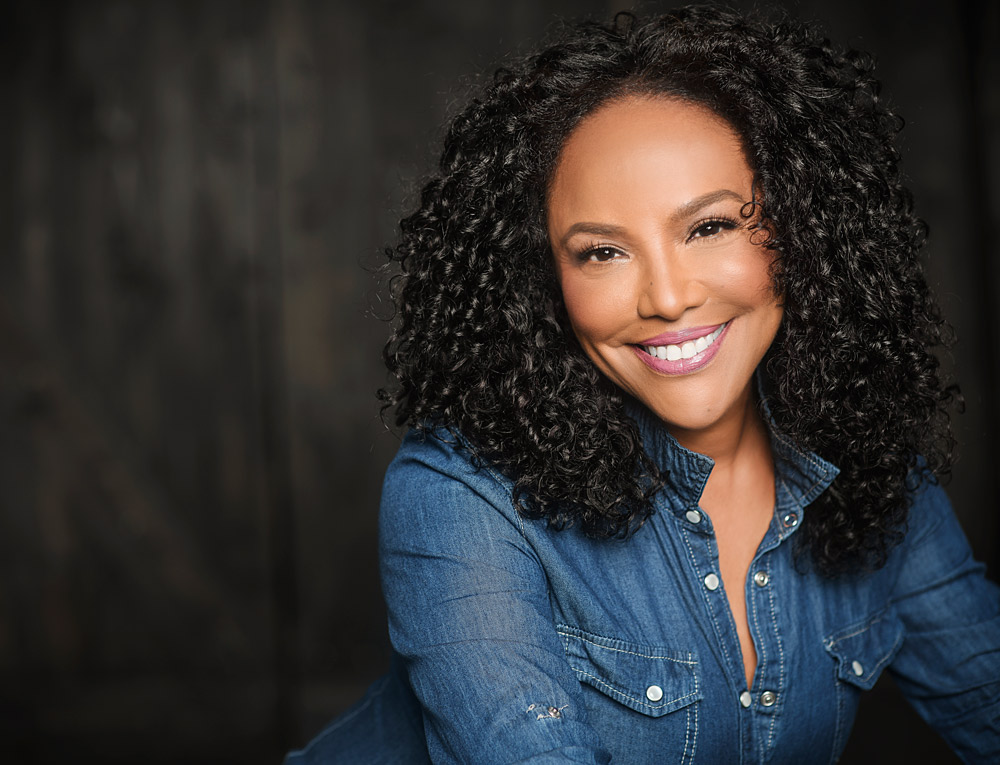 In the pilot of Greenleaf, the Oprah Winfrey Network drama about a black megachurch, protagonist Grace Greenleaf returns home to Memphis after years in New York. Her family's palatial estate is awash in golden sunlight as she drags her suitcase to the front steps, but her pained expression suggests a storm is brewing. Sure enough, as Grace (played by Merle Dandridge) embraces her father, an imposing figure approaches in the background: her mother, clad in pearls and a form-fitting black dress, eyes narrowed. "Promise me you didn't come here to sow discord in the fields of my peace," she tells her daughter by way of a greeting.
As Lady Mae Greenleaf, matriarch of Calvary Church and the scandal-ridden Greenleaf family, Lynn Whitfield frequently steals scenes with an icy glare beneath a perfectly arched eyebrow, or even with an unguarded display of fragility. The actress, sixty-five, is herself parent to a grown daughter (coincidentally named Grace), and she exudes an air of polished elegance that translates well to the role of Formidable Mom. In the 2018 Netflix movie Nappily Ever After, for example, she plays a flat iron–wielding perfectionist who eventually drives her daughter to rebel with a set of men's electric clippers.
But Whitfield also can relate to the role of Grace Greenleaf, the golden daughter from the South. She grew up in Baton Rouge, Louisiana, in a prominent, respected family. One family-owned building held the medical practices of her grandfather and uncle; her father's dental office was a block away. Her mother worked for and eventually headed the Louisiana Housing Finance Agency.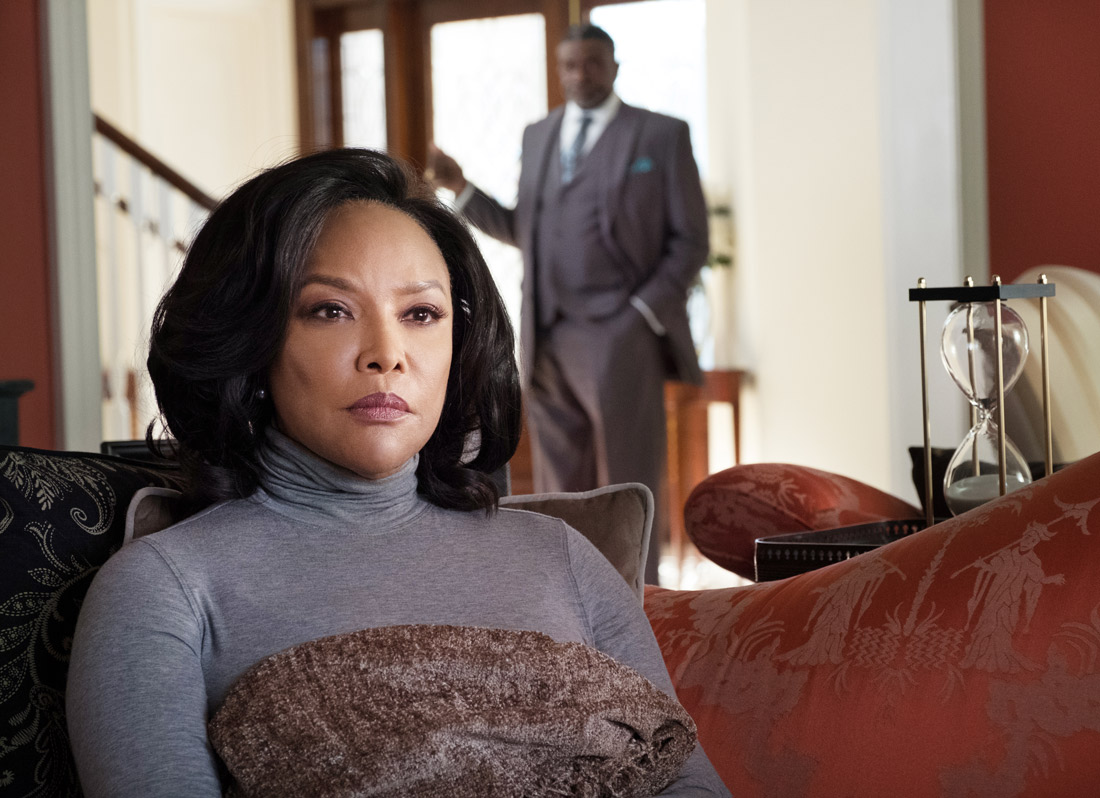 During summers as a child, Whitfield visited her paternal family homestead in Charleston, West Virginia, a Greenleaf-ian brick Greek Revival on a hill surrounded by apple orchards. Her own home was a modern house in suburban Baton Rouge with room to roam. "I can tell you how to get the sap from the honeysuckle: You've got to find the right one of those stems—there's only one that will pull it all out. Blackberries also grew wild by our home, and pecan trees," she says.
Her father, Valerian Smith, was active in the local theater, founding the Baton Rouge Community Chorus and Playhouse in 1952. "He would have an Easter sunrise service on the steps of the state capitol, and it was really a sight to behold, these people singing the sun up," she says. "To have a black man leading a mixed choir in those days—my father really did contribute."
Whitfield left Baton Rouge to study drama at Howard University, then moved to New York and eventually Los Angeles. She followed in her father's theatrical footsteps, garnering acclaim on stage in the 1977 production of For Colored Girls Who Have Considered Suicide / When the Rainbow Is Enuf  and on TV with The Women of Brewster Place, the 1989 Oprah Winfrey–produced miniseries. But it was HBO's The Josephine Baker Story that made her a star. The 1991 biopic about the French-American vaudeville star and civil rights activist earned Whitfield an Emmy and foreshadowed the network's transformative era of original programming (Sex and the City and The Sopranos came later in the decade). "This film was our biggest event at that time, and it did very well critically and in terms of viewership," says Quentin Schaffer, HBO's executive vice president of corporate communications, who worked on the film's promotion.
After a brief marriage to the film's director, Brian Gibson, Whitfield returned to New York to work and raise their daughter. Plum job offers didn't pour in—a 1995 People magazine profile blamed the "serial bind of pregnancy, new motherhood, and the scarcity of roles for black actresses"—but Whitfield managed to keep a steady paycheck throughout the nineties and 2000s, playing numerous supporting roles on film and TV and showing her range as Martin Lawrence's unhinged ex in the 1996 dark comedy A Thin Line Between Love and Hate.
When Oprah Winfrey began casting for Greenleaf in 2015, she had one person in mind for the role of Lady Mae: her old colleague from Brewster Place. "She is naturally sophisticated, and I just felt that she could knock that role out of the park," Winfrey said of Whitfield. The show, which also streams on Netflix, has earned the second-highest ratings in the Oprah Winfrey Network's history, averaging more than 2 million viewers in each of its three seasons.
When she's not filming the show in Atlanta (season four premieres this summer), Whitfield is enjoying a homecoming of sorts in the French Quarter of New Orleans, where she shares an apartment with her daughter, a Berklee College of Music graduate. "I just feel like I belong in New Orleans—walking around in the morning and hearing the sounds of the steamboats and the musicians in the street, this cacophony of sounds; looking down and seeing people being happy," Whitfield says.
She is also indulging an itch to travel the world, though the South has a way of cropping up in far-flung places. On a recent trip to South Africa, she observed how straw is sometimes incorporated into stucco, which got her thinking about the substance of a place. "There's brick in New Orleans where you can see the true texture that was made by African slaves," she says. She finds similar inspiration in the city's European ironwork and "gracious" shotgun houses and even in the sturdy columns of the Greenleaf mansion. "What springs forth from the South is so authentic—the good, the beauty, the bad, the historical pain of some of it. It's this fantastic quality of authenticity."
Lynn's New Orleans
French Quarter
"Entertainment is all around you; you're walking through it. That's how I felt in the West Village in New York and in Venice Beach. But of course, none of that is as old as the French Quarter." frenchquarter.com
One Eyed Jacks
"Being in the center of it all, it's been great for my daughter, Grace. She's right near One Eyed Jacks, where all kinds of great musicians play; she's performed there." oneeyedjacks.net
French Quarter Festival
"For three days of the French Quarter Fest, you can just walk around the Quarter and decide what you want to hear. Be sure to get your crawfish and sit out on the grass and listen to great local music. I'm angling to be there." April 11–14, frenchquarterfest.org
Jackson Square
"In the mornings when the Quarter is quiet, I walk to Jackson Square. I enjoy looking at what were some of the first condominiums in the country." nola.gov/parks-and-parkways/parks-squares/jackson-square/
Louisiana Historical Society
"The Louisiana Historical Society is around the corner from my home. I like to go in there and go through the books; I'm fascinated by Storyville and Basin Street." louisianahistoricalsociety.org
This article appears in the Spring/Summer 2019 issue of Southbound.