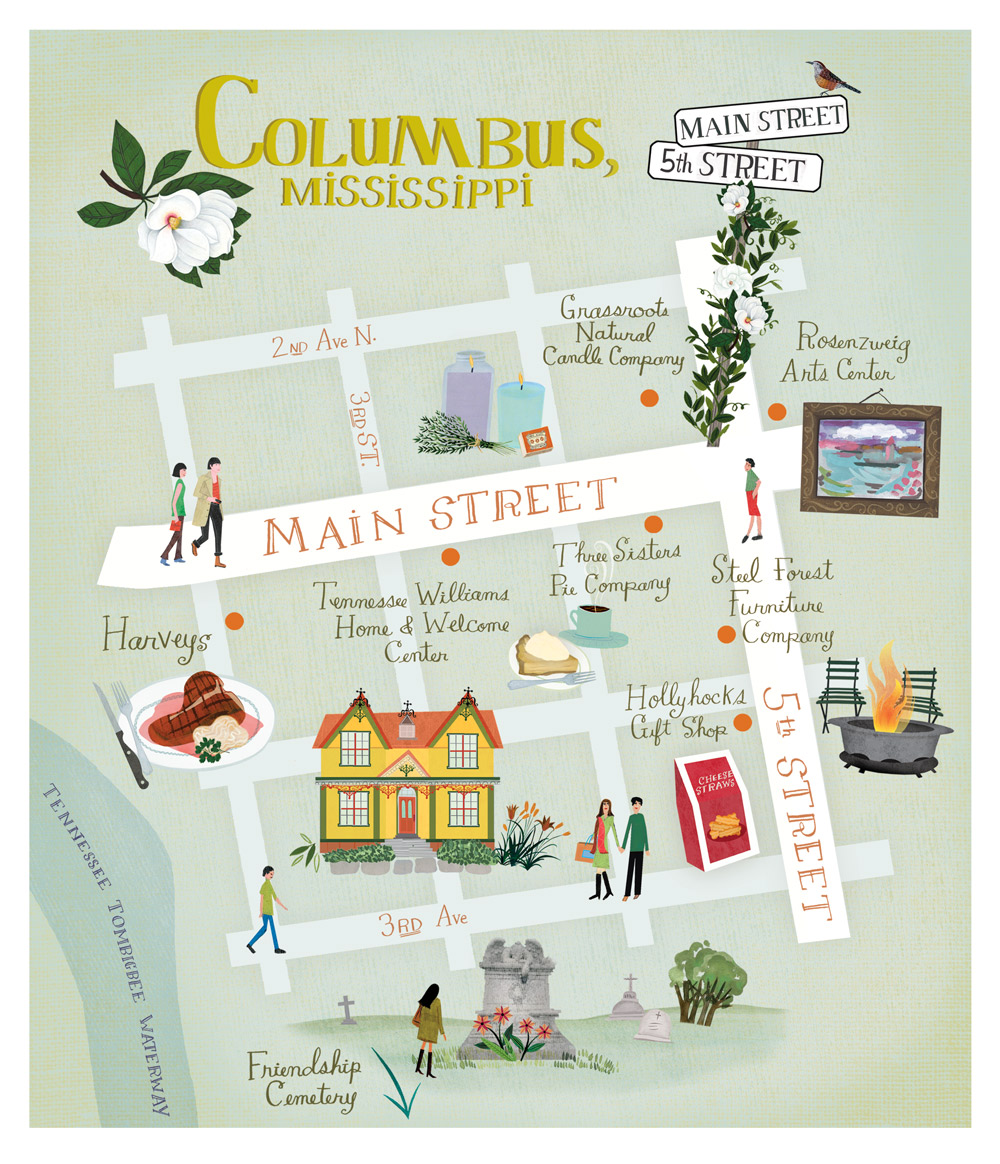 "I've always depended on the kindness of strangers." Among the most memorable lines penned by Southern playwright Tennessee Williams, it also expresses the reception visitors may expect when touring his birthplace of Columbus, Mississippi.
This city-defining trait, kindness, can be traced as far back as the Civil War. During this time, the churches, schools, and private residences of this small northeast Mississippi town served as hospitals for wounded soldiers, Confederate and Union alike. (Incidentally, because it was a "hospital town," it escaped the ravages of war visited upon other Southern cities.) In April 1866, on the one-year anniversary of the war's end, four local women tended the graves of both Northern and Southern fallen soldiers at the town's Friendship Cemetery. News of their compassion spread across the nation, inspiring similar demonstrations that ultimately led to the establishment of a national Memorial Day.
Today, visitors to the heart of downtown Columbus—Main and Fifth streets—encounter unexpected kindnesses, as well. From the bartender at Harveys, who offers loads of suggestions for fun in town, to shopkeepers, anxious to steer patrons to the town's best restaurants and make recommendations on top menu items, the townspeople are adamant about taking care of their guests.
Harveys
The original location of a northeast Mississippi institution, Harveys pairs a strong dinner menu with even stronger drinks. Between the warm wood tables and exposed brick walls, dim lights, and tunes from Sinatra to Bublé, you'll feel right at ease as you slip into one of the oxblood-red booths. The forty-eight-hour marinated ribeye and Cajun-seasoned Delta chicken are Harveys signatures. Be sure to try one of their seasonal cocktails or a Southern Pecan beer on draft from Mississippi's oldest brewery, Lazy Magnolia. If you appreciate a good throwback restaurant, hurry in soon—rumor has it a modern makeover is in the works for 2020.
Tennessee Williams Home & Welcome Center
This Victorian residence furnished with period pieces was Pulitzer Prize winner Tennessee Williams's childhood home. Reopened in 2010 after an extensive restoration, the main floor of the museum offers information about the house, the town, and the personal life of its famous former resident, while the second story shines a spotlight on the highlights of his career. Pick up a copy of A Streetcar Named Desire or Cat on a Hot Tin Roof in the study-turned-gift-shop.
Grassroots Natural Candle Company
Tupelo honey, kudzu, magnolia—these are just three of the thirty scents you'll discover in this cozy shop. Find a mason jar hand-painted with the state of your choice and select your scent. Don't smell the one you want? Create your own custom fragrance using the 150 essential oils on hand. At the heart of this shop is community: All premade candles are created by Mississippians with special needs and disabilities.
Three Sisters Pie Company
Part coffeehouse, part cafe, and part pie shop, this charming spot is a family affair. Owner Rachel Guerry bakes the pies with her mom using a tried-and-true pie crust recipe from her grandmother. (The name is a nod to the fact that all three women have two sisters each.) Vintage, mismatched tables and chairs, a bookcase of board games, and eighties music on rotation lend the place a nostalgic feel. But the rotating selections of pies and homemade Southern lunchtime classics like chicken salad and pimento cheese (served in pie tins!) never go out of style. Order a mini chess pie to go.
Rosenzweig Arts Center
On the corner of Main and Fifth, this cultural arts hub invites visitors to discover creative works by local and regional artists. The main gallery space hosts new exhibits each month, while the eighty-five-seat, second-floor auditorium sets the stage for the Columbus Community Theatre. This February the center will present the 7th Annual Possum Town Tales Storytelling Festival (a reference to Columbus's original Native American name). A highlight is Gallery 2, a shop offering locally made arts and gifts including works by folk artist and sixth-generation Columbus native Elayne Goodman, felt art by Pauline Crouse, and photography by Alan Creel.
Steel Forest Furniture Company
It started when Chip Gerber's wife came home with a steel table. I can make that, he thought. From there, he began turning Columbus-made recycled industrial steel into bench seating, dining tables, firepits, shelving units, and coffee tables, oftentimes paired with locally sourced reclaimed cypress and pinewood. His shop doubles as a showroom, offering examples of styles, finishes, and wood-top options for custom work.
Hollyhocks Gift Shop
Locals and visitors alike come to Hollyhocks for all things Mississippi. Think praline-coated "Dawg Crunch" popcorn from Indianola Pecan House, coastal-inspired pottery by Mantachie artist Tab Boren, and cheese straws by the Mississippi Cheese Straw Factory. You'll also find game-day decor and tailgate-ready serveware (Mississippi State, home of the Bulldogs, is just twenty-five miles west in Starkville).
This article appears in the Fall/Winter 2019 issue of Southbound.