Memphis is best known for its musical pedigree, cholesterol-be-damned gastronomical specialties, and party-hearty kitsch—spangly Elvis jumpsuits, sloshing buckets of iridescent-blue booze, and Graceland's lurid "Jungle Room." 
But Memphis is much more 

than barbecue and Beale Street.
The city, which celebrates its bicentennial in 2019, has recently experienced revitalization across a patchwork of neighborhoods, each with its own distinct history and character. Here, a few of our favorite places where you can experience Memphis like a local.
Co

o

per

–

Yo

u

ng
This funky district is the city's original hipster playground
"There's plenty for tourists to do in Cooper-Young, but it's also a neighborhood in a true sense," says Kat Gordon, a Memphis native and owner of Muddy's Bake Shop, a Cooper-Young mainstay known for its pastel array of cupcakes and pies. The best way to explore is to park your car and stroll along the district's namesake thoroughfares: Cooper Street and Young Avenue.
Memphis Drum Shop on Cooper is one of the world's top boutique drum-supply stores. "You can call and arrange for a tour ahead of time," Gordon says. "It sounds weird to take a tour of a drum shop, but it's like a musical history lesson. They have a lot of instruments that were used in famous recordings" (such as the cymbal used in Dave Brubeck's 1959 recording of "Take Five," the best-selling jazz single of all time). You can also make an appointment for a sonic bath ($45), a meditative experience during which staff will play gongs and singing bowls while you soak in the sound. Shop owner Jim Pettit describes it as "a massage for your ears."
For more local history, pop into Burke's Books, an indie bookseller that's been in Memphis since 1875 (and in Cooper-Young since 2007). The shop carries an impressive selection of books by local authors, as well as titles chronicling Memphis history. Have a question about Memphis? This is a good place to ask, as many members of the staff are city natives.
Two blocks south, you'll find a historical marker in front of the former Galloway United Methodist Church, where Johnny Cash played his first-ever concert in the basement. It's not the neighborhood's only church basement to double as an entertainment venue. Across the street, beneath the First Congregational Church, is Voices of the South Theatre Company, which hosts the Memphis Fringe Performance Festival, as well as many original productions. "It's like the theater equivalent of a speakeasy, and I've never seen a bad show there," Gordon says.
For live music, try Bar DKDC, a global street food restaurant that serves up a wide-ranging mix of acts playing everything from blues to jazz to indie rock. Traveling with a small fry? Railgarten—a sprawling indoor/outdoor complex situated on a former rail yard—offers ice cream, ping pong, hammocks, and beach volleyball alongside beer, tiki drinks, and live music.
When you're ready for a hearty meal, grab a table at one of Cooper Young's many restaurants. Since opening in spring 2018, Music City–import Hattie B's has packed in heat-seeking diners, who line up for its famous Nashville-style hot chicken (available in spice levels ranging from mild to head-exploding). Across the street, cool down with a slice of bananarama cream pie at Muddy's Bake Shop, with an expansive patio overlooking Cooper Street. For a more upscale dining experience, try Tsunami, which has served Asian-inspired seafood in a warmly lit, brick-walled space for twenty years. "I die for their mussels in curry sauce," Gordon says. "They make their own bread in-house for dipping." Beauty Shop, a restaurant housed in a former beauty parlor where Priscilla Presley was a customer, may best embody the bohemian Cooper-Young vibe. Join the brunch hordes seated under cone-shaped hairdryers; a local favorite is the crispy duck served with jalapeño jam.
S

o

u

t

h 

M

a

in
Old meets new in the city's first suburb
Spanning just one square mile, South Main may be small, but its place in the city's history looms large. It is Memphis' first suburb and home to the National Civil Rights Museum, including the Lorraine Motel, where Martin Luther King Jr. was fatally shot fifty years ago. Today, its rehabbed, century-old buildings contain art studios, chic shops, and buzzy new restaurants.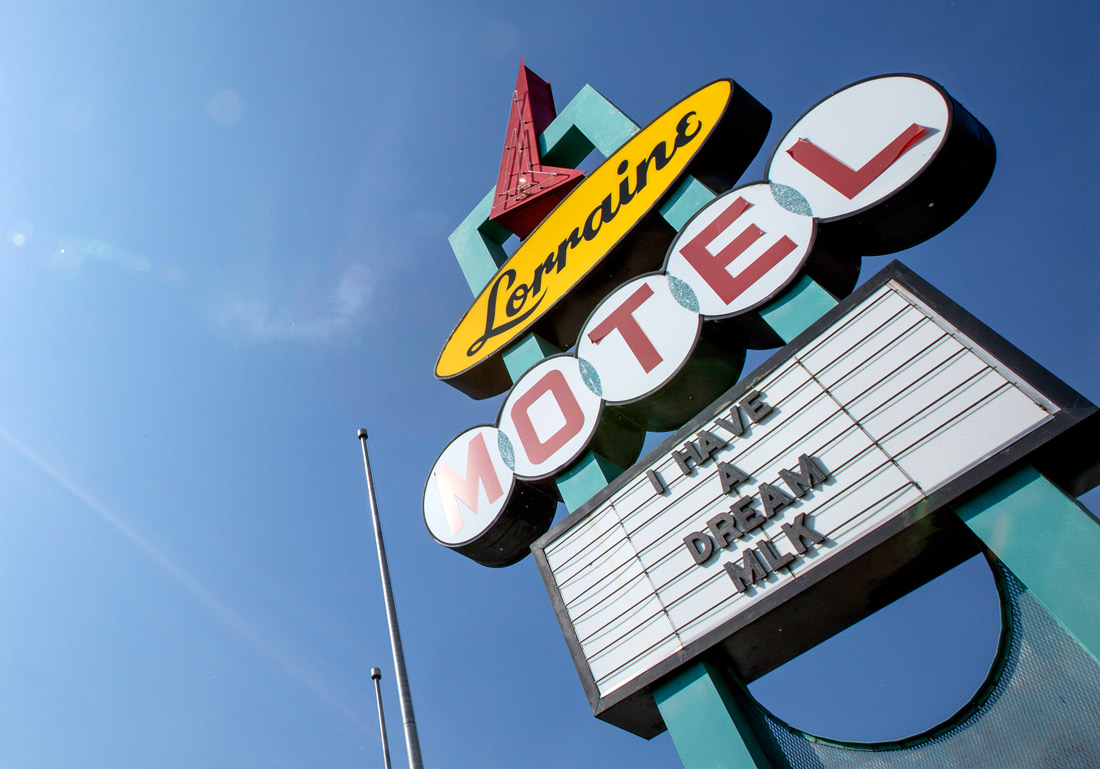 The Main Street Trolley, which closed in 2013 after a fire, began running again this past spring. For a dollar, you can breeze through the neighborhood on one of the 100-year-old electric rail cars. Hop on and off for free the last Friday of every month, when area galleries stay open late, local restaurants offer food and drink specials, and live music acts perform in the streets.
Or, take a cue from Amy Wright, cofounder of Ditty TV, an Americana music television network headquartered in South Main. She suggests exploring the area on two wheels, biking south to the Mississippi-Arkansas bridge and pedaling right across the Mississippi River. If you cross over into West Memphis, Arkansas, you'll get a beautiful view of the Memphis skyline. On Main Street, Peddler Bike Shop offers electric bike rentals by the hour.
South Main's centerpiece is the emotionally arresting National Civil Rights Museum, situated around the Lorraine Motel and chronicling the struggle for racial justice in America from slavery through present day. Through the end of 2018, you can also take in "MLK 50," an exhibit that reflects on the civil rights leader's life and legacy.
Across the street from the Civil Rights Museum is the South Main Market, the city's first food hall, where you'll find deliciously complex cocktails at Civil Pour. (If it's still on the menu, try the Blind Fury—an unconventional punch that's both tart and floral, thanks to bourbon, homemade raspberry cordial, homemade lavender tincture, and Chinese tea roses). A few doors down, browse the wares at Stock & Belle, a chic shop that sells goods ranging from couches to candles, including several made-in-Memphis brands.
For dinner, book a reservation at Catherine & Mary's, a top-notch Italian restaurant by James Beard nominees Andy Ticer and Michael Hudman and inspired by the cooking of their grandmothers. "You can't go wrong with the handmade rigatoni and meatballs," Wright says. From the same chef-owners and just one block west, the Gray Canary is located inside an old distillery and known for its creative drinks and expansive raw bar.
After dinner, head to the Orpheum Theatre, which opened in 1928 as a film and vaudeville theater and now hosts musical acts like Diana Krall as well as touring Broadway shows. A smaller offshoot theater next door—the Halloran Centre for Performing Arts—presents lesser-known artists in a more intimate setting.
Cap off the night at Loflin Yard, a laid-back, indoor-outdoor hangout where you can nurse a beer or barrel-aged cocktail over a game of cornhole. Or, for a true Memphis experience, nab a barstool at Earnestine and Hazel's, a supposedly haunted juke joint that's been showcasing some of Memphis' best local soul, jazz, and blues acts for more than twenty-five years. "This place really sums up the whole vibe of the city," Wright says. "To go late at night and listen to some unbelievable soul music . . . you can't get more classic Memphis than that."
Midtown
This diverse neighborhood is the center of the city's arts scene
A historic and artsy hub in the center of the city, Midtown is home to a diverse cross-section of Memphians, from well-to-do families residing on stately tree-lined streets, to students from nearby Rhodes College, to dancers and artists congregating outside its many theaters. The neighborhood's crown jewel is Overton Park, a 342-acre green space that includes a world-class art museum, outdoor music venue, and the Memphis Zoo. The century-old Brooks Museum of Art is the oldest and largest art museum in the state; it's slated to move downtown in 2022, so take the opportunity to ponder oil paintings by Georgia O'Keeffe and photographs by regional superstars like William Eggleston in the original Beaux-Arts building. Just north of the museum is the Levitt Shell, the open-air amphitheater where Elvis played his first professional rock gig in 1954.
Less than a mile south of the park is Overton Square, the city's theater district. "It's a great place to see a show, whether it's dance, a play, or an indie film," says Edward Bogard, a local philanthropist and co-owner of BOGARD, a new restaurant slated to open soon on Overton Square. Hattiloo Theatre, which features African-American playwrights and actors, is one of the South's only freestanding black repertory theaters. Playhouse on the Square is a regional theater that stages Broadway shows and plays host to Ballet Memphis, which just opened a new 38,000-square-foot headquarters in Midtown (where you can watch dancers as they rehearse). For film buffs, Malco Studio on the Square is an arthouse theater that regularly presents film festivals and also screens the occasional blockbuster.
But the square is more than just a place to catch a show. "What makes Overton Square such a lively arts district is there's also a ton of great restaurants within an easy stroll," Bogard says. If you can snag a table, Babalu is a crowd favorite known for its tacos and Spanish-style tapas. "After work, I'll stake out a spot on the patio with some homemade guacamole and a margarita," Bogard says. Just off the square is The Second Line, named after New Orleans' "second line" parades and serving Cajun-Creole favorites like po'boys, gumbo, and barbecue shrimp. Those with a sweet tooth (or with kids in tow) should hit up Sweet Noshings, a candy-colored shop with homemade popcorn and kettle corn, ice cream, and huge glass jars filled with gummies, chocolates, and bubble gum.
If you catch a second wind from the sugar rush, head to Lafayette's Music Room, where every table has a good view of the stage. The venue hosts a variety of (mostly) local acts playing everything from bluegrass to jazz to soul. You can also catch a show at the Zebra Lounge, a Memphis spinoff of the famous Chicago piano bar.
The Edge/Victorian Village
These side-by-side neighborhoods are chock-full of architectural charm
Though the Victorian Village and the Edge are nestled together just northeast of Downtown, the genteel enclave and onetime auto district have distinctly different histories and vibes. Known in the mid-to-late 1800s as "Millionaire's Row," Victorian Village is where wealthy Memphians built exquisite mansions during the boom years of the city's cotton trade. A handful are still standing, and one—the Mallory-Neely House—has been recognized by National Geographic as a pristinely preserved example of Victorian-era architecture, furnishings, and decor. Its mint condition can be credited to Frances Neely Mallory, who lived in the house from childhood until her death in 1969 at age 98 and left it virtually unchanged. One of the most eye-catching features is the stained glass in the front doors, which were purchased at the 1893 World's Fair in Chicago.
Next door, the Woodruff-Fontaine House is an elaborate French Victorian masterpiece. Ask your tour guide to show you the hidden door that opens to reveal handwritten notes from the home's builders and craftsmen. Across the street is Mollie Fontaine Lounge, a retro nightspot located in the former residence of the Fontaine family's eldest daughter. Evenings often start out low-key—sink into vintage lounge furniture while a pianist takes requests—before turning into DJ-fueled dance parties.
If you want to spend the night in a Victorian mansion, book a stay at the James Lee House. The spectacularly renovated nineteenth-century abode is now a boutique bed-and-breakfast with luxury suites, each decorated with unique furnishings and artwork. If you're not breakfasting at the James Lee House, fuel your day of touring at Sunrise Memphis, a popular new restaurant serving biscuit sandwiches (try the Rooster, topped with fried chicken, pickles, and tabasco honey) and breakfast bowls.
A few blocks south of Victorian Village is the Edge, an industrial sliver of a neighborhood that was filled with car dealerships during the 1920s, when it was known as Memphis' Auto Row. Today, in addition to a few auto body shops that still dot the streets, you'll find public art installations and hip cafes. It's also home to a must-see piece of Memphis history: Sun Studio, where the first rock-and-roll song was reportedly recorded by Jackie Brenston and his Delta Cats in 1951, and which still operates as a recording studio after-hours. Take a daytime tour to learn more about some of the greats who recorded there (Elvis, Jerry Lee Lewis, U2), and don't leave before rifling through stacks of old 45s for sale.
To the north of Sun Studio is Trolley Stop Market, a casual farm-to-table restaurant and favorite lunch spot among locals. "The owners grow most of the ingredients on their farm in Arkansas," says Tommy Pacello, president of the Memphis Medical District Collaborative, a community development organization whose mission also targets the Edge. "Whatever you order, the food is about as fresh as it can come." One block over, Evelyn & Olive serves Jamaican-inspired soul food, from barbecue jerk chicken wings to salt-and-pepper fried shrimp.
Stop in at Edge Alley, a new multi-use compound that includes a coffee shop, restaurant (and popular brunch spot), and a handful of micro-retail shops. Next door is High Cotton Brewing Co., a rustic taproom and craft brewery located in a former carriage house. After a pint of Scottish Ale, head across the street to Shab Chic Marketplace, a pop-up retail market housed in a group of brightly painted shipping containers.
Broad Street 

Arts District
Home to a reawakened Main Street, this district is known for its artisan shopping and dining
Once the "Main Street" of Binghampton (now part of Memphis), Broad Avenue suffered significant decline during the mid-twentieth century. But today, once-vacant storefronts are alive with locally owned coffee houses, art galleries, shops, and restaurants offering experiences you won't find anywhere else. "There's something really genuine and heartfelt about what's been happening here," says Shelby Glass, a lifelong Memphian and front-of-house manager at the neighborhood's Wiseacre Brewing Company. "It's become a place that people want to hang out again."
You can find loads of souvenirs like retro-hip T-shirts or woodcut prints at Five in One Social Club, a retail store that also hosts regular workshops on jewelry-making, printing, and other DIY pastimes. (Circle-loom weaving, anyone?) Shop more local wares, including jewelry made in studios just down the street, at Falling Into Place, a serene lifestyle store. Even the neighborhood's hip coffee shop, City & State, carries Memphis-made products such as modern jewelry by Question the Answer, recycled polyester backpacks by United by Blue, and all-natural beauty products by Herbivore, in addition to Intelligentsia coffee.
If you're looking for a piece of artwork to take home, Glass recommends T. Clifton Art for paintings and glasswork by local and regional contemporary artists. Paper & Clay is the studio of local ceramics artist Brit McDaniel, where she creates modern and colorful vases, dishes, and bowls. The eclectic Bingham & Broad is packed with unusual items, from Elvis dolls to Sputnik chandeliers to a lamp made from an old parking meter.
Once you've shopped up an appetite, make your way to Bounty on Broad, a gluten-free, farm-to-table restaurant serving dinner and weekend brunch. "Their gluten-free waffles are the best waffles I've ever had—period," Glass says. Farther east, one of the neighborhood's newest spots is The Liquor Store, a diner whose decor— neon signage, tropical plants, and tabletops printed with green palm fronds—is Instagram catnip. Drop in for all-day breakfast and beachy cocktails in cut glassware.
Rather knock back a pint than a piña colada? When it opened alongside a CSX rail line in 2013, Wiseacre Brewing Co. became the city's first taproom. Duck inside a mural-adorned shipping container, order a glass of the popular Tiny Bomb pilsner, and find a spot on the large outdoor patio amid families, bocce players, and happy-hour revelers.
Just north of Broad Avenue, you'll find a phalanx of industrial warehouses, plus the  neighborhood's eye-catching 140-foot-tall water tower, sheathed in a colorful mural and lit up at night. Beneath it, the Water Tower Pavilion, a community venue, plays host to festivals, performances, and public art installations.
End your night with one last drink at The Cove, a kitschy pirate-themed bar that also hosts live bands. "The atmosphere is dive bar, but the drinks are incredible," Glass says. "It's the kind of place where you can describe what sort of mood you're in to the bartender, and they'll make you the perfect cocktail."
7 

Things To Do At Shelby Farms Park
One of the largest urban parks in the United States, Shelby Farms is a 4,500-acre pastoral escape that attracts three million visitors annually. Some of the best ways to enjoy it:
Go where the buffalo roam
Shelby Farms is home to a lot of wildlife, but the park's most iconic residents are its herd of approximately two-dozen buffalo that wander freely across a fifty-acre range. Visitors can observe them from the fence line, which runs along the paved Chickasaw Trail.
Bike along the Greenline
From 2010 to 2012, Memphis went from one of Bicycling magazine's worst cities for cyclists to one of the best, and the Greenline is a big reason why. This flat, ten-mile trail built on an unused railroad line runs along the northern edge of the park, connecting the Midtown and Cordova neighborhoods. Bikes are available to rent at the head of the trail (from $18 for two hours).
Let your dog run wild
Nothing is small at Shelby Farms, and that includes the off-leash dog park. At a little more than 100 acres, the Outback is a vast meadow where mutts can kick their haunches into high gear and even dog paddle around a lake.
Explore one of the world's best playgrounds
In 2015, Mental Floss magazine named Woodland Discovery Playground one of the "coolest playgrounds in the world." It contains six distinct "play nests" filled with spiderweb-like rope nets, giant sand pits, and multi-person slides.
Saddle up
See the park on horseback with a stop at Shelby Farms Stables, which offers everything from twenty-minute pony rides ($25) to a two-hour trek through the trails ($75).
Zip through the treetops
The Go Ape Treetop Adventure Course is like an obstacle course forty feet above the ground, with a Tarzan swing and zip lines that cut across the park's Pine Lake ($58 for adults, $38 for kids ages 10 to 15; block out two to three hours to complete).
Sip champagne at sunset
The Kitchen, a sleek restaurant co-owned by Elon Musk's brother, Kimbal Musk, opened in 2016 at the edge of the park's Patriot Lake. Cap off the afternoon with a golden-hour cocktail on the spacious outdoor patio.
This article appears in our Fall/Winter 2018 issue of Southbound.
(Editor's note: This story was published in 2018. Some of the locations named in this piece have since gone out of business. Please check each place's website before visiting.)