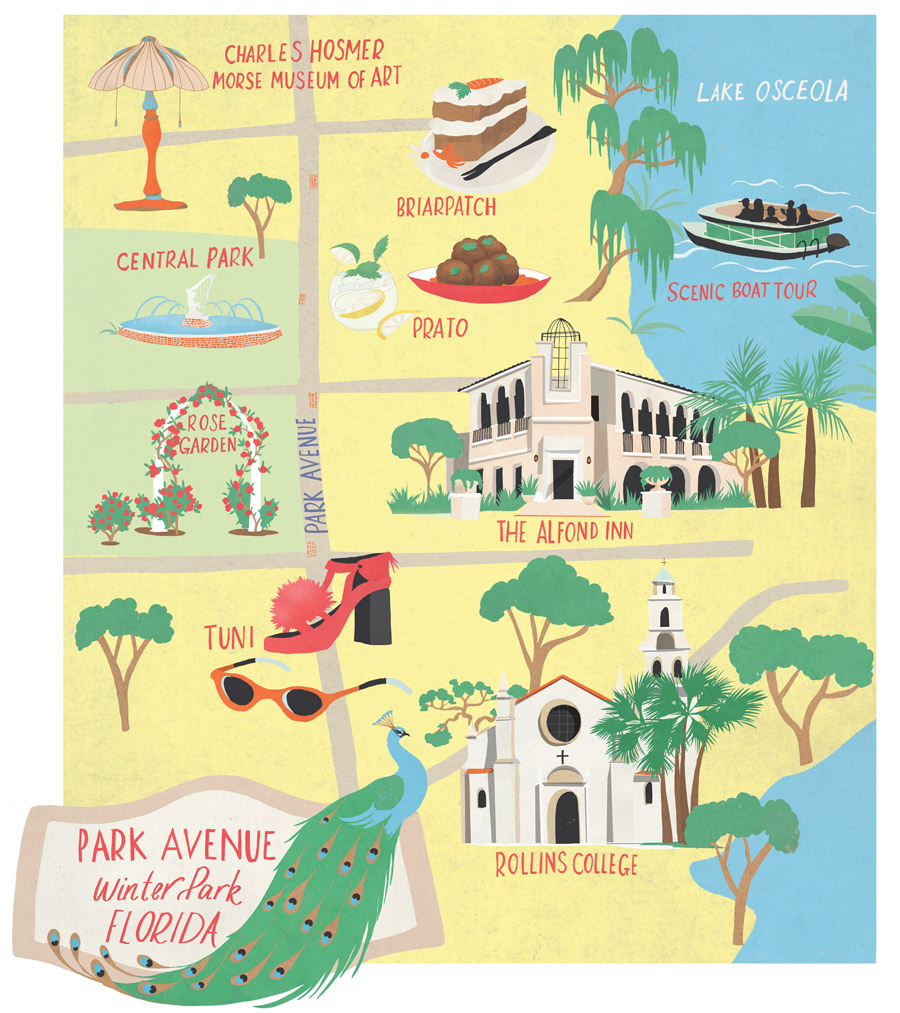 Thirty miles east of Cinderella Castle, Winter Park, Florida, promises magic of a different kind. Five sparkling lakes in this well-to-do Orlando suburb are connected by bougainvillea-draped canals. One such lake, Virginia, laps the shores of Rollins College, a liberal arts university renowned for its Spanish-Mediterranean-style architecture. The school sits at the southern end of Park Avenue, a brick-paved street that enchants locals and visitors alike with sidewalk cafes, upscale shops, and an azalea-filled park.
Stretching about a mile from Rollins College to the Winter Park Golf Course, Park Avenue's commercial corridor beckons with more than 140 boutiques, restaurants, and museums, most of them situated along its eastern side. Its western edge is flanked by eleven-acre Central Park, home to bubbling fountains, shady oaks, and a rose garden. Saturday mornings, wander the Winter Park Farmers Market, where you can pick up everything from fresh sunflowers to locally milled sugar—your very own pixie dust.
Scenic Boat Tour
Winter Park came by its name honestly: In the late nineteenth century, it was the winter playground of monied Northeastern families. They built mansions on the shores of its lakes, and many of these grand houses can be seen during this one-hour pontoon boat tour, which departs from the banks of Lake Osceola. In addition to the homes—many designed by noted architect James Gamble Rogers—the excursion showcases ancient live oaks and narrow canals dug in the 1880s to transport pine.
The Morse Museum
Charles Hosmer Morse, one of Winter Park's wealthiest founders, did more than gift Central Park to the town; he passed on a love of art to his heir, who went on to amass the world's most comprehensive collection of works by Louis Comfort Tiffany. Tiffany, whose father founded the legendary jewelry company, is famous in his own right for his work with stained glass. Browse his signature leaded-glass lamps, colorful windows, even jewelry of his own design. Don't miss the Tiffany Chapel exhibit, a stunning mosaic-and-glass chapel interior he created for the 1893 World's Columbian Exposition.
Briarpatch
Open since 1980, this Winter Park institution is best known for its breakfast, especially its raspberry-and-brie-stuffed brioche French toast. Simple white tables and weathered-wood walls lend the place a homey feel, and longtime staffers treat patrons like family. Order a slice of housemade cake to go, such as the three-tier raisin-flecked carrot cake with thick cream cheese frosting.
Tuni
When Tuni Blackwelder and the eldest of her five daughters, Paige, opened this hip boutique in 1986, they wanted to offer edgy, high-end clothes that would appeal to women of different generations. Three decades later, that's still their mission, which is why they carry everything from Nicole Miller sequined jackets to Rebecca Minkoff fur mules. Personal stylists are always on hand to help pull together the perfect ensemble.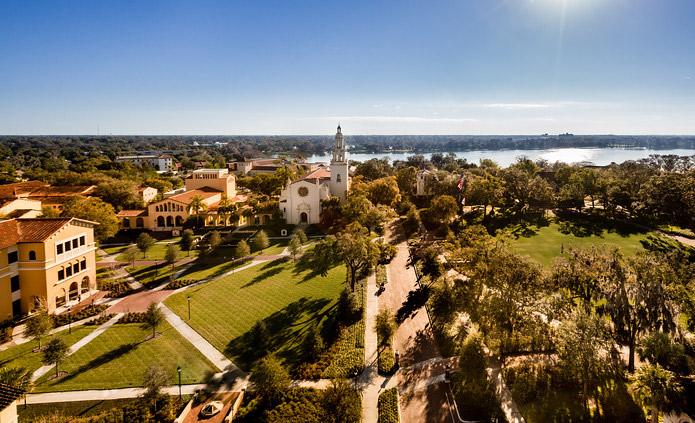 Rollins College
The oldest institute of higher education in Florida, Rollins' campus was recently named the most beautiful in America by the Princeton Review. Admire the Spanish-Mediterranean architecture, including Knowles Memorial Chapel, designed by famed ecclesiastical architect Ralph Adams Cram (the man behind the University of Notre Dame chapel). Pay a visit to the college's Cornell Fine Arts Museum, which showcases both an impressive array of contemporary works and the only Old Masters collection in Orlando. Or simply stroll the lakeside path and watch the college's nationally ranked water ski team train on Lake Virginia.
Prato
Atlanta's Concentrics Restaurants conceptualized this bustling Italian eatery, a perennial hotspot for Winter Park's see-and-be-seen crowd. Emphasis on see: The window-paned doors look onto Central Park, and year-round patio seating offers the perfect spot for people-watching. Order the braised-veal meatballs and a groovy cocktail (try the Lou Dog, made with gin, mint, cardamom bitters, and freshly squeezed honeydew juice), and enjoy the show.
The Alfond Inn
Theodore and Barbara Alfond, 1968 Rollins College graduates, have gifted their alma mater hundreds of works of contemporary art over the years. Their namesake inn, which Rollins owns, displays pieces from the Alfond collection throughout the 112-room property. Admire paintings, photographs, sculptures, and mixed-media works while sipping a glass of wine in the domed solarium. The AAA Four Diamond property also has a pool, fitness center, and popular restaurant, Hamilton's Kitchen.
This article appears in the Spring/Summer 2019 issue of Southbound.