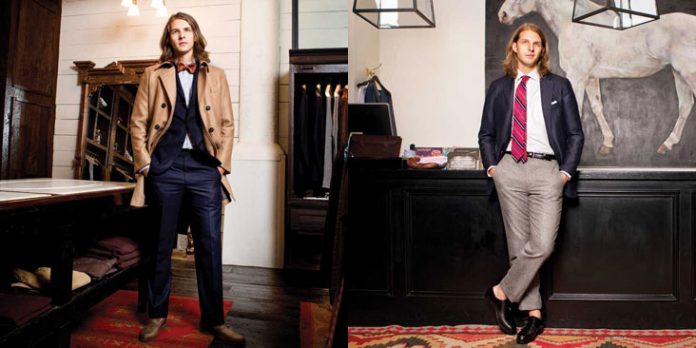 Photographs by Alex Martinez
Who is this mythical Southern Gentleman we've heard so much about? If the archetype is to be believed, he always has a glass of sweet iced tea ready for the parched, never talks politics at the supper table, can turn a barren field into a cash crop with the touch of his shovel, charms ladies with a single smile, and wears fine clothes that subtly communicate his intellectual and cultural sophistication. While we've never met that guy, we'd sure love to dress like him. As it turns out, two of the South's most distinctive haberdashers operate within a few hundred feet of each other in Westside. Sid Mashburn came here by way of J.Crew and Ralph Lauren; Billy Reid's past clients include Neiman Marcus. Both are darlings of GQ. Atlanta magazine sent me—a Louisiana native who usually writes about food—to each with a simple request: Dress me for a cocktail party. Behold, the Southern male, interpreted.
Billy Reid (left)
The aged leather chairs, heirloom mirrors, and antique marble tables in Billy Reid's Atlanta location are
the first indications that you've arrived in the lap of Southern hospitality. The eighth location of Reid's Florence, Alabama–based namesake operates at the laid-back, measured pace of an afternoon on the porch. Store director Brent Homesley, a North Carolinian who left his career as a teacher to work with Reid, offers his sharp eye for patterns and combinations. Whereas Mashburn's look is crisp and preppy, Reid's tends
to be softer and busier. When I mentioned that few men my age know how to tie a bow tie, staffer Kendall Stowell replied, "I'll teach them." 1170 Howell Mill Road, 404-994-3144, billyreid.com
Fashion Notes:
The bow tie, which never fell out of fashion in the South, is enjoying a renaissance. Don't be afraid of wearing pattern on pattern, but look for complementary colors. Reid carries silk ties—from busy stripes to subtle dots—that are appropriate year-round. But if you really feel compelled to wear that pink madras patchwork bow tie from your college girlfriend, please wait until after Memorial Day.
A lightweight gingham shirt is suitable for nearly any occasion or season, says Homesley. "It's like a Southern picnic table—just as classic."
The patient artisan was venerated in the South long before handcrafted everything became the current Brooklyn vogue. Fine details, like the buffalo-horn buttons on this coat, are the recognizable signs of careful craftsmanship.
Let's face it, the South is simply too damn hot for socks in the summer. Once you get accustomed to the comfort of a bare foot in a fine leather shoe, you'll want it all winter too. It's a point where both Mashburn and Reid agree.
Clothing Shown Here:
All private label: Heirloom Campbell patch navy suit, $1,395; John T blue and white shirt, $185; Classic orange and gray bow tie, $95; Bowery camel coat, $1,195; Gulch loafers in Stone, $395
Sid Mashburn (right)
Stepping into the boutique Mashburn opened in 2007 is like finding out you're a member of a fashionable country club you didn't even know existed. Before I could say "pocket square," a dapper guy in tortoiseshell glasses was handing me a cold beer and flipping the Mighty Hannibal LP on the turntable. Tailors worked sewing machines in the back as I browsed Laguiole pocket knives, Allyn Scura eyeglasses, and the double monk strap shoes bench-made in England exclusively for the store. Soon Mashburn himself showed up, leaning on the Ping-Pong table and talking vintage cars and English film. Sporting the high-hemmed pants and bare ankles that have become his trademark, it was soon apparent he had the sharpest eye in the clubhouse. 1198 Howell Mill Road, 404-350-7135, sidmashburn.com
Fashion Notes:
"I like rules," Mashburn explains, suggesting that a white shirt should be worn at a formal cocktail party after dark. Southern etiquette dictates respect for tradition. On the other hand, bending those rules is as customary as sneaking bourbon into Sanford Stadium. "Like speed limits," he explains, "they don't mean an experienced driver can't speed." Still, a younger guy with long hair, like myself, would do better to play it straight, he advises.
With a conservative outfit, the details can be disheveled: a wrinkled pocket square, an askew tie, and so forth. Casual elegance is what makes it Southern, Mashburn says. "We'll be comfortable in anything we put on."
The alligator that gave its life for this belt isn't the only native connection. "There is a Southern desire to pass on heritage," Mashburn says. "An alligator belt should certainly make it to the next generation, almost like a watch. It's exotic, expensive, and not just something to keep your pants up. It's an heirloom."
Mashburn says high pant hems were popularized by the Duke of Windsor, who abdicated the British throne in 1936 to marry the stylish American divorcee Wallis Simpson. The jet-setting royal introduced a number of innovations: "One was wearing suede shoes in town, another was unbuttoning the bottom button of a suit vest, and he didn't have a break in his trousers. That tends to make you look a little taller." The clean look of an unbroken pant leg, as well as double monk strap shoes with no socks, is both rakish and refined. It's what Rhett Butler would wear now.
Clothing Shown Here:
All private label: Navy blazer, $895; white oxford pop over, $145; red, navy, and ivory wool flannel stripe tie, $125; black alligator Conroy belt, $325; gray wool Donegal trousers, $295; black cap-toe double monk strap shoes, $595
Photographs by Alex Martinez. This article originally appeared in our November 2012 issue.