See all Best of Atlanta 2020 winners
Best Athlete: Freddie Freeman
Drafted at the age of 17 by the Atlanta Braves, the California-born first baseman has watched the team win, lose, change addresses, and lose some more. Then came 2020, when the workhorse, who battled Covid-19 earlier in the season, became the spiritual and strategic center of an impressive squad that came just one game short of returning to the World Series for the first time since John Smoltz was a Brave.
Best New Bike Trail: Westside BeltLine Connector
While we were pedaling on the Peloton at home, crews broke ground on—and have nearly finished building—what will become one of the region's most important bike trails. Beginning at the Georgia World Congress Center and passing by churches and old warehouses, the two-mile trail set to cut the ribbon early next year will link downtown to northwest Atlanta and the cycling wonders it offers now and in the future: the Proctor Creek Greenway, the Westside Reservoir Park, the Atlanta BeltLine, and, one day, a trail and bridge over the Chattahoochee River.
Best Public-Health Influencer: Laurel Bristow, aka @KingGutterBaby
It seems fitting that in 2020, one of Atlanta's hottest Instagram influencers (180,000 followers and counting) is an Emory infectious-disease researcher. When the country shut down in March, Laurel Bristow took to her Instagram stories to answer quarantiners' burning questions. Do I need to wipe down my groceries? Is it safe to go to a drive-in movie? Is this conspiracy theory true? With occasional cameos from her pet cat, Moonpie, and axolotl, Rose—Bristow was like that smart friend who can explain anything in plain English. May she continue guiding us through wherever the pandemic leads us, a glass of wine in hand.
Best Show of Bipartisanship: Expanding Medicaid for New Moms
Georgia has one of the highest maternal mortality rates in the nation, especially among Black women, who are about three times more likely than white women to die during or after childbirth. Today, Medicaid coverage in Georgia for new mothers cuts off eight weeks after delivery, though dangers like high blood pressure and postpartum depression can manifest much later. In July, Governor Brian Kemp signed a bill—passed unanimously by the Georgia House of Representatives and Georgia Senate—extending the amount of time low-income mothers can qualify for Medicaid coverage from two months to six. That's still less than the 12 months recommended by maternal-health experts but a step in the right direction. We hope the bipartisanship holds as the General Assembly puts forward a plan to fund the expansion, so Georgia can start saving lives sooner rather than later.
Best Way to Spend a Saturday Night: Zoom Dance Parties
When the people can't go to the club, bring the club to the people. Not long after metro Atlanta cities and the state ordered nightclubs and bars to shut down to curb the spread of Covid-19, DJs got creative. With MJQ closed, DJ Taradactyl launched her weekly Heartbeeps dance party from her living room and accepted donations to help the club's furloughed bartenders and bouncers. Nonsense's DJ Kimber hosted Hot Mess and spun Selena Gomez, Dua Lipa, and Janelle Monae until 1 a.m. And then, there are the countless small gatherings of friends that were held across metro Atlanta, courtesy of your pal who had no problem freeloading on the company's Zoom account.
Great Tuesday Morning! Start your morning with the idea that good things will happen today. Let's get it!! pic.twitter.com/EVUvTyx705

— Fred Blankenship (@FBlankenshipWSB) December 1, 2020
Best Morning Pick-Me-Up: Fred Blankenship
Let's be honest: This year, it's been tough just to get up in the morning. But thankfully, we've had the Instagram posts of WSB-TV anchor Fred Blankenship to give us our daily dose of positivity. His morning hype messages, filmed in the wee hours before he hits the air at 4:30 a.m., showcase a wide range of background tunes from "Return of the Mack" to "The Girl from Ipanema." There's no better way to start the day.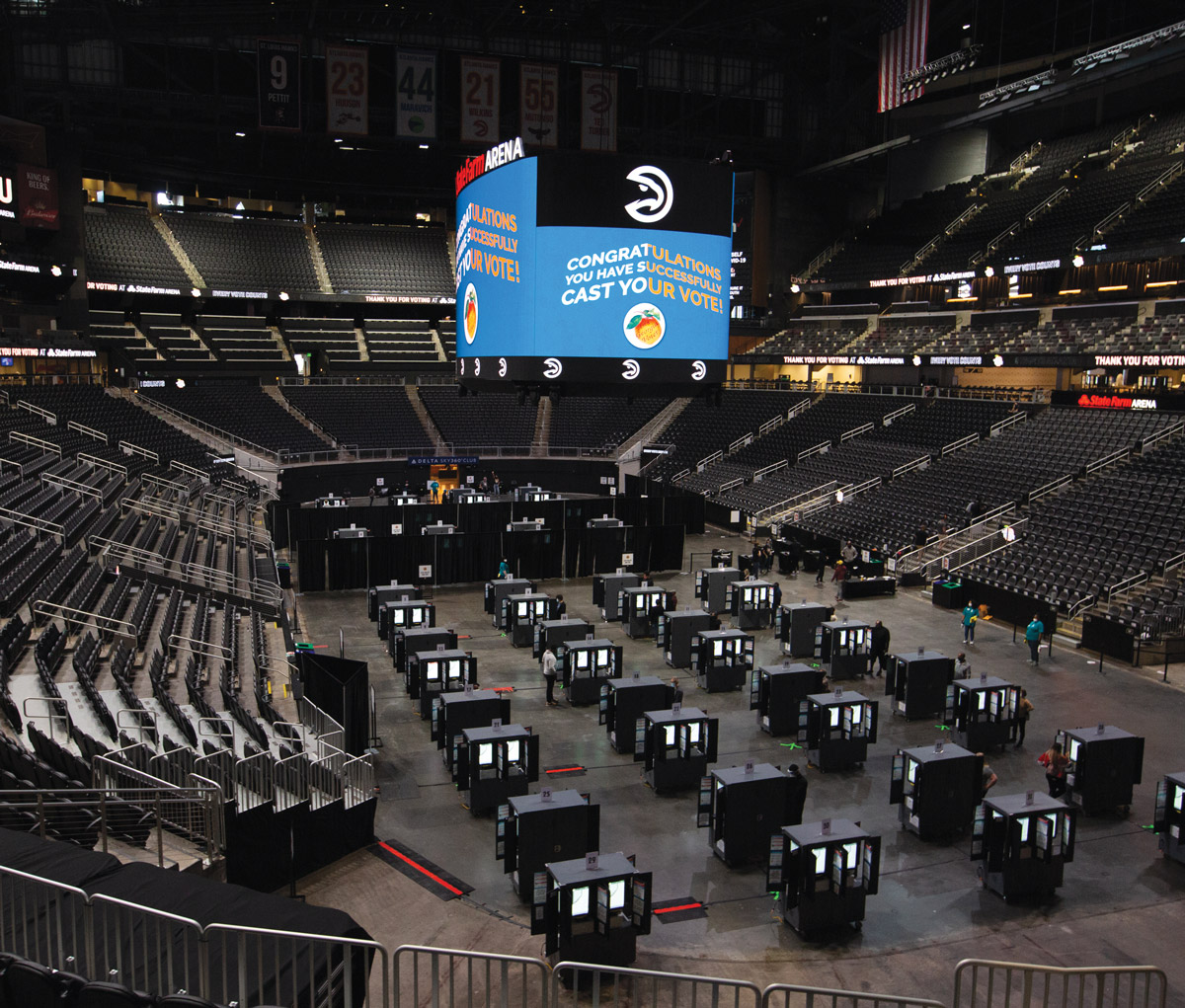 Best New Polling Place: State Farm Arena
What do you do with an empty sports arena in the heart of downtown, next to transit, and with plenty of room inside to social distance? Why not early voting? Following a relatively smooth test run during the June primary, the Atlanta Hawks packed 300 voting machines on the court floor and concourse, and for 19 days, rolled out the red carpet for more than 30,000 Fulton County residents. Voters shared photos of the surreal scene on social media, encouraging others to head to the polling location that USA Today speculated could help swing the election. Near the end, the facility even began offering free Covid-19 tests and flu shots. Another bonus: Everyone received a special-edition "I voted" sticker, with a basketball in place of the peach.
Best Truth to Power: AJC and Carlos Del Rio (tie)
When Atlantans wanted accurate information, the hometown paper stepped up to the challenge, producing stories around the clock about how the virus affected businesses, schools, nursing homes, and our daily lives. With the state's confusing Covid-19 dashboard under fire, the AJC built its own dashboard—elements of which the state adopted a few months later. Del Rio, an Emory infectious-disease expert and frequent source for the AJC (and for this magazine) proved to be a reliable expert in print, on TV, and on Twitter—a local Dr. Fauci. When the state decided to reopen quickly, Del Rio pushed back and urged Atlantans to wear masks and social distance.
Best Outreach to the Hungry: Free99Fridge
Feeling that her racial-justice protests weren't serving her community well enough, Latisha Springer launched Free99Fridge: a grassroots effort to combat food waste and hunger, "for the people, from the people." Since July, she and her team have constructed six colorful sheds across the city, each housing hygiene items, nonperishables, and, of course, refrigerators constantly in need of the fresh fruits and veggies that often get snapped up within hours. You don't have to be an official volunteer to tidy up a fridge or leave food inside one, but do read the rules. If you don't have time to stop by, you can donate through Venmo at @free99fridge.
Best People to Have Your Back in an Argument: Harvard Debate Council Diversity Project
In 2018, Harvard College launched a program to train underrepresented high school debaters from across metro Atlanta every Saturday morning to prepare for a prestigious summer residency program at the Ivy League school. The goal: increase equity in education, build a pipeline to top-flight colleges, and chip away at the region's income inequality. It's been a success since the start. The project's inaugural class of 25 students won a single-elimination debate tournament in Boston. Guess who won in 2019 and this year? You guessed right.
Best Livestreamed Concert: Thousandaire and Warm Red
No livestream summoned the ambience of waiting in a darkened room and giving nods to friends squeezing through the crowd before the band starts with more excitement than Thousandaire and Warm Red at the EARL. Local production crew Media Team enhanced the show with a touch of psychedelic visuals, and DJs Young Soviet Prince and Ruby pulled out the post-punk and hardcore deep cuts between sets. Meanwhile, the livechat buzzed with shout outs and friendly banter between people who, in normal times, see each other at shows. Rolling out Thousandaire's self-titled LP and Warm Red's Decades of Breakfast for a remote audience was a reminder that we can still come together for good music—and, in this case, for a good cause, as funds benefited the EARL's staff.
Best Socially Distanced Sporting Events: Atlanta United
The Five Stripes' traditions had to continue, even with no fans in the stands of Mercedes-Benz Stadium. Golden Spike ceremonies were pretaped and displayed on the halo board, cheering from previous games was played over the loudspeakers, and banners and flags from supporters' groups were hung over the seats where fans would normally wave them. Few people got to experience this firsthand—just players and media—but each televised shot of the banner-draped supporters' section reminded fans and players that their community is still there: They're just socially distanced for now.
Best Reminder of Atlanta's Civil Rights Spirit: Black Lives Matter Protesters
After the police killings of George Floyd in Minneapolis, Breonna Taylor in Louisville, and Rayshard Brooks here in Atlanta, a mass of protesters gathered day and night at Centennial Olympic Park and, later, occupied the Wendy's on University Avenue, where Brooks was killed. Much of the news coverage and social media buzz centered on the nighttime clashes between a relatively small number of destructive protesters and riot police. What was overlooked was thousands of people of all races, including a new generation of civil rights activists, marching and rallying peacefully, forming coalitions, and feeding each other and anyone who needed aid. After the tragic killing of a young girl across the street from the Wendy's during a 23-day occupation, police clamped down and quiet returned to the city. But when there is a wrong in Atlanta, there are thousands of people who demand we make it right.
Best Podcast Trend: Examining Our Past
To make sense of Atlanta's complicated present you have to understand its painful past. For Atlantans, Catlick and Archive Atlanta are the best places to start. In the former, host B.T. Harman tells a 22-episode, 56-month saga that opens in 1911 with Atlanta's own Jack the Ripper and "traces one of the most tragic series of events ever to befall a single American city," culminating in the rebirth of the Ku Klux Klan. Alternatively, each standalone episode of Archive Atlanta explores a different piece of our city's story, so scroll through and start with whatever piques your interest, like Georgia's history of eugenics, the 1897 Fulton Bag and Cotton Mill strike, and, of course, the streetcar. "Spoiler alert," says host Victoria Lemos, "it's always about race and class!"
Best Breakout Star of the Pandemic: David Cowan
During the pandemic, news conferences far and wide employed American Sign Language interpreters to communicate important health information to deaf people. None compared to Georgia's own David Cowan. Fiftysomething, handsome, and deaf himself, Cowan's animated delivery excited thousands of Facebook fans—sorry, ladies, he's openly gay—and made us smile when we realized the man behind a booty-shaking interpretation of Beyoncé during Atlanta Pride was a familiar face.
 

View this post on Instagram

 
Best Must-Follow Instagram Account: Butter.atl
At a time when every brand, soda company, news outlet, and influencer is competing to draw as many eyeballs as possible on the internet, Butter.atl, launched in 2019 by Brandon Butler, might have perfected the art of "content." Their "butter," so to speak, is churning out memes about life in the city—hilarious ones that feel authentically Atlanta—along with games like "ATL COVID Bingo" and "Match the ATL celeb to their high school." Interspersed on their Instagram feed are quick news updates, history lessons, guides on how to vote, and ways to support Black-owned businesses. The future looks golden. butteratl.com
Best School for the Next Top Chef: Cook's Warehouse
With virtual learning comes real-world appetites, and thanks to metro Atlanta's hometown cooking store, kids can learn how to fix themselves something a little more adventurous than PB&J. Last summer, Cook's hosted groups of up to eight kids for three- and five-day camps to learn about the world's different cuisines, ranging from peri-peri chicken from Africa to chicken tikka masala from Asia. Kids looking to satisfy their sweet tooth could spend three days baking cosmic brownies, Key lime pie, and chocolate souffles. Classes went virtual this fall, but look for in-person classes to return after the holidays. cookswarehouse.com
When field trips were put on hold because of the pandemic, the Center for Puppetry Arts already had a headstart. thanks to the center's digital learning department, which operates in schools in all 50 states and nine countries, teachers and parents could log on and show a variety of live puppet shows, ranging from the educational ("Captain Healthy and Safety Dog") to the classics ("The Little Red Hen and the Grain of Wheat"). And each show gives kids an opportunity to move and dance or learn from one of the puppeteers. puppet.org
Renee Montgomery
Atlanta Dream guard Renee Montgomery didn't just take a stand for racial justice—she challenged her boss to do the same. Frustrated by the police killings of people of color and the lack of progress on racial equality, the star player announced she would sit out the 2020 season to advocate for social justice. When Dream minority owner Senator Kelly Loeffler called the protests in Atlanta "mob rule" and urged the WNBA teams to wear American flags instead of "Black Lives Matter" patches on their jerseys, Montgomery pushed back.
Johnathon Hines
Johnathon Hines had a plan. The former college and pro basketball player would work as an assistant pre-K teacher until a coaching position became available. But by the time a spot opened up, Hines had already discovered his passion: helping the youngest students build a foundation that's crucial for school success. Hines, who teaches at DeKalb County's Barack Obama Magnet School for Technology, keeps his kids energetic and motivated with dances, singalongs, and call-and-response games. During the pandemic, when some children weren't able to afford laptops for remote learning, Hines dropped homework packets at their houses. Every night, he reads the class bedtime stories on Instagram. His dedication earned Hines this year's pre-K Educator of the Year award in Georgia, making him the first Black man to hold the honor and providing him with $45,000 worth of school materials from The Today Show.
Partners for Home
With downtown barren during shelter-in-place orders, the scope and scale of Atlanta's homeless crisis was in plain sight. Service organizations like Intown Collaborative Ministries, HOPE Atlanta, and Mercy Care rose to the challenge. Helping wrangle the different organizations was Partners for Home, the city's nonprofit that oversees homeless strategy and programs. The nonprofit didn't just set up a downtown hotel where people who tested positive for Covid-19 could isolate. In addition, it placed hundreds of homeless people over the age of 65 or living with underlying conditions into a so-called "healthy hotel"—an undisclosed empty downtown hotel that the owner offered at a reduced rate. Bankrolled by $3 million—half from the city, half from philanthropic partners—Partners for Home was able to provide safe shelter for people before they got sick.
Keisha Lance Bottoms
The mayor—who contracted Covid-19 herself early on—challenged the governor's ban and issued an executive order requiring masks in business and public spaces. Kemp filed a lawsuit against her but dropped it three weeks later. Her approach hasn't been perfect. Her powerful speech after protests turned destructive—"What I see happening on the streets of Atlanta is not Atlanta . . . This is not in the spirit of Martin Luther King Jr."—angered some activists but reminded others why she was considered as a vice-presidential candidate.

This article appears in our December 2019 issue.