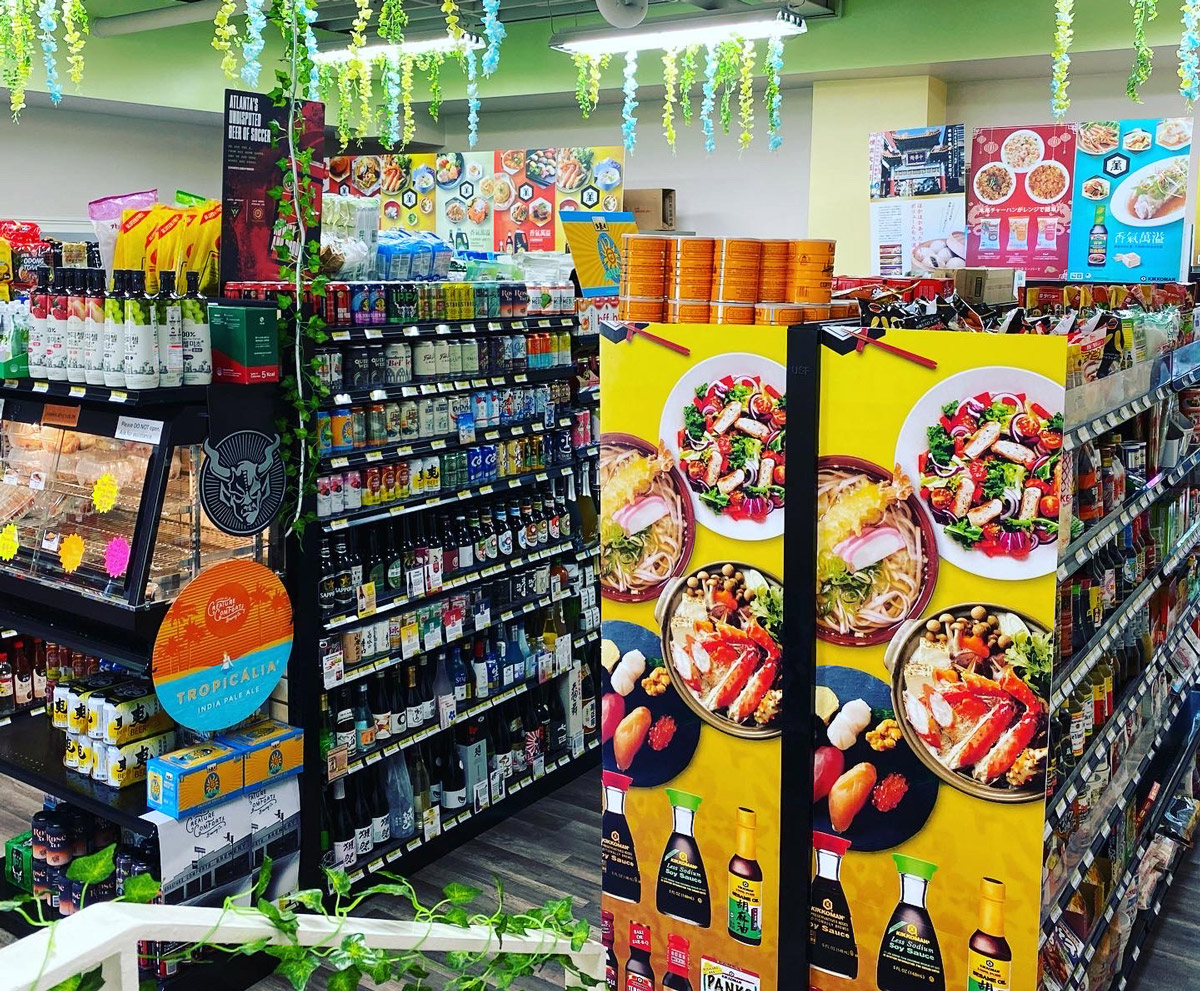 Convenience stores, like 7-Eleven and Lawson, have a different value in Japan than they do in the U.S. While you wouldn't necessarily consider the hot offerings from 7-Eleven as a must-try here, in Japan, it's a culinary high-ground. Egg salad sandwiches (Sandos) on soft white bread and fried chicken bites (Kara-age) are some of the best bites in Tokyo, and I've always lamented the lack of such stores in Atlanta.
Takashi Otsuka, who owns Wagaya and neighboring Chirori in Home Park, opened such a convenience store, Wagaya Groceries, underneath his restaurants (349 14th Street Northwest). Although the space is tiny, there's an astounding amount of products packed inside. One of the first things you'll see when you enter is little wicker baskets of egg salad, fried chicken, and pork cutlet Sandos alongside still-warm pyramids of onigiri and fresh pastries from White Windmill bakery. Hang a right, and there are Japanese sweets and candy, including baby-pink strawberry Kit Kats and candy bars filled with a slip of jam.
For heartier items, head down the stairs where a bounty of Japanese and Korean groceries abound. Since the restaurants upstairs source such good fish and booze, you'll find it all for sale here, too. There is sliced fish, cooked rice, and everything else you need to make sushi at home, along with craft sake to pair. You'll also find fresh vegetables, meats, frozen dumplings, oden (fish cakes), and Korean rice cakes for a full-fledged meal.
And that's just in the fridge. The shelves also contain all manner of Japanese and Korean dry ingredients, snacks, and instant noodles. There are also many shelves of local and Japanese beers in a rainbow of funky colorful designs that call to mind anime and Marvel comics.
The prices are comparatively reasonable to Super H-Mart and Buford Highway Farmers Market, making this an excellent alternative for intown residents who don't feel like getting on the highway. If you are not comfortable entering stores right now or are just in a rush, you can place an order for pick-up online. There's also now a patio open where you can enjoy your Sando in the cool fall air.
Sound intimidating? Nah. The exploration is all part of the fun! Here's a quick list of my some of my favorite items to get you started.
Onigiri: warm sushi rice filled with salmon or pickled plum and wrapped in seaweed, found in wicker baskets near the entrance
Egg salad Sando: creamy and dreamy egg salad stuffed inside slices of soft white bread
Kara-age: crispy fried chicken bites from the hot case
Hitachino Nest beers: Japanese craft beers brewed in a bunch of varieties, including a yuzu lager and ginger brew.
Cinema Popcorn Strawberry & Butter Salt: Salty and sweet strawberry-scented popcorn in a cute bucket
Calbee JagaRico Hokkaido Butter: crispy potato sticks perfumed with Hokkaido butter
YP Sweet and Spicy Rapokki: Chewy Korean rice cakes and noodles in a spicy Korean red pepper sauce
Kameda Age Ichiban: Sweet and crunchy individually wrapped rice crackers that look like craters on the moon