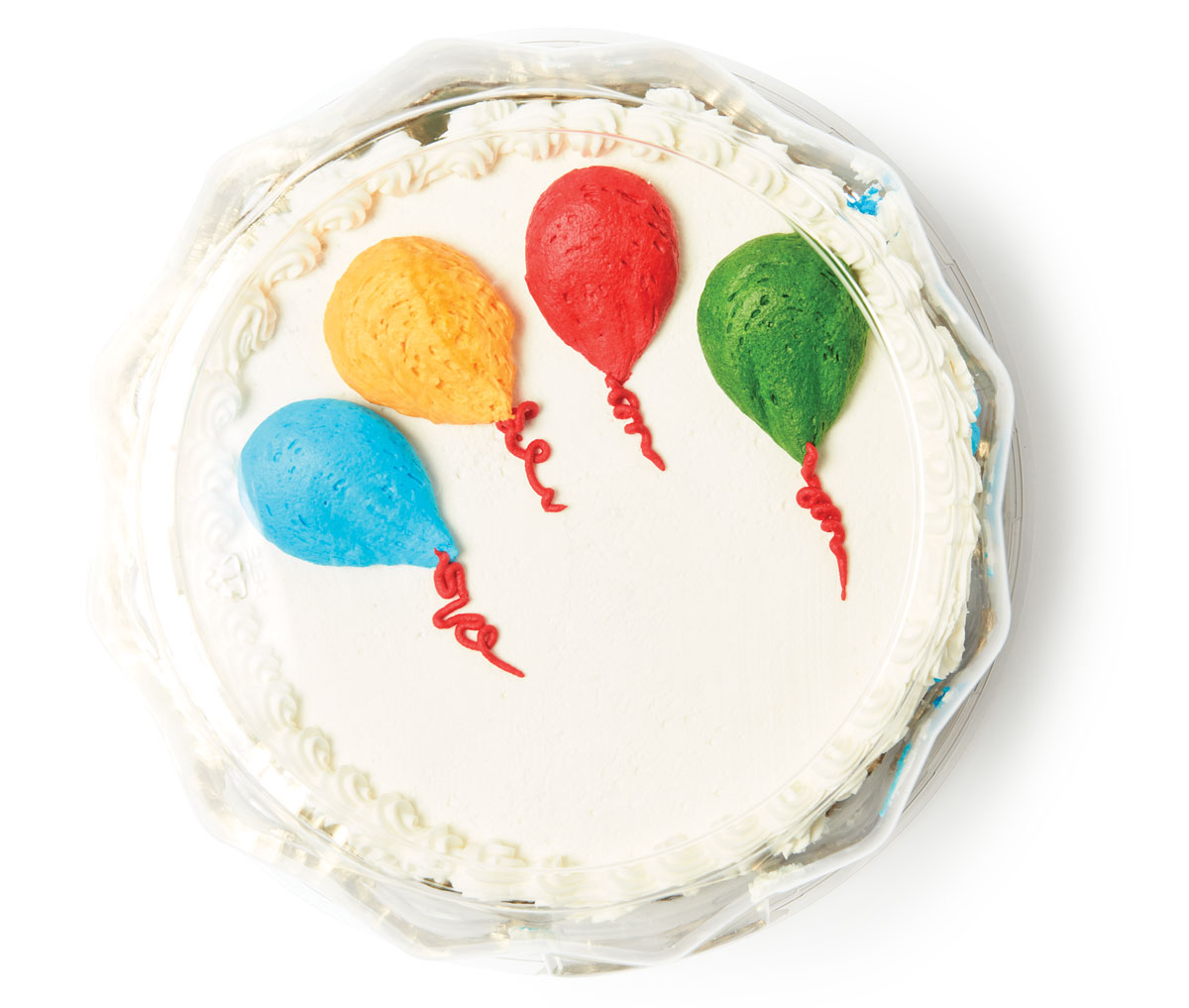 There's a VHS that my mom used to pop into the VCR when she was feeling nostalgic. The video contained wobbly footage of my second birthday party, where I—a blonde, curly-haired, chubby-cheeked toddler—was surrounded by family members lovingly singing "Happy Birthday." I didn't care about them, however.
I was zeroing in on the treat in front of me: a Publix cake covered with vanilla buttercream and adorned with strawberries. Midsong, I reached down, grabbed a strawberry along with a chunk of frosting, and shoved it in my mouth. Happy birthday to me, indeed. This early moment turned out to be predictive in a couple of ways: I don't play around when it comes to desserts. And Publix birthday cakes were a treat I'd keep coming back to.
Publix cakes are mass-produced. They're made off-premises in a bakery plant and shipped, frozen and naked, to individual stores, where they're decorated with frosting made in-house. As I was growing up in Florida, they were a fixture at birthday parties and other celebrations: sometimes a sheet cake, sometimes a round, sometimes a dozen cupcakes. It didn't matter; they all had the same distinctive Publix je ne sais quoi.
The quoi is, indeed, hard to pinpoint. The cake is moist and sturdily holds up to the buttercream frosting, rich yet fluffy. The frosting is sugar-forward, but with enough salt (or is it the butter?) to temper the sweetness. The other key ingredient is probably a collective nostalgia shared by residents of Florida, the supermarket chain's home base, and Georgia, where the first Publix outlet opened in 1991. Are there better cakes? Sure: They're made in local bakeries or by cottage bakers with locally sourced dairy, heirloom flour, and fancy European-style buttercreams. But they're expensive and require planning—it's hard to beat $20 for an eight-inch round cake that can be picked up on a whim and still tastes great.
This year around my birthday, I started thinking about Publix cakes again. One weekday morning, I dropped my daughter off at preschool and hit the road to Canton. There, at Publix store #1064, I met Kayla King, who got her start at the store in 2005, stocking groceries. In 2006 she decided she wanted to try her hand at decorating cakes. "Some people grasp it and some people do not," King said about the training process. She got it right away.
A reserved 36-year-old with kind blue eyes and ash-blonde hair swept into a bun under her hairnet, King has decorated cakes at that same Publix ever since. The shift starts around 5 a.m., and ends early enough so she can meet her three kids at the bus stop. There's a meditative quality to the job. "You can get carried away, and it's relaxing," she said. King's grandmother worked for Publix for about 30 years, and King herself grew up around these cakes, but she doesn't share an affinity for their taste. "I've never really been a cake person at all," she said. But she shares a different kind of connection.
As she applied buttercream roses to a smash cake—that's a single-layer seven-inch—King told me what it's like to be involved, even tangentially, in the most important moments in other people's lives. One woman, she recalled, ordered a cake after her husband passed away; she wanted a gift to give to his nursing-home staff as a thank-you. "She wanted a cake with angel wings and roses," King remembered.
And, of course, the birthdays. "It's kind of unbelievable sometimes, because you see how much you age," she said. "You don't realize it at the time, until they come back and they're getting their 13th birthday cake." Leaving Canton, smash cake in tow, I thought about the comfort found in Publix cakes. My mother is gone now, and I couldn't tell you where that VHS with my second birthday party footage is. But I can still get a Publix cake, even just a slice, and for a moment I get to relive the best parts of being a kid again.
This article appears in our June 2023 issue.