Is Sicilian pizza about to be the next big trend? In August, Anthony Spina, of O4W Pizza and Nina & Rafi, announced he'd be bringing Sicilian slices to Virginia-Highland this spring with a restaurant called Pizza By the Slice. Now Antico Pizza's Giovanni di Palma is getting in on the action with Gio's Sicilian, which will hold a soft opening this weekend in di Palma's Little Italia complex in Home Park (1099 Hemphill Avenue). The primarily takeout and delivery-focused spot will reside in the back of Gio's Chicken Amalfitano, where di Palma's gelateria used to be. (It moved across the street.)
"It's a lineage thing," di Palma says. "My mother's father is from Palermo, Sicily. She always made Sicilian [pies] growing up. I always made Neapolitan because my father and grandfather were Naples. I started working on perfecting this dough 18 months ago."
The result combines artisan flour milled in Montreal by Italian immigrants with Italian flour from Brooklyn. It then undergoes a three-day ice fermentation process.
"My goal was to make this really artisan, ancient dough and introduce it with ingredients from Sicily with quintessential Italian flavors," di Palma says. "You'll be shocked at how light it is."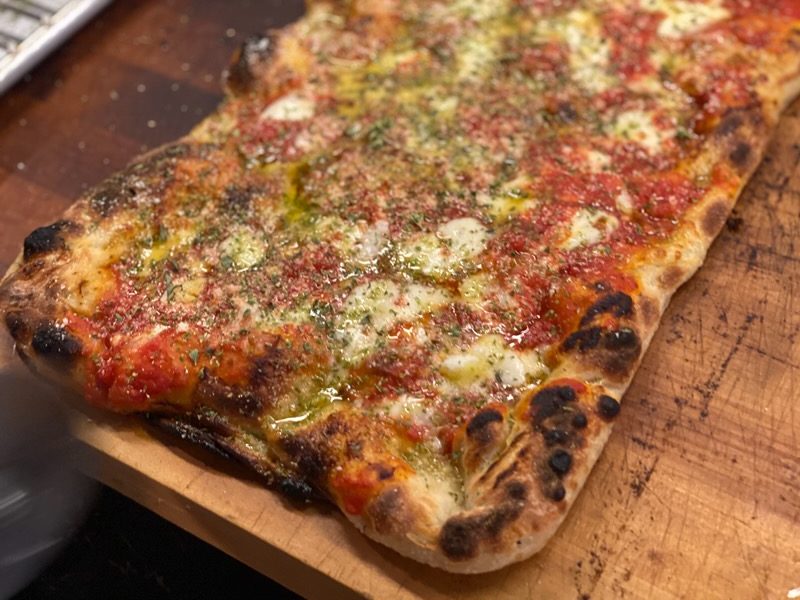 You'll recognize Sicilian pizza for its rectangular shape, thicker crust, and tomato- and oregano-heavy flavors. Gio's pies will feature wild oregano from a farm in Palermo, mozzarella from Italy, and organic tomato sauce. The sea salt comes from Trapani, Sicily, and the Pecorino Romano is sourced from Sardinia. Pizza options will include tomato, tomato and onion, pepperoni, spicy pepperoni, and double mozzarella (featuring fior di latte and buffalo mozzarella).
There's also sfincione, one of the original Sicilian pizzas. It has tomato, toasted breadcrumbs with roman and parsley, and olive oil.
Expect miniature Sicilian pies, called pizzettas. Varieties include hand-dipped ricotta with toasted Bronte pistachios and Pecorino Romano, and a gluten-free pizza with tomato, mozzarella, and oregano. Whole and half pies will be available for delivery via DoorDash, while slices and salad can be enjoyed onsite or to-go during the day and on weekends.
"This pizza travels well and reheats well," di Palma says.
But plan to order early—Gio's Sicilian will only make about 50 to 75 pies per day, at least at the beginning.
As for di Palma's other projects, remember the Vespa-style street carts he had planned to debut? His deal with Ponce City Market fell through, he says. (As did a planned Sandy Springs restaurant.) But now, he's considering featuring the food carts in his Little Italia complex on weekends this summer.