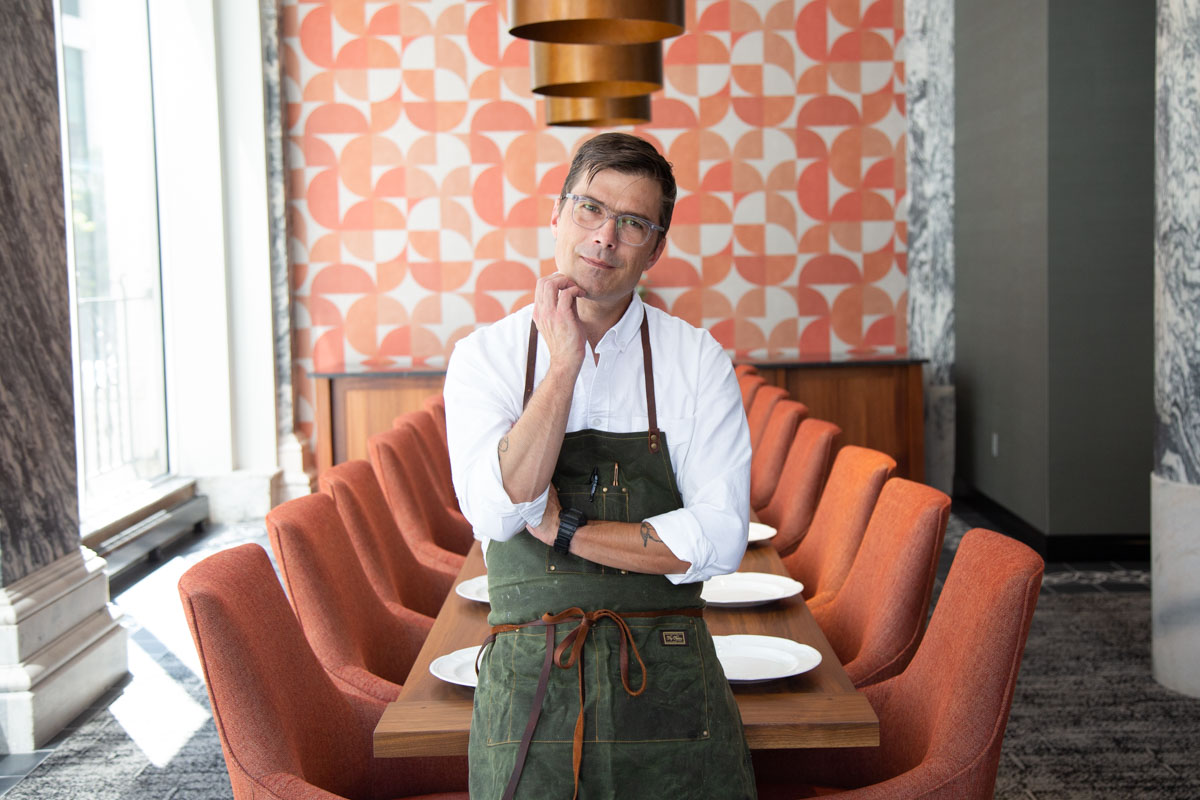 For our 21st Century Plague project, we spoke with 17 Georgians about the toll of COVID-19. Below, Hugh Acheson—owner of Empire State South in Midtown and 5 & 10 in Athens and operator of By George in downtown's Candler Hotel—describes the virus's attack on his 20-year restaurant business and the larger decimation of the industry, as well as his frustration with the abandonment of small businesses in the midst of this crisis. (Acheson was interviewed on March 17.)
I think the real canary in the coal mine was maybe about 12 days ago, reading about restaurants in Shanghai. Shanghai to Wuhan is like here to Portland, Oregon. It's an immense amount of distance. [Owners of the Shanghai restaurants] were saying that they didn't know how long they could stay open. Their sales were down 80 to 90 percent, and it was just a ghost town.
I kind of put two and two together that the feds here completely shit the bed on testing. So, we started to come up with mild contingency plans. But we're not an industry with deep pockets. Everybody's like, "Oh, Hugh. You've been on TV. You must be rich." I'm like, "You have no idea how this works, do you?"
Yesterday, I shut down Empire State South and 5 & 10. We're doing pretty extravagant to-go stuff at 5 & 10 [and Empire State South], very safely and smartly. The three restaurants today I ostensibly directly operate are kaput. We're a couple-percent-profit-margin type of place. We've got nothing. On a purely personal note, I had $26 in my checking account last week. I'm borrowing personal funds from people I know to pay payroll. Is that a long-term solution? No, not at all. A long-term solution is me moving to my rustic cabin in Northern Ontario and turning off Wi-Fi, which is what I may have to do.
But that's not my worry. My real worry is for all the people that I promised in life to provide for and can't. That's very hard, because I want to be remembered as a good employer, and a good human, and a good dad. Awards and accolades don't mean shit now. The worst people who are going to get hit by this are undocumented. It's not like we have a huge number of them on the payroll, but across the country, there are. They can't get unemployment. They pay taxes through payrolls, and they don't get taxes back. They are screwed.
But we're all screwed. Everybody's like, "Well, we'll recover." No. Fifty percent of the restaurants that just shut down across this country will never reopen. Small business is being abandoned. It's been abandoned for a long time in this country. Nobody has any inkling about how much hurt this is going to do. Next month when unemployment figures come out at 25 percent, that'll be the wake-up—and that we just murdered an industry. Lobbyists are on the Hill right now getting every meeting that they want to bail out Delta Air Lines yet again, and the auto industry is going to get bailed out. One in 10 people in the States work for the hospitality industry. Nobody's bailing us out.
Fifty percent of the restaurants that just shut down across this country will never reopen. Small business is being abandoned.
I'm really happy that people are buying gift certificates. And if we sell $2,000 of to-go food today, I'll be impressed. That does not equate to being able to pay the $16,000 in rent next month at Empire State and payroll costs of $44,000 every two weeks. Where are all those people going to get jobs? The Chick-fil-As of the world have millions in their banks to take care of these things. They don't employ a fraction of [the people that] independent restaurants do across this country.
It doesn't bail me out. It doesn't bail my people out. It doesn't bail that guy out who's going to get evicted a week and a half, who's got two kids who works for me. I can't help him. 
But I don't know where we go from here. I was yelling at Sen. [David] Perdue's office on Twitter, and they finally reached out through a friend and wanted to talk. Yeah. But they're only reaching out because they don't want me to post things that are rude about them on Twitter. That's where my 80,000 or 75,000 followers or whatever, it helps. But they should be listening to everybody who has a concern right now.
My concern is that we need an immediate bail-out. This cannot wait a month and a half. And it can't be like, "Oh, don't pay your payroll tax this week. We'll get it from you in a couple of months." If this goes on for three months, this whole society is going to fall apart.
Chef friends like David Chang have a much bigger mouthpiece than I do. They are being very vitriolic, in a good way, on Twitter. But I don't think they're making much headway. I don't think anybody is really listening to us, those with boots on the ground, about what this [situation] really needs. I don't really understand why they don't realize that this will be decimating for years. This is like nothing we've ever seen before.
I would conservatively put the cost of reopening for Empire at about $70,000, and 5 & 10 at about $55,000. That's my back-of-an-envelope [estimate]. Do I have $125,000 on hand right now? No. Does the fact that I employ almost as many people in Georgia as Caterpillar does matter? No. Does Caterpillar get millions of dollars? Yes.
I think that basically [the government would have to] take your employee count at each place and say: "Well, based on each employee and the fact that that's a secure job, we will give you a no-interest loan of $20,000 per employee." Employees are what produce money for the federal government. And hospitality sales tax is a massive percentage of the operational budget of the city of Atlanta. … I think we're all happy to borrow [money] for a long-term expense, but that's it. It should be done based on how many people you employ: put a valuation on each of them, then you get this amount as a line of credit.
At the end of the day, I do not blame myself for this. This is way beyond my control. But when Boeing makes planes that crash, they still get bailed out. I'm increasingly worried not about mass hysteria but about rampant amounts of depression and suicide rates and things like that. It comes with the territory of people feeling like failures and not being able to get by and not being able to feed their families.