Julia Skinner keeps a bottle of hot sauce in the fridge that she probably won't ever throw away: She made it a couple years ago with a close friend who died. "I just have to keep it forever," she said recently. "We fermented it together."
The technique of fermentation developed across cultures as a means of preserving foods, so that hot sauce, in all likelihood, will keep forever. There are obvious reasons this particular bottle carries symbolic weight, but—as Skinner writes in her new book, Our Fermented Lives: A History of How Fermented Foods Have Shaped Cultures & Communities—few food-preparation techniques are as rich in meaning and as ripe for metaphor as fermentation. I visited Skinner at her house on the Southside—yard wild and overgrown, chickens somewhere out back—to ask what she found so alluring about the subject.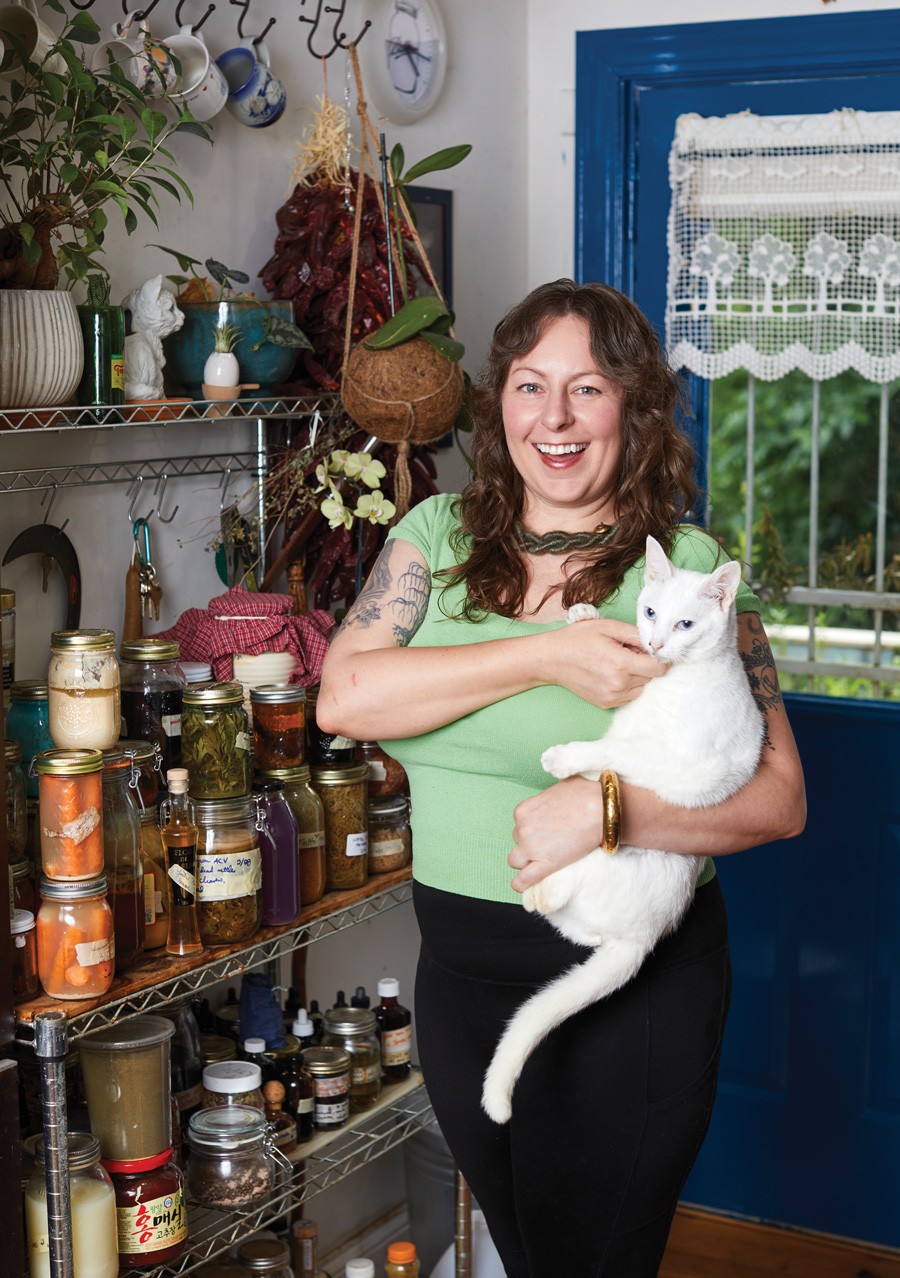 "You're collaborating with living beings," she said—the organisms living on the food you're fermenting and floating through the air you breathe. Harness those collaborators and introduce the element of time, and fermentation is how yeast gives rise to bread, how lactic acid bacteria supplies tang (and shelf life) to sauerkraut and kimchi; it's the natural process that yields beer, cheese, yogurt, Japanese natto, the sour Thai sausage naem, Burmese tea-leaf salad, and the Scottish fermented-oat porridge sowans. Fermenters also collaborate with one another, sharing things like sourdough starters and kombucha mothers. "It forces you to think in a community mindset that I think is foreign to a lot of people in the modern Western world," Skinner continued. "I've developed such a fondness for the fermentation microbes. It's transformed how I view the world. Now, I can view the world in terms of abundance and possibility instead of in terms of what isn't possible or what feels restricting."
She'd been interested in fermentation for a long time, but that passion deepened in 2018, when Skinner launched the business Root—through which she offers food history talks and workshops—and attended a weeklong fermentation residency in Tennessee. The remote hollers of Middle Tennessee are a kind of epicenter of the modern-day fermentation movement—owing largely to the work of Sandor Ellix Katz, a New Yorker who moved there in 1993 after being diagnosed with HIV. About an hour east of Nashville, this part of the state had become home to some dozen intentional communities that offered refuge to LGBTQ people during the tumult of the 1980s and '90s and beyond. In 2003, Katz published Wild Fermentation, which would prove irresistible to a certain kind of queer hippie (full disclosure: me) before finding purchase with broader audiences. Katz became a kind of evangelist for fermented foods; he taught the workshop Skinner attended, and wrote the foreword for her new book.
"The fermentation community is really a good, safe space for queer folks," Skinner told me. "I don't think I realized at first. It wasn't even until going to this fermentation residency that I felt like I had permission to be fully out—kind of as a side effect. Like, look at all these queer folks!"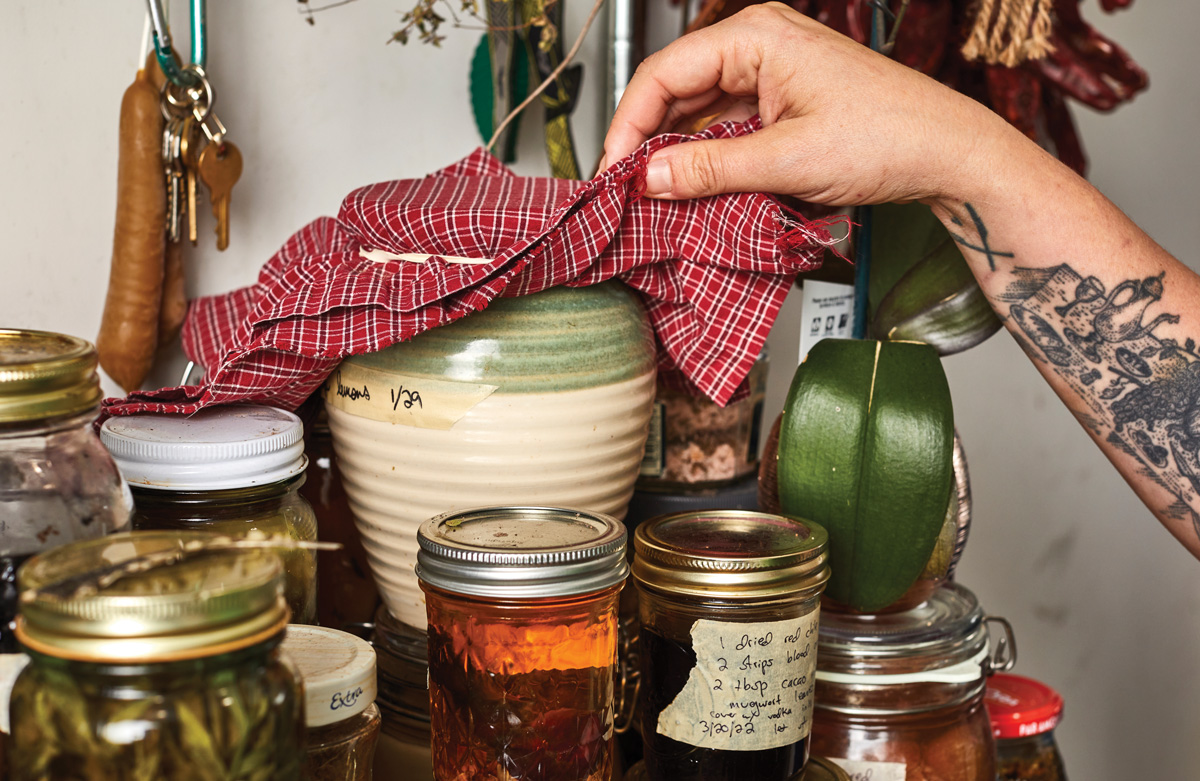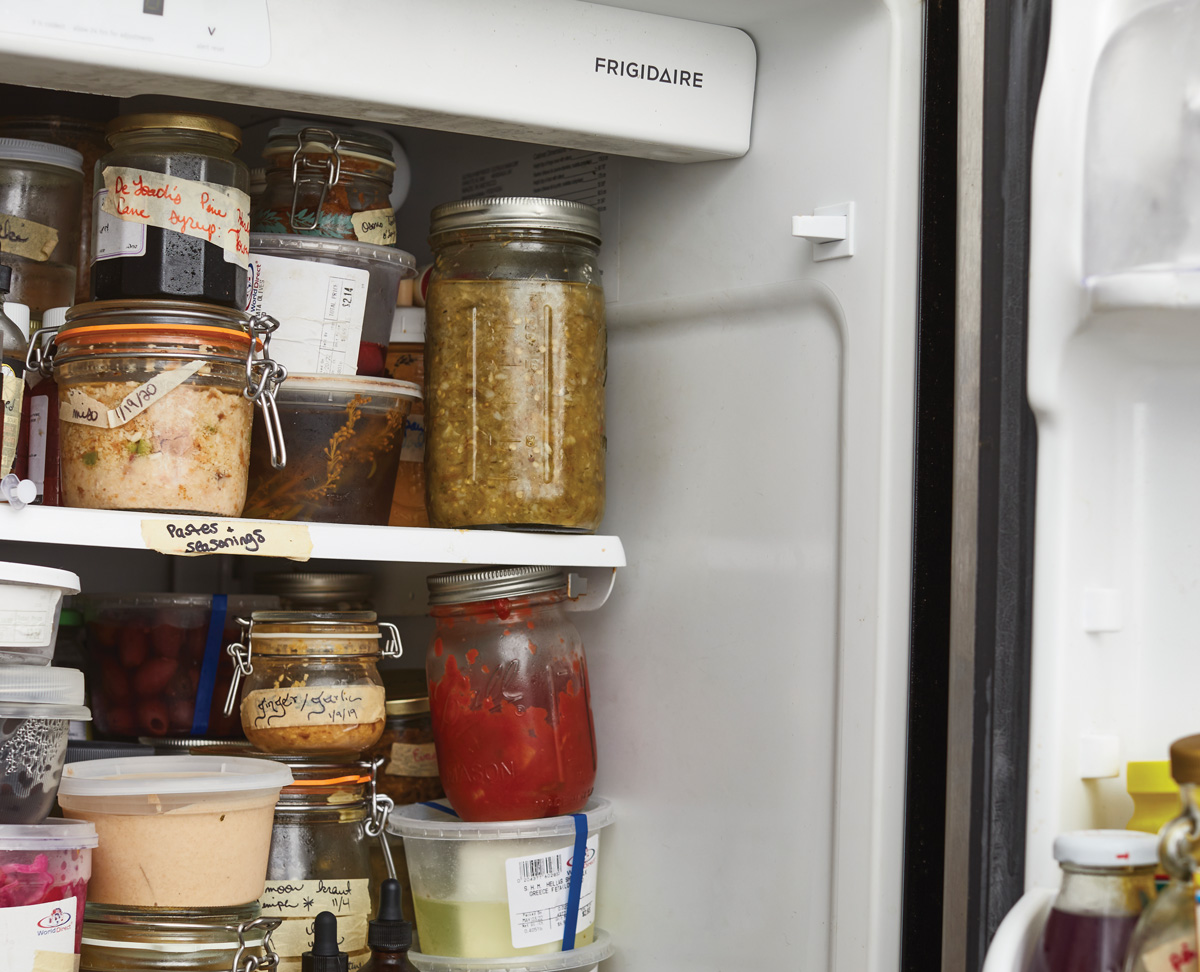 A PhD in library and information studies, Skinner initially conceived Our Fermented Lives—in 2018, when she began putting the book proposal together—as a project that would take her out of the house, traveling and researching. Then, though: You know what happened. Skinner wrote the book mostly at home during the pandemic, taking detours into the kitchen to experiment with this or that. Our Fermented Lives is part history, part cookbook, part meditation, with lots of diversions: the use of fish sauce in the world's oldest known cookbook, the science of the microbiome, ferments as aphrodisiacs, and, yes, the links between fermentation and mourning. There's plenty on the nitty-gritty of the process: for instance, the relative benefits of hog bladders, an age-old technology that "serves a similar function as a modern screw-top lid" on jars or crocks of fermenting foods. Does a store-bought synthetic hog bladder (made of collagen) hold up to the real thing? According to Skinner's findings, not quite—you might as well just use plastic wrap. Fresh hog bladders, by contrast, are "an absolute joy to work with," she writes; they imparted a slightly porky flavor to her sauerkraut and attracted the curiosity of Skinner's cats. (Who numbered, when I visited, seven.)
Skinner's kitchen remains a laboratory for ongoing projects. There are bitters inspired by Stephen Crane's poem "In the Desert." A gorgeous fuchsia concoction: spiderwort-infused vinegar. Pine needle honey vinegar. Dried fish sauce. Sourdough miso. Carrots in a cloudy jar—what Skinner calls her "adventure ferments." Because the process of lactofermentation relies on the bacteria all around us, a ferment will taste differently depending on where it's made, which accounts for products like "San Francisco sourdough"—it is, very literally, about collaborating with your surroundings. "I take little bits of brine with me when I travel, or take the jar, and leave it sitting open—like on road trips or something. They're really funky," Skinner said. She feeds it, as needed, with fresh produce: "I'll add new carrots to keep the little critters in there alive."
Editor's note: Our Fermented Lives was originally slated to publish in July, but after this article went to press, its publication date was pushed back to September 27. You can preorder it here.
This article appears in our July 2022 issue.