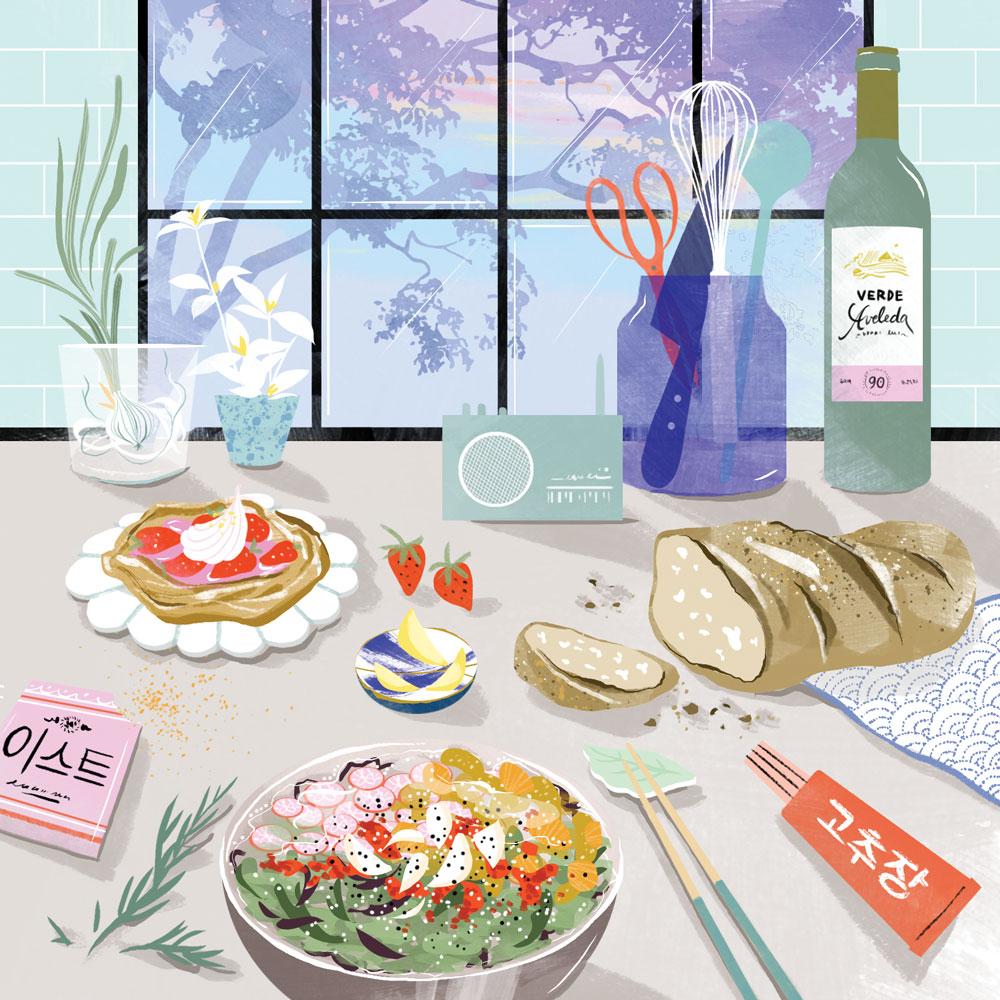 It was May, almost two months into voluntarily staying at home.
Mom, I am not bored. I promise.
I'd just hung up after another call from my mother, who resides in Cheongju, South Korea, the small town where I grew up. She had been so worried about Covid-19 as Korea experienced a surge last winter, and now, she was worried I might be bored. My extroverted family, to this day, does not believe I am completely content alone. But I am fine living solo, as long as I have my kitchen—though I have missed cooking for others and hosting pop-up events, like a canceled Parasite-themed collaboration with Chef Jiyeon Lee from Heirloom Market BBQ.
My life as a chef was on hold for several months. As an epidemiologist, I had volunteered to work as a screener at the JFK airport quarantine station, checking for potentially ill travelers. I returned home on March 25, and my 14-day self-quarantine began.
I couldn't leave my house. I relied on my brother to drop off groceries. Dear friends left baked goods, puzzles, soups, coveted spring strawberries, and farm-stand vegetables on my doorstep. From afar, I felt loved and cared for. But what was I going to cook in quarantine?
As more and more photos of sourdough bread emerged on my Instagram feed, I sought my own version of comfort—the OG Korean food that my grandmother would make, with full-on funk: Chamchi kimchijjigae, a slow simmered stew of "ripe" kimchi and canned tuna, followed by doenjang jjigae, a thick stew made with fermented soybean paste. I hope the neighbors in my apartment building will forgive me.
Next, I moved on to the art of dry-brining a whole chicken and turning it into multiple meals: first, as a classic roasted chicken; then, lettuce wraps and chicken pot pie. Repeat.
By day nine, I called it quits. I found beautifully plated meals labeled #quarantinecooking on social media annoying. I deleted Instagram and turned into the ultimate homebody. I turned on the Lonely Hour podcast (to maximize loneliness), opened bottles of wine that were meant to age for another decade, and made egg salad with avocado and a packet of Chick-fil-A sauce. (No mayo was to be found.)
To celebrate day 15, I made olive oil pasta with canned clams and Fresno chilies. Carbs make you feel better, really. I also made yangpun bibimbap, a kitchen sink–style rice bowl with shaved vegetables and gochujang. I even baked strawberry hand pies. And I never bake.
Well, never say never. I finally made my first no-knead bread, with 10-year-old yeast. No luck. Fortunately, a generous baker friend traded new yeast for my spicy sauce. Truthfully, trading and gifting ingredients during this time was quite charming. What a joy to watch the dough rise—a sign of life.
Dr. Lee is an epidemiologist at the CDC. Co-author of Everyday Korean, she also founded thekoreanfusion.com.
This article appears in our Fall 2020 issue of Atlanta Magazine's HOME.