Is there a limit on how many doughnut shops a metro area can have? Probably not, especially when the newest one is as cute and colorful as Mochibees. Specializing in mochi doughnuts, Mochibees is expected to open its first location this weekend in Duluth at 3780 Old Norcross Road. There's also a location coming soon to Doraville.
For the uninitiated, mochi doughnuts are made with glutinous rice flour. Doughnuts made with mochi tend to have a chewy, dense texture and a crunchy exterior (especially straight out of the fryer). "In Taiwanese we call it 'qq' which is basically a chewy texture," says Michael Tran, the food enthusiast and creator behind the Instagram account Yuki Loves Food. "It still has that fried dough familiarity, but with a chewy, almost gummy texture that is very specific in Asian desserts, like mochi and boba (which is made with tapioca)." He's excited to have a mochi doughnut shop in Atlanta and recalls how big of a deal it was when bubble tea first came to Atlanta in the '80s and quickly grew in popularity.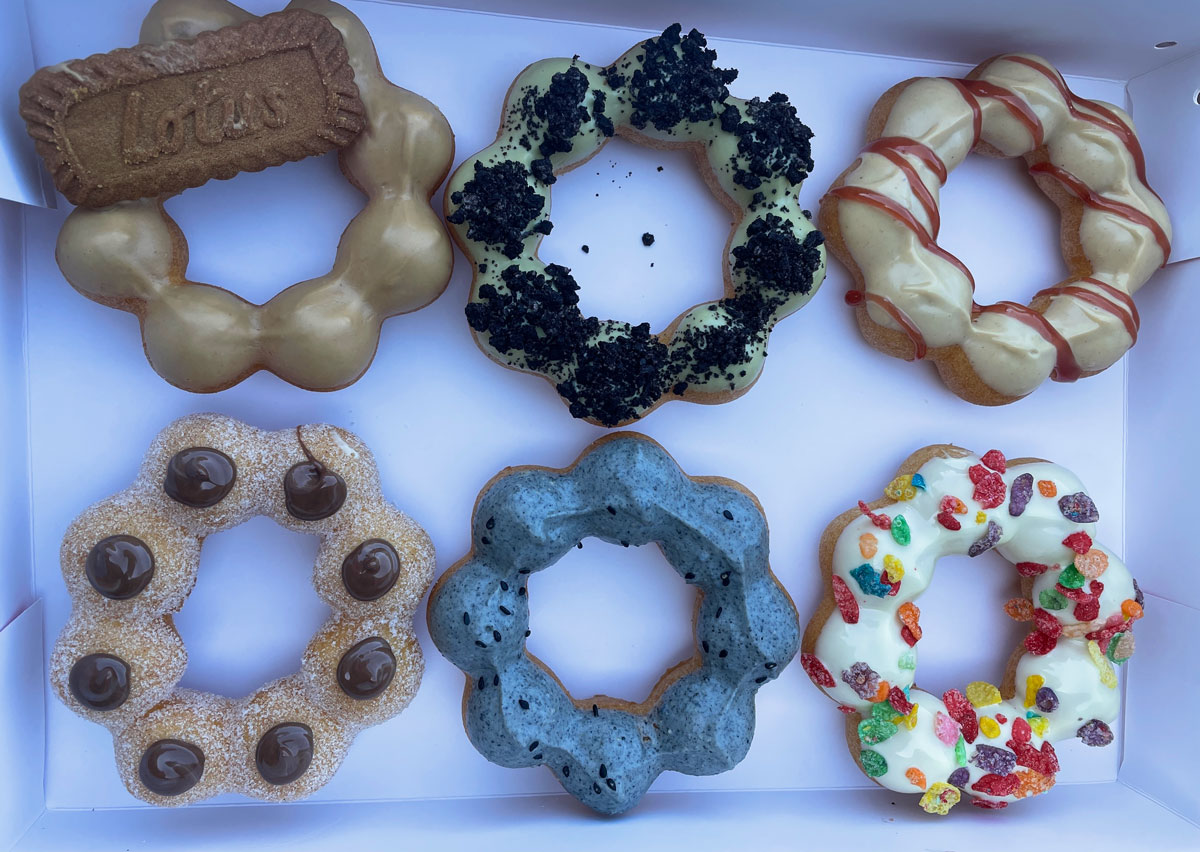 Mochibees will be the first shop of its kind in metro Atlanta. Some bakeries, such as Momo Cafe in Midtown, make mochi doughnuts, but there isn't yet a brick-and-mortar shop solely dedicated to these treats. But more mochi doughnut shops are coming—national chain Mochinut plans to open a few locations in metro Atlanta soon.
Mochi doughnuts have a bit of a complex history. They were likely invented in Japan, where they're sold by the Mister Donut chain. In the United States, Liliha Bakery in Honolulu made poi (mashed taro) mochi doughnuts popular. And now, thanks in large part to Instagram, they've now become a worldwide sensation.
The doughnuts at Mochibees are shaped in the style that has become ubiquitous on the social media giant: Doughnut holes are stuck together to form a large, flower-shaped ring. While some bakers literally stick dough balls together to form a mochi doughnut, Mochibees and other shops have a special machine that extrudes the dough for maximum efficiency.
At the colorful shop with turquoise walls and bubblegum pink benches, you can expect to find doughnuts in a variety of flavors, such as Biscoff, Fruity Pebbles, peanut butter and jelly, and matcha Oreo. There's indoor seating available to enjoy those doughnuts, or you can take them to go.