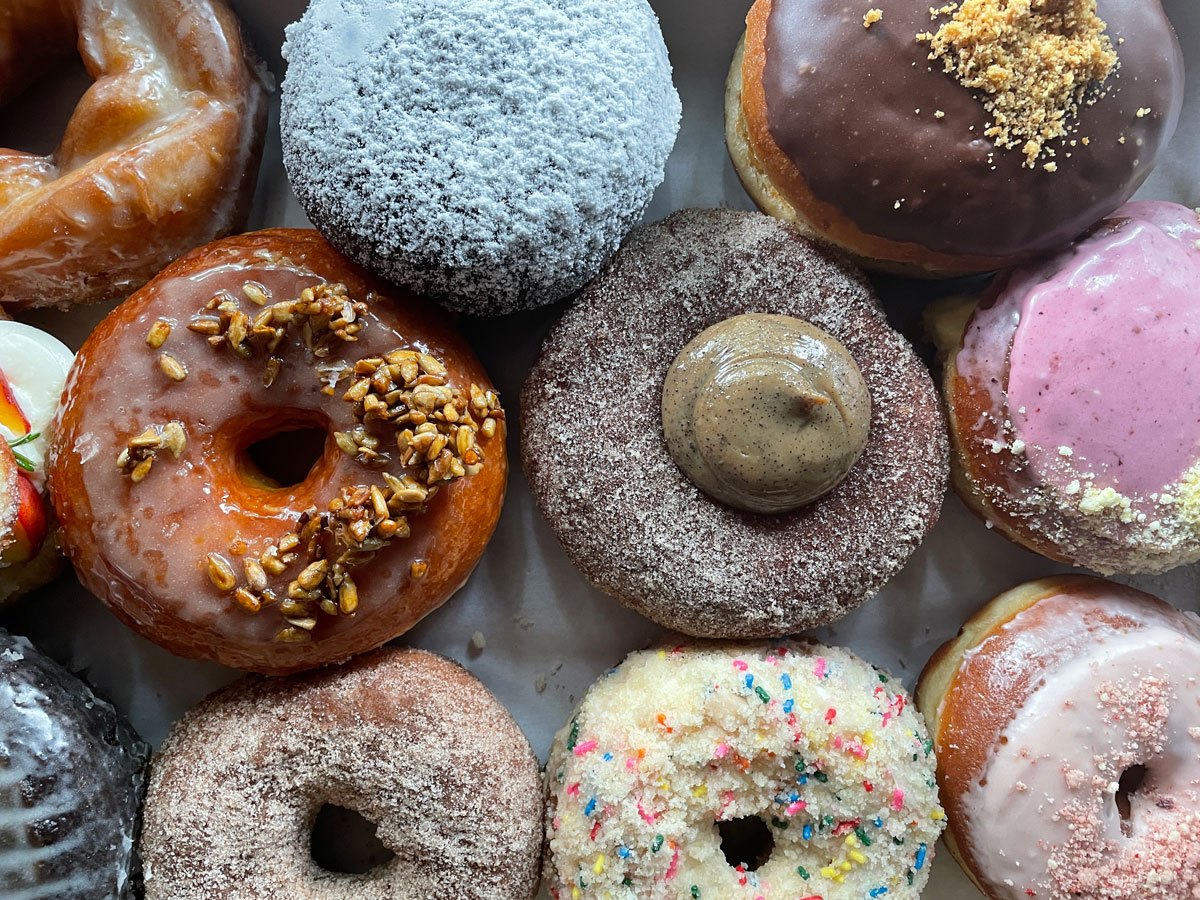 Growing up in South Florida, I never understood doughnuts. All of the ones I tried were fair, at best—yes, even the ones that Krispy Kreme churned out when the hot light was on. Doughnuts fresh of the fryer smelled delightful, but the dough's flavor was always one-note.
Then, I moved to Atlanta in 2013 and tried a doughnut from Revolution in Decatur. The salted caramel bacon blew my mind. Rich caramel rounded out by the savory, smoky bacon all atop a slightly tangy, pillowy soft yeast doughnut? I finally saw the light.
Since then, I've sampled doughnuts from shops all around the country and can confidently say: Atlanta's doughnut shops do it better. Some, like Doughnut Dollies, are run by trained pastry chefs while others are run by people who learned the trade and are just making good doughnuts.
Whether you're craving a classic doughnut with a simple glaze or artisanal treats fit for Instagram, these metro Atlanta shops know their way around fried dough. Here are 13 doughnut shops—in no particular order—worth a visit.
Scream'n Nuts
If you've ever wanted ice cream and doughnuts concurrently, then Scream'n Nuts in Alpharetta is the place of dreams. Not only do they make doughnuts in creative flavors like the Cookie Monster (blue buttercream frosting topped with chocolate chip cookie and Oreo pieces), white chocolate lavender, and taro, but they also have house-made ice cream—the birthday cake flavor is a must-try. Thrill-seekers not content with one scoop of ice cream or just one doughnut can take on the Scream'n Nuts challenge: 13 scoops of ice cream and 13 donuts in 30 minutes. 5950 North Point Parkway, Alpharetta, 404-474-4766
Revolution Doughnuts
With a location in Decatur and Inman Park, Revolution is beloved for its uniquely flavored doughnuts. There are yeast and cake options as well as gluten-free and vegan. The topping combinations might sound "out there"—like the savory everything bagel or blueberry basil—but they always work thanks to the quality of ingredients and execution. Other favorites on the rotating menu include orange pistachio and vegan vanilla bean. 908 West College Avenue, Decatur, and 745 Edgewood Avenue Northeast, 470-428-2023
Bloom Doughnuts
Located in a former general store built in the 1940s, this Milton doughnut shop makes their treats fresh to order. There are only a few flavors offered each day but you can count on there being unique options like coffee-pancetta and more classic flavors like cinnamon. They also use East Pole coffee for their drip and espresso beverages. While you're there, peruse the shop for treats like locally-sourced honey. They also sell flower arrangements by Tsubame Flowers, which grows their blooms on a farm in Milton. 15260 Hopewell Road, Milton
Sublime Doughnuts
Perhaps Atlanta's most iconic doughnut shop, Sublime has kept sweets fiends happy since 2008. The original location opened in Home Park, and now there's a North Druid Hills outpost and even one in Bangkok, Thailand. If you can only choose one doughnut, choose the A-town cream, but try to make room for the orange dream star, too. Fingers crossed they bring back the ghost pepper-caramel doughnut one day. 535 10th Street Northwest, 404-897-1801; 2566 Briarcliff Road Northeast, 404-315-6899
Five Daughters Bakery
We didn't know that a doughnut could contain 100 layers, or that it even needed 100 layers, until we tried the ones at Five Daughters. The Nashville-based doughnut shop has two locations in Atlanta (Ponce City Market and Westside Provisions District) and they specialize in croissant-meets-doughnut treats. They're flaky, buttery, and probably one of the few doughnuts that actually still taste good the next day. Choosing a flavor can be overwhelming, so consider starting with the Purist, which has a vanilla bean glaze, or if you're feeling more adventurous, the King Kong, which is infused with buttercream and topped with a maple glaze and candied bacon pieces. 675 Ponce De Leon Avenue Northeast, 404-963-1922; 1170 Howell Mill Road Northwest, 404-343-0326
Sarah Donuts
Two words: sunflower doughnut. This stunner of a sweet treat can be found at a few doughnut shops in Atlanta, but it's Sarah that put them on the map. The petaled doughnut is quite hefty in size and coated in a vanilla glaze. Their other flavors are nothing to scoff at, either, with lemon-filled, glazed sour cream, and cinnamon cake among the standouts. There are seven locations in the metro area. 2136 North Decatur Road, Decatur,
678-515-3849; 663 Holcomb Bridge Road, Roswell, 678-226-9999; 5860 Jimmy Carter Boulevard, Norcross, 770-409-9020; 9760 Medlock Bridge Road, Duluth, 770-622-2222; 45 Satellite Boulevard, Suwanee, 770-271-1129; 7110 McGinnis Ferry Road, Suwanee, 470-375-2969; 3020 Old Atlanta Road, Cumming, 470-239-7061
Doughnut Dollies
What started in the basement of Canvas Cafe in Marietta has since grown to a three location enterprise for owners Anna and Chris Gatti. With additional locations on the Westside and in Virginia-Highland, Doughnut Dollies serves up some of Atlanta's most artfully prepared treats. Anna is a trained pastry chef and it shows. You'll see what we mean when you try one of her 24-hour brioche doughnuts in flavors like the Sweet Jane (a brioche doughnut filled with Vanilla Swiss cream) and the sour cream old fashioned with vanilla glaze. Each location serves Jittery Joe's coffee, too. 724 Cherokee Street, Marietta, 404-365-5437; 1963 Howell Mill Road, 404-365-5437; 1002 Virginia Avenue Northeast, 404-365-5437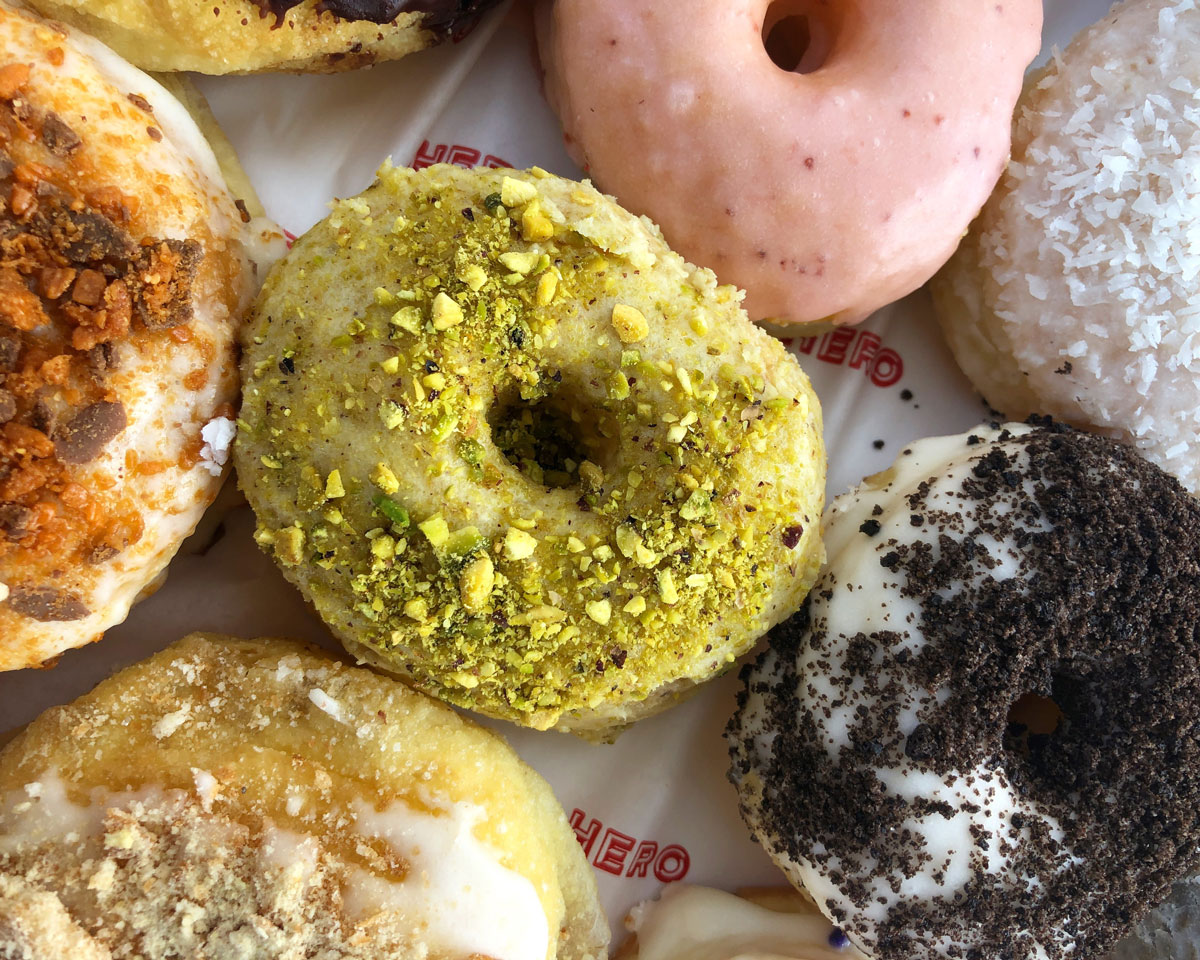 Hero Doughnuts and Buns 
Birmingham-based Hero opened its Summerhill outpost last summer. The doughnuts here are well-executed classics, like the sugar and spice (cinnamon), and playful modern variations like cookies and cream and cereal milk. They also have sausage kolaches, a pastry with Czech roots. As the name suggests, Hero also has fried chicken sandwiches and burgers that tend to fly under the radar but make for a tasty lunch. 33 Georgia Avenue Southeast, 470-369-6800
Tip Top Donuts
Tip Top isn't on Instagram and they don't have a website. That's probably because the owners of the family-owned shop are too busy cranking out delicious doughnuts in the Marietta standalone shop off of busy Cobb Parkway. You know how you know they're good? There was a Dunkin Donuts next door, and it went out of business. The options here are simple and delicious, and you'll almost always get a couple of free doughnut holes with your order. 745 Cobb Parkway North, Marietta, 678-540-2601
Dough in the Box
There are no bells and whistles at this shop—which has locations in Austell, Marietta, and South Fulton—just really good, freshly prepared doughnuts and cinnamon rolls. 2799 Veterans Memorial Highway Southwest, Austell, 770-726-2295; 3184 Austell Road Southwest, Marietta, 770-436-5155; 5650 Fulton Industrial Boulevard Southwest, 404-963-7207
The Donut Shack 
Found in a humble strip mall in Roswell, Donut Shack makes excellent doughnuts that shine in their simplicity. Standouts include the glazed sour cream old fashioned, cinnamon sugar, chocolate glazed, and rainbow crumble. 1055 Mansell Road, Roswell, 770-910-9297
Simply Done Donuts
These mini doughnuts, found in Duluth, are anything but simple. Choose your combination of toppings (PB&J or Fruity Pebbles are good places to start) and Simply Done will make your little doughnuts fresh to order. If you like the idea of sampling a few flavors without committing to several full-sized doughnuts, this is the place for you. 3550 West Lawrenceville Street, Duluth, 678-772-0523
Dandy Doughnuts
It's really easy to miss this place, as it's tucked into a nondescript shopping center across from Chamblee High School and shares space with a sub shop. But it's worth seeking out—and it's a neighborhood institution. You won't find crafty doughnuts here; instead they keep it minimalist and do it really well. Must-try flavors include honey-dipped, blueberry cake, and apple fritters. 3695 Chamblee Dunwoody Road, Chamblee, 770-457-6953