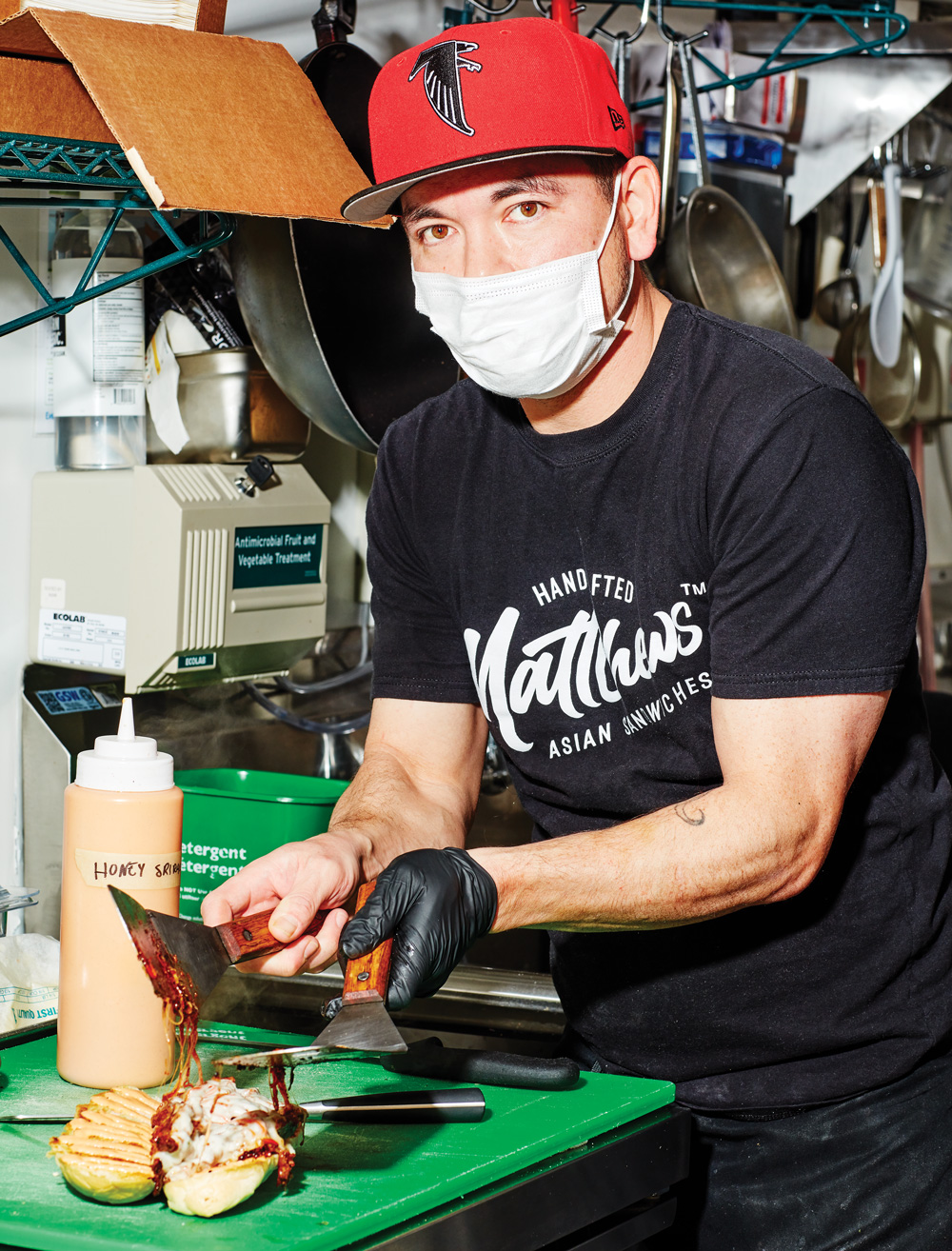 For years, Matt Scruggs was fixated on launching a food truck. He figured the truck's low overhead would allow him to more quickly and affordably establish himself as a chef, rather than putting in hours in someone else's brick-and-mortar kitchen. And he hoped that the truck's mobility would help him build a fanbase in neighborhoods across Atlanta.
Then, he discovered another option—one with even lower overhead and potentially greater geographic reach: a so-called "ghost kitchen." Such facilities, in which chefs work out of a communal space and offer dishes only for takeout or delivery, have been cropping up across the country, ad hoc restaurants without tables, engineered for delivery apps. The concept, which predates the pandemic, turned out to be eerily prescient. Last June, Scruggs toured the new Cloud Kitchens facility in Midtown—and promptly left his food truck concept in the dust.
Influenced by his Asian and Alabamian roots, Scruggs launched MattChews last fall, with the bulk of his customer base materializing via UberEats. His top dish so far: a Korean-inspired cheesesteak, in which bulgogi is marinated for 24 hours, sizzled on a grill, and topped with melted provolone, bell peppers, caramelized onions, scallions, and sesame seeds. It's served on a toasted, herb butter–slathered hoagie roll.
"I do everything from scratch," Scruggs says. "The only thing I don't do in-house is my bread, mainly because I only have 200 square feet so I don't have room to bake."
Other chefs, including more established ones, have been drawn to ghost kitchens' low barriers to entry and minimal risks compared to traditional restaurants. And they've found an opportunity to cook the kind of food that inspires them—and experiment with new ideas, too.
"Ghost kitchens are the new wave for [people] who are still kind of wary of going out to restaurants. They can still get the same quality food to go." —Scotley Innis
Scotley Innis, the former executive chef at 5Church and a participant in season 18 of Hell's Kitchen, had long wanted to explore a riff on Jamaican food—taking traditional recipes and mingling them with flavors he came to love in the South and in his travels around the world. A little more than two years ago, he launched his Scotch Yard pop-up dinners, including a Sundays-only "Jerk Series" in an open-air jerk shack outside of Tiki Tango in Midtown.
In September 2020, he moved Scotch Yard to Cloud Kitchens, allowing him to continue the concept while working on launching his new Buford Highway restaurant, the Continent. At Scotch Yard, Innis offers a jerk burger topped with lobster and served with yucca fries, oxtail lo mein, and an extra-decadent lobster mac and cheese (one of our favorite dishes of 2020). The experience has given him a chance to focus on cooking between his brick-and-mortar gigs—and has afforded him a reprieve from responsibilities such as determining how to keep staff and diners safely distanced.
"Restaurants are closing at such a high rate because of Covid-19," Innis says. "Ghost kitchens are the new wave for [people] who are still kind of wary of going out to restaurants. They can still get the same quality food to go."
Three meals to order from ghost-kitchen chefs
Scotch Yard
Lobster mac and cheese
Scotch Yard delivers the comfort food we've needed to get us through this dark winter—and this thick, rich lobster mac and cheese is the must-order panacea. The texture of the pasta is perfect, the layers of flavor are complex, and you get a full lobster tail in your takeout box—in addition to the large pieces scattered within.
MattChews
Korean cheesesteak
How is it possible to make a Philly cheesesteak even more freakishly delicious? Replace the steak with 24-hour–marinated bulgogi. Chef Matt Scruggs's clever mashups also include a "Spicy Kim Reuben" that swaps classic kraut with kimchi, as well as fries loaded with kimchi, melted provolone, scallions, and honey sriracha.
Chicken Out
Crispy Chicken Sandwich
There's always room for a new challenger in Atlanta's chicken-sandwich wars. Nick Leahy's new poultry-focused, delivery-only ghost kitchen makes a killer one. Crispy-fried to just-past-golden-brown, it's got crunch, juice, flavor, and chew. It's a chicken sandwich that's not trying to do too much, which is what makes it great.
This article appears in our February 2021 issue.