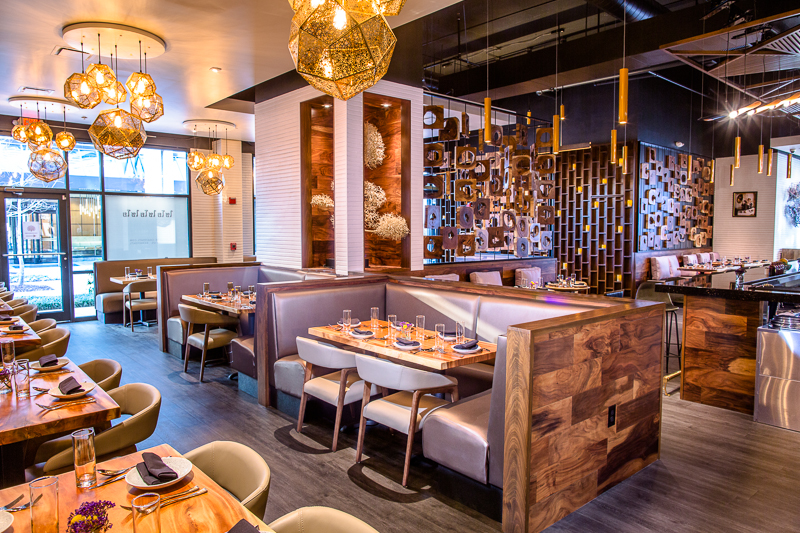 Chai Yo, an upscale Thai restaurant from the owner of Tuk Tuk Thai Loft, has launched a soft opening in Buckhead, accepting limited dinner reservations from now until the end of January. (A grand opening is planned for February.) Located near Himitsu and Umi, Chai Yo offers traditional Thai delicacies with a modern spin. Owner DeeDee Niyomkul collaborated with her mother Nan (of Nan Fine Dining) on the menu.
The menu is fairly concise and includes starters such as crispy salmon flake salad (yum pla foo), octopus lemongrass salad (plah pla meuk), spare rib soup (tom saap moo), and tofu dumplings (tohu thod). Entrees include sous vide beef cheek panang (neau panang) with green beans and Brussels sprouts; lobster curry (lobster khao soi) with egg noodles, shallots, and pickled mustard greens; and garlic Chilean seabass (pla kra teim prik thai) served over crab fried rice with bok choy. There's even a 30-ounce, Thai-style "Cowboy Ribeye," designed to share.
The more contemporary take on Thai food also includes a greater focus on craft cocktails. Four signatures are currently listed on the menu, including Nam Dok II, a mix of vodka, falernum, citrus, and butterfly pea flower; and Soot Yod II, with apple brandy, pear eau-de-vie, peanut orgeat, curaco, and lime. Expect beer, wine, sake, and cider, too.
Although a grand opening celebration is not planned until the first week of February, interested diners can make a reservation for dinner Monday through Saturday for the rest of this month by emailing maria@chaiyoatl.com. Lunch service is set to begin at the end of January.
Check out the menu for Chai Yo below (tap to enlarge)