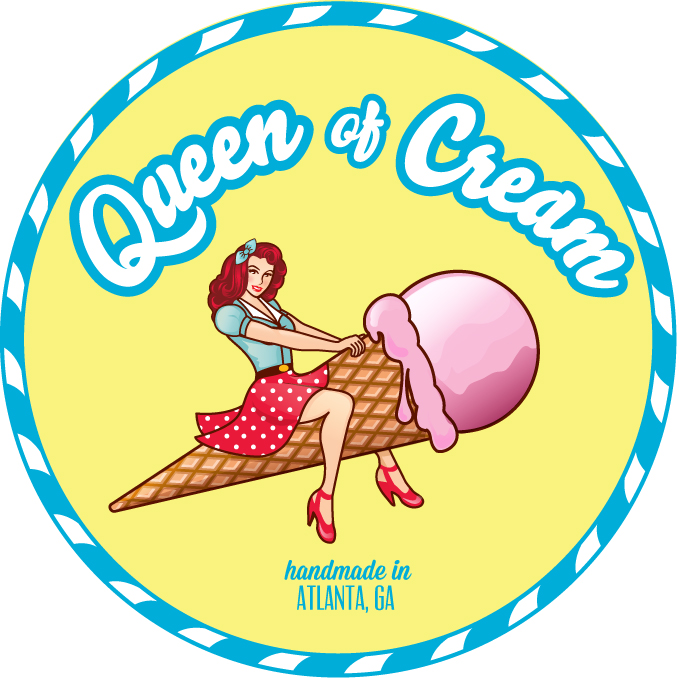 There's a new queen in town. Cora Cotrim, affectionately nicknamed the Queen of Cream, has started an ice cream company of the same name and will be giving out samples like caramelized banana and coffee-donut this Saturday at Empire State South.
Cotrim just moved into a production kitchen and will soon be serving four flavors a day in 4-ounce and 1/2-pint containers via a cart, a la King of Pops. After a soft-launch last weekend at Victory Sandwich Bar and with the Slow Food Ice Cream Social approaching on June 7th, this queen is buzzing around like a busy bee.
She shares her story below.
How did you your start? I had been a pastry chef at Paper Plane and Victory Sandwich Bar in Decatur. Before that I worked front of house in restaurants and worked at bakeries like Theo's in Roswell. I interned at Cacao.
So if you don't have official culinary training, how did you become a pastry chef? I had been waiting tables and bartending at Victory, and I always talked about making ice cream and pastries. I wanted to be a chef for a while, but I didn't like the idea of spending hours behind the hot stove. So, I drove myself to do pastry.
I wanted to find a specialized product. I wanted to do something on my own but didn't want to open a bakery. I got an ice cream machine and just went from there. I just did a lot of reading, experimenting, and training in kitchens.
Where can we find your ice cream? We have one cart right now and are getting two more by the end of week. We'll have them at different locations on different days. As we grow, we'll probably get more. I want to have a scoop shop within the next year. I might start a Kickstarter.
Eventually we'll be at at festivals, farmers markets, some wholesale, and some retail at specialty groceries around Atlanta. We did a small launch party at Victory and may do a few more. Our products will be carried at Victory once we get everything going.
We are also trying to find a place where we can have our cart every day so you have a set location where you know it will be, even though the flavors will change daily. We want to have some sort of Atlanta-based area delivery system in place, but we haven't established it yet.
What are your favorite flavors? One of our most popular is sweet corn with blueberry preserves. Our salted caramel is amazing. We have a blackberry and candied ginger [with mascarpone]. For the Atlanta Food & Wine Festival this Saturday, we're doing breakfast-inspired flavors at Empire State South from 8 a.m. to 2 p.m. We'll have a caramelized banana ice cream and a coffee and donut-flavored one.
We're also making ice cream sandwiches and cones like a drumstick with chocolate and nuts, and ice cream bars dipped in chocolate. We're making pretty much everything from scratch, except some Italian and French cookies that are perfect the way they are. We're making our own sauces, brittles, and brownies [for the ice cream].
Tell me about the ice cream sandwiches and bars.
Queen sandwiches Often with a shortbread cookie base in chocolate and blondie to allow the ice cream to shine. Sometimes they will be dipped in chocolate and rolled around in nuts. Sometimes it will be like eating a piece of cheesecake as an ice cream sandwich (cheesecake ice cream on a buttery graham cracker cookie). I also intend on making a crunchy feuilletine cookie base with salted caramel ice cream. I will be playing around with these a lot.
Queen cones are our play on the classic drumstick. They will have a handmade waffle cone filled with various flavors, always dipped in chocolate and coated with different varieties of nuts and cookie textures. At times we will step out of the classic flavors, such as a lavender waffle cone with goat cheese and local honey ice cream; a cone dipped in white chocolate and rolled in honeycomb crumbles; or a red velvet cone with red velvet ice cream, dipped in white chocolate and rolled in red velvet cake drums. Or a chocolate cone with salted caramel ice cream, dipped in chocolate and rolled around in salty pretzels.
Queen bars: This is ice cream on a stick in the shape of a familiar popsicle. These will also be made with a variety of flavors and often-dipped in chocolate and with a crunch on the exterior. These will be mostly classic flavors such as vanilla, dipped in chocolate with toasted salted peanuts, mint chip ice cream, dipped in mint chocolate. Or cookies and cream ice cream, which will be rolled in an additional lawyer of crunchy cookie crumbs.
Where did the name Queen of Cream come from? Is it a play off of King of Pops? It's a funny story. When I got my ice cream machine, I started making a lot of ice cream. My friend called me "Queen of Cream" as a joke, and my roommates started calling me that, too. We got attached to it, and it stuck. People always think of King of Pops, and it is kind of the same business model, but [Queen of Cream] really was just a nickname. Within time, people will know that we're not really associated with [King of Pops].
The Queen of Cream logo (a woman riding an ice cream cone) seems pretty … edgy. Is that intentional? We wanted to go with a vintage feel for the ice cream. It's based off of Nose Art—an art movement in the '50s. Around WWII, the girls [in pictures] would be riding the missiles as sort of a come home thing for the guys in the army. We researched that a lot, and we do want to be on the edgy side. So far, most people think it's cute. Some boys in their twenties have made comments.
Offerings:
• Vanilla bean creme brûlée
• Blackberry ice cream with mascarpone cheese and candied ginger
• Peanut butter ice cream with chocolate covered peanuts, marshmallows and banana caramel
• Sweet corn with blueberry preserves
• Cinnamon with snickerdoodle cookie dough
• Peach amaretto cobbler
• Strawberry with rhubarb preserves and rose petal cake crumb
• Fernet Branca-Menta
• Fresh mint stracciatella
• Fig leaves with port figs
• Sweet pea and candied borage
• Garden party (sweet cream with candied edible flowers)
• S'mores (torched marshmallow ice cream, with smoked marshmallows, chocolate, and graham cracker crunch)
• Vegan horchata ice milk
• Thai tea ice milk
• Earl Grey and drunken cherries
• Oatmeal with burnt honey toffee and lavender
• Cateja and coconut cornbread
• Key lime pie
• Vegan cashew and caramelized banana
• Chocolate
• Salted caramel
• Rocky road
• Chocolate chip cookie dough
• Cookies and cream
• Coffee