At the height of Trader Vic's popularity in the 1950s, tiki was not only considered chic but the pinnacle of mid-century fine dining. But today, the former bar empire has dwindled from 26 locations to just two in the United States. Atlanta's Trader Vic's is a living museum to a bygone era in American dining as tiki culture and its breezy libations are rebranded for the modern drinker, blending craft cocktails with a minimal amount of tiki kitsch.
"Atlanta holds a unique distinction. Not only does it contain one of only two Trader Vic's restaurants left in the country, it is the only location still associated with the Hilton brand and the last American location Vic himself had a hand in designing," says Martin Cate, author of the tiki encyclopedia Smuggler's Cove and owner of the San Francisco bar of the same name.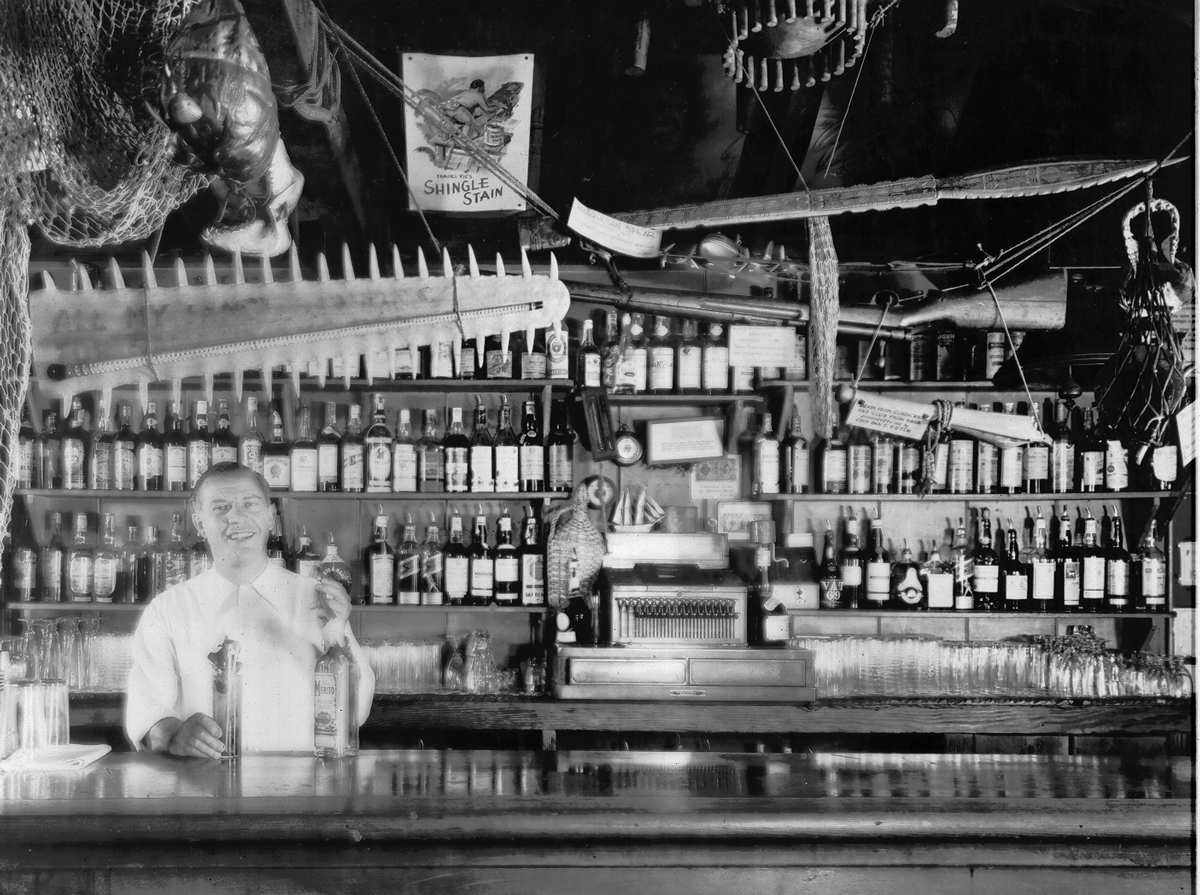 The bar's story begins in the Great Depression. Victor "Vic" Bergeron had opened his first restaurant, Hinky Dinks, in Oakland, California, in 1934, where it served a free lunch, dime beer, and a 20-cent dinner. He manned the bar while his wife, Esther, ran the kitchen. Bergeron soon realized his clientele was in search of more than a cheap meal; they sought escape from reality. Never one to miss an opportunity, Bergeron transformed the restaurant into an Alaskan lodge complete with deer heads. The menu remained unchanged.
But a visit to Don the Beachcomber's restaurant in Los Angeles in 1937 changed everything. The restaurant was always packed with guests and starlets, and the pan-Asian cuisine and rum-based drinks were unfamiliar yet alluring. It inspired the entrepreneur to take a trip to Cuba, where he studied the cocktail masters of Havana, including Bar La Florida's Constantino Ribalaigua Vert. Bergeron island-hopped throughout the Caribbean, tasting and studying the flavors and ingredients of the region. Upon returning to Oakland, Bergeron again revamped Hinky Dinks's decor and cocktail menu to rival that of Don the Beachcomber. He hired Chinese cooks for the kitchen. The restaurant became a fusion of Caribbean-style drinks and pan-Asian-inspired dishes, such as egg foo yung, in hopes of appealing to the bland American palate. Trader Vic's officially opened its doors on July 28, 1938.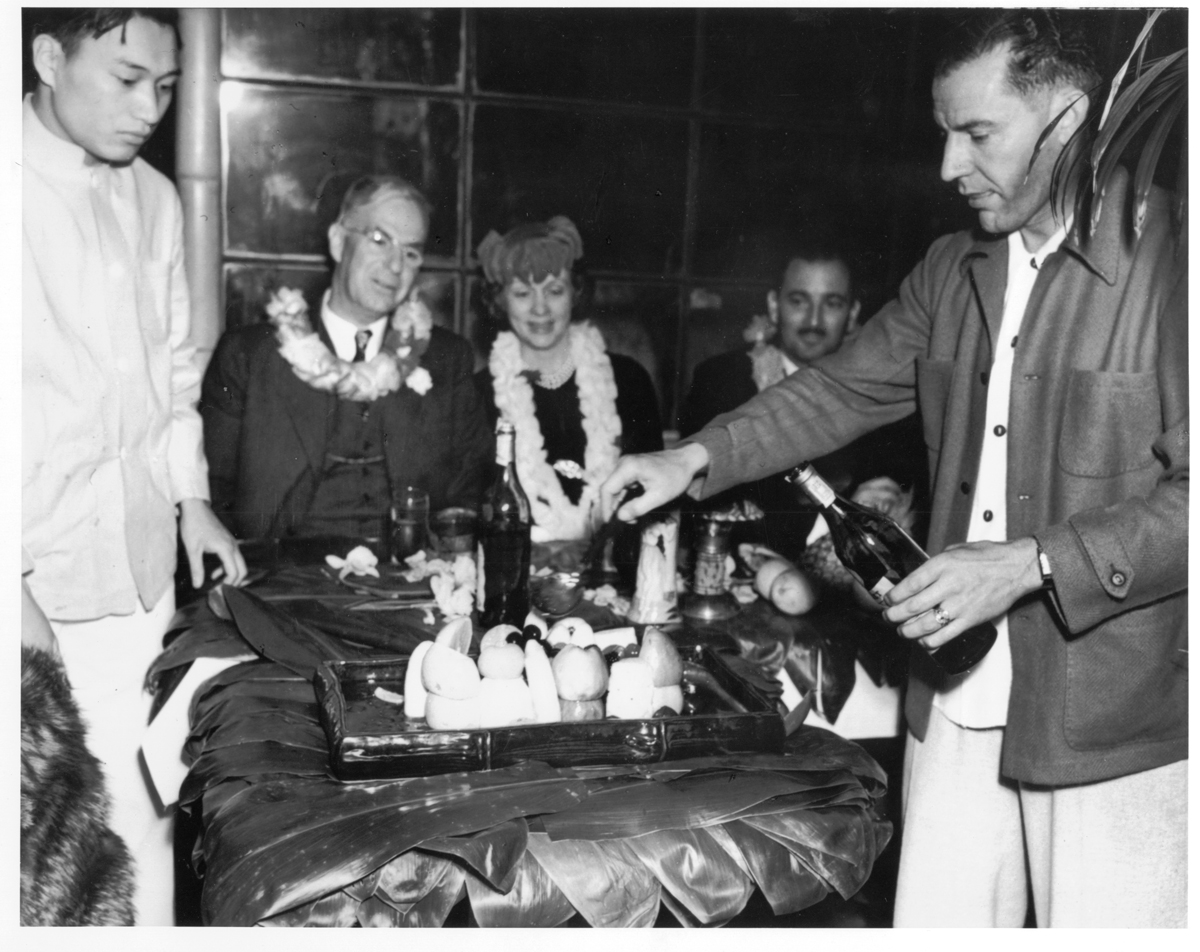 In the mid-1950s, Bergeron partnered his Polynesian-themed restaurants with the Hilton hotel chain. It was a savvy move and brought "tiki-chic" dining to nearly every major American city with a Hilton, including the famed Beverly Hilton location often frequented by Hollywood elite. That location closed in February 2017 after 62 years, leaving Atlanta as the lone survivor of the original deal struck between Vic and Hilton.
When the Atlanta outpost opened in April 1976, the city was in the midst of an economic and cultural overhaul. Atlanta had just three years prior elected its first African American mayor, 35-year-old lawyer Maynard Jackson, who helped to champion a major expansion project for the airport that now bears his name. Homegrown airline Delta signed on as the primary carrier. Major corporations like IBM were building offices just north of the city, and Atlanta's tourism and convention businesses were on the rise. The Hilton-based Trader Vic's catered to business travelers and conventioneers, so Atlanta fit the bill perfectly as the restaurant's latest location.
Jeff "Beachbum" Berry, author and godfather of the modern tiki movement, has spent most of his life ensconced in the fantasy worlds Trader Vic and Don the Beachcomber created with their restaurants. Berry opened his own tiki bar, Latitude 29 in New Orleans, in 2014, but says no one today can recreate the magic of Trader Vic's.
"Vic created tiki-chic. There's elegance in his restaurants. It's not what people associate with tiki now," he says. "Trader Vic's was all about event dining—white tablecloths, exotic atmosphere, escapism at the grandest level. Atlanta is the last window into that culinary and cocktail moment in time."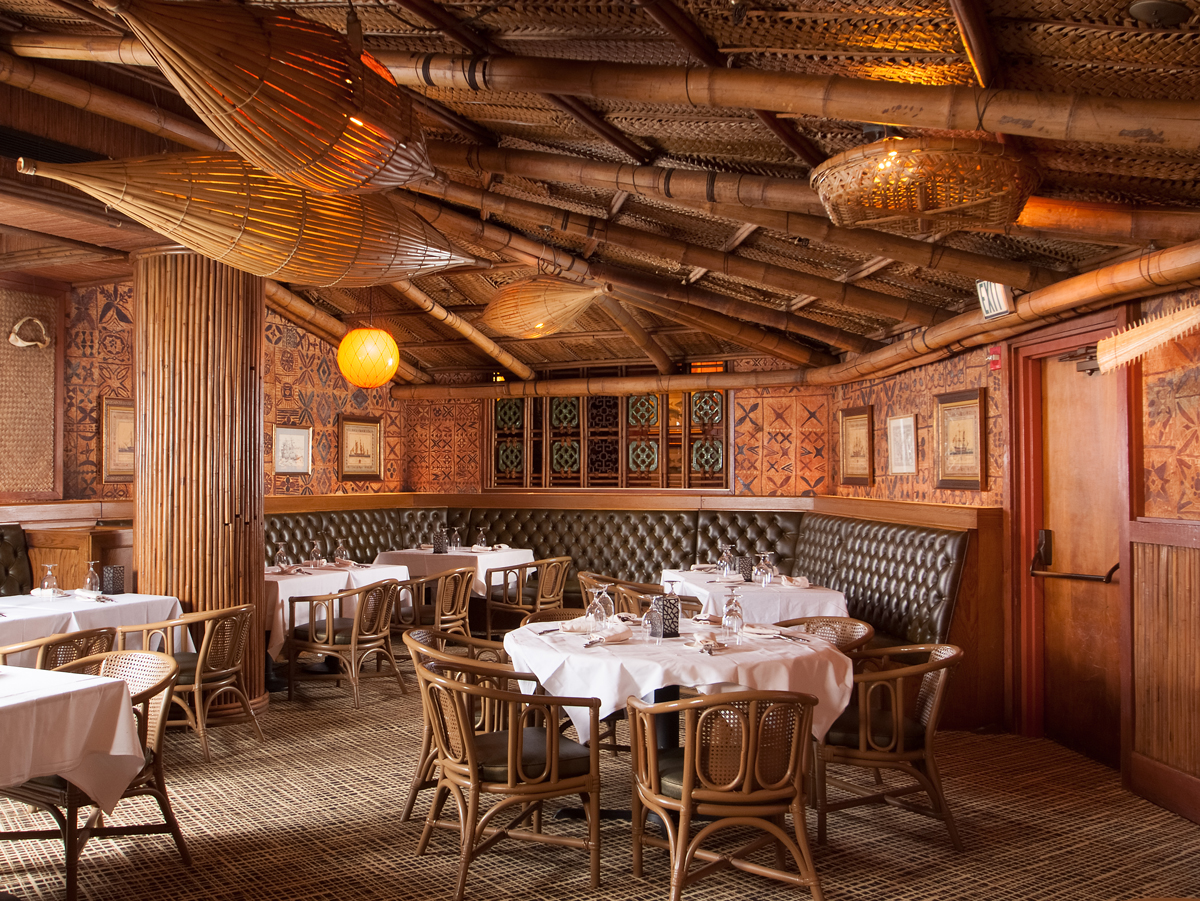 The interior of the now 43-year-old restaurant, located in the basement level of the Atlanta Hilton downtown, remains untouched since the day it opened. Bergeron spent millions on sourcing decor. The walls are filled with taxidermied sea turtles and blowfish along with wooden masks and outrigger canoe oars. A corrugated tin roof full of travel stamps hangs over the bar. Beautifully carved tikis from the Pacific islands were carefully chosen by Bergeron to adorn the beams throughout the dining room. The Trader also signed off on Atlanta with a flourish.
"Vic painted two or three pictures for Atlanta. There's one that looks like an Andrew Wyeth painting of a windmill in the middle of a prairie," Berry says. "If you find a painting or strange photo that looks wildly out of place for a tiki restaurant, that's likely Vic's work."
All Hilton-branded Trader Vic's were purposefully constructed at the lowest level of the hotel with few or no windows. Guests were supposed to be transported to another world from the minute they walked in the door.
"Entering into a Trader Vic's at any hour was magical. It was like Waikiki at twilight—always the cocktail hour," Cate explains. "Soft Hawaiian music played in the background. The lighting was indirect and soft. You just stopped caring about the outside world."
Stefanie Smith, a former general manager at Trader Vic's, believes this Waikiki-escapism continues to drive the Atlanta location. But she feels there is one more layer now added to the guest experience Bergeron likely never envisioned: nostalgia.
"For many of the older guests, this may have been where they celebrated their anniversaries or had a pre-prom dinner," Smith says.
She recalls couples arriving for dinner who had been coming to the restaurant since it opened. One couple returned for the first time since their wedding night—with their now adult son in tow.
"I've never worked in a restaurant with so much rich history and guest connection," Smith says. "We want to preserve it as much as possible."
The dinner menu has shifted over the years. The core dishes, including the Chinese wood-fired oven section—think Indonesian rack of lamb or miso orange-glazed pork—have remained intact, but more dated offerings such as coconut prawns or the Bergeron-invented Bongo Bongo soup, made with pureed oysters and spinach, have fallen away. Occasionally, chef Cheing Phour will bring back these dishes for old times sake.
"Vic was doing fusion cooking before that was even a thing," Berry explains. "His palate was outstanding. I interviewed wine writer Shirley Sarvis years ago, who edited all of Trader Vic's books, and she told me he had the 'most perfect palate.'"
Bergeron married French cooking techniques (and his own French heritage) with Thai, Indonesian, Japanese, and Chinese flavors and dishes in a time when American dining culture was mostly meat and potatoes.
"He integrated what were then exotic ingredients—morel mushrooms, raw fish, kiwi, passion fruit—into his dishes and presented them in a way that suburbanites didn't find appalling," Berry says.
Bergeron's understanding of what it took to be successful in the restaurant business meant he had to look beyond the Cantonese-type cooking done by competitors such as Don the Beachcomber or Mai-Kai in Ft. Lauderdale. He visited San Francisco's Chinatown to study how the chefs there cooked meats and fish in massive wood-fired ovens.
Enclosed behind tempered glass in the center of the dining room, Atlanta's two huge Chinese ovens still use oak wood to fuel the fires and haven't been updated with gas ignitions. They're manned by a specially trained chef whose job is to keep the fires burning while also cooking each piece of meat to the exact right temperature—not an easy task.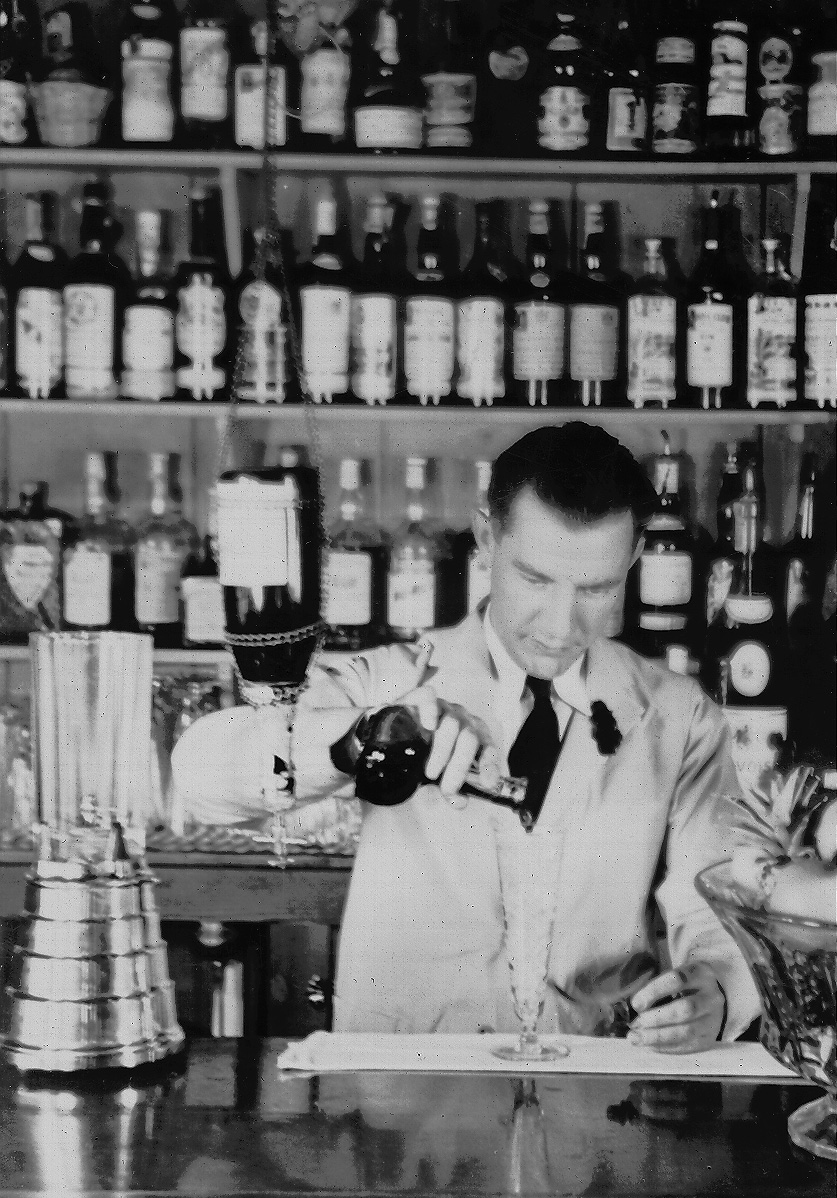 As for the cocktails, Bergeron was ahead of his time here, too.
"Vic was making culinary, craft cocktails before those terms existed," Cate says. "Vic was using ingredients like orgeat, fresh-squeezed fruit juices, and housemade syrups during an age when everything came out of a can."
He also mixed his tiki drinks with spirits other than rum. The Fog Cutter contains pisco, gin, rum, sherry, and orgeat and is mixed with fresh lemon and orange juices, while the Pogo Stick is a gin daiquiri of sorts with lime, pineapple, and grapefruit juices. Bergeron described it as "a real romper."
As in 1944, when Bergeron created it, the Mai Tai remains king, but of the more than 60 cocktails listed on the menu in Atlanta, Cate says guests should try other originals like Fog Cutter, the heady, four-rum mixture Navy Grog, and the communal Scorpion rum bowl. He also suggests ordering the "deliciously trashy" Peachtree Punch, which Bergeron created especially for the Atlanta opening.
In seven years, Atlanta's Trader Vic's will turn 50 and become eligible for consideration as a historical landmark. A lot can happen in seven years, but Cate, Berry, and fans of the beloved restaurant are holding out hope that the Hilton will hang on to this unique piece of dining and cocktail history.
"Trader Vic's is so much more than a Mai Tai. It's living history," says Smith. "In a day and age where everyone is constantly connected, it's wonderful to see people come in, turn off their phones and really engage with one another. That's the magic of Trader Vic's."
Beth McKibben is the editor at Eater Atlanta.