Photograph by Ben Rollins
Patrice Harris was one of those kids who always had a quick answer when adults asked what she wanted to be when she grew up: a doctor. Growing up in Bluefield, West Virginia, in the 1960s and '70s, though, she didn't see many black women wearing scrubs and stethoscopes. Instead, she found her role model on the small screen: Marcus Welby, M.D.
"I never met an African American female doctor until after I started college," says Harris. "But I liked that the character not only took care of his patients inside the exam room but outside the exam room as well. He cared about the community, not just the treatment. And I still believe that, as a physician, you have a platform to address big issues."
After earning her medical degree at West Virginia University in 1992, she moved to Atlanta to begin a residency in child and adolescent psychiatry at Emory. Since then, she's become a leader in the field. She served as president of the Georgia Psychiatric Physicians Association, which named her Psychiatrist of the Year in 2001, and was the founding president of the Georgia Psychiatry Political Action Committee. From 2009 to 2015, she was director of the Fulton County Department of Health Services. And earlier this year, she was elected the 174th president of the American Medical Association (AMA), the nation's largest physician-advocacy organization, representing nearly 250,000 doctors in the U.S. She's the first black woman to hold the job.
We recently spoke with Harris about her history-making election and the AMA's role in tackling issues ranging from healthcare access to vaccine compliance to stringent anti-abortion legislation.
You are the first black woman to hold this position. What does it mean for you to break ground in this way?
I am thrilled and consider it a privilege. My mother was a math teacher, and my father worked on the railroad. I was an only child, and my parents always encouraged me to be whatever I wanted to be. Although later on, they would tease me, saying "Oh no, you're never going to make any money because you're going to accept chickens for payment." Her point was I was so kind-hearted and would do anything to help people.
When I went to college, though, I was not always supported in the same way. I had advisors who discouraged me from going into medicine. I persevered, but I know it's important to see people who look like you in your chosen or desired profession. I hope to be tangible and visual evidence that young people of color—particularly girls—can aspire to be physicians and can aspire to leadership. And it's my responsibility that I'm the first but not the last.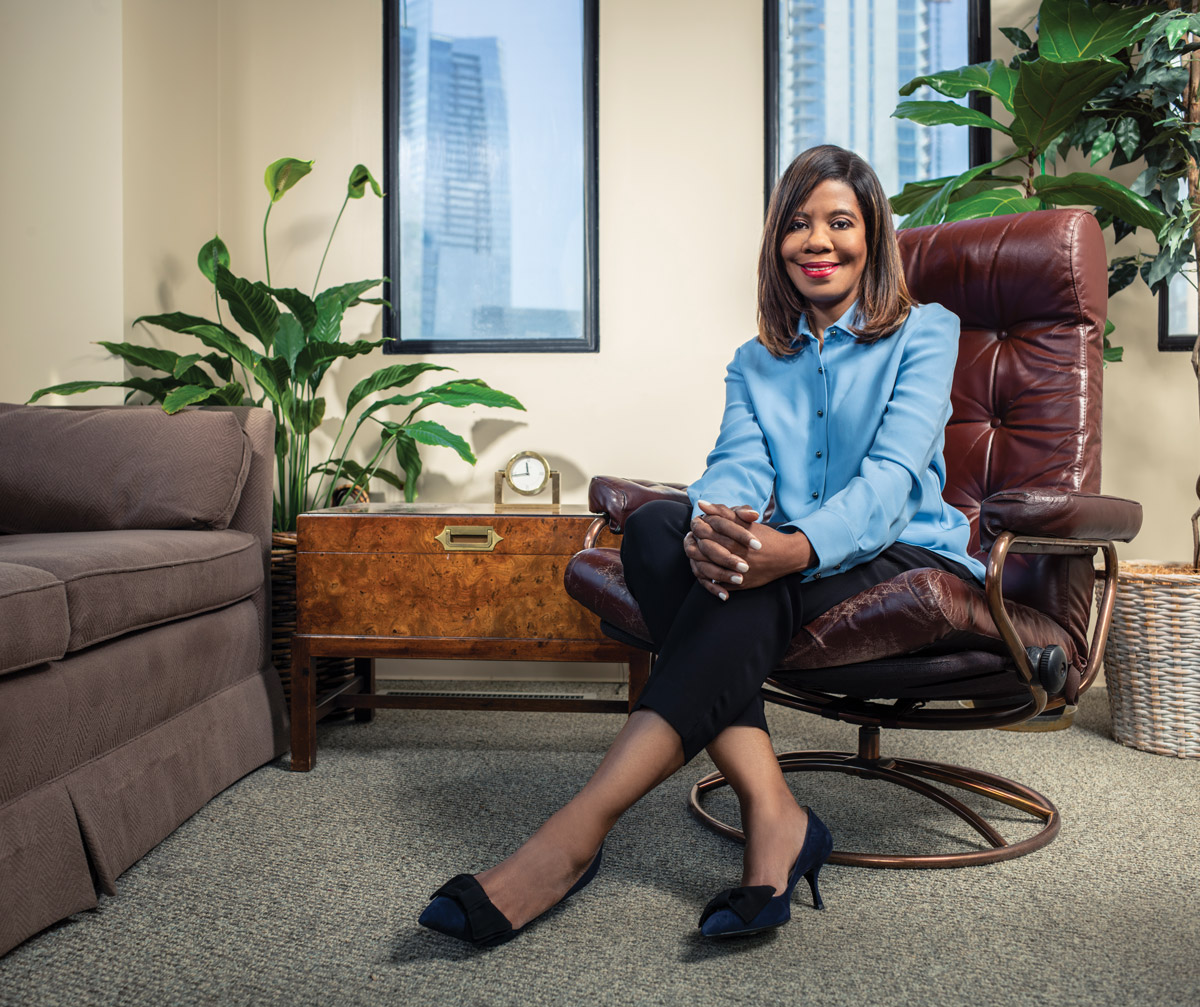 What was it like being a black woman in training?
Like so many others who have been "the first" or "the only," I had the imposter-syndrome experience, the feeling that all eyes are perhaps on you to represent women or represent African Americans. Dr. Valerie Montgomery Rice (the president of Morehouse School of Medicine) has a saying that everybody needs a posse, and sometimes when you're the first or the only, you don't have that posse.
But I've also felt that it's a privilege to be in that position because you have a platform that others don't. I've always worked hard, I've always told truth to power, I've always been authentic, and I've always been willing to share my opinion even when it wasn't shared by others because I believe in the importance of diversity of thought and opinion. I knew that my opinion may not always weigh the day, but it's important to have the discussion and have different points of view represented. Because that's how we all get better.
This is an elected office. What was the campaign like?
Campaigning occurs at our annual House of Delegates meeting. They're like the Congress of medicine, with representatives from every specialty and state, as well as other groups called special sections. I was up against another candidate, and we did about 40 or so interviews and then had a debate.
That was in June 2018, and once I was elected, I became president-elect. I served in that capacity for a year, and then on June 11, 2019, I was inaugurated as president for a one-year term. After that, I'll serve another year as immediate past president.
Each president comes to the office with their own unique perspective. I plan to amplify the importance of mental health to overall health, the importance of diversity in the physician workforce, and the need to address childhood trauma.
Can you describe the power or influence that the AMA president has?
The president is the official spokesperson for the organization, and I have the visibility and the opportunity to promote our policy and the work of physicians in this country. The AMA is committed to three overarching goals: attacking the dysfunction in healthcare, innovation in physician education, and improving health outcomes. As the president, I'm able to bring my lens as a psychiatrist and as a woman of color.
Many people have described healthcare in America as at a crisis point. What is the AMA's role in advocating and pushing for meaningful healthcare reform?
The AMA supported the Affordable Care Act, and, actually, I want to use the full name, which is the Patient Protection and Affordable Care Act. Of course, the ACA was not a perfect piece of legislation, but it certainly moved us forward in terms of patient protection and increasing the number of people in this country who have healthcare coverage. We know that patients who do not have insurance live sicker and die younger, and one of the overarching goals of the AMA is to be an ally and advocate for our patients.
Does the AMA have a stance on the single-payer healthcare proposals floated by some of the current presidential candidates?
Rather than a total disruption, the AMA is committed to fixing the current system. We were supportive of the Affordable Care Act, and we certainly support Medicaid expansion. But we believe that improving the current system by building on the foundation of the ACA is the way to go rather than shifting to a Medicare for All approach.
That's because AMA policy really supports a pluralistic system, rather than a one-size-fits-all system, as long as we can stabilize the current individual markets to make insurance more affordable and accessible for everyone.
You chair the AMA Opioid Task Force. From a provider standpoint, what needs to change in order to fight the opioid epidemic more effectively?
We're really focused on the availability or access to treatment. We know that there are administrative and regulatory barriers that interfere with access, like prior authorization for medication-assisted treatment. If a patient comes to my office with an opioid-use disorder, and I recommend that they receive a medication such as bupenorphrine (a drug used to help people reduce or quit using heroin or opioids), that treatment may be declined by the patient's insurance company. They may say, in order for your patient to receive this, you have to fill out this form, and they have to wait. During those delays, for patients who have opioid-use disorders, that wait time may mean death.
Harm reduction is also critical. One of the recommendations that came from our task force is to make sure that there's increased access to naloxone (a drug that can reverse an opioid overdose in an emergency). The good news on that front is that, since 2014, we've seen great strides in increasing access. In some states, including Georgia, the state health authority has issued a blanket prescription, so that anyone at risk of overdose can get that medication.
Rural Georgia has faced hospital closures and a shortage of medical providers—a scenario that has played out in other rural areas of the U.S. What can we do at a state and national level to help address some of these issues?
The projected physician shortage is a major area of concern, as is the issue of physician burnout. We are in favor of the J1 Visa program that supports international medical school graduates coming here, because we know that those graduates typically work in underserved areas. Diversifying the physician workforce is important, too, because we know that doctors who are from communities of color tend to practice in those communities.
The U.S. is in the middle of the worst measles outbreak since the disease was eradicated in this country. What should providers be doing to address the lack of vaccine compliance and restore their patients' trust?
I would say first that the AMA continues to work to meet patients where they are and make sure that people are getting science- and fact-based information. We have also sent a letter to social media companies requesting that they be vigilant around the information that is on their platforms. Our policy is very clear that the only vaccine exemptions should be medical exemptions. And we will continue to do whatever we can to push that message.
Governor Brian Kemp recently signed a bill, HB 481, that would restrict most women from having an abortion after six weeks of pregnancy and leave physicians and patients vulnerable to criminal prosecution. What is the AMA's position on this kind of legislation, which has been passed in four states just this year?
The AMA shares the Medical Association of Georgia's opposition to HB 481. We support access to reproductive services for all patients and oppose governmental actions to deny established and accepted medical care to any segment of the population.
The AMA believes that there should be no limitations on physicians' abilities to discuss all evidence-based and medically appropriate alternatives with their patients, and the AMA strongly condemns any governmental interference—particularly criminal prosecution—that compromises that ability. The physician-patient relationship is sacred to us, and anything that interferes with that is against our policy.
See all of Atlanta's top doctors.
This article appears in our July 2019 issue.