In May, Emory University graduated some 140 students from its School of Medicine. Eight of them matched into orthopaedic surgery. Three of them are triplets.
The Boden sisters—in order of birth: Lauren, Stephanie, and Allison—grew up in metro Atlanta and graduated from Lakeside High School. As fraternal triplets, the women are not identical, but they all share the same smile.
Soon, they will join their family's long line of doctors and medical practitioners, from their great-grandfather on their mom's side, to aunts and uncles, family friends, even both of their parents. "We joke that it's a family business," Lauren says during a group lunch on the patio of the Panera Bread in Emory Village. Their mother's side includes nine physicians in the last three generations, not including the triplets. The field is so ingrained in their family that Allison wrote her career choice was a "genetic predisposition" on residency applications.
Their father, Dr. Scott Boden, has been the interim chair for the orthopaedics department at Emory since February. He has been an Emory professor since 1992 and the director of the Emory Orthopaedics and Spine Center since 1994. He's been Chief Medical Officer and VP of Business Innovation for Emory Healthcare. Their mother, Dr. Mary Caufield (Boden), is an internist and was previously associate director of primary care for the Emory Clinic and a former top executive with Cigna Healthcare of Georgia. Both of them have been voted Atlanta magazine Top Doctors. But right now, their proudest title is parent.
The triplets became interested in orthopaedics not by observing physicians but by being patients. Twice, the siblings (with younger sister Susanne) took their high school golf team to the state championships, and Lauren was the first girl to play on her high school's varsity baseball team. In college, they founded a women's golf team and also played softball and basketball. Lauren has pitched the fastest baseball thrown by a woman, according to the Guinness Book of World Records (a record she set in 2008 and then surpassed in 2013). And this year, all the Boden women participated in a Red Sox women's fantasy camp, where they placed second. With this much athletic activity, broken bones have not been uncommon.
"We had a five-day rule growing up, where if we thought something was broken, we had to wait five days before getting an x-ray," Lauren says. "If it was still too painful to use at day five, we would go get x-rays and see a doctor."
Their mother signed them up for baseball when they were four. "When I was growing up, leagues did not allow girls to play baseball," she says. "I hoped that they would come to love the game as much as I did." She and Scott believe that their daughters' experience competing with boys, a frequent occurrence, will help them succeed in a typically male-dominated specialty. Of course, they can also look to their maternal grandmother, one of six women in her 125-person med school class, who opened an orthopaedic medical clinic in San Rafael, California.
Growing up, watching medical television shows like House and Grey's Anatomy was more than idle entertainment in the Boden household. Lauren says, "We used to have tests on Fridays, and we would argue that watching Grey's Anatomy on Thursday was"—all three sisters finish her statement in unison—"studying!" Their mother would begrudgingly critique each House episode and predict the outcome within the first few moments, always turning out to have the correct diagnosis by the show's end.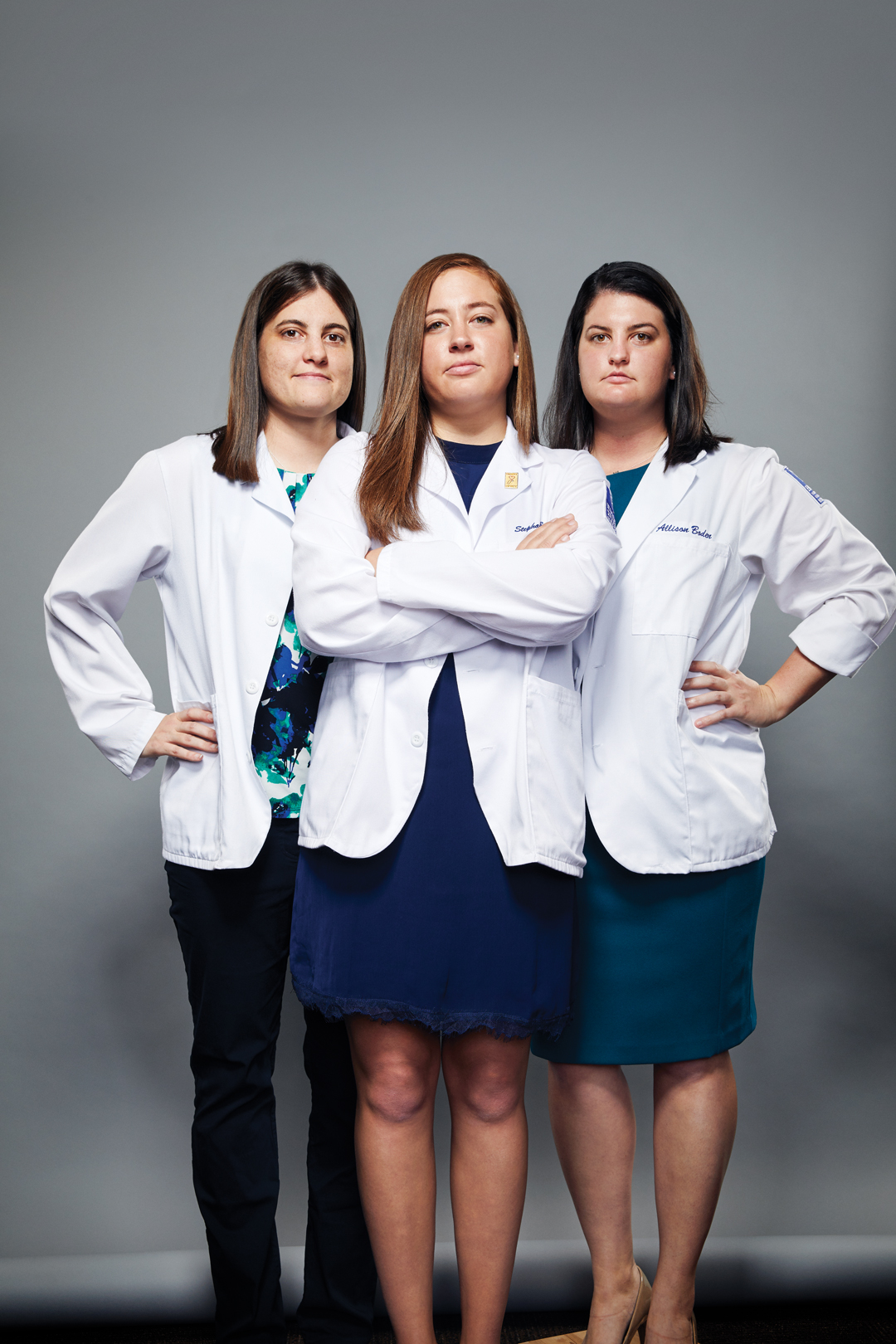 Medical conferences doubled as family vacations. Mother's Day meant meetings at Amelia Island. And around middle school, Allison began accompanying her father to a spine conference in Florida. At first, she went to play golf, "but the trips turned into me kind of sitting in at the back of the conference and pretending to take notes," she says. "I met a whole bunch of people through those conferences and will be interacting with most of them in the next few years," Allison says. "I can say, 'Hey, remember me back when I was 12?'"
"At the end of the day, I had to ask myself, 'Can I see myself not being in the operating room?'"
Growing up, the girls have always tried to enroll in the same classes because they motivate one another and could rely on their sisters to complete group projects in a timely and efficient manner. "We turn every little thing into a competition," admits Lauren, who was the valedictorian in high school while her sisters were both salutatorians.
All three girls went to Pomona College in California for undergrad, and they will now be doing residencies at different institutions—making this summer the first time they have truly lived apart. "At each stage, we thought we were going to end up somewhere else. Now, it's finally happening," Stephanie says.
"It's 5 p.m., and I haven't eaten all day, and I've seen six surgeries, but this has been great, the best day ever!"
"We've been mentally prepared for eight years," Allison injects. "I am going to practice saying 'I' and not 'we.'"
Deciding where to apply for residencies was one of their biggest challenges. Knowing that they had better odds of getting their first choices if they split up, they decided to hold a family draft. Appropriately, it took place on Independence Day last year. "We had our parents arbitrate, and we went around basically in a circle, 'I want this school,' 'I want this one' . . . There was a lot of compromising and heated discussion," Stephanie says.
Lauren is headed to her parents' and maternal grandparents' med school alma mater, the University of Pennsylvania, where she did a short rotation as a student. Though she enjoyed her exposure to other specialties, she says, "At the end of the day, I had to ask myself, 'Can I see myself not being in the operating room?' I enjoyed orthopaedic surgery ORs and how we help people get back on their feet."
Stephanie will be just five hours away at the University of Pittsburgh, where she was drawn to the sports medicine program. And Allison is headed for warmer weather at Jackson Memorial Hospital at the University of Miami, a trauma center and teaching facility similar to Atlanta's Grady Hospital, where she and Stephanie spent some time before med school. "That was when I first discovered that I loved being in the operating room," Allison says. "I would be there for 12 hours a day, look at my watch at 5 p.m., and be like, 'It's 5 p.m., and I haven't eaten all day, and I've seen six surgeries, but this has been great, the best day ever!'"
School choices aren't over for the family yet, though. Their younger brother is a management science and engineering major at Stanford, and Susanne is a med student at Oakland University in Michigan. She starts applying for residency next year.
This article appears in our July 2018 issue.