For the table
After losing his 20 North Georgia beehives to hungry bears in 2007, Brandon Tai started rescuing unwanted hives from Atlanta homeowners and relocating them to places where they could be cultivated for honey production. The result is Honey Next Door, which produces and sells the honey sourced from hives in Atlanta neighborhoods such as Morningside, Buckhead, and Decatur. "Everybody knows local produce is better; but for honey, local is super important for the allergy relief. The problem was that Atlanta had no true inside-the-perimeter honey options. When I started increasing production and sold it in Candler Park, I realized that there was massive demand for such a hyperlocal product and that it could be expanded to other neighborhoods." From $12, honeynextdoor.com
Perfect sliced white bread is a kitchen essential. Korean bakery White Windmill bakes a fluffy and gorgeous loaf that's ideal whether you're making grilled cheese sandwiches or Japanese katsu sandos. Get a loaf at White Windmill Bakery and Cafe (5881 Buford Highway, Doraville), for $7.
This Atlanta-based tea company embraces Asia's rich tea tradition with loose-leaf teas and herbal infusions ranging from more traditional options like lavender Earl Grey to unusual flavors like horchata and Arnold Palmer. From around $10, k-teas.com
Elaine Read and Matt Weyandt's chocolate factory crafts artisan bars right here in Atlanta. The name is the Nahuatl word for chocolate, which was consumed by ancient cultures in beverage form ("xocol" means bitter and "atl" means water). Xocolatl is both a nod to ancient techniques and to the city its owners call home. Available online, at its Krog Street Market stall, and at other retailers listed on their site. From $10, xocolatlchocolate.com
Bone broth is a trend worth savoring. The sippable stock is full of collagen to heal and strengthen your bones and gut. Bone & Co. only uses pasture-raised chicken, organic vegetables, and herbs in its broth. You can taste the difference—and it's fantastic for cooking, too. Available at Peachtree Road Farmers Market, Nuts 'n Berries, and Nature's Garden Express, starting at $12.99. boneandcompany.com

Ditch the weird-tasting grocery store tortillas for these preservative-free corn or flour tortillas made in Atlanta. They have a seductive fragrance when heated directly on your gas burners, and they're just as good when they're a day old and fried to make homemade tortilla chips. Available at local Mexican markets and Buford Highway Farmers Market, starting at $1 per package.
Symphony chips started as a small side business from entrepreneur Dondre Anderson and his daughters, Amina and Amari. Anderson already had launched a seasoning blend, All A's Spice, which he used to flavor a limited-release batch of all-natural potato chips. The response was so overwhelming that the chips business blossomed. Available at symphonychips.com and on Amazon, starting at $2.
Michael Patrick spent years studying heirloom pasta, and all that effort is yours for the taking . . . home that is. Whether it's his cotechino-stuffed Bertu or his simple, fresh chitarra, these pastas rival those at the city's finest restaurants. Storico also sells to-go meals such as the ambitious baked timballo pie (a cake made of pasta). Available online and at Storico Fresco (3167 Peachtree Road, 404-500-2181), Freedom Farmers Market, and Peachtree Road Farmers Market. From $8, storicofresco.com
Chef Robert Gerstenecker created Purposeful Pecans specifically to benefit Meals on Wheels Atlanta. You can feel even better buying these small-batch pecans—with flavors such as Cinnamon Star Anise and Sweet & Hot—knowing that proceeds go to the nonprofit's healthy, home-delivered meals for seniors in need. Available at Lucy's Market (56 East Andrews Drive) and Meals on Wheels Atlanta by calling 404-351-3889 to place an order, starting at $18 for eight ounces. purposefulproducts.org
Maria and Tim Resuta of Urban Tree Cidery source their apples from Cathey Family Orchard in North Georgia. They use those apples to press three flagship hard ciders: Classic (crisp and sweet), Original (dry and sophisticated), and Barrel-Aged (aged in oak rum barrels), as well as seasonal ones such as a rosé cider. Available online, at Urban Tree's Tasting Room (1465 Howell Mill Road), and at various retailers listed on their site. From $15 per bottle, urbantreecidery.com
Golda kombucha gets its recipe from the owner's 95-year-old grandmother, Golda, who's brewed kombucha for 40-plus years. Get some probiotic love with refreshing oak-aged kombucha teas in flavors such as lavender lemonade and blackberry basil. Available at the Cultured South Taproom (1038 White Street), Kroger, Whole Foods, and more than 70 small Atlanta retailers, starting at $6. goldakombucha.com
S.V. Fresh Rice Noodles

S.V. Noodles specializes in fresh rice noodles—the kind you get at a Vietnamese restaurant. Using an old-school noodle-making technique, S.V.'s noodles achieve a desirable springy and chewy quality, which is most evident in its thickest variety. Use those noodles in a homemade beef pho or as the base of a Chinese dish like Lion's Head meatballs. Available at Buford Highway Farmers Market, starting at $2.
These artisan, small-batch, salt and sugar blends come in funky flavors such as "Magic Unicorn" (rosemary, celery seed, pure ocean salt, smoked paprika) and "Mr. Gigglepants" (cane sugar, dried hibiscus, citrus). For an extra-decadent brunch, use the former to punch up your Bloody Mary and the latter to add a little more sparkle to your mimosa. Available online and through various retailers. From $8, beautifulbrinysea.com
Remedy Bakeshop's cookies literally are for everyone. Not only are they gluten-free, non-GMO, vegan, dairy-free, soy-free, and nut-free, but they also taste good. Get more information on the country music star's Peachtree City company at remedybakeshop.com and buy the cookies on Amazon, $12.50 for five.
ASW Distillery's Ameireaganach single malt whiskey is a mix of Southern and Scottish distilling traditions. Ameireaganach (pronounced "Americana") may be new, but it's already turning heads with silver-medal wins at the 2018 San Francisco World Spirits Competition and American Distilling Institute's 12th annual Judging of Craft Spirits. Available online and at liquor stores, including Tower Beer, Wine, and Spirits. $53, aswdistillery.com
Recreating your favorite Korean barbecue experience at home is infinitely easier with J's Kitchen banchan and marinated meats. Everything is sold by weight, with most vegetable sides, such as kelp noodle and green-onion kimchi, and meats, including bulgogi, ranging from 30 cents to $1.75 per ounce. Available at J's Kitchen by Jang Su Jang (3492 Satellite Boulevard, Duluth).
Monique and Ben Evans started E&C Popcorn Company with their sons, Ethan and Collier, to teach them about entrepreneurship—and it's a lesson that has paid off for the snacking public. The family's air-popped caramel corn is all natural, nut-free, gluten-free, and has zero high-fructose corn syrup. From $5, eandcpopcorn.com
CalyRoad Creamery was one of Georgia's first microcreameries for artisan cheese. It used to be located on a 16-acre goat dairy in West Georgia but now operates in Sandy Springs, producing standouts like Waypoint Camembert and offering cheese-making classes. Available at the creamery (225 Hilderbrand Drive, Sandy Springs) and online. From $10, calyroadcreamery.com
Even the most experienced Mexican cooks complain that making mole is too tricky and a hassle, but there's an easy workaround. Zocalo's mole rojo—now available through its owners' wholesale tamales and salsa business, 100% Artisan Foods—is the perfect flavor boost for your otherwise dull chicken breast, and it's excellent as enchilada sauce. Available at Peachtree Road Farmers Market, Whole Foods, and various retailers, starting at about $4. 100artisanfoods.com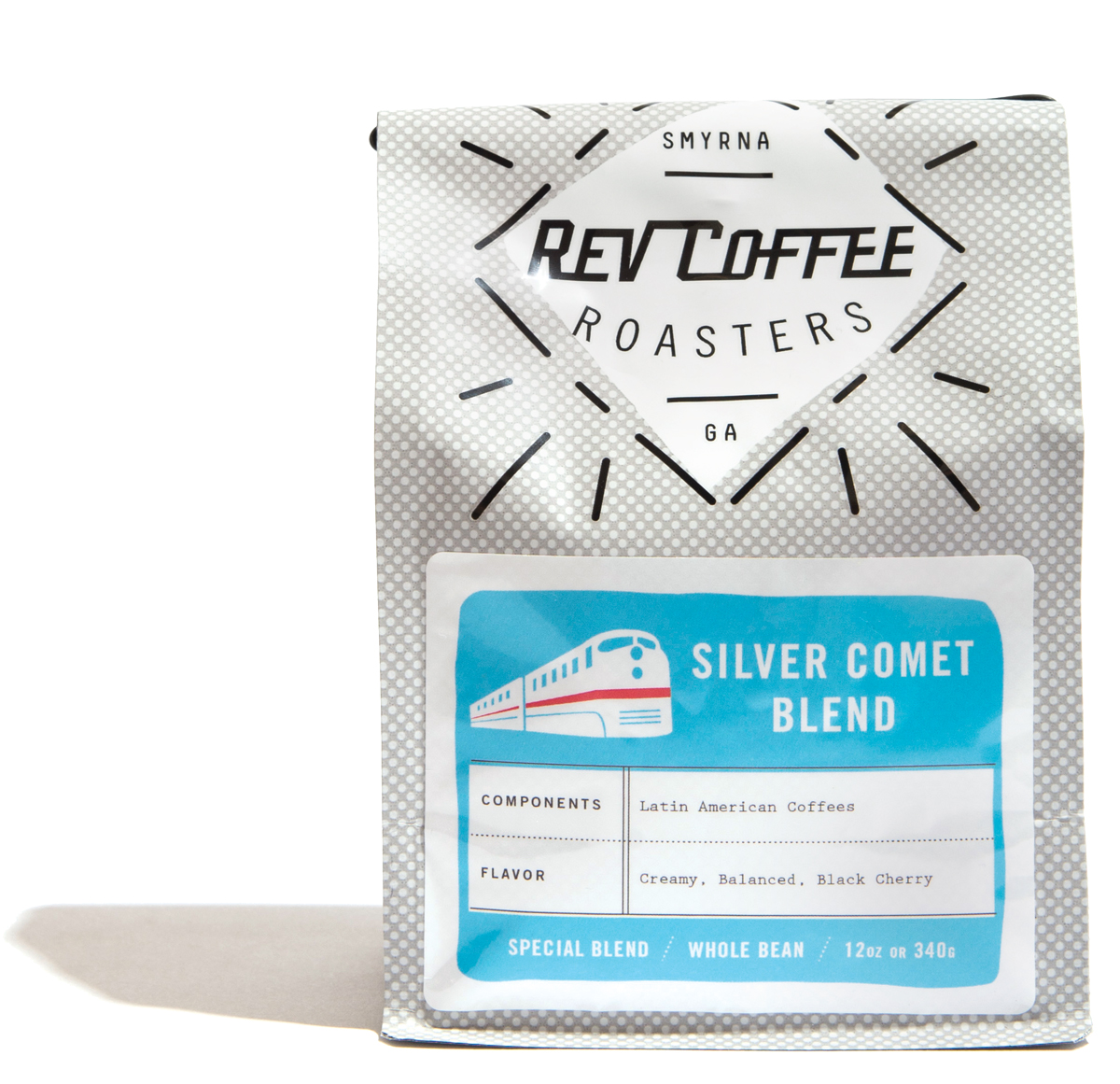 Atlanta's coffee culture keeps getting bigger and better, and Rev Coffee is a new darling. The Smyrna-based coffee roaster sells straightforward coffees such as its Silver Comet Blend, which is full of sweet, black cherry notes and creamy on the finish. Its cafe is pretty impressive, too. Available at Rev Coffee Roasters (1680 Spring Road, Smyrna) and other retailers, bags of whole beans starting at $14. revcoffee.com
The Atlanta-based Teeter family produces rich, green, peppery olive oil from the three varietals of olive trees grown on their property in San Martino near Umbria. Talk about living the dream. Available online and at Peachtree Road Farmers Market and Storico Fresco. From $22, ilbelcuore.com
The idea for Georgia Grinders's nut butters came from owner Jaime Foster's grandfather, who made his own nut butters to keep his genetic predisposition for cardiovascular disease in check. (He lived to be 97.) The recipe is simple—roasted, all-natural nuts (pecans, almonds, peanuts, or cashews) and sea salt. Available at most major grocery stores, on Amazon, and through their website. From $12, georgiagrinders.com
This Old Fourth Ward vegan cheese maker is worlds away from the heavily processed, flavor-free cheese you might be envisioning. A blend of vegan probiotics and organic cashews is aged for 11 days in a cheese cave, and the resulting flavor is transformative. Eat it on a cracker, or melt it in a quesadilla. Available online and at various retailers listed on their site. From $12, pureabundancefood.com
Banner Butter's hockey puck–sized discs of freshly made butter have become as much a farmers market staple as peaches and kale. Banner makes small batches of its various butters using cultured cream from hormone-free, grass-fed cows. The company offers a variety of flavors in small and large sizes—perfect for your next dinner party or as a way to class up your butter dish. Available online and at Whole Foods and other retailers. From about $3, bannerbutter.com
The Soy Shop's firm, GMO-free tofu
Tofu lovers know finding a locally made tofu is tough. The Soy Shop is not only based in Atlanta; it's GMO-free, too. Although it primarily sells its tofu to restaurants, you can find it at Your DeKalb Farmers Market, Rainbow Grocery, and Sevananda Market, starting at about $1 per container.
Missy and Kristin Koefod, partners in business and life, have made a name for themselves as queens of the cocktail. Their wide variety of bitters, such as tart cherry and saffron or Japanese chili and lime, transforms average alcoholic beverages into supernaturally good sippers. Available at their Ponce City Market stall (675 Ponce de Leon Avenue) and various retailers, starting at $10. 1821bitters.com
The Applewood smoked bacon from this Decatur-based meat market has the perfect balance of sweetness and campfire. The thick-cut slices make it a scene-stealer alongside eggs or in a sandwich or pasta. Looking for the perfect porky gift? The market ships bacon samplers all over the country. Available at Pine Street Market (4 Pine Street, Avondale Estates) and at pinestreetmarket.com, starting at $13.
Finding nut milk without additives is difficult. Treehouse Milk is not only free of the unpronounceable ingredients you'll find in competing products; it's also super rich and "creamy." Available at Grant Park Farmers Market, Freedom Farmers Market, Peachtree Road Farmers Market, and home delivery via treehousemilk.com, starting at $5.
There's more to Taqueria del Sol's founder Eddie Hernandez than excellent fried chicken tacos and cheese dip. The James Beard Award-nominated chef brings his recipes to your kitchen with his 2018 cookbook Turnip Greens & Tortillas. Think chicken pot pie served in a "bowl" of a puffed tortilla. The book is available at your local bookstore or favorite online retailer, $30
If you haven't tried wines from the Dahlonega plateau, don't turn up your nose; the region was just named an Official Viticultural Area, the first AVA designation solely within Georgia boundaries. Frogtown produces roughly two dozen wines, and its full-bodied white blend, Inclination, is a crowd pleaser, with notes of citrus, apple, and toast. Available at frogtown.us and various retailers listed on the site, $28.