Home
How major Atlanta companies are revolutionizing the workplace
How major Atlanta companies are revolutionizing the workplace
Inspired by freewheeling tech firms, Atlanta companies are revolutionizing the traditional nine-to-five. Here are five key values trending now.
1. Free Range
Welcome to a whole new world of flexibility. The splashy headquarters of payments company NCR, a two-tower project near Tech Square, configures floors as "neighborhoods" with "hot desks" (aka, unassigned seating, also known as hoteling), diner-style meeting booths, conference rooms, and scattered seating areas. "The key to success in the world of work today—where you have four generations in the workplace, all with different work styles—is to provide choices to find the place that works for you," explains Stephen Swicegood, managing director of Gensler, an architecture firm that partnered with Duda/Paine on the NCR design. Translation: You'll be working somewhere on "campus," not in a specific cubicle.
Coca-Cola's recent eight-year renovation yielded expansive outdoor spaces with Wi-Fi and work-friendly tables under Coke-red umbrellas. Inside, find employees—occasionally even CEO James Quincey—at the vibrant, main-corridor "Yetu" working space ("ours" in Swahili). Its sit-stand and treadmill desks, huddle rooms for groups, focus rooms for singles, and cozy alcoves are amenitized with a pool table, free coffee, and a frozen yogurt machine—all bathed in natural light pouring through floor-to-ceiling windows. Around the bend, the more European-styled "Bistro" features selections from the company's fine-art collection. It's a virtual Disney World of themed settings. Says Coke's director of external communications, 34-year-old Kristen Jimenez, "As a millennial, it's really energizing to work in different environments."
Chick-fil-A says 75 percent of their Atlanta Support Center (aka headquarters) staff has no designated seat. At the new Midtown headquarters of flooring company Interface, as well as newly-renovated Verizon Alpharetta, employees have few individual desks, instead storing laptops and personal belongings in lockers or locked drawers. Betsy Nurse, Atlanta-based director of interiors for design firm HOK (recently named one of the nation's most innovative architecture firms by Fast Company), likens this paradigm shift to one that happened decades ago in, go figure, zoos. "We used to house animals in a line of side-by-side cages," she says. "Now, zoos are free-range habitat. The idea is, 'I'm going to move throughout the space because I'm untethered.'"
2. Interaction
Offices at the new Porsche Cars North America Experience Center and Headquarters near the airport spark collisions—between people. Work stations are sometimes arranged in T shapes and other times jut out into corridors, face each other, or turn opposite directions. "It appears chaotic and irregular but is engineered to force people to change their circulation path to engage with other employees," says Nurse, who directed the interiors at Porsche. "Employees can't take the path of least resistance—they would be forced to bump into each other." In addition, eating at desks is discouraged, driving everyone, including the C-Suite, to the restaurant-quality cafeteria.
At Interface's headquarters, Basecamp, first-floor stadium-seating provides egress to the second floor, plus a space where employees gather for company announcements, customer presentations, or learning opportunities. Each subsequent flight of stairs wraps through a different part of the building. This arrangement—along with a strategically less convenient elevator that requires badge access—encourages movement and serendipitous interactions.
And forget about tall walls to silo employees in cubicles. Lars Minns, head of HR for Mercedes-Benz USA, told us, "I said hello to nine employees on my short walk [from my office] to this conference room."
Companies are also trying to keep tele-commuters connected. Last year, the Atlanta startup Bark—an app that detects cyberbullying—held a "remote Holiday Party" via Google Hangout because some of the team is based outside of Georgia. "We spoke about work and family," says employee Dayna Thompson. "It was like a normal party—just broadcast!"
3. Wellness & Comfort
Today's offices are so tricked out with amenities, at first glance they could be a glitzy hotel or condo building. At NCR, there's a gift shop and a drool-worthy 24/7 gym overlooking Midtown. Coca-Cola added a full-service CVS Pharmacy, a clinic, and dietitians on site; shifted to a flexible dress code; and pipes music of all genres and cultures throughout the buildings—a nod to comfort and diversity. "We want you to bring your whole self to work," says Julie Seitz, global director of the company's workplace.
Software giant Salesforce, which just expanded its Buckhead tower, infuses warm, residential vibes with its "Ohana" ("family" in Hawaiian) design standard. Picture lounges for socializing on each floor—much like how party guests congregate in the kitchen. Conference rooms have grass cloth walls and teak wood–like floors that evoke a tea house. Many tables are round or square instead of rectangular (no podiums in sight), signaling humility and egalitarianism.
Interface has colorful sofas and armchairs and open-back bookcases arranged in airy, loungy vignettes. There are "restoration rooms" for meditation and lactation rooms for nursing mothers. Here, sustainability is as much about preserving human resources as it is about efficient power and HVAC systems. Says Turan Duda, founding principal of Duda/Paine, "the conversation around 'being green' is now about how energy impacts people. It's about efficient people's ability to step outside to be in nature. They want balconies, rooftop decks, and a view to natural light to inspire and recharge them."
Company reps say these amenities exist to help employees be comfortable and efficient when they're on campus—not to signal that they need stay all day and night. Case in point, at Interface, lights are programmed to mimic circadian rhythms, dimming in late afternoons to signal the close of the day.
4. Urban connection
When NCR imagined its move from Duluth to Tech Square, the design scheme began with its energetic urban context, close to where students live. Innovation hall—which contains NCR's meeting, development, and social spaces—is a striking, glass-enclosed showcase that faces Spring Street. Says Duda, "The energy is twofold: It gives passersby a taste of the activities happening in this company. For employees looking out, you're seeing the lifeblood of the city." NCR's first-floor lobby coffee shop and some tech lectures are open to the public.
Democratic layouts also offer a new twist on corporate citizenship. In lieu of lavish executive suites, Salesforce's Atlanta tower offers a flexible hospitality space, which can be used for free by nonprofits and school groups at night and on weekends. At the Porsche Experience center, everyone uses the same entrance (employees, enthusiasts, guests, mechanics). The entire building is designed for both employees and visitors to have a view of the track, evoking appreciation for the product itself: high-performance sports cars.
Mailchimp encourages employees to enjoy the BeltLine by offering two-wheel parking and a digital bike checkout—named after their famed mascot, Freddie. A third of staff bikes or walks to work.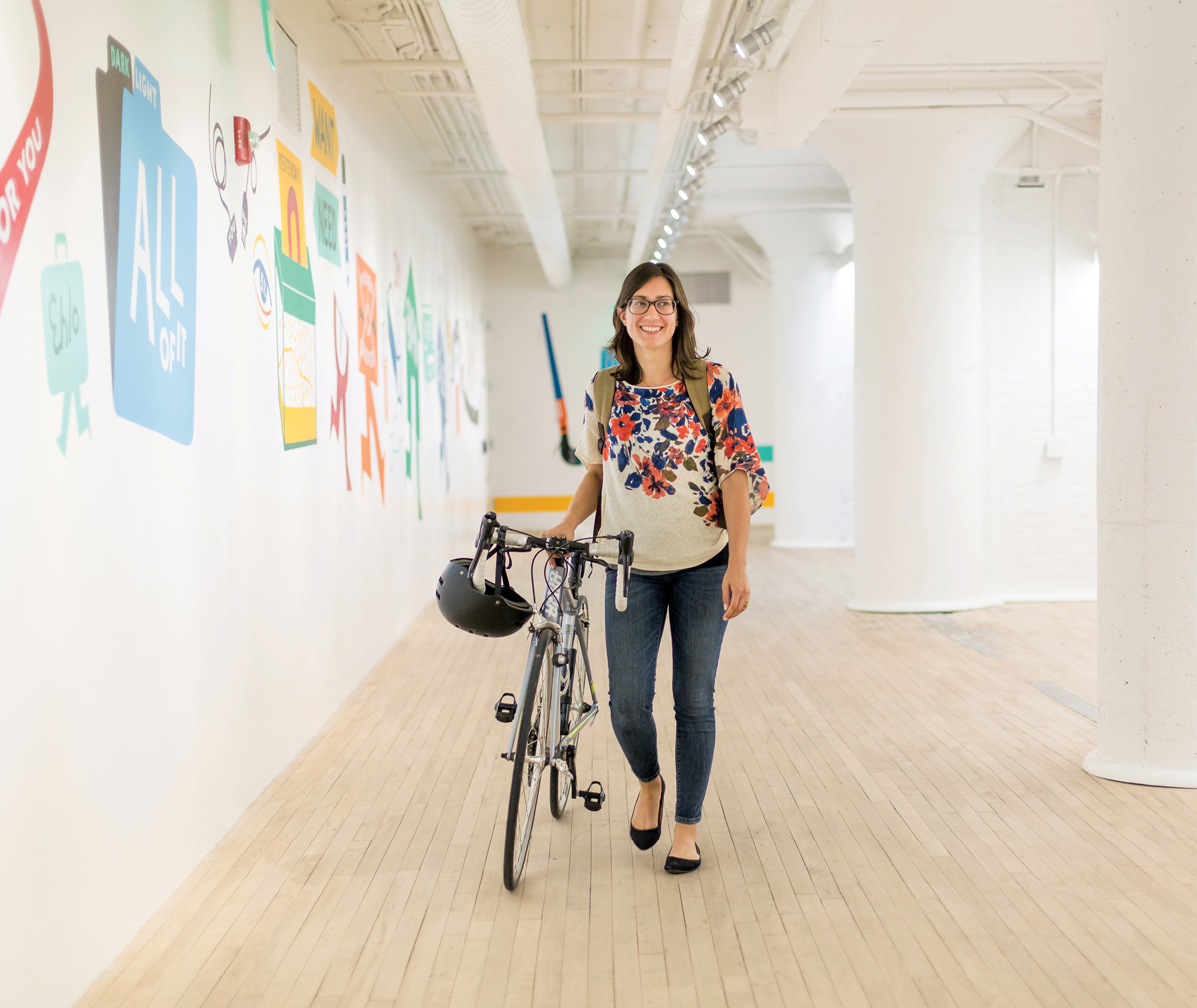 5. Innovation
If you get, say, locked out of your laptop at Coca-Cola, you can bring it down to the IT bar. While you wait, use the digital vending machine to buy a new phone charger. At Delta, employees log on to an Uber-like app to track the arrival of the next shuttle bus. And at Interface, you can spot an open conference room by glancing down the corridor for those with a bright green, versus red, LED light.
After the success of iPad order-takers at Chick-fil-A drive-thrus, the company saw potential to increase capacity even more with double lanes. To test the concept, they deployed a team to their "Hatch" innovation center for a short-term "agile" project. Agile is a buzzword borrowed from tech, which includes a "fail fast" mentality of building and testing prototypes in a matter of weeks or months—as opposed to traditional, years-long corporate development timelines. "At Hatch, it's rough, dirty, and messy, but it gives people the freedom to ideate and think innovatively," says Mike Hazelton, SVP of Corporate Services. "You would see foam core models and different mockups of restaurants and equipment. Then, they brought in operators to test it out." The end result? A new double-canopy, drive-thru structure, which is heated and cooled for the comfort of associates.
Coca-Cola recently built a "Project Teams" floor dedicated to agile-type projects. "The idea is to take a bunch of really smart people and put them in a room to rethink a particular problem," says Seitz. Cross-departmental groups can reserve a block of space for up to a year; walls and furniture can be reconfigured as needed. The rooms have names like Bold 1 and Bold 2, and teams huddle together or consult colleagues across the globe via video conferencing. Scrawled on erasable, magnetic white walls could be a stealth marketing campaign, IT redesign, or a new drink formula. Coke has been asking itself: How do you take a company that has more than 130 years of history and make it a little more entrepreneurial? "This is one way we're fostering speed to innovation," says Seitz.
---
Perk-o-Meter
Which benefits are most attractive to today's employees?
Out: Nap pods
In: Restoration rooms (or prayer rooms)
Out: Company pub crawl
In: Wine-tasting, plus TED Talks
Out: Dry-erase white boards
In: Dry-erase white paint walls
Out: PTO
In: Paid "self-care" time (take a yoga class!)
Out: Bean bag chairs
In: Soundproof phone booths
Out: Free beer
In: Free lunch
Out: Parking permits
In: Borrow-a-bike room
Out: Long commutes
In: Corporate allowance, for your home office furniture
Out: Leadership training
In: Best-selling author talks
Out: Khakis
In: Jeans
Out: Employee of the month
In: Recognize your coworker with free award credits, redeemable for anything from massages to Fitbits
Out: Expense accounts for travelers
In: Milk Stork for traveling new mothers (a prepaid, express-shipping service for breast milk)
Out: Meet at the water cooler
In: Meet on the rooftop deck
Out: Foosball
In: Saging (keep energy flowing with the aroma of fresh sage)