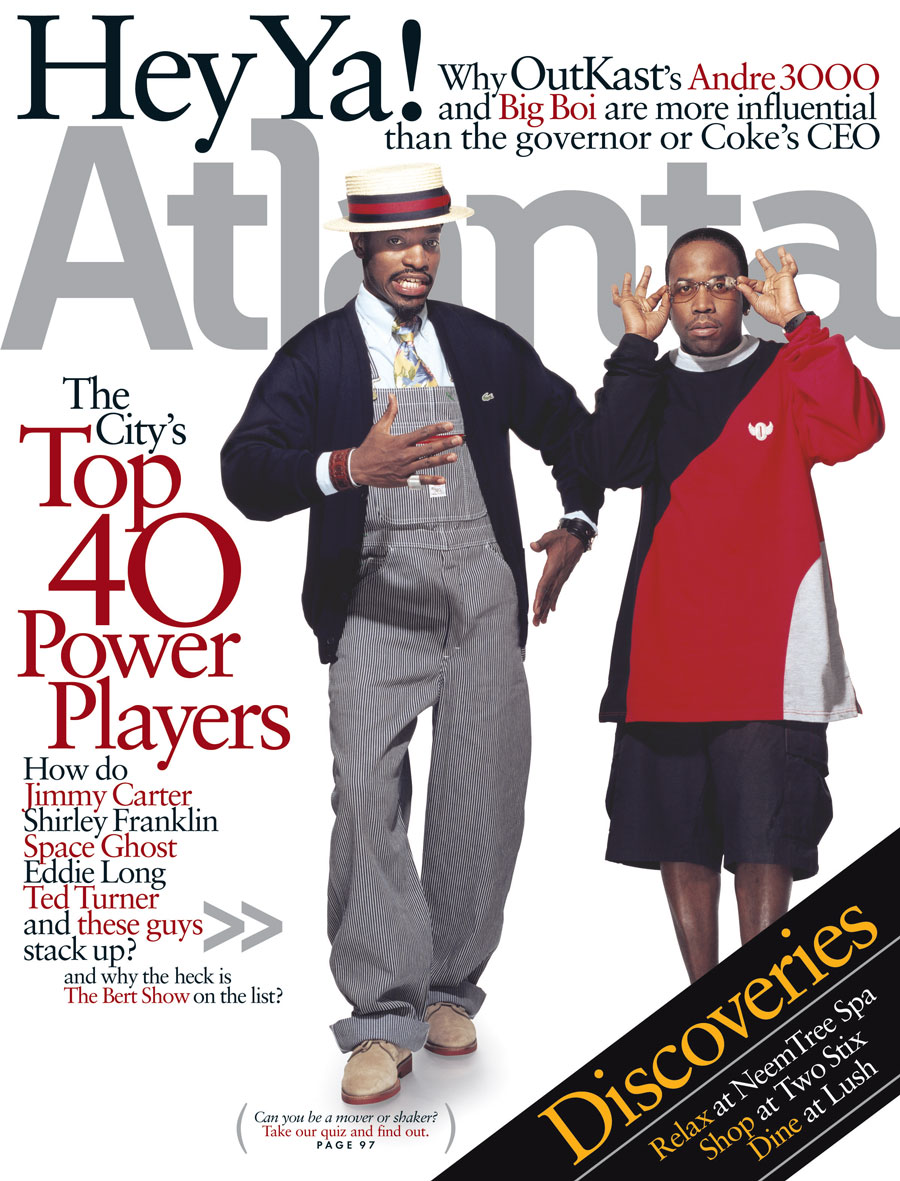 For our January 2021 issue, in honor of our 60th anniversary year, we dug through our archives to present a snapshot of the magazine during each of our six decades. We discovered groundbreaking work, inspiring stories, and, yes, some errors in judgement. Here's what we found:
The '00s in 8 Quotes

The city was full of bravado in the days before the Great Recession
"Phoenix Follies" (our annual "Worst of Atlanta" package)
December 2003

After adding stickers (which were later removed) calling evolution "a theory, not a fact" to textbooks, Cobb County was ranked No. 2 on the Campaign to Defend the Constitution's top 10 "Islands of Ignorance"—places where the separation of church and state is considered threatened. But Cobb School Board chair Kathie Johnstone was more concerned with geography, saying, "None of the places they're listing are islands."
"Phoenix Follies"
December 2004
"The only thing correct in this indictment is the spelling of my name." — Former mayor Bill Campbell on his racketeering charges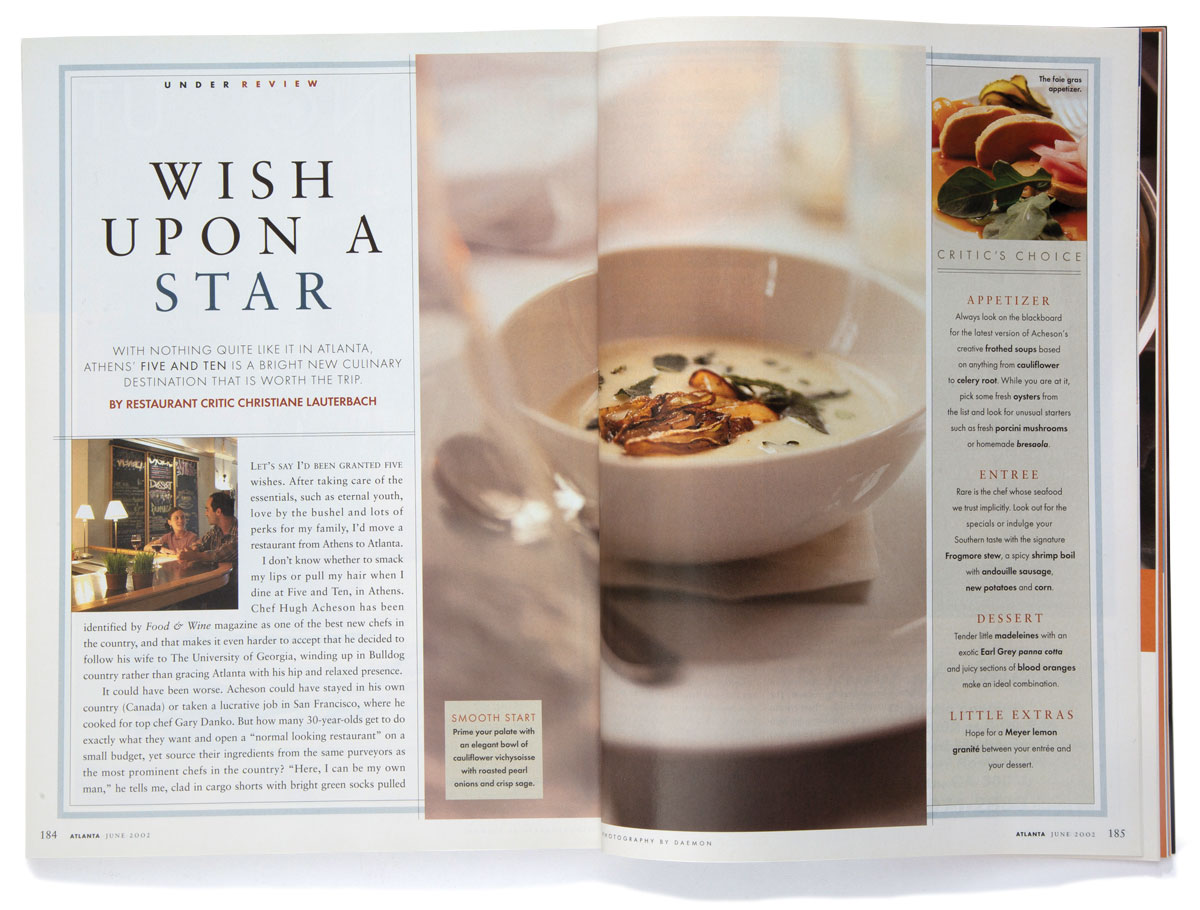 "Under Review: Five and Ten in Athens"
June 2002
[Hugh] Acheson could have stayed in his own country (Canada) or taken a lucrative job in San Francisco . . . but how many 30-year-olds get to do exactly what they want and open a "normal-looking restaurant" on a small budget, yet source their ingredients from the same purveyors as the most prominent chefs in the country? "Here, I can be my own man," he tells me, clad in cargo shorts with bright green socks pulled right up to his skinny knees, with a tattooed radish crawling up his forearm.
"Conversation: Max Cleland"
October 2004
What do you think it would take for Georgia to become a solidly Democratic state again? It will never be a solidly Democratic state again. I don't think it will ever be a solidly Republican state again. Georgia, in many ways, is reflective of the country. — Max Cleland as told to Luke Dittrich
"May 'the ATL' RIP"
April 2004
Truth be told, "The ATL" ceased being cutting-edge slang some time ago, and using it reeks of bandwagoneering, conformity, anything but hipness. Need proof? Just count the number of times the announcer uses the term in the radio ads for Wild Bill's, that mammoth new country music dance club in Duluth.
"Monthly Barometer"
September 2003
"The northside's Abercrombie crowd is starting to look like the scraggly, early Beatles. It's enough to make a parent nostalgic for Goth."
"Monroe Drive"
March 2001
Considering Midtown's ragged karma, it is fascinating to watch millions of development dollars flowing into the area. Yet reborn Midtown is geared more to wealthy yuppie and dot-com newcomers than to the offbeat eccentrics and neighborhood comforts that gave the old place its original flavor. . . . The developer will have destroyed the village in the name of saving it.
"Soul Man"
October 2000
"A good time to me is sitting down with a friend and playing a game of chess. I treasure that. Or going over to a good friend's for a nice meal, and sitting around and doing nothing but talk. Or what I like is playing cards with three or four guys and having a 'rise and shine.' That's when, if you lose, you get up and serve the other people. Like, if I lose, I have to get the drinks and the little finger things.­" — Ray Charles at age 70
---
We Told You So

Here were some of our predictions, good and bad
On pandemics:
If avian flu becomes easily transmitted among people, about 30 percent of the U.S. population could become sick, including 40 percent of school-aged children, government experts predict. Depending on its virulence, there could be anywhere from 200,000 to almost 2 million deaths.
. . . If there's a pandemic flu, avoid crowded places, such as concerts or sporting events. (February 2006)
On Atlanta's never-constructed Trump Tower:
The Biggest, Best Building EVER: Donald Trump, who is planning his first Atlanta project, says it will be a "big job." Of course it will. (July 2006)
On McMansions:
"When suburbanites come intown, they want to bring the suburbs with them. The day of the urban pioneer is gone," says attorney Lee Meadows. The heart-pine floors, plaster walls, and black-and-white tile bathrooms of compact 1920s Craftsman bungalows can't compete with the wired-for-plasma-TV mantel and Carrera marble–accented master bath of that "Neo-Craftsman" on Oakdale. (August 2007)
On the BeltLine:
Of course, Atlanta's intown growth was already happening, BeltLine or no. And in the next 25 years, regional planners expect the city's population to shoot up another 150,000, reversing decades of decline. "You have growth issues that the city has not had to deal with in 50 years," [The Trust for Public Land's Jim Langford] says. "Where are you going to put the schools? What about transit? What kind of density are you going to have and where? How are you going to connect those people to their jobs?" To Langford—and a growing number of others—the BeltLine goes a long way in answering those questions. (June 2006)
---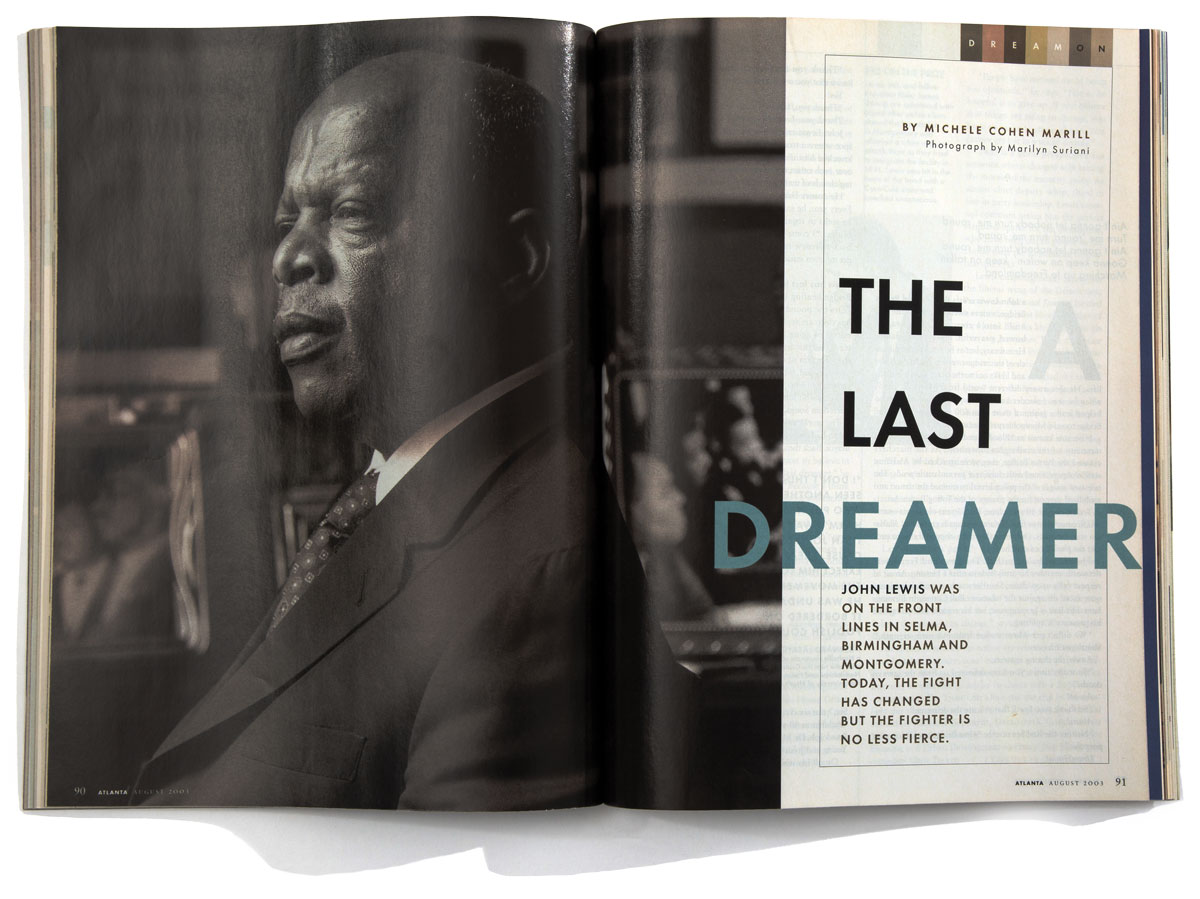 An excerpt from our August 2003 profile of Congressman John Lewis, written by Michele Cohen Marill, just after President George W. Bush ordered troops to invade Iraq:
John Lewis rises at 5 a.m. every morning, reads the newspapers, and takes a little time to gather his thoughts. When in Atlanta, he listens to a gospel station. The words of one song with a jaunty beat have captured his imagination: Don't let the devil steal your joy. That sentiment lightens his step as he walks to the Cannon House Office Building on his way to morning meetings. "I made up my mind that I'm not going to let anyone steal my sense of happiness or joy," he says. So even when the nation is fighting a war he opposes and the president has cut a program he cherishes, he tries to keep an upbeat demeanor. Hopeful, if not happy.
"People have accused me of being too optimistic," he says. "Not to be hopeful is to give up. If you believe that things are going to change, you have to make it come about. You cannot get lost in a sea of despair." That is a good perspective for someone who is charged with raising the morale of the minority party. As senior chief deputy whip, third in line in party leadership, Lewis's eternal optimism makes him the perfect standard-bearer for the Democrats, who have been out of power in the House since the Republican revolution of 1994.
Lewis unapologetically represents the liberal wing of the Democratic Party—the National Journal labeled him the third most liberal member of the House. But his life transcends his role as a lawmaker. He is a genuine American hero, a living symbol of the worst and greatest moments of a nation. "He has endured the test of time," says the Reverend Jesse Jackson. "John has moral authority. He speaks with a moral resonance." Read the full article
---
Water

Years of drought had Atlantans taking short showers and xeriscaping in the '00s. If your grass was green, you'd better be using well water.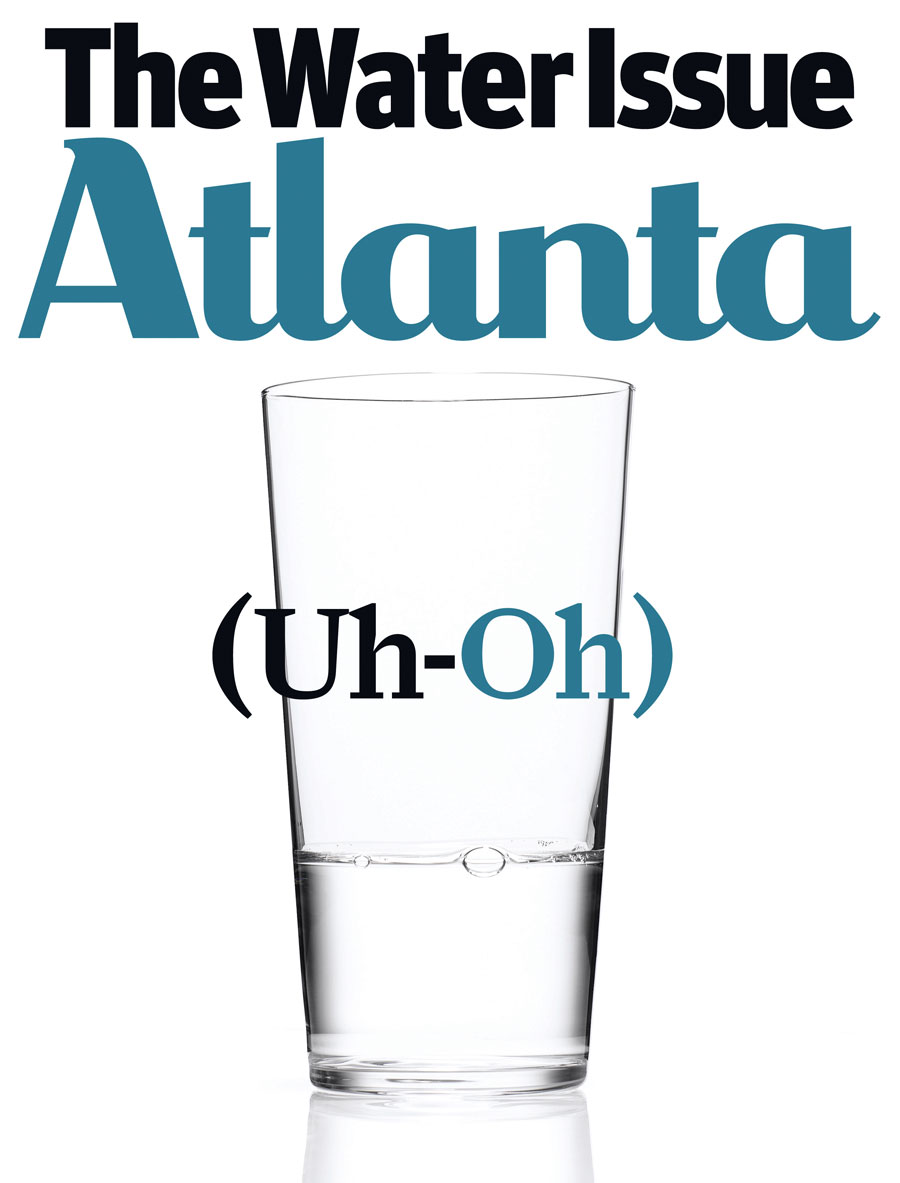 From April 2006 to May 2009, Georgia experienced record drought. Our June 2008 cover had a vertical flap partly covering a half-empty glass of water. The main line read "(H2Oh)," but when you lifted the flap, it said simply "Uh-Oh." During this dry season, our writers expressed concern for natural resources like the Chattahoochee. Of Tanyard Creek, now alongside the northwest corridor of the BeltLine, we wrote, it was "as foul a body of water as you can find outside the ruins of Eastern Europe. It honors only the human capacity to soil our own nests." In September 2006, we warned, "A retired federal scientist who had been involved in the water war declared: "You might run Atlanta dry, for damn sure." We were less than patient with daily water shortages. We sulked about restrictions, making comments like these:
"Come late August, every Atlanta homeowner knows the feeling: Your lawn looks like a 5 o'clock shadow. Topsoil is a distant memory. So one night, you decide to unfurl the hose and start spraying, watering restrictions be damned. You know it's ridiculous to feel like a wanted criminal just for sprinkling the roses, and yet the moment you see headlights, you drop that hose and whistle nonchalantly." (August 2005)
"Atlantans are saving bathwater to flush their toilets and skulking around half dirty from curtailed showers." (June 2008)
"At Lake Lanier's lowest point, in December, only one boat ramp of about 100 actually reached the water. Boaters stopped coming. Boat sellers could no longer demo their products. Fishing guides were lucky to have more than two bookings in a month. Even picknickers lost interest, as rocky expanses separated the pavilions from the scenic blue." (June 2008)
---
Weddings & Wontons
February 2005 told love stories from different generations, including the one below by Justin Heckert. Our first-ever guide to Buford Highway was a team effort in 2007. (Check out our 2019 Buford Highway tribute here.)
Guide to Buford Highway
October 2007
Buford Highway is not so much a melting pot as it is a unique stew of mixed-ethnicity neighborhoods and international businesses. Most big American cities, especially coastal ports, have large ethnic communities settled in pockets of distinct population—Chinatowns, Koreatowns, Little Italys, Little Havanas—built up over decades as settlers drew their own communities together into cores that shared a language and culture. Buford Highway is different. With the highest concentration of ethnic-owned businesses in the Southeastern United States, it is a jumble of cultural infusions. Northeast Plaza, one of the largest shopping centers on Buford Highway, houses Bangladeshi, Peruvian, and Ethiopian restaurants, as well as the giant Hispanic market, Mercado del Pueblo. Down the street, a plaza called "Little Saigon" is home to Dai Thành Acupuncture and Herbs as well as Taqueria Doña Maria. . . .
Cindy Xu was one of the early Pinetree tenants. A graduate of the Traditional Chinese Medical School in Guangzhou, China, Xu moved to Atlanta twenty years ago to study English at Georgia State University. But when Atlanta's close-knit Chinese community began seeking her for medical advice, Xu decided to open her own herb shop. Within a year, Cindy's Herbs was so successful that Zu expanded into the space next door.
"We have a very strong community here," Xu says. "I was the first herb shop to open, and now there are more than 20!"
Some shopping centers still maintain their decades-old monikers; others embrace their target clientele with names such as Plaza Fiesta or Asian Square. Former fast food spots evolved into ethnic eateries; an Arby's became Tofu House, a Taco Bell at I-285 became El Paisa, and a former Wendy's is now Harue Cafe. . . . "So it goes on La Buford," GSU professor Susan Walcott says. — Bill Warhop
"Bill and Doug Got Married"
February 2005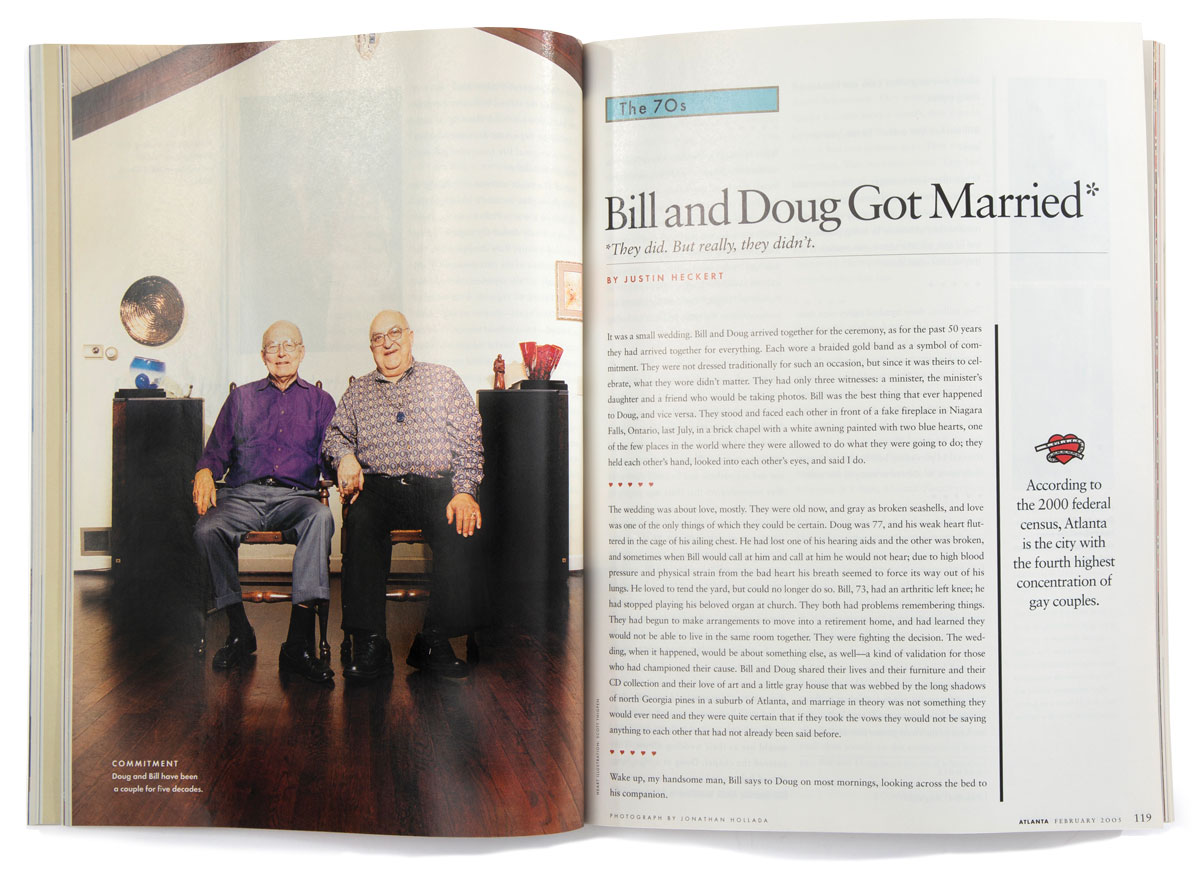 It was a small wedding. Bill and Doug arrived together for the ceremony, as for the past 50 years they had arrived together for everything. Each wore a braided gold band as a symbol of commitment. They were not dressed traditionally for such an occasion, but since it was theirs to celebrate, what they wore didn't matter. They had only three witnesses: a minister, the minister's daughter, and a friend who would be taking photos. Bill was the best thing that ever happened to Doug, and vice versa. They stood and faced each other in front of a fake fireplace in Niagara Falls, Ontario, last July, in a brick chapel with a white awning painted with two blue hearts, one of the few places in the world where they were allowed to do what they were going to do; they held each other's hand, looked into each other's eyes, and said I do.
The wedding was about love, mostly. They were old now, and gray as seashells, and love was one of the only things of which they could be certain. Doug was 77, and his weak heart fluttered in the cage of his ailing chest. Bill, 73, had an arthritic left knee; he had stopped playing his beloved organ at church. They both had problems remembering things. They had begun to make arrangements to move into a retirement home and had learned they would not be able to live in the same room together. They were fighting the decision.
Wake up, my handsome man, Bill says to Doug on most mornings, looking across the bed to his companion.
Good morning—but I am not handsome, Doug replies.
Bill fetches him coffee: To me, you are, he says.
Two million, three hundred eighty-nine thousand, three hundred forty-four Georgians voted for Senate Resolution 595 in last November's election, which equated to 76 percent of the vote. The amendment to the state constitution provided that Georgia would recognize marriage only as the union of a man and woman. Of course, neither Bill nor Doug is a woman. This means, barring a reversal of pervading beliefs, they will most likely never be allowed to marry in our state. — Justin Heckert Read the full article

---
A Way With Words

One girl's journey to the National Spelling Bee
By Justin Heckert | Originally published November 2003 and excerpted here:
It is time for her to spell and so she must stand before the microphone at the front of the stage and receive her word, but she does not know what it will be. She can only be certain that it will come from an unabridged dictionary as thick as a cinderblock, and she will have all of three minutes to spell it. She is 13 years old and her long hair is ink dark and falls as fine as thread over her shoulders. Athena Louise Medrana Lao, speller No. 167 in the 2003 Scripps Howard National Spelling Bee, springs from her seat wearing black pants and tennis shoes and a crisp white official bee polo shirt, headed for the center of the stage, one of only 12 spellers remaining. Her face is taut, revealing nothing to the Hyatt ballroom's crowd, which has become a static of quiet conversation. Those in attendance who have watched her spell in previous rounds know her as the "girl who spells fast," and it's true. She spells with the speed of gas catching fire, leaving the embers of words in her wake. When she knows a word she does not hesitate and spells it without pause so that the individual letters collide into one another and it is at times difficult to even hear what she's said, much less figure out if it's correct. She doesn't even breathe when she spells. This makes it difficult for the judges. They glare at her as she approaches.
She is by far the fastest speller out of an entire collection of 251 fast and knowledgeable spellers at this year's bee. She is the fastest speller I have ever seen, and I have followed the bee through the years with a great desire, like a football fan counting the days to the Super Bowl. I've watched the national bee every year since ESPN began airing it in 1994. While growing up I would go with my parents to the state bees in St. Louis (my mother was a teacher and a spelling coach), and when I was a seventh-grader I had a brief run of my own as a speller. I still carry with me those years and the unfulfilled dream of winning. I have seen many great spellers and if you have asked me who is the best speller I've ever known, the best speller who I've met, my answer would be Athena Lao. . . . whose seventh-round word is "fichu": A woman's scarf of sheer white fabric in a triangular shape that is draped over the shoulders and fastened in front or worn to fill in a low neckline. It is of French origin, which makes it inherently tricky. With its long "e" sound at the beginning and discernible "oo" at the end and its "sh" in the middle (there is no "e" "sh" or "oo"), it falls into the category of two-syllable words that are as difficult as any with five or six.
From the start of this bee, the words have been difficult. By the end of the first day of competition they were grueling. Now, late in the afternoon on the second and final day, as the robotic TV camera crane's long lens hovers above the stage, fussing over the trophy for the perfect close-up, the words have turned downright monstrous—cartoonish, humpbacked words with hairy arms dragging the floor, skulking through the darkest, most obscure alleys of language. Dr. Jacques A. Bailly, taking over in his first year as pronouncer for the late and beloved Dr. Alex Cameron (whose patient, monotone voice guided children through the national bee for years), reads them aloud—pruinose, trebuchet, klendusity, einkanter. Trying to spell them can be like throwing darts at a board, blindfolded, and Dr. Bailly even stumbles through a few of the pronunciations. Everyone who knows anything about spelling bees knows this, that what it all comes down to at the national level, especially at this point in the later rounds, is no matter how much time the spellers have devoted to the study and understanding of words over the course of this bee year—or over their bee lives, through grade school into the eighth grade if they've competed that long—it honestly doesn't matter. It's luck. The speller who knows the last word wins, and if he/she knows the last word that means he/she has seen it and remembers it. One word, plucked out of hundreds of thousands.
The one is fichu.
"Fee-shoo. Fi-shoo."
Athena is a code, a sheet of braille; it is impossible to tell from her facial expressions what she is thinking. As I cross my fingers in the back of the audience, she says the word into the mic, to herself, again.
This has always been about words. Even before she devoted so much of her life to spell them. Before the national bee, when she won state and hoisted the tall trophy, before she lost in the regionals last year, and before she competed, for the very first time, in the school bee in fourth grade. This has been about words since Wilfredo and Generosa Lao decided to name their only child "Athena," after Athens, Georgia, the town where they have lived for 15 years since moving from the Philippines, and after the Athena in Greek mythology, the goddess of wisdom.
This has always been about words, as it is now, two nights before the bee, as she drills and drills with her mother and father, who are her word coaches, and she knows this one as soon as she hears it: "Oh! Papa, I remember that!" she yells, and begins spelling even before Wilfredo—a slight man with skin the color of a polished cedar table who likes to go by "Fred"—has finished pronouncing.
"Anthropophagous."
An-thro-pah-fuh-gus: man-eater, cannibal. She says it twice. She spells it correctly. And fast, like soda frothing out of a shaken can. Fred says nothing. He does not look up from the dictionary. His eyes are stones at the base of a mountain, immovable. He has not looked up from the dictionary for the past half-hour or so, sitting barefoot at the edge of his bed in a hotel room on the fourth floor of the Grand Hyatt Hotel in Washington, D.C. He is merely one of the hundreds of parents going over words tonight with their children—some in their rooms as well, others sprawled out on the leather couches in the large lobby of the hotel—all doing whatever they can to be a little more prepared.
Athena's mother, Gene, sits with her legs dangling off the other bed, her hair silk-thin and long like her daughter's, squinting through a magnifying glass into the pages of a dictionary of her own, picking out words. There are three dictionaries in the room. There is the mammoth Merriam-Webster Third New World open in front of Gene (Athena won it after the state bee as part of her first-place prize, along with $1,400); a smaller Webster's resting on the lap of her father, this one a school-issue with dull red binding; and a computerized version on a laptop on the dresser, which Athena will go to frequently because it is much quicker, and she can type a word in after clicking on the red circular dictionary icon and it will take her directly to it, providing lengthy definition, language of origin, and sentence. She is not in front of the computer right now. She is on the bed with her dad, her legs crossed Indian-style, eyes closed.
"Athena," Fred Lao begins, "Cynegetic. Si-nu-je-tik."
"Oh, um … let's see," Athena says, "Cynegetic. Si-na-ji-tic? Am I pronouncing it correctly? May I have a definition?"
"Of or relate-eeng to hunt-eeng," he says in a tinny voice with pronounced accent, a combination of Tagalog and English, or, as her parents call it, "Taglish." Athena does not speak her parents' language, has never even been to their country, but her parents speak very good English. They have lived in the U.S. since the early eighties, and learned the language in their native Philippines. However, it is a distinctively different English, with a heavy raking of the tongue across the top of the mouth. Sometimes they frustrate Athena because they do not pronounce every word correctly. Not that they aren't trying, but their accents are so thick that sometimes the process of pronouncing words to Athena becomes incredibly prolix, because they will stumble, sometimes pronouncing them three or four different ways, leaving their daughter confused. . . .
She does not proclaim to be the best speller in the state of Georgia. Even though she went through five bees to get to the 2003 national bee and survived as the champion of each one—classroom, school, county, regional, and state, in Atlanta at Georgia State University, where she spelled back and forth with a boy named Biplab for nearly an hour until he tripped on "mucilaginous," then she spelled it and "incienso" to win—it is her nature to brush praise aside. It is not that she doesn't think she is a talented speller, or a rigidly dedicated speller. She is and she knows it. Last year, for example, when she fell in the regionals, she told her parents immediately afterward that she "had embarrassed" herself, that she would be back, that she not only wanted to make it to state after winning the regionals but she wanted to devote much more of her time to studying, she wanted to get serious, so that she could make it to the Scripps Howard National Spelling Bee. She went home and immediately started writing down new words.
So began this quest, and her dad, a statistics tutor, made his commitment to stay up late with her, sometimes until 2 a.m. on a school night in their Athens apartment, belting out words from advanced word lists, the dictionary, and the most recent version of Paideia, the annual official word book of the Scripps Howard bee that features more than 3,700 words grouped into 27 categories that are used in the local and state bees. For the "serious speller," one who has made it an important part of their life, up there with family and school and whatever other hobbies they might be interested in, the little booklet is the equivalent of a seminarian's personal Bible.
She listened to the online version of Paideia before the print version came out, wrote down the words and tried to memorize them, with the help of her mother; then she went through the booklet until it was tattered and bare. As much as she studied, up to eight pages a day sometimes and four or five hours, she was not an outsider at Clarke Middle School, maintaining an array of interests and activities. Athena is a seventh-grader with an imagination in constant motion; her ideas fly—she can be thinking about something and then blast off mid-thought to somewhere entirely different, a rocket headed for space. Like most girls her age, she wears her adolescent emotions like loose collars around her neck. One minute she'll be feeling happy and the next sad, she says. She is not that much different from anyone else, except for one thing that her teachers and parents and friends and even she points out: She has an insatiable desire to succeed at whatever she does so she can tell herself that she is not a lazy person. To be happy, she must succeed at everything. A lazy person does not, she says. Her life is based around certain goals, and when she meets those goals, when her time and dedication have paid off and she can see the results of her venture, she feels most satisfied. . . .
At the national bee in Washington, she is "the girl who spells fast." Except for that defining characteristic there are hundreds like her, different enough in intellect that some might be considered outsiders back home.
They're everywhere. They are racing down the escalators, shoes thumping the steps the way a soft breeze hits a window; they are in the lobby, bouncing words back and forth, preparing. They are dancing The Hokey-Pokey at the bee barbecue with soda stains on their shirts; they are jumping and running through the marble hallways of the Hyatt, shouting at one another, playing card games, signing each other's bee week guides, a tradition. They are meeting each other and becoming friends, promising to email. They are outside, floating like balloons let go on the streets of Washington. They are in green bee shirts and blue jeans, hats and glasses and braces. Their faces are covered in red bulbs of acne and darkened by the shadows of a nascent mustache. They are with their mothers, their fathers, their mothers and fathers and grandparents. They are tall and skinny and short and pudgy. They are sniffling with cold. They are from Jamaica and Alaska, New Jersey and Missouri and California. . . .
I shut my eyes when her first word was pronounced. "Sgraffito." I did not look; I could not look. Dr. Bailly pronounced it once, then, as he was preparing to pronounce it again, she broke him off and pronounced it herself, then started to spell. "Sgraffito," she said "zgruh-fee-toe," with the confidence of a doctor who has just come out of a successful surgery. Then she spelled it, the letters snapping like clusters of light, then pronouncing it again, and we held back our applause, the whole audience, because we did not know if she spelled it correctly. Her mother did. She looked at me and winked.
Her second word, after she took the written test at the end of the first day and scored a 20 out of 25 to advance, was "gorgonzola." Zoe had pleaded with Athena then to slow down … to just spell normally, so that if she had to lodge a protest she could hear her spell … and after "gorgonzola" was pronounced, Athena paused for about three seconds. Then she looked at the judges, and asked, "Gorgonzola?" I did not think she knew; I thought she would go down right there on this easy, but sometimes tricky, word. She asked for a definition. We were silent, waiting. Then she spelled it. She went a bit slower, but still fast, and it was … g-o-r-g-o-n-z-o-l-a, gorgonzola … correct. The applause came. It was over. She sat back down. And relief—relief was the first drink of water after crawling on our hands through the desert.
But that was it. It had been a good trip. That's what I was thinking because her third word was "neuromyelitis." She pronounced the word, questioningly. Then she broke into spelling it like a dam burst and the words were water pouring through, and then she waited, as a short applause broke out, then stopped; the judges looked at each other and said nothing. Neu-ro-my-el-i-tis. We did not know; we could not be certain if she was right. Athena stood onstage and looked confused. One of the judges spoke into the mic: "We are going to need that one played over again, because you went so rapidly," she said. Zoe looked terrified; Athena's mother mouthed "She got it correct," and her dad said nothing.
"I'm sorry," Athena said.
The tape was replayed, the spelling slowed down. A brief moment of silence, and then the same judge spoke: "Please slow down next time," she said.
Next time. . . next time! . . .
"Fi-shoo?" she asks. The judges nod and answer. Yes.
"Thank you," Athena replies. "Ummm … fisshoo. Is it fitch-oo or fish-oo?"
She is having trouble. She is one of 12 spellers remaining. There are so few of them on stage. We do not breathe, we do not move our eyes. Time does not pass, and yet it seems she's been up there for a day. . . . "Can you repeat the definition?" she asks. "Fishew, Fishoo." Then:
"F -"
"i -"
"c -"
"h -"
"o -"
"u"
"Fichou."
Silence.
The bell dings. It is the worst noise. It is a fire alarm; it is a thousand fingernails over a chalkboard. There is a pause and it dings and she finds out that she has given the word an "o," an "o" that it does not have between the "h" and the "u."
She was close. So close.
We stand. We applaud and do not stop. But she is off the stage and her mother is up from her seat and I have been reduced to one of the hundreds of onlookers in the ballroom. They are going to the consolation room, where afterward I find out that she cried briefly, while her mother held her.
After she was interviewed by a television crew in the D.C. area and went onstage to touch the trophy and congratulate Sai Gunturi, the 2003 winner who spelled "pococurante," which means "indifferent, unconcerned," she went to eat dinner and then came back to play Beethoven on the piano for a group of her fellow spellers until about 1 a.m. in the lobby; she called her friends, and her principal at his house, and said she was sorry she did not represent the school better by winning. . . .
We are all sitting in a restaurant in Athens nearly a month after the bee, and Athena is talking about what the eighth grade holds for Athena Lao, about her plans, already, when the conversation, as always, turns to words. She mentions she has not watched much TV since the bee but instead has been scanning the online dictionary, has been reading her word lists. I do not ask if she thinks about the national bee anymore.
"When we go home," her mother says, "They'll no doubt open the dictionary again."
There is no reason to ask why.
I already know.
---
The Survivors
Staff writer Chandra Thomas won Journalist of the Year honors from the National Association of Black Journalists for these two stories of overcoming adversity.
"Why is Genarlow Wilson in Prison?"
January 2006
Thomas was among the first journalists to write about the plight of 17-year-old Genarlow Wilson, who refused to take a plea bargain and was given a mandatory, 10-year prison sentence for having consensual oral sex with a classmate. The year after he was sentenced, the Georgia General Assembly changed the law, downgrading such acts to misdemeanors but declining to apply the law retroactively to Wilson. He was finally freed in 2007 after two years in prison, and graduated from Morehouse in 2013—with President Barack Obama as the commencement speaker.
After Christmas holiday break, on the first day of the second semester of his long-awaited senior year, Genarlow Wilson's charmed life came to a screeching halt. The football player and track star, homecoming king, and honor-roll student was met by sheriff's deputies in his Douglas County High classroom. Genarlow [was] marched in handcuffs through the same hallways that had been filled with happy memories. It all seemed surreal. . . .
In Georgia, sex, including oral sex, with anyone under the age of 16 can be classified as aggravated child molestation—even if it occurs between two teens less than three years apart in age, as in the instance of 17-year-old Genarlow and 15-year-old Tracy. In fact, under Georgia law, the penalty is actually more severe for a person found guilty of engaging in oral sex with a minor than for having intercourse (which is classified as misdemeanor statutory rape), even if the perpetrator is just a few years old than the minor.
[Refusing a plea deal,] he said, "Even after serving time in prison, I would have to register as a sex offender for the rest of my life. It's a lifelong sentence in itself. I am not a child molester."
"Exiled"
September 2006
A year after Hurricane Katrina obliterated Thomas's hometown, she gathered 11 stories from among the estimated 40,000 men, women, and children who flocked to metro Atlanta.
When word of Hurricane Katrina surfaced, it was the urging of his wife, Stephanie, that led [artist and art teacher Terrance Osborne] to load their children, Terrance Jr., 12, Seth, 5, and Sydni, 3, into their minivan to head out of town. "At first, I didn't want to leave. I didn't really feel like packing up paintings, but she was really scared about this one," says Terrance. They packed a few days' clothes, some important papers, and a commission that Terrance was working on, then set off on the five-hour drive toward Stephanie's relatives in Alexandria, Louisiana. By the time they arrived, the small home was overcrowded with other kin who had fled there, so they had to move on to plan B: Dallas. . . . "I didn't worry until I saw the water covering the city," says Terrance of the compelling television footage they watched from their hotel room. "I was shocked. Then, I realized that everything we owned was in that van."
This article appears in our January 2021 issue.