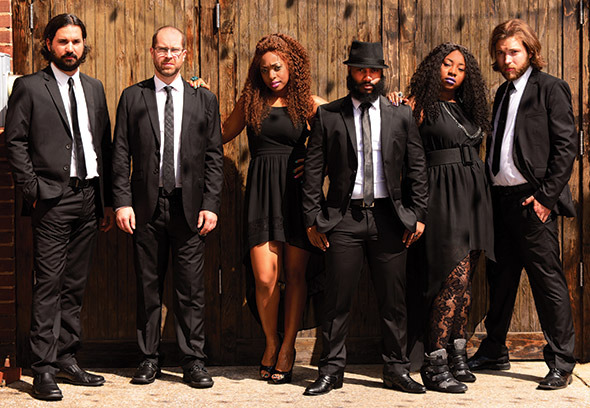 When the bearded white dude introduced himself, AJ Ghent was nonplussed. "I didn't have a clue who Zac Brown was," recalls Ghent, whose band was rolling into a midnight set when Grammy winner Brown entered the almost empty Dixie Tavern one evening last summer. After the gig, Ghent and Brown hung out, talking. They didn't leave the tavern until seven in the morning. "We clicked right away," says Ghent.
Since then, the AJ Ghent Band has opened for Brown nationwide, introducing audiences to the evolution of "sacred steel," an African American gospel style pioneered by Ghent's great-uncle Willie Eason; grandfather Henry Nelson; and father Aubrey Ghent Sr. "They're like the kings of sacred steel, but I didn't want to be defined by what they'd done, or be stuck inside the box of a church environment," says Ghent, twenty-seven, who moved to Atlanta from Florida in 2012, building on a regional following while playing with anomalously influential bandleader Col. Bruce Hampton.
Now, when he isn't conjuring James Brown on vocals, Ghent makes his custom eight-string steel guitar wail like a spectral woman, often harmonizing with the vocals of his front-line bandmates, wife MarLa Ghent and sister Tiffany Ghent Belle. Will Groth (drums), Seth Watters (bass), and Gary Paulo (rhythm guitar/sax) bring rhythmic funk to the band's bluesy rock.
The group is at work on a debut album for Brown's Southern Ground Artists label. "I'd like to create the energy of a live experience with a studio album," says Ghent, for whom the live experience has changed. "I knew small clubs and pizza joints. Then we played the Georgia Dome with Zac, and it was like adjusting your ears to the sound of a million people screaming."
This article originally appeared in our July 2014 issue under the headline "From Altar to Arena."