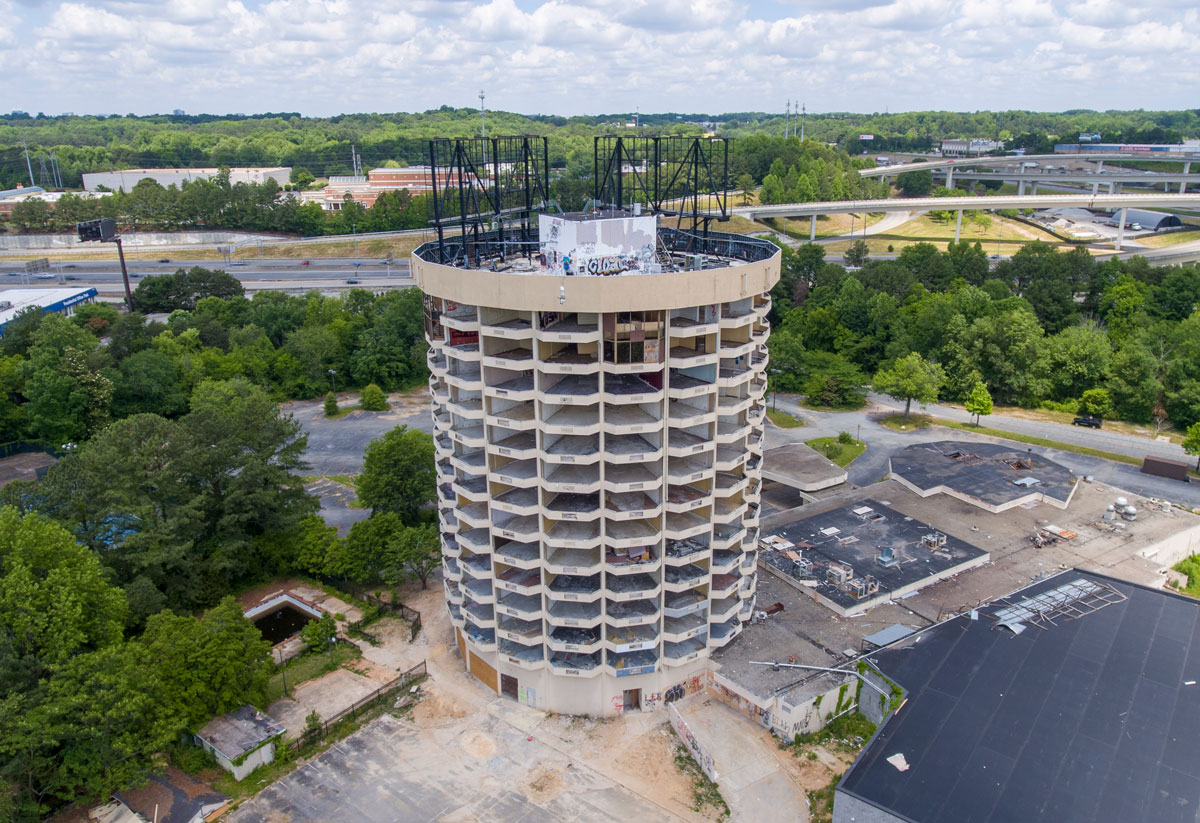 Ask Atlanta is a regular column where we answer your questions about life in ATL—our infrastructure, our politics, our history and culture, and much more. Have a question? Ask us here!
At this point, it's not just rundown. Not merely blighted, or even postapocalyptic. It's like a 15-story set for one of the Saw movies—all bleak corridors, scary shadows, busted concrete, and bad graffiti. And unfortunately, the former Presidential Hotel serves as a sort of cylindrical front door for not just DeKalb County but all of ITP Atlanta, at least for anyone headed down from, say, Lilburn, Buford, or Charlotte. It's been called one of the metro's most visible buildings and one of its worst eyesores.
So what's happening with this abandoned, windowless, hulking, skeletal mass of a concrete corncob now, a half-century after its construction? It's complicated.
Still known colloquially for its 4001 Presidential Parkway address and original purpose, the Presidential Hotel was built in 1973 where I-85 and I-285 meet. The completion, the following decade, of the Tom Moreland Interchange—aka Spaghetti Junction—only boosted the building's status as a local icon, putting it on full display for hundreds of thousands of commuters daily. According to the AJC, its long slide into infamy began in the 1980s, when it became an unauthorized, mini police precinct—and a hot spot used by cops for "free drinks, food, and rooms for sexual trysts." Following years of declining patronage—the predicted development boom around Spaghetti Junction never came, and the original Presidential Hotel closed in 1987—the property rebounded as a Ramada-branded hotel in time for the 1996 Olympics.
In the late '90s, a legendary nightclub called Club Europe roared to life at the building's base. Various attempts to rejuvenate the tower followed, but it went to auction, and by around 2010 it was operating as condos—the Presidential Boutique Condotel. As infighting began between the owners (a pair of local business partners), the building's maintenance and utility bills reportedly fell by the wayside, and without basic amenities like a working elevator, condo owners were forced out. The vacant building fell into receivership, a legal quagmire. Squatters, vandals, and thieves pounced. By 2016, the swimming pool, former nightclub, and units themselves had devolved into a wasteland.
Proposals for converting the tower to student housing and self-storage didn't take off. Nancy Jester, a former DeKalb County commissioner who worked for years to fix the Presidential's blight, recalls one meeting in her office where local entrepreneurs unveiled a harebrained idea to sheath the tower in advertising that resembled a gargantuan Coca-Cola can. "It was the most epic, hilarious thing," Jester says. "I keep the rendering to this day in my office."
A potential new dawn for the Presidential came in 2018. Atlanta architect Dean Peacock, managing principal of the development firm Peacock Partnership, bought the ailing property for a relative song: $1.5 million, or millions less than its sale price in the 1990s. Peacock began the arduous process of buying up condos from vanished owners, and announced plans for a $100 million project with active senior housing called AWAVI, to include about 400 one-bedroom and studio condos. A new high-rise would jut up from manicured grounds beside the cylindrical tower, along with a spa, rooftop gardens, a top-flight fitness and wellness center, and other features meant to pamper residents later in life.
Where the project stands now is unclear, though the AWAVI website remains active; multiple interview requests to Peacock, who remains the owner, weren't returned. An open records request filed with DeKalb County shows no recent building permit activity. On the bright side, according to daredevil urban explorers on YouTube, the Presidential is cleared of squatters and beyond secure now, with barbed-wire fencing and motion-activated wildlife cameras that alert authorities to intruders within minutes.
Beyond legal issues regarding condo ownership, Jester says, the Presidential's problems were tremendous. Access from interstates is confusing and difficult, and being a "huge rock of poured cement" means that reconfiguring individual units is next to impossible. Trying to implode it would cost millions more than the property is worth. The onset of Covid didn't help, though Jester notes optimistically that metro Atlanta's current housing shortage could move the needle on a Presidential revamp.
"I just think it's going to take some elected official—whether a county commissioner, state rep, or head of economic development—to say, 'You know, we've got to fix that,'" says Jester. "If someone doesn't force the issue of blight hard, it's dead in the water. It's not a sexy issue."
Without question, the Presidential's sexiest—and most fitting—use in the modern era came five years ago, when Peacock rented the property to Hollywood. The film? Zombieland: Double Tap.
This article appears in our August 2023 issue.