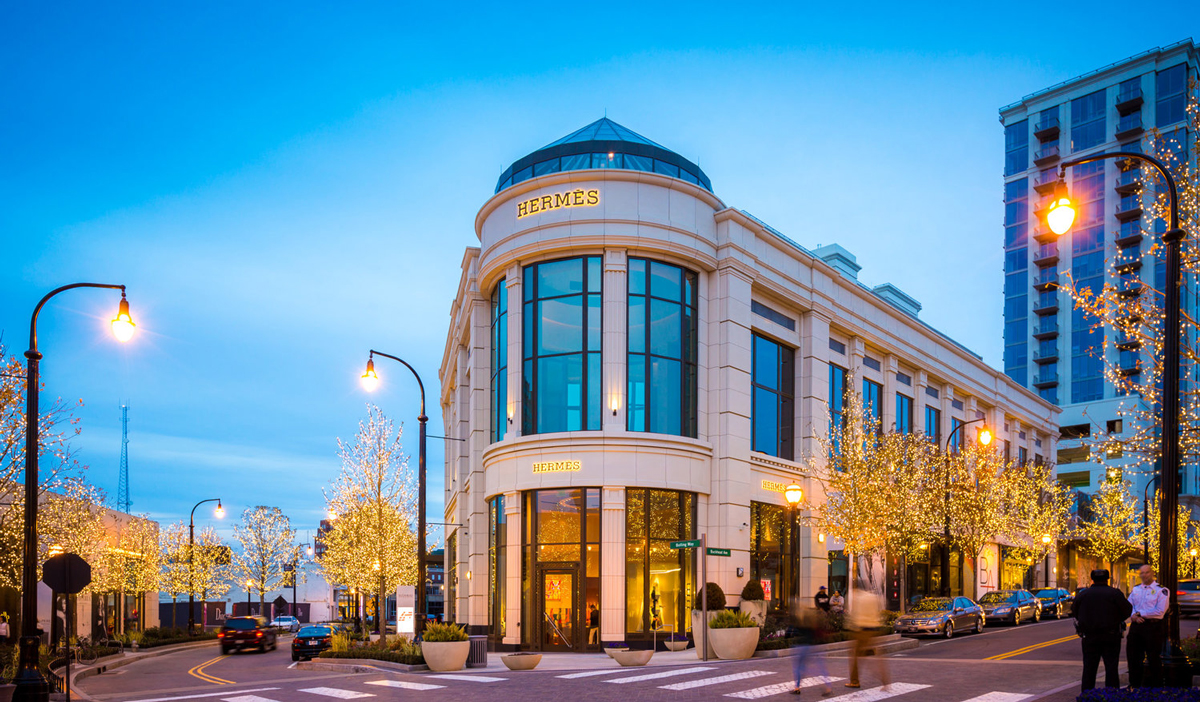 Buckhead's well-heeled gathered for Pinot Grigio and canapés, mingling among high-top tables and Chiavari-style chairs in a scene that looked more wedding cocktail hour than scrappy community meeting. The posh town hall took place in a sunlit-filled suite in the Shops Buckhead Atlanta, organized by the Jamestown Properties, who recently closed on the beleaguered retail development. Once pitched as Atlanta's answer to Rodeo Drive, the property changed hands twice—originally owned by Ben Carter Properties, then sold to San Diego-based OliverMcMillan in 2014—but has never quite found its groove as a high-end retail destination, particularly with the Phipps Plaza and Lenox Mall just blocks away.
Residents, business owners, and community members, including the former mayoral candidate Mary Norwood, RSVP'd to standing-room-only at this first town hall meeting to voice their concerns and hopes for the new ownership. Chalk paint murals covered one side of the room, asking, "What does Buckhead mean to you?" with responses ranging from the dreamy ("tree canopy," "patio dining") to the nostalgic ("my first home when I moved from Dallas") to the curmudgeonly ("crime + traffic").
Jamestown executives Matt Bronfman and Michael Phillips opened the discussion and moderated the flow of comments. Bronfman noted the "false start" of the development's two previous ownerships and that Jamestown had actually coveted the project for many years. "We are choosy," he said. Phillips assured the crowd that they are "long-term owners" and are not looking for some "magic dust to sprinkle," adding that their initial thoughts are to "warm it up" and create a "contextual streetscape," without turning the project into another Ponce City Market.
About two dozen people took the mic to speak over the next hour. The big theme that emerged was a tension between making the center more "accessible" versus establishing the Shops as Atlanta's true beacon of luxury shopping—with a lingering question whether those two ideas are mutually exclusive. Many expressed an interest in having more local boutiques represented. A chorus of parking woes (Confusing! Expensive! No more valet!) juxtaposed pleas to create a safely walkable experience. Several speakers declared they live five minutes away but "never shop here." One participant suggested a high-end grocery anchor like Dean & DeLuca (which itself is also struggling) to bridge the luxury divide by offering smaller indulgences. Other voices lobbied for bakeries, flower shops, family activities, street music, and bookstores.
"Let's not go to Disneyland," said 27-year Buckhead resident Ellen Adair Wyche, earning hearty applause. "Let's have some more local, quirky, surprising, and unexpected." After the session, Wyche expressed at her dismay over the years that the Shops did not reflect the genuine Buckhead community and identity. "Disneyworld is a façade that you build in order to spiff up and show your best face to the world," she explained, "but you never know what's going on behind."
Real estate agent Richard Newton, who was raised in Paris, said he was curious about what would happen at the Shops, and stunned at how complicated a task the project seemed to be. "[Atlanta doesn't] have the walkability that you have in Washington [D.C.], in parts of New York and Chicago. I think maybe in 10-15 years [we'll get there]," he said noting that he's more inclined to jump on a plane to purchase, say, a designer bag, in Paris, rather than here in Atlanta, for the all-around experience. Still, he thought the luxury ideal of the Shops should be reimagined, not stripped. "[It] should be exclusive, in my opinion, and I think it would be a big mistake to try to appeal to everyone."
Whichever direction comes next, the consensus was that something must be done to give the area more life. Said Flo Fillingim, homeowner's president of the Barcelona Condominium on Pharr, "I walk up [to the Shops] every morning and walk around, and it's a very dry, atmosphere. There's nothing going on, you know? They need to get it vibrant."